Latest news
Sport
Monegasque Children Win Their Trophy of the Sainte-Devote Rugby Tournament
Monaco's Saint Devote is the inspiration for an exquisite Rugby tournament for children under 12 held at Stade Louis II. It was originally conceived as a tournament between Monaco and Lucciana, a village in Corsica who adore the Saint together with Monaco. Saint Devota was born in 283 AD and was martyred in Corsica. Her body was rescued, and a dove guided the boat carrying her body to Monaco where the chapel built in her honour now stands. January 27th each year is dedicated to Saint Devota celebrations in Monaco which the Princely family attends. The Sainte Devote Rugby Tournament is supported by the Princess Charlene Foundation. The Princess herself is actively engaged in this charming children's sports event.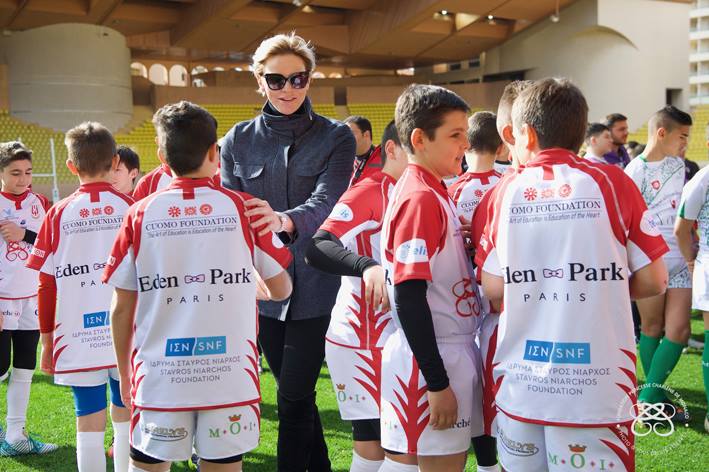 Rugby is played with an oval ball that can take off in any direction when it bounces on the ground, adding excitement and difficulty to the game. And one of the world's greatest at the sport, Frederick Michalak was there to spur the children on. Four times winner of the "Six Nations", winner of the European cup and France's leading point scorer he could only smile at the effort and high level of play of the Monegasque children.
The Monégasques played inspired Rugby. In the 8th year of the event, the fifteen Monaco children on the team won their challenge against their Corsican opponents. The reward – a trophy presented by Princess Charlene.
The tournament has thrived expanding to involve 350 children and many countries. It is now a great international sports event with 16 teams from towns from thirteen countries – Monaco, Scotland, Italy, Russia, France, Spain, United Arab Emirates, Switzerland and Tunisia…just to name a few.
Called the "sport of gentlemen" it is a wonderful way of involving the children in a playful environment. It spawns friendship across frontiers and encourages the values of Princess Charlene's foundation. In the international tournament overall, Tunisia edged out the Scottish team in the final this year.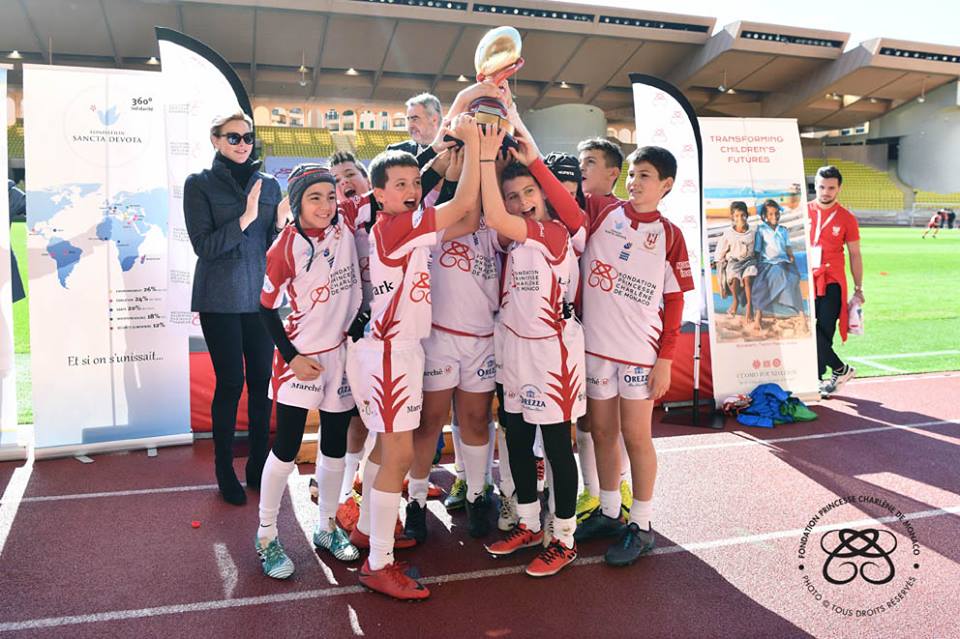 No doubt the event will embrace and influence more and more children over the years. Sessions initiating children between three and five years old are held alongside the tournament. They are introduced to this novel oval ball, which Prince Jacques has also been seen playing fascinated. There are also sessions on the "values of the sport of gentlemen".
The Sainte Devote Rugby tournament, sponsored by the Federation Monegasque de Rugby, and with the active support of Princess Charlene has an exciting future and is poised to capture the imagination of many more children, Prince Jacques included.