Sébastien Ogier with co-driver and navigator Julien Ingrassia won a convincing record-breaking 5th consecutive Monte Carlo Rally; that makes it six times overall. In doing so he stands pre-eminent with his record of consecutive wins. And it is a reassuring opening Rally win for Sébastien who has his eyes set on yet another WRC championship for 2018. The Monte Carlo Rally is the first Rally in the WRC season, a coveted prize that brings prestige and world-renown.
And fitting the occasion, Prince Albert presented Sébastien Ogier with the trophy. Who was going to meet the Prince for the trophy was never in doubt according to many of the pundits (or according to Ford the constructor of the winning car) – but it was an exciting and incident packed race from beginning to end.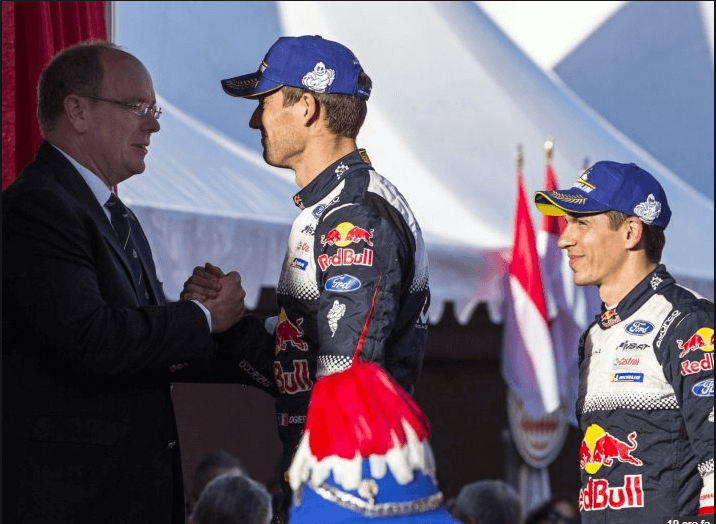 Friday saw Sébastien Ogier spinning on ice into a ditch and Otto Tänak giving him a run for his money by narrowing his lead down to 14.9s. That was Friday's excitement.
Toyota had reason to hope their man Tänak could wrestle the lead away from Ford throughout Friday and Saturday – and he did narrow Ogier's lead yet again on Saturday from 1m18.4s at its largest point to 33.5s after a convincing early break-away by Sébastien
Ogier pricked that balloon on Sunday by a blistering charge up the Col de Turini, coping with frost and black ice, and assured himself of the honour of being presented the trophy by Prince Albert. Tänak had brought credit on himself with a second place for Toyota who also managed to secure third place with Jari-Matti Latvala and with that a narrow lead in the constructor's championship after this first Rally.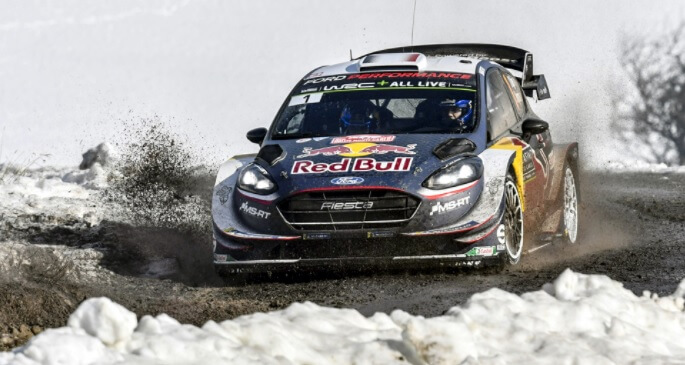 Punctures, spins off the road into ditches, you name it, meant that the remaining places were subject to all the drama one has been led to expect from the world's most exciting and dangerous Rally. It was almost impossible to do the perfect weekend even for Sebastien Ogier. Choosing the right tires with weather conditions changing all the time was a nightmare of a challenge.
The podium places having been determined everyone headed to the Palace for the festivities. Cheers met Prince Albert in the Palace square as the festivities reached a crescendo and Sebastian Ogier and Julien Ingrassia received their accolades yet again.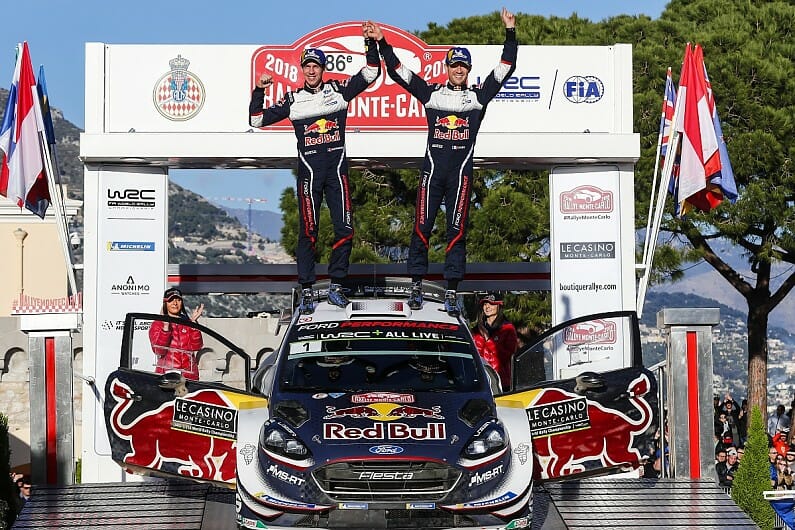 Later in the interviews we learned that Ogier had really felt the pressure on Saturday as Tanak made up ground on him, Sébastien admitting that that was possibly the hardest day's driving in his career. Sebastien credited his win to making less mistakes than the others and making sure that his mistakes were relatively small. He was magnanimous in his praise for Tanak, even though while did not think he had the best tyres for the powerstage, he still did enough to beat Tanak to a bonus point.
And co-driver and navigator Julian Ingrassia was thankful that his driver Sebastien Ogier was still trusting him in the car, as his notes on navigation had to be continually modified from his original reconnoitre.
That's the Monte Carlo Rally for you – it is absolutely unique and tasks everyone to the limit.