Grimaldi Family
Hercule I, Doctor of Law and Father of The First Prince of Monaco
The Grimaldi Princes have historically distinguished themselves in the arts and also in culture, sports and science. As a lover of the arts Prince Honoré II built the great collections of the Palace in the seventeenth century. Prince Albert I was a world-renowned eminent marine scientist and our reigning Prince Albert II participated in five Olympics. There is also a less heralded Lord among those of the Grimaldi dynasty who also demonstrated a fine intellect: Hercule Grimaldi born on September 24, 1562, the youngest son of four of Lord Honoré I of Monaco and his wife Isabella. In the Archives of the Palace there is a beautifully framed Diploma granting him a doctorate from the University of Padua at 22 years old — a Doctorate in Civil Law and Canon Law which would have been the culmination of four years of study, the first two years being the equivalent of a Bachelor's degree. At the time Hercule, being the youngest son, would have been preparing himself for other than the role of Lord (Seigneur), perhaps even for an ecclesiastical role. But fate had other plans…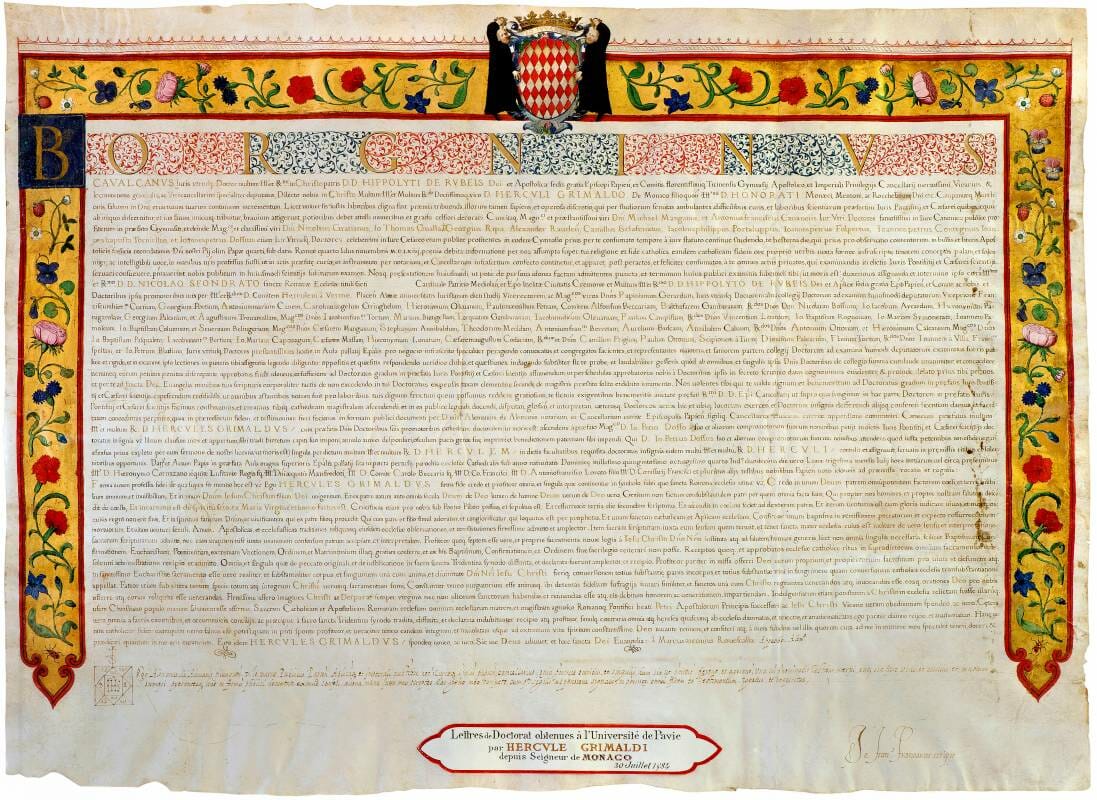 Troubled Times
Hercule's eldest brother was Charles II who succeeded his father as Seigneur of Monaco in 1581. His other two brothers, François and Horace, both died young. So when 33-years-old Charles II after just 8 years into his reign died unmarried and childless, Hercule succeeded him as Seigneur on May 17, 1589 at the age of 27. It was not an easy mantle to inherit as it was to be one of the most troubled times in Monaco's history. The Spanish garrison on the Rock were progressively loathed by the Monegasque population. And Monaco with its strategic harbour was the target of many a conspiracy by surrounding feudal lords including Provence and Savoy, not to mention the lords in the great centres, in what is modern-day Italy. Savoy tried their hand at claiming Monaco via a notary called Boccone with the intention of driving out the Spanish and overthrowing the Grimaldis. Again though, success escaped them.  
In 1595 Hercule married Maria Landi. They had three children: two daughters and a son, the future Honoré II, the first Lord of Monaco to bear the title Prince of Monaco.
Mysterious Assassination
It was a dangerous time to wander the streets and Hercule's life was cut short one evening as he ventured out. On November 29, 1604 after leaving the house of the Governor Gastaldi (now 15, Rue de Comte Félix Gastaldi) the Lord of Monaco was stabbed to death… The Monaco Parish Registry records that, «The most noble and worthy seigneur Hercule Grimaldi, seigneur of Monaco, Marquis of Campagna, called to a better life at the age of about 42. Attacked by a force of 5 or 6 in the Grand-Rue, in front of the house of the «podestà master», Bartholomies Dadino, he at once delivered up his soul to God». 
We don't know exactly why this cruel act had happened… But it's obvious that in order to avoid the sad destiny of their father, Hercule's children were immediately hidden — till the moment when their uncle Feredico Landi, the 4th Prince of Val di Taro, arrived to rule as regent and ensure the Grimaldi dynasty would be preserved.
Damnation of a Glorious Name
Heracles (known as Hercules by the Romans) is one of the most respected heroes in Greek mythology, a symbol of strength, power and bravery. Sadly, bearing this revered name neither protected Hercule I from his fate and neither did it provide immunity from disaster to his progeny.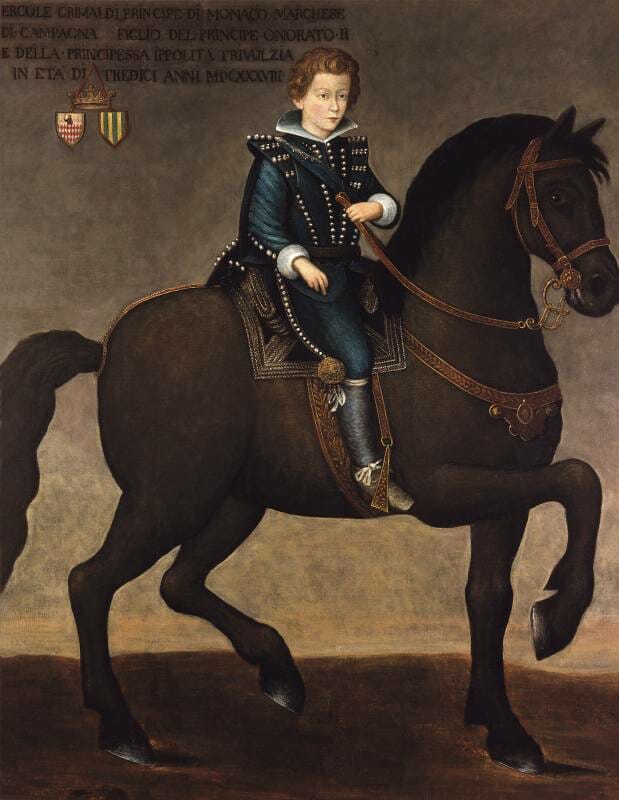 The next princely Hercule was the son and heir of Honoré II, proudly named after his grandfather, and father of the Prince who would ultimately reign in his stead, Louis I. The young Hercule, would-be heir with his new title Marquis de Baux, was also to meet an untimely end. It happened, on August 1, 1651 when he and his wife, Aurelia Spinola, and their children were making an expedition to the convent of Carnoles in Menton. After the sojourn was over the young Marquis Hercule took a walk in some gardens that were close by, target shooting with some soldiers of the guard with a relatively new rifle called an arquebuse. Suddenly, Hercule ordered one of the soldiers to shoot at a target to see how proficient he was. The soldier, eager to obey, turned rapidly and, while doing, caught the arquebuse in his belt. The weapon fired, and by accident, struck two others nearby and wounded Hereditary Prince Hercule in the spine. It was a mortal wound and he died the next day. On his deathbed he asked again and again that his involuntary murderer not be punished who, however, was placed in prison and there tried to commit suicide. The last will of the dying Hercule was respected, nevertheless: the soldier left the prison and then Monaco forever. 
Hercule's Progeny
Hercule I himself, Lord of Monaco and Doctor of Law, was buried in the St Sebastian chapel of St Nicholas Cathedral and would have been terribly saddened to learn his grandson and namesake had like himself been struck down in the prime of life. Though he also could not know it, he would have been proud that his 6-year-old son and heir would became Lord Honoré II, Seigneur of Monaco and subsequently first to carry the formal title Prince of Monaco. Neither could Hercule I know that his early achievement of earning a Doctorate in Law would over 400 years later be one of the treasures of the Archives of the Prince's Palace. 
HelloMonaco magazine thanks the audio-visual archives of Monaco for the illustrations.