WOW
Words of Wisdom in Monaco with Dave van Dorst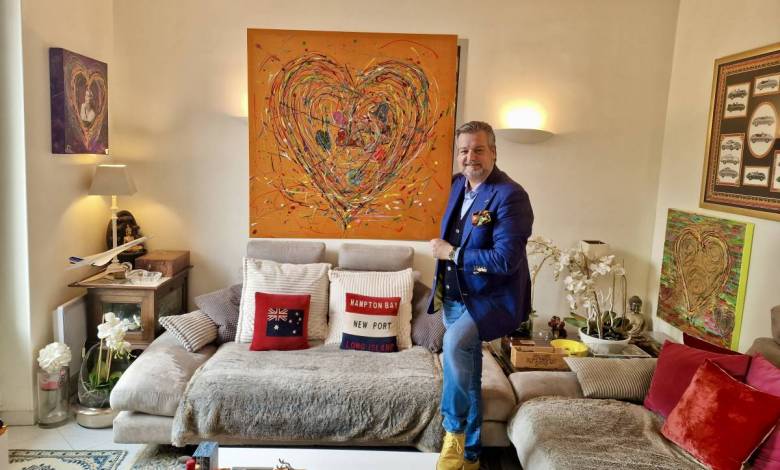 We were delighted with the opportunity to interview the talented artist Dave van Dorst. Known for his signature hearts and ladybugs, Dave tells us about his fundamental inspiration and how he derives his remarkable sense of creativity. Sharing some insights on his working style, and often charitable acts, with HelloMonaco, we learned about the origins of Dave's dazzling artworks — which adorn the Riviera and Monaco coast!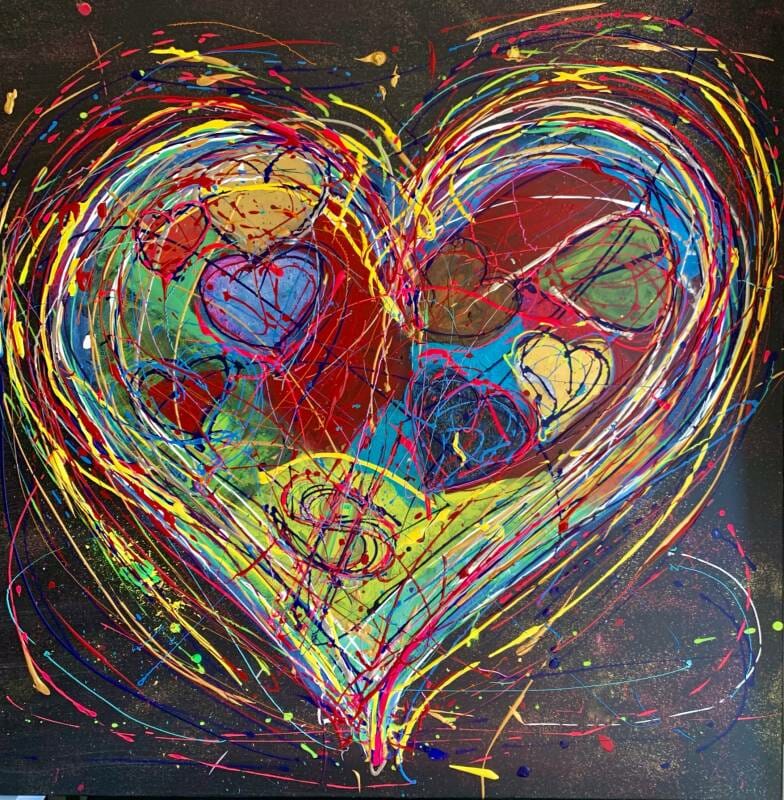 Hello Monaco: Dave, could you share some background history about where your family is from?
Dave van Dorst: I am originally Dutch and Belgian. I spent my childhood in the Netherlands and Belgium and came to the Riviera in 1987. Later I returned to Belgium to run the family business in the Netherlands and in Belgium. Then I came back to the Riviera in 2012 and back to Monaco in 2015.
HM: Where were you born? 
DvD: I was born in Sittard in the Netherlands, but raised in Roosendaal — a city near the Belgium border. 
HM: How old were you when you developed a strong passion for painting?
DvD: I was drawing a lot as a kid, mainly boats. I started painting in school in the Netherlands when I was 8 years old. I made my first oil painting, a park with a wooden bridge … There I found my first love for using paint. Also, my parents were very creative, my Mom was designing her own clothes, and even our clothes — for me and my brother. She was sewing everything in her atelier in our home. My father, a car & boat trader, was always very creative. 
A few years later in Belgium Boarding school I started to do more art works. I was very inspired by my art teacher who told me to become a paint artist. I disagreed, and said that I wanted to be a businessman. I stopped due to moving to the Riviera and there were no art classes in the AIS at that time (the actual English International school, nowadays). I started again in 2014, due to a broken heart. I painted 2 hearts, but it was only in 2019 I decided that I only should paint hearts.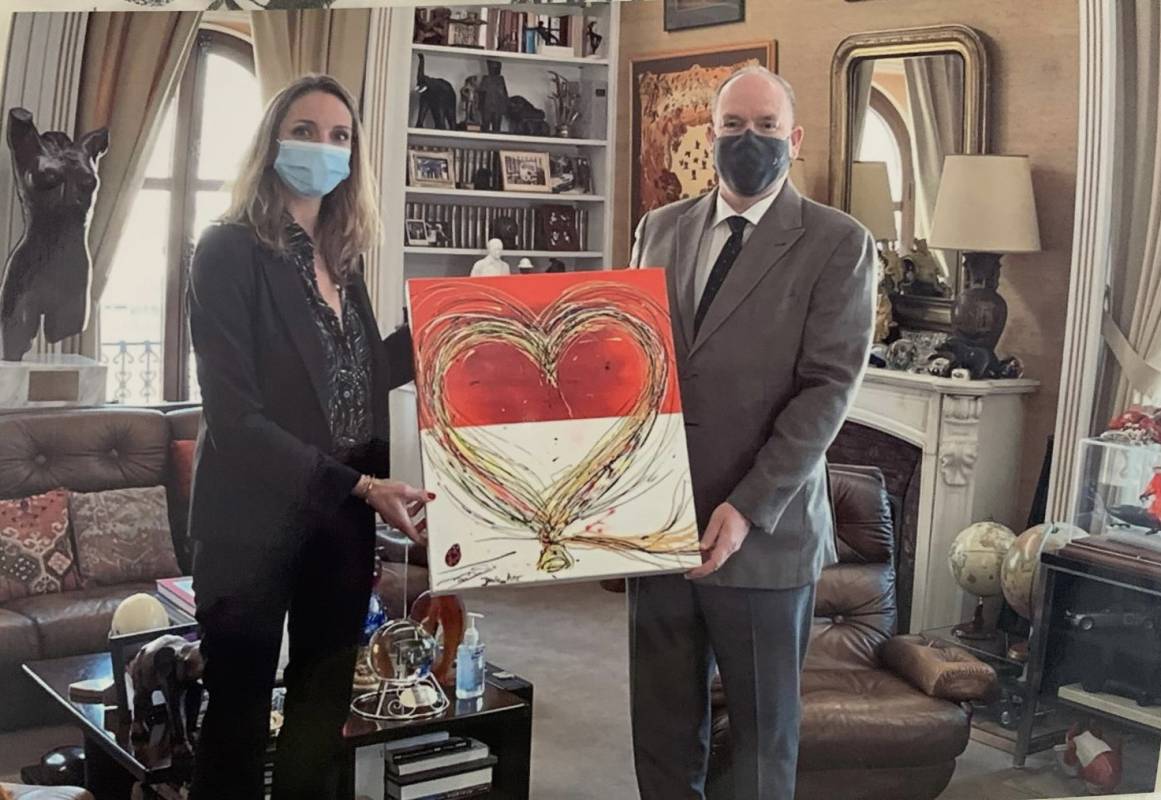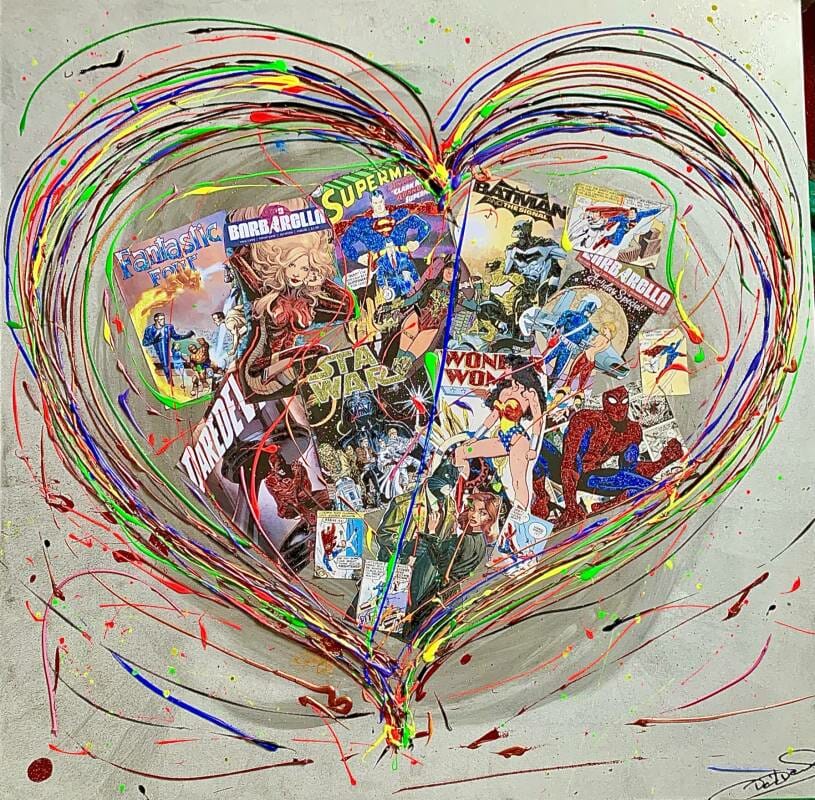 HM: Why did you move to Monaco when you did?
DvD: I came back because I have my old school friends in Monaco. I always loved Monaco. I knew that when I was in Monaco when I was 9 years old. Also, I believe I admired Princess Grace and loved their story.  
HM: It says that you used to run a successful business, but 2010 changed everything. In 2014 you got back to painting. Could you share with us what happened?
DvD: That is a depressing period of my life. I lost my main business, a big deal went wrong and I was obliged to sell everything. I came back to change my life in a totally different way, and started to work for VIP people, helping to run their private life and come up with solutions, maintaining properties, organizing private events, etc. I saw myself as a kind of private concierge. It made me happy to help people. Also, I am involved in the yacht industry. I am a yacht broker. It has always been a fascinating world for me since I was a child.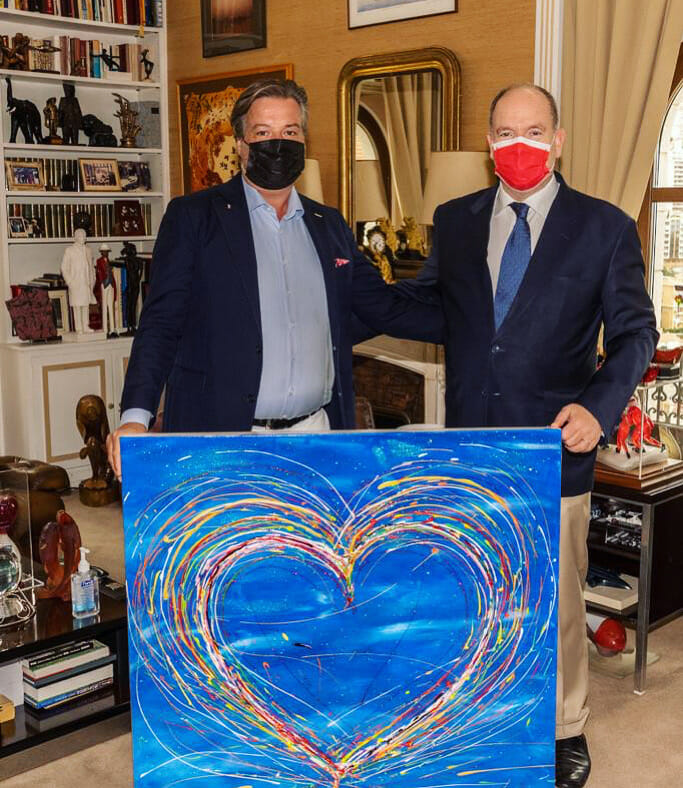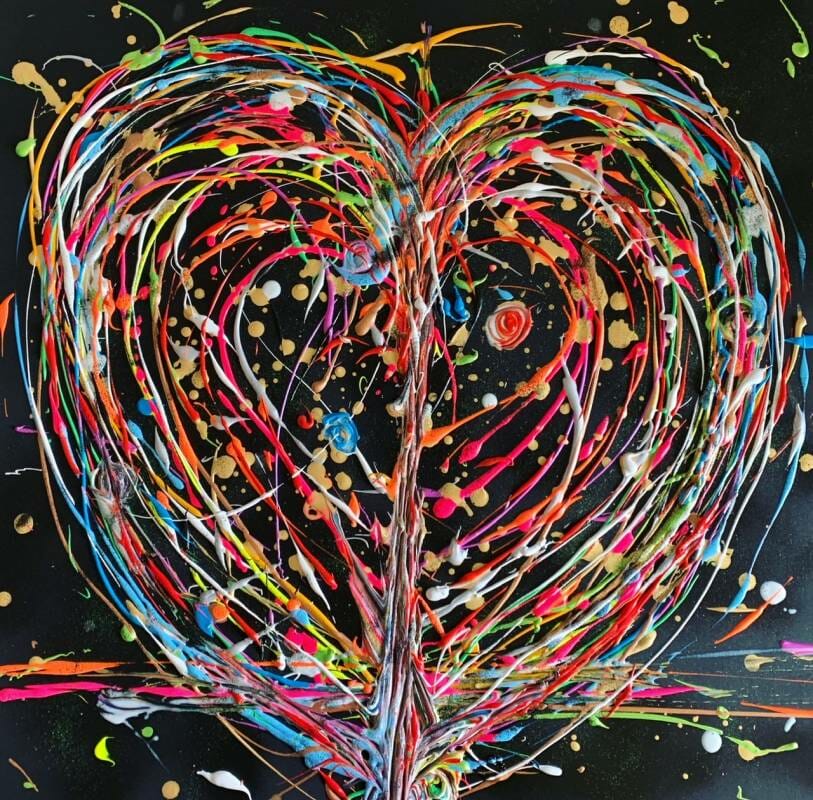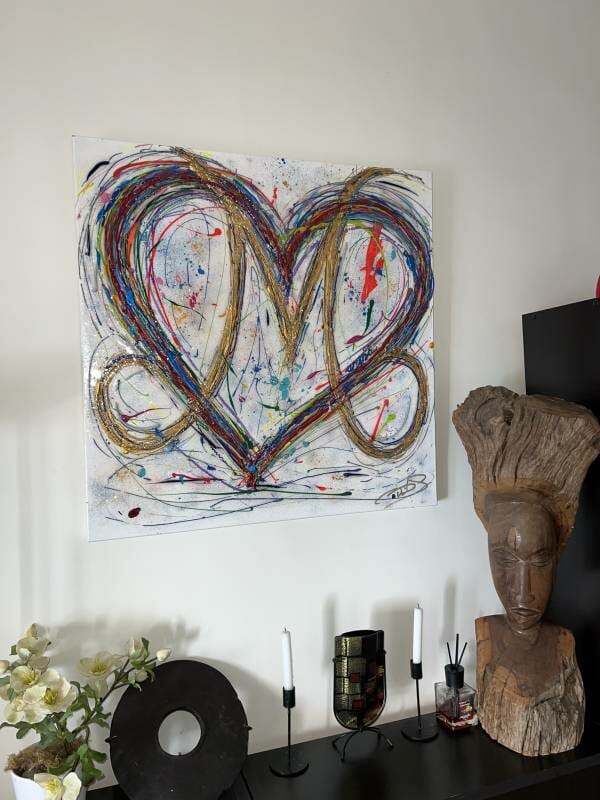 HM: Where did the inspiration for the heart paintings come from?
DvD: I was inspired by my friend Marta Grigorieva to paint again in 2014. Also I had a broken heart due to a relationship that didn't work out; I painted two hearts, one was a bleeding heart… Later in 2015 I made a test painting on Carton, with a heart with many strong words, and I called it "with love from Monaco!" In 2019, I started to work with Resin. An Italian friend said that I should have more of those hearts. It became an obsession, and a passion. I had the feeling of spreading love around. And I started to sell many paintings to people around Monaco.  From the heart to the heart. 
HM: What inspires you to donate some of your work to charity?
DvD: I was always giving back to the world, before with money, nowadays with my paintings. One of every four paintings goes to charity. 
HM: What inspires and motivates you in your work? What keeps you the most excited during the creative process?
DvD: Creating is very relaxing, sometimes I paint in the middle of the night. I often write new ideas for new pieces! Every artwork is connected with someone or with a few people like a family. There are no limits to create! I do a lot of commissions for people …where they choose the background and they give me their favourite colours, and I create a masterpiece afterwards! 
I don't make a living from my art, but I could paint the whole day. My dream is to have a big atelier where I can create bigger pieces, and work on more pieces at the same time. 
I am limited till today to a maximum of 200 × 200, and to work on 1 or 2 artworks at the same time.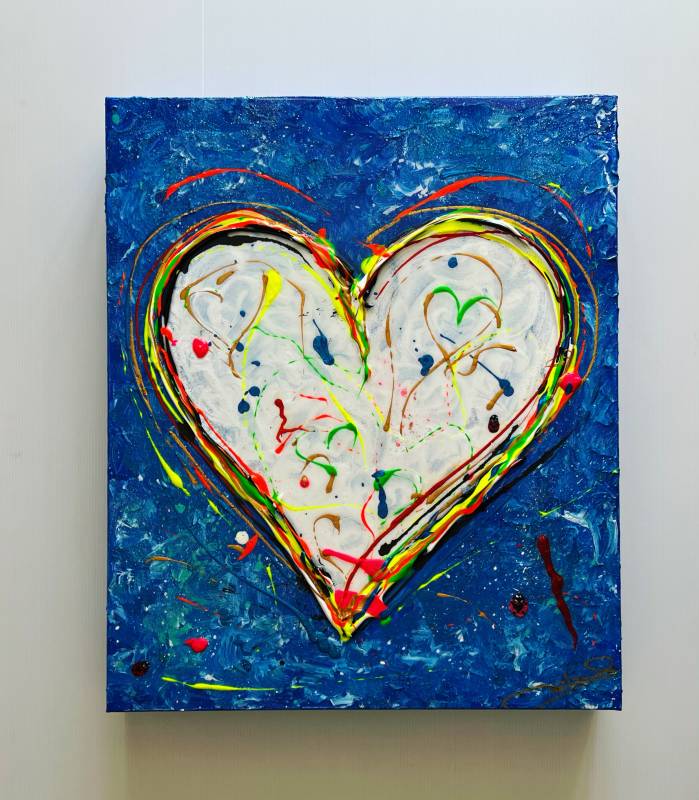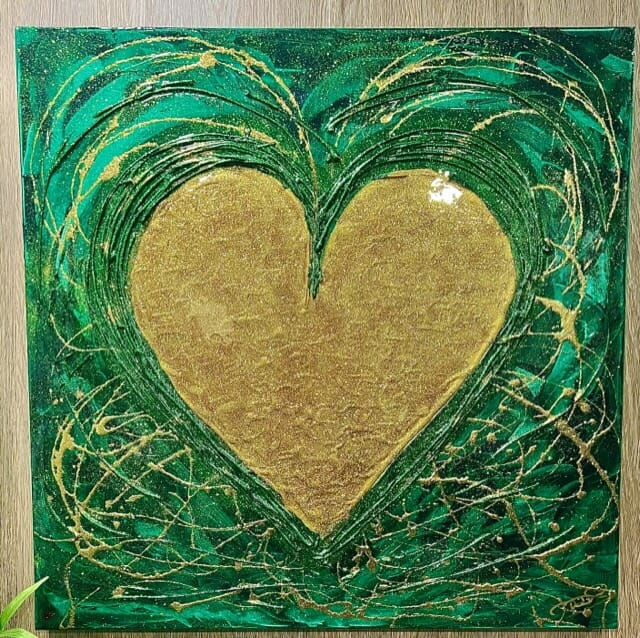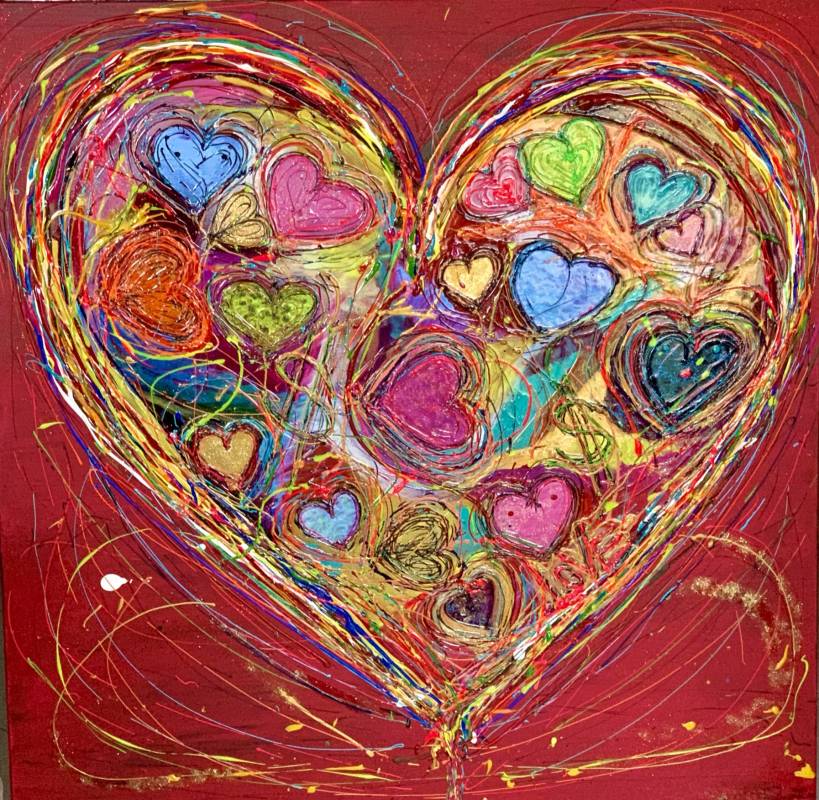 HM: Which artists do you admire and why? 
DvD: Always liked Picasso, and Chagall. Due to my work with VIP families in Monaco I have been in touch with Chagall works and started to be interested in his story! I like a lot of contemporary art, but also I like designers who inspire me with their colour combinations. I consider myself a new hyper decoration artist, marrying my pieces with houses and rooms. 
HM: Your signature Ladybugs bring so much happiness to homes and families. Could you tell us more about the magic behind the Ladybugs?
DvD: There were many Ladybugs in our family house, my Mom said not to kill them because they bring happiness to the house. I made a painting for my kitchen with a garden of flowers with many ladybugs, to create happiness in my house. This gave me the idea to sign every painting with a ladybug… So the hearts bring love and the ladybugs bring happiness!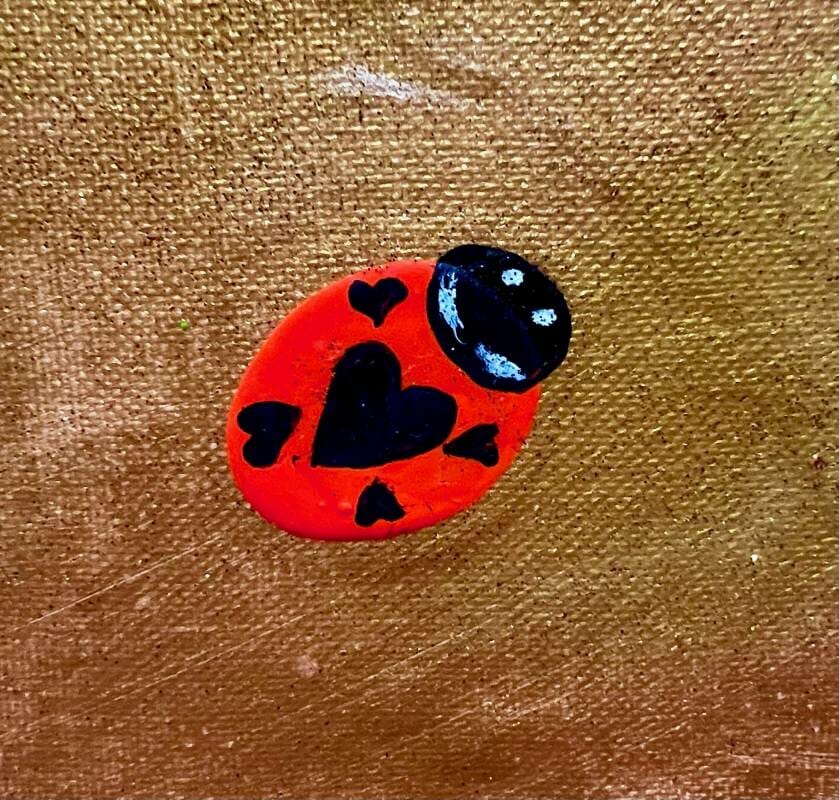 HM: The final question is… What is your best advice for beginning artists? 
DvD: I still see myself as a beginning artist, I sold my 50th painting last year. I was exposing other artists by organizing the "MY ART GOES BOOM" expo in 2021 and 2022 in Monaco in the L'Entrepôt gallery in Rue Millo. 
Being an artist is not easy. Creativity requires courage. You must never give up, create more and more and expose when you can. Marketing yourself is important because it increases the awareness of the artist's work. Social media became very important and to have a website with a shop. Also finding good agents — it's a partnership, but it works.