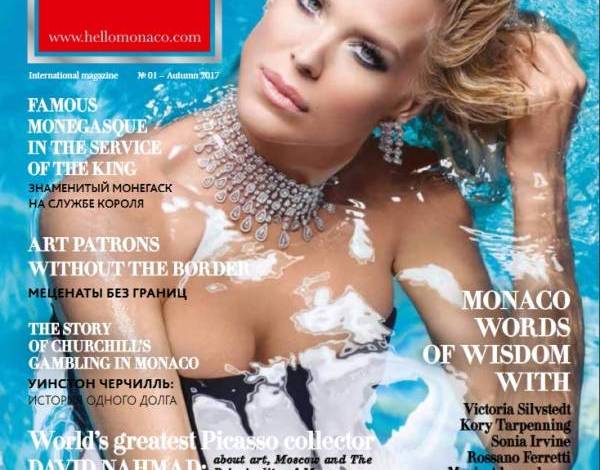 Dear readers,
We are proud to announce that you can find the first issue of the printed version of HelloMonaco Magazine in the most exclusive places of Monaco and Cote d'Azur!
HelloMonaco Magazine is a logical continuation of the online version of www.hellomonaco.com that has grown strong and has gained an impressive number of readers. Our like-minded, energetic and creative team is now ready for a new challenge with this new ambitious mission.
Among many new and interesting sections which you can find in HelloMonaco Magazine, the first issue contains also our new project, "HelloMonaco: Monaco Words of Wisdom" (MWW), which will introduce you to the residents of the Principality who have achieved much in life. Each person's experience in life is different, but they all have valuable lessons to share.
In the first edition, this worldwide wisdom section will feature the celebrity hairstylist Rossano Ferretti, co-owner of both Starbucks and Nike in Monaco, Cory Tarpenning, a well-known model and also a Forex trader Victoria Silvstedt who took a part in the sumptuous photoshoot the results of which you will find out on the pages of the HelloMonaco Magazine. We will also talk to the Bolshoi Theater prima ballerina Maria Alexandrova and founder of the Amber Lounge, Sonia Irvine.
Secondly, our magazine is designed for those who like to read, discover new things, not just flipping through colourful illustrations. That is why all our materials are original and prepared in Monaco at a highly professional level.
We sincerely hope that you will enjoy HelloMonaco Magazine and that you will find on its pages a lot of interesting facts about rich history and cultural life of the Principality as well as about life in general.
Enjoy your reading!
Fashion photoshoot for HelloMonaco Autumn 2017 premier edition
CREDITS AND SPECIAL THANKS TO:
Characters: Victoria Silvstedt @victoriasilvstedt , Tom Claeren @tomclaeren , Xavier Fuller @xavier_fuller,
Photographer: Loïc Thébaud @loicthebaud , assistant photo: Jerome Nicodex High End
Retoucher: Emilie Desmeules @emiliedesmeules
Jewellery partner: @chopard @chopardbycaroline @chopardmonaco
team: @xavier_fuller @katya1209
Producer: Olga Taran @hello_monaco
Producer Assistant: Katya Taran @katyataran
Art-Director: Alesya Dorward @mc_wonderland_
Hair-style: Karina Charlet (Cool Bay | So.B. Monte-Carlo) @karina_charlet @coolbaysob.monaco @monaco.coolbay
Make-up: Joana Manangan Ronquillo @jm_honeyz
Style: Your's and Pretty You Monaco team @yoursmonaco @prettyyoumonaco
Boat: Lia Riva (Monaco Boat Service Riva Exclusive dealer) and The Style Lab team @riva.mbs @stylelabltd
Shoot location: Villa La Sarrasine, Saint-Jean-Cap-Ferrat, introduced by Anna Ganshina (Agency Knight Frank, Cannes) @noushka_necklaces