The Fight Aids Cup 2023
January 23 @ 6:30 pm

-

9:00 pm

€10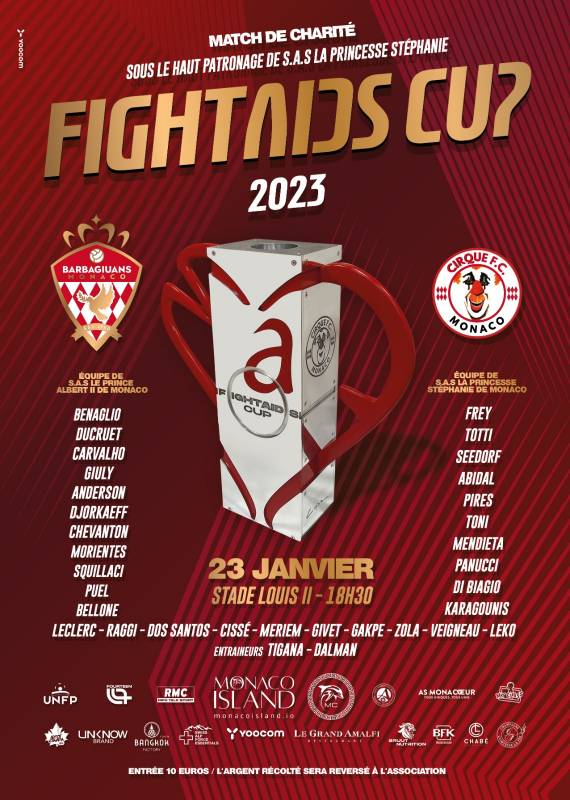 On January 23, 2023, as part of the 45th International Circus Festival, Prince Albert II's team, "the Barbagiuans", will finally attempt to win the prestigious trophy from Princess Stephanie (CIRQUE FC), who has owned it for three years in the third edition of the FIGHT AIDS CUP at the Louis II stadium.
The FIGHT AIDS CUP is now a must in the Monegasque sports landscape and represents much more than a simple soccer match. The event, organized by the "Barbagiuans", will also promote the actions of Princess Stephanie's association, FIGHT AIDS MONACO. It will also be an opportunity to put the fight against HIV at the center of attention for one evening.
Programme:
Players entrance on the field for the warm-up: 5.30 pm
Arrival of the players for the match, with H.S.H. Prince Albert II and H.S.H. Princess Stéphanie and the «clowns en folie»: 6.20 pm
Presentation of the players to the princely family: 10 min
After that, a fictive kick-off given by H.S.H. Prince Albert II and H.S.H. Princess Stéphanie, Kick-off of the match: 18:30
Two halves / 2 X 40 minutes
Half-time: 10 minutes, during which: circus animation, video promotion of FIGHT AIDS MONACO and the international circus festival.
Gala of the Barbagiuans after the match is organised at the Fairmont hotel.
ALL PROFITS FROM THE ENTIRE EVENING WILL BE DONATED DIRECTLY TO FIGHT AIDS MONACO.
PRICE OF TICKETS FOR THE MATCH, 10 EUROS.