"The Last Day of a Condemned Man" in Théâtre des Muses
April 19, 2018 @ 8:30 pm

-

April 20, 2018 @ 10:00 pm

€17 – €28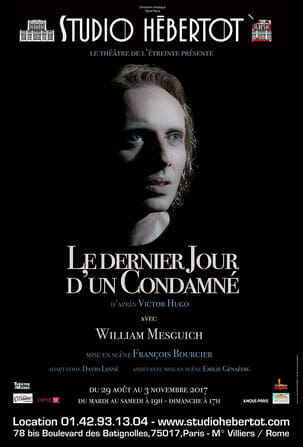 "The Last Day of a Condemned Man" ("Le dernier jour d'un condamné"), classic theatre by Victor Hugo with William Mesguich on Thursday 19 and Friday 20 April, at 8.30 pm Théâtre des Muses.
This is a story of a death row prisoner who wrote a diary during the last twenty-four hours of his life. Here he relates, in the first person, the last six weeks of his life, from the beginning of his trial to the moment of his execution. As Victor Hugo wished, the viewer will know neither the name of this man, nor what he did to be condemned.
All of a sudden, the spectator is propelled into the condemned man's head and sees through his eyes. The count of what remains to live becomes astonishing since everything is lived in the moment before us.
Tickets range between 17 and 28 euros.