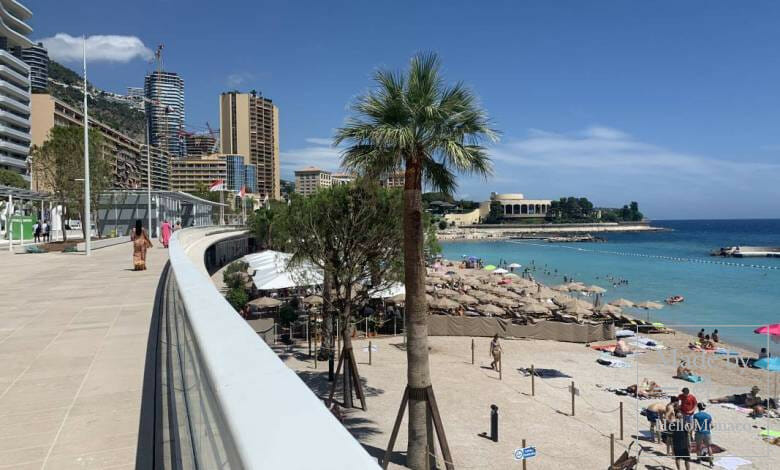 Where do visitors and residents of Monaco spend their days from the end of May till October?  Weekends are traditionally beach days and many choose the Principality's main beach, Larvotto. You can spend your time with friends and family here or go for a quick swim on a lunch break. If you prefer a comfortable stay at the beach, with great food and excellent service, here is what Larvotto can offer.
La Note Bleue Restaurant
La Note Bleue takes first place in our ranking. Whether on a busy day in high season or a cool rainy evening, you can enjoy a spectacular sea view here.
The beach has great waiters. Take your time to know them and you will always have a table and a sincere smile as a bonus. White sofas, books, and magazines are at your disposal inside the restaurant. And in high season you can listen to live music in the evenings – the owner is a big jazz lover.
La Note Bleue prides itself in its food, different from the usual beach fare of pizza and pasta. Try a sea bass with truffle oil, arugula, and Parmesan; quinoa with feta; an Asian plate of sushi and sashimi or a tasting set (menu degustation). For dessert, try the traditional French apple 'tarte tatin'. And a glass of rosé is a must when it is very hot.
You can spend a whole day at La Note Bleue. Sun beds with an umbrella are 40 Euros for 2 people for a full day, or 35 Euros for half a day. You can get your food and drink right there or dine in the restaurant, while admiring the sea at your leisure. There is also a small area with a sandbox for children—the usual base camp for parents.
The kitchen opens for dinner at 7:30 pm. Dress up nicely for a great evening and continue your party in one of Monaco's night clubs.
At the height of the season, especially on weekends, the place is very popular. Prior booking is required, the staff speaks English.
La Note Bleue, tel: +377 93 50 05 02,  https://www.lanotebleue.mc/
Miami Plage Restaurant
Second place goes to Miami Plage located just behind La Note Bleue. Kids love the local oven-cooked pizzas, while adults enjoy Frito Misto – a mixture of battered seafood (small fish, squid, octopus) or artichoke salad with lemon and Parmesan. Good pizza, apparently, makes this place very popular among families and a regular venue for children's parties. The restaurant and beach area are large enough for everyone.
Same as La Note Bleue, you can spend a whole day here (40 Euros for two) or half a day, renting sun loungers and parasols. Or just have lunch or dinner in the restaurant. The service is at its best, the staff speaks English, and prior booking is required at the height of the season.
Miami Plage, tel: +377 93 50 94 16, https://www.miami-plage-monaco.com/en/