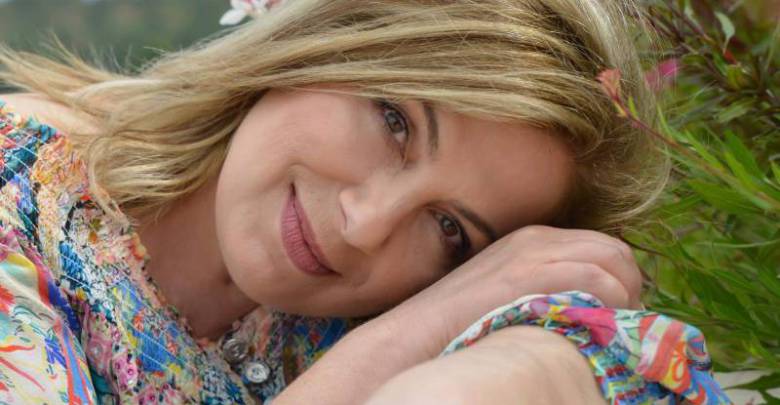 The Authentic Greek Cuisine in the Heart of Monaco
The Greeks shaped part of Monaco's history and Port Hercule in Monaco is proof of it. In keeping with the times instead of the demi-god Hercules a female Greek goddess just sped in to take residence in the Hotel de Paris for enough time for food worshippers to take note. It is the world-famous, TV icon and personality extraordinaire, the household name of Greek cooking Dina Nikolaou.
Her family cuisine is revered but did you also know that the book "Cuisine de  l'école Chef d'Oeuvre" is the first to have won the World Cookbooks awards, as the best Greek book of professional cooking. Which is why Alain Ducasse and Patrick Laine could not wait to welcome her to Omêr – Monte-Carlo's "mezze" paradise where tasting and sharing dishes reign.
In 2017 Gilles Pudlowski, the publisher and creator of the famous gastronomy guide "Publo Paris", brought Dina to the very top by awarding her "Evi Evane" the best foreign restaurant in Paris. So it made sense for Omêr which is similarly taking the Côte d'Azur by storm to team Patrick Laine with Dina and have Alain Ducasse taste their divine creations. Which means that Omêr can be relied upon to have the finest Greek and Mediterranean cuisine ready for your mezze moments this Summer.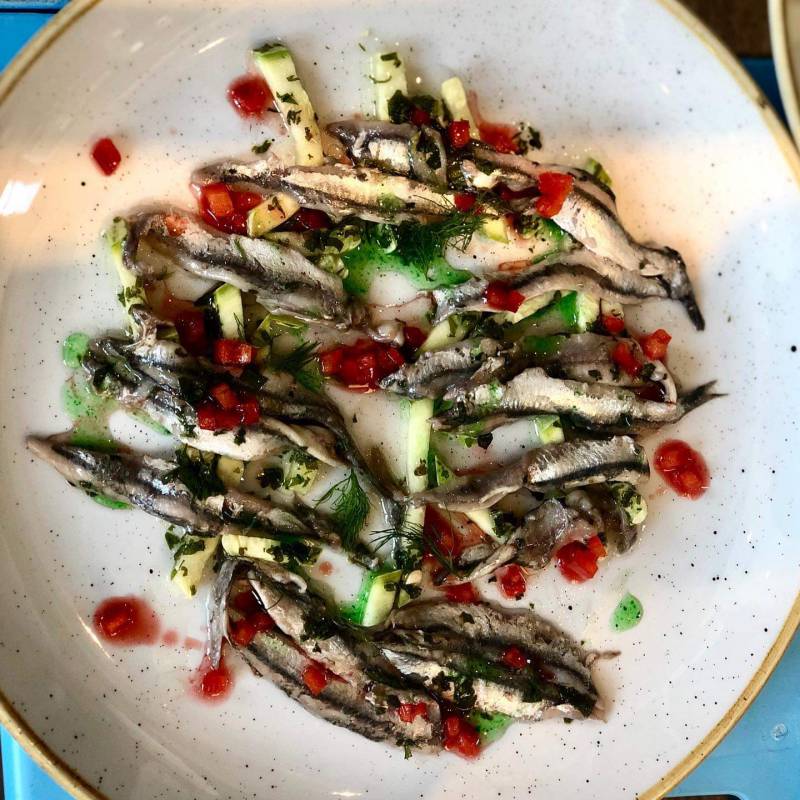 You will be sorely tempted to learn Greek to ask Patrick Laine to regale you with the best dishes in their native tongue. The savours are so fresh and authentic and mouth-watering. But don't worry, whatever you see at Omêr just point and say the revered words "the Dina Nikolaou inspired mezze please".
Dina Nikolaou Recipes You Should Try
For those who like to call Dina's wonderful dishes by their authentic names, here are gems to sample in Omêr in Monte Carlo or even in Paris whenever you can find them on the menu:
spanakotiropitakia – a kind of mini-puff pastry by the minute, with fresh spinach and feta, yummy!
fassolada – the Greek national dish, which is a soup of white beans, with olive oil vegetables, and if you are fortunate accompanied by Karpenisi sausage and grilled Manouri cheese,
avgolemono dolmades – grape leaves filled with rice with raisins, dried tomatoes and fresh herbs, all fine, and couldn't be fresher!
saganaki – a preparation of cheese with sheep's milk, pumpkin, red Krassato wine and eggs. Forget about your waistline for a moment.
giouvarelakia augolemono – delicious small veal dumplings with lemon and lemon sauce, in the pure tradition of the meals of Greek families.
gyros arnaki exochiko – lamb baked for a long time in a finely cut oven, served in a shortbread dough and accompanied by beet pasta. Heavenly.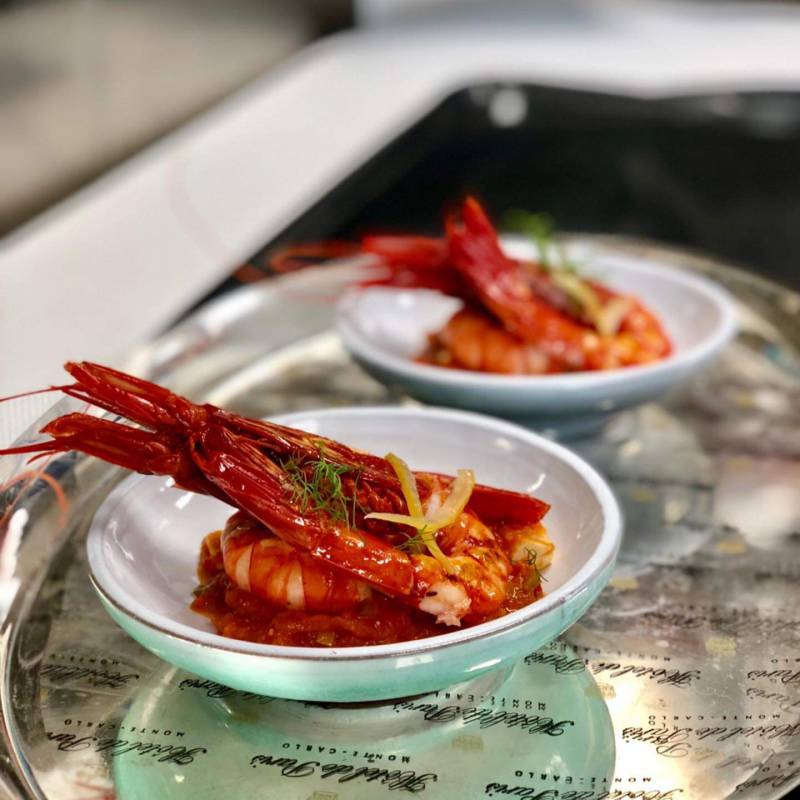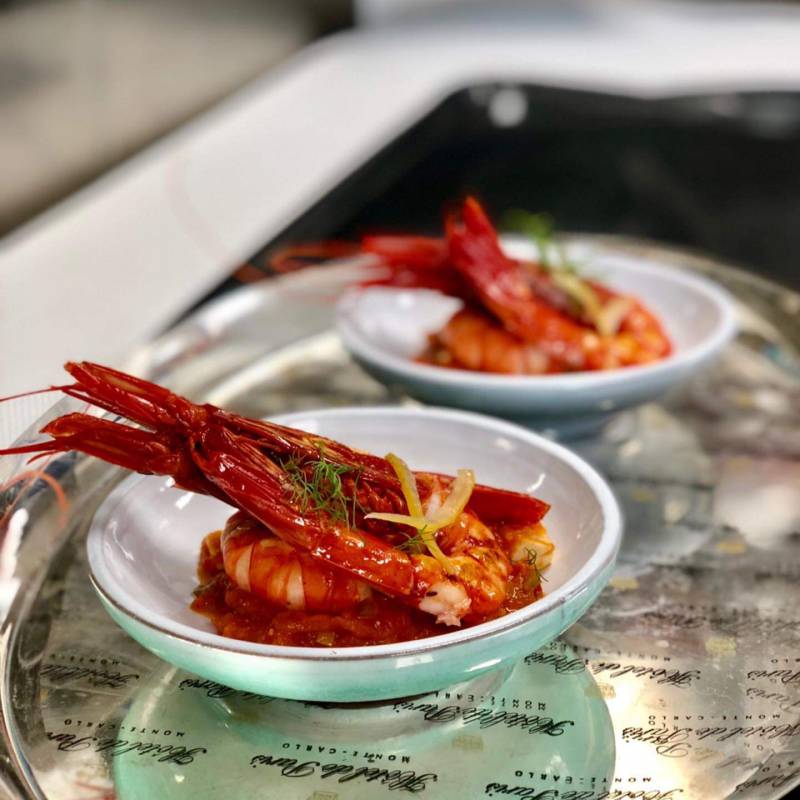 The desserts have the same amazing ring to them:
kokakia with tangerine cream accompanied by a Greek yoghurt with red berries or
portokalopita with ouzo – cake with fresh orange and chocolate. Just schedule a fast day for the following week.
Long Live Omêr, Dina Nikolaou, Patrick Laine and Alain Ducasse. Drink a toast to them with the best Greece has to offer – the amazing ouzo of Plomari (signed Isidoros Arvanatis) or the great red xinomavro Ramnista of Kir Yanni.