Weekend in Monaco
#hello_monaco weekend: what to do on November 26th and November 27th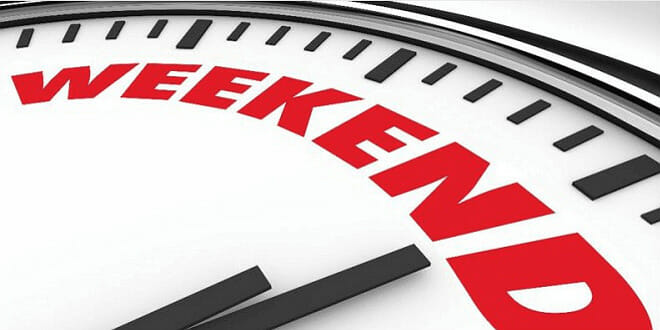 It's Friday and it seems you have a very tasty weekend ahead with lots of events for foodies. Here we are ready to tell you all about it.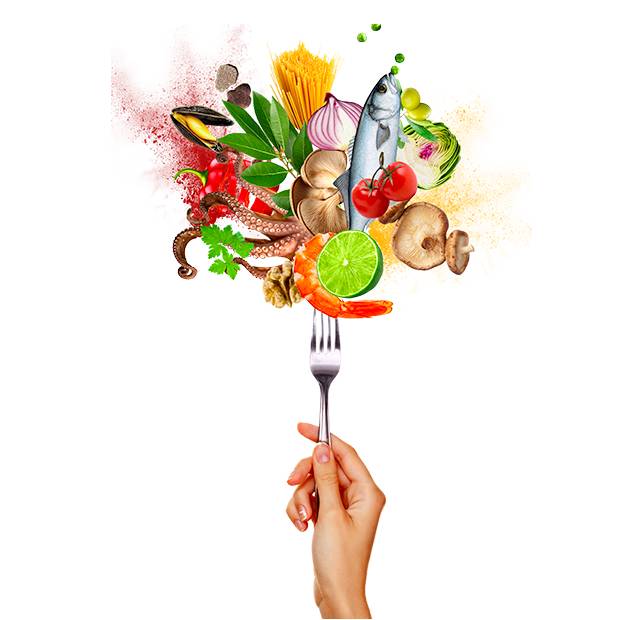 To begin there is the 25th Monte-Carlo Gastronomy Fair, organized on 25th to 28th of November 2022 in Espace Fontvieille.
Monte-Carlo Gastronomy offers visitors to taste and buy varied products, rigorously selected just a few days from the end of year celebrations. More than 100 producers of gourmet French, Italian and European products over 2,500 m2, in a refined and friendly setting.
Fine products selected with care, where the authentic flavors of the French, Italian and European regions mix: wines, champagnes, cognac, armagnac and liqueurs from the producers' domains, but also salmon, foie gras, seafood, truffles, caviar , chocolates, sweets, cheeses, cured meats, organic products, jams … The art of the table, the kitchen utensils and original gift ideas also make this event unique, the show of elegance and refinement.
For its third edition, Maestro chef will challenge 6 candidates. Each of them will have one hour to create an original recipe, and one hour and a half during the final. they will have to prepare 3 plates, using a list of ingredients that will be sent to them the day before.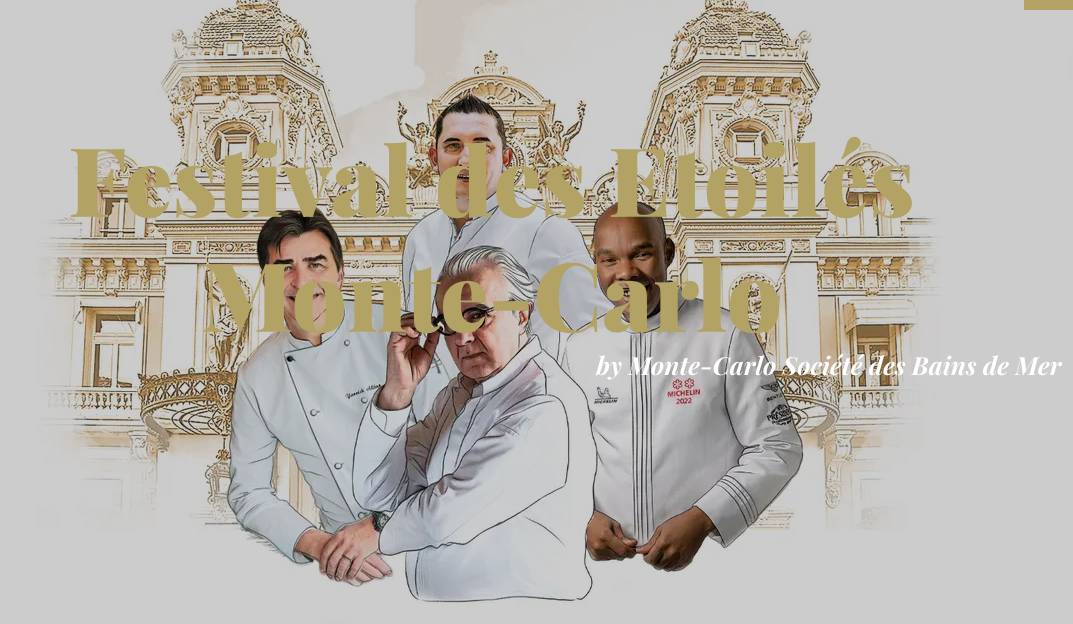 This weekend the second edition of the Festival des Etoilés Monte-Carlo will end with a special Gala evening, at which the Resort's own Michelin-starred chefs – Alain Ducasse, Marcel Ravin, Yannick Alleno, and Dominique Lory – will prepare incredible dishes right in front of you, a treat for the eyes and the tastebuds on Saturday 26 November 2022, in One Monte-Carlo.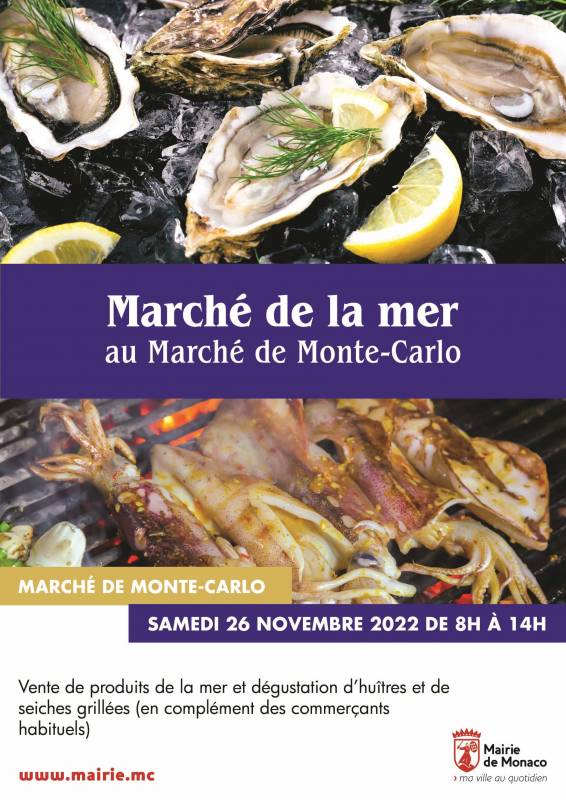 The Town Hall of Monaco is continuing its desire to revitalize its sites by organizing several "theme markets" at the Monte-Carlo Market.
On Saturday November 26, it will be a "Sea Market" which will welcome visitors at the Monte-Carlo Market from 8 a.m. to 2 p.m.
In addition to the merchants usually present, a sale of seafood products and tastings of grilled oysters and cuttlefish will be offered.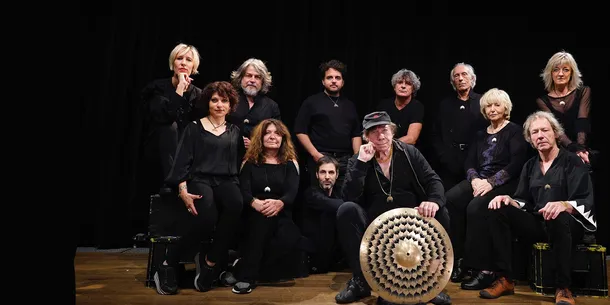 There are other interesting events in Monaco. To begin the Monte-Carlo Jazz Festival 2022 continues with Magma and the Monte-Carlo Philharmonic Orchestra concert on Sunday 27 November 2022, at 6 pm, in the Opéra de Monte-Carlo – Salle Garnier.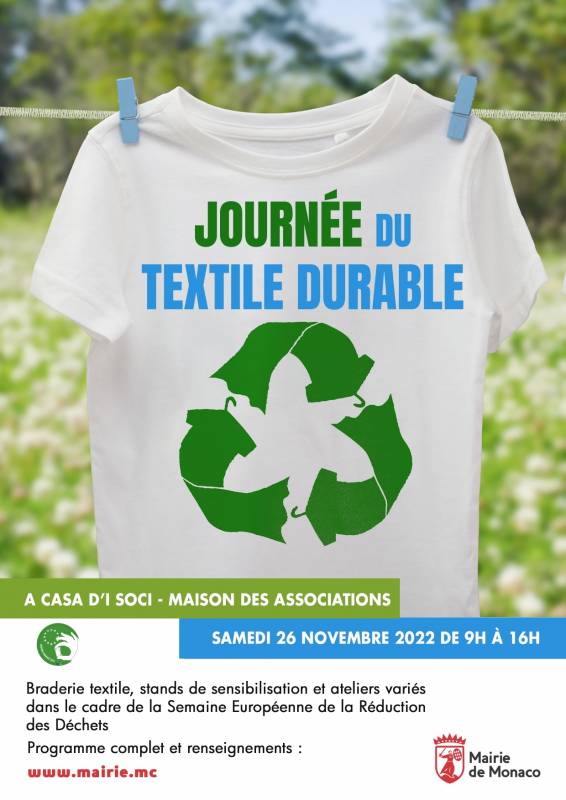 On the occasion of the European Week for Waste Reduction (SERD) which will take place from November 19 to 27, 2022 on the theme "Sustainable Textile", the Town Hall of Monaco will join this new edition through various actions. Among the highlights, the Municipal Institution, under the leadership of Marjorie Crovetto, Deputy Mayor, in charge of the Living Environment, Environment and Sustainable Development, is offering a "Sustainable Textile Day" on Saturday November 26 from 9 a.m. to 4 p.m. which will take place at A Casa d'i Soci (the House of Associations).
The textile industry, which is particularly polluting, has a significant impact on the environment (greenhouse gas emissions, water pollution, etc.). The Town Hall therefore wanted to organize a textile sale and offer Monegasques and residents the possibility to sell the clothes they no longer use and which are piling up in the cupboards! This sale of second-hand textile products allows everyone to participate in the action of recycling in favor of sustainable development.
Interested? Reserve your spot now for free at the sale by sending an email to jbonnin@mairie.mc
At the same time, various workshops and awareness stands will be available to visitors.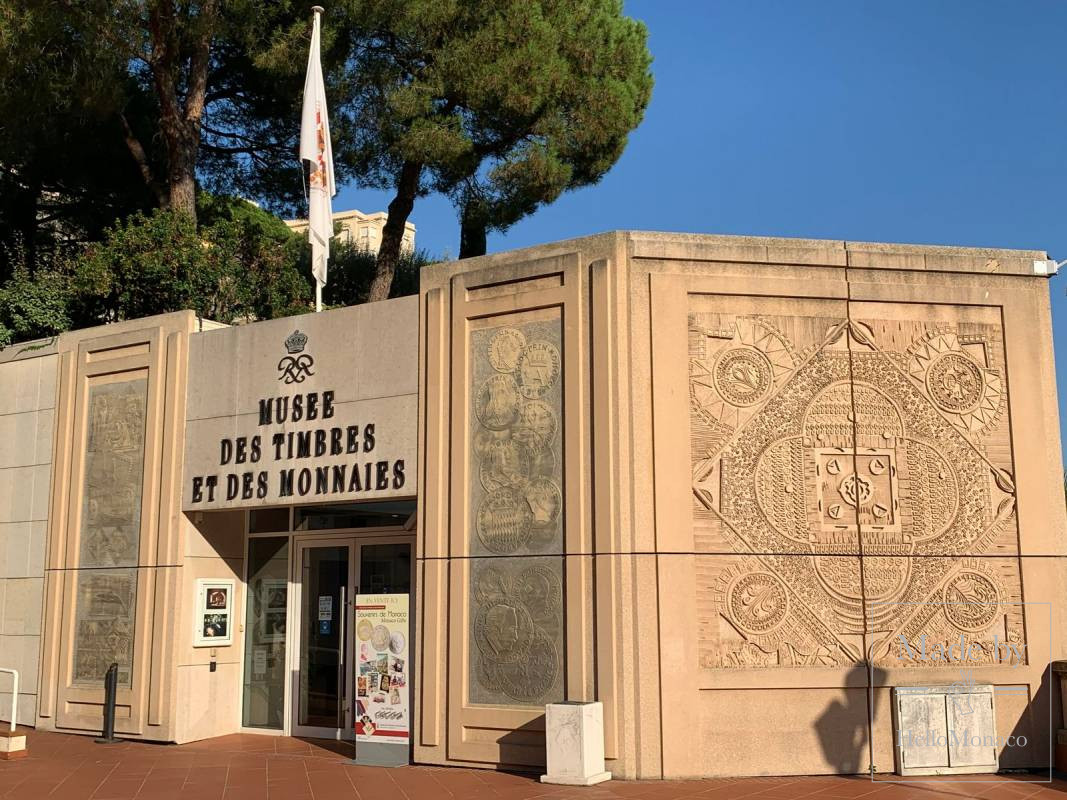 An international philately event is organised under the High Patronage of H.S.H. Prince Albert II. Visitors will be invited to discover some exceptional pieces, with the Museum of Stamps and Coins exhibiting one hundred stamps and emblematic philately documents, including many borrowed from the collections of H.S.H. Prince Albert II and the Royal Philatelic Collection, as well as from national postal museums and members of the prestigious Club de Monte-Carlo on from Wednesday 23 to Saturday 26 November 2022, from 10 am to 5.30 pm, Terrasses de Fontvieille.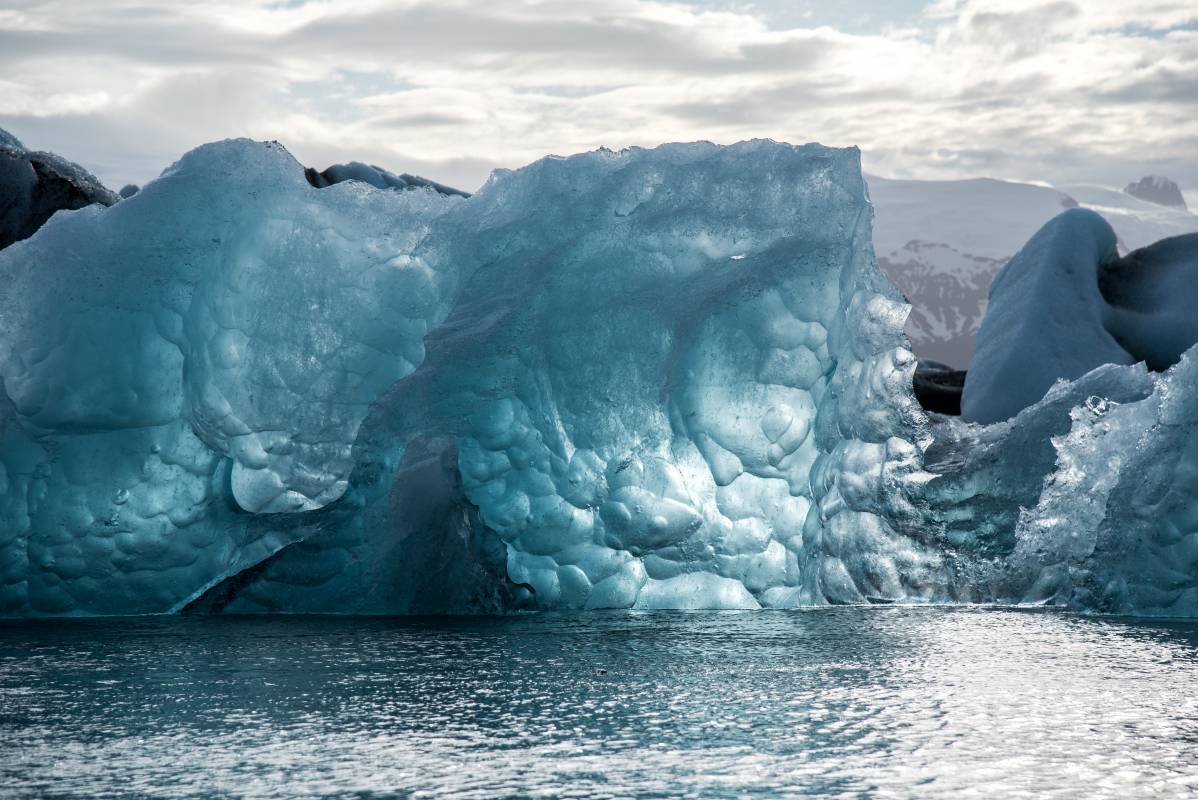 There are several interesting exhibitions open in Monaco. To begin the Oceanographic Museum's new Polar Mission exhibition is currently open and taking visitors on an epic journey from the North pole to the South pole. The new exhibition kicked off on 4 June and covers five exciting themes spread over two levels. From wildlife, to explorers, to artefacts, to immersive technology, the exhibition is chance to feel like you're voyaging to the world's chilliest landscapes at opposite ends of the globe.
The Polar Mission Exhibition at the Oceanographic Museum will be on display for the next two years. Entrance to the exhibition is included in a regular ticket to the Oceanographic Museum (€18.00 for adults and €18.00 for children aged 4-17 years). The Museum is open every day from 10:00 am to 7:00 pm.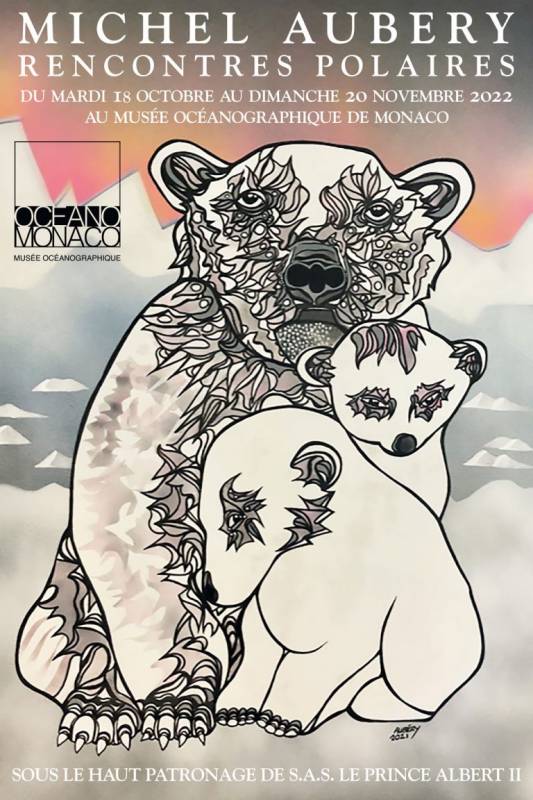 Another exhibition is "Polar Encounters" by Monegasque artist Michel Aubéry, under the High Patronage of H.S.H. Prince Albert II from Tuesday 18 October to Sunday 20 November 2022, in Musée Océanographique de Monaco.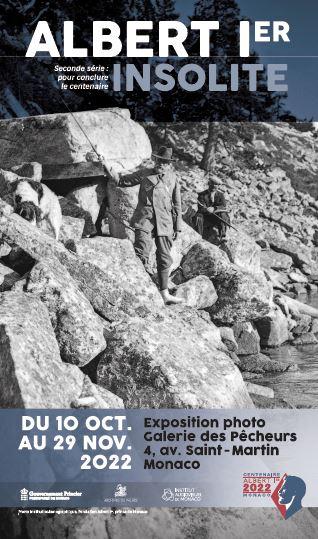 Photography exhibition "Albert I: A Different Perspective" is organised by the Department of Cultural Affairs from Monday 10 October to Tuesday 29 November 2022, in Galerie des Pêcheurs.
Of course there are other interesting events taking place in Monaco. If you want to learn more about them visit our Calendar.
So have fun and enjoy your weekend!