Luxury
On board: the latest designs and revolutionary solutions in the world of yachts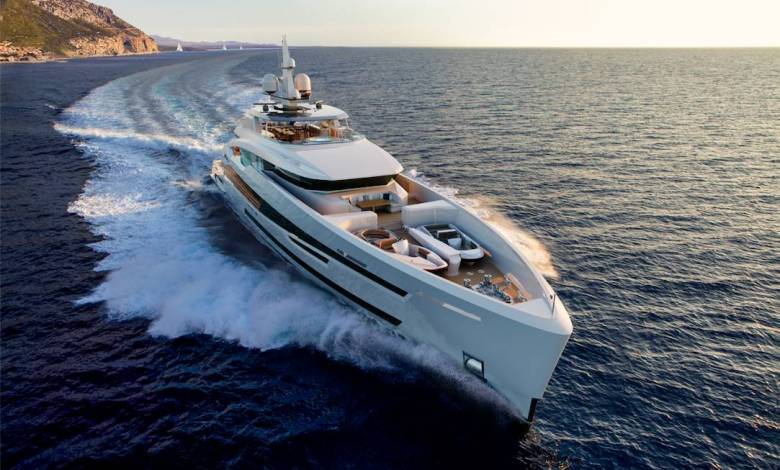 Akira, 57m superyacht, hull and superstructure joined together!
Heesen is delighted to announce that the hull and superstructure of Project Akira, YN 20457, have been joined together at the facility in Oss. The project remains on schedule and is available for delivery in time to enjoy the 2024 summer season. 
Project Akira is the first in the new 57-metre all-aluminium series of fast yachts, with an enclosed volume of approximately 780 GT and a lightweight, ultra-efficient Fast Displacement Hull Form. Heesen is one of the few shipyards in the world with the in-house capability to weld such high-performance structures to the required tolerances.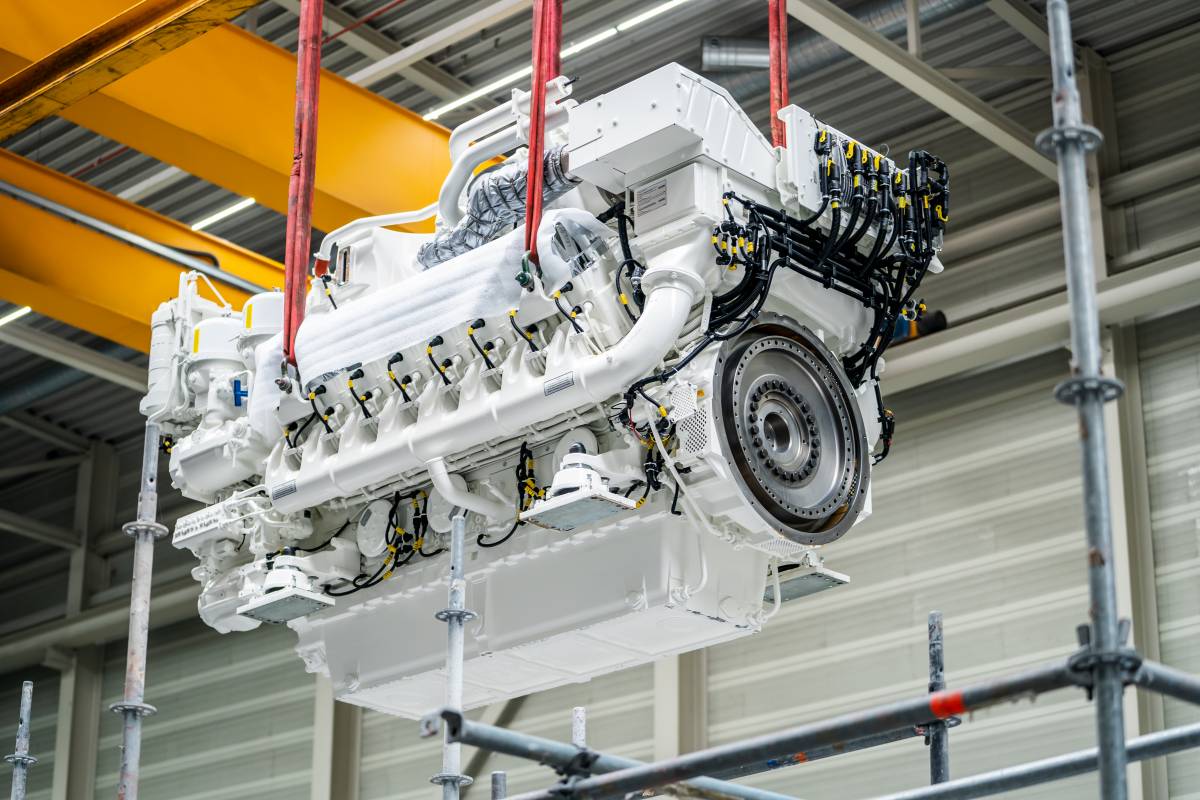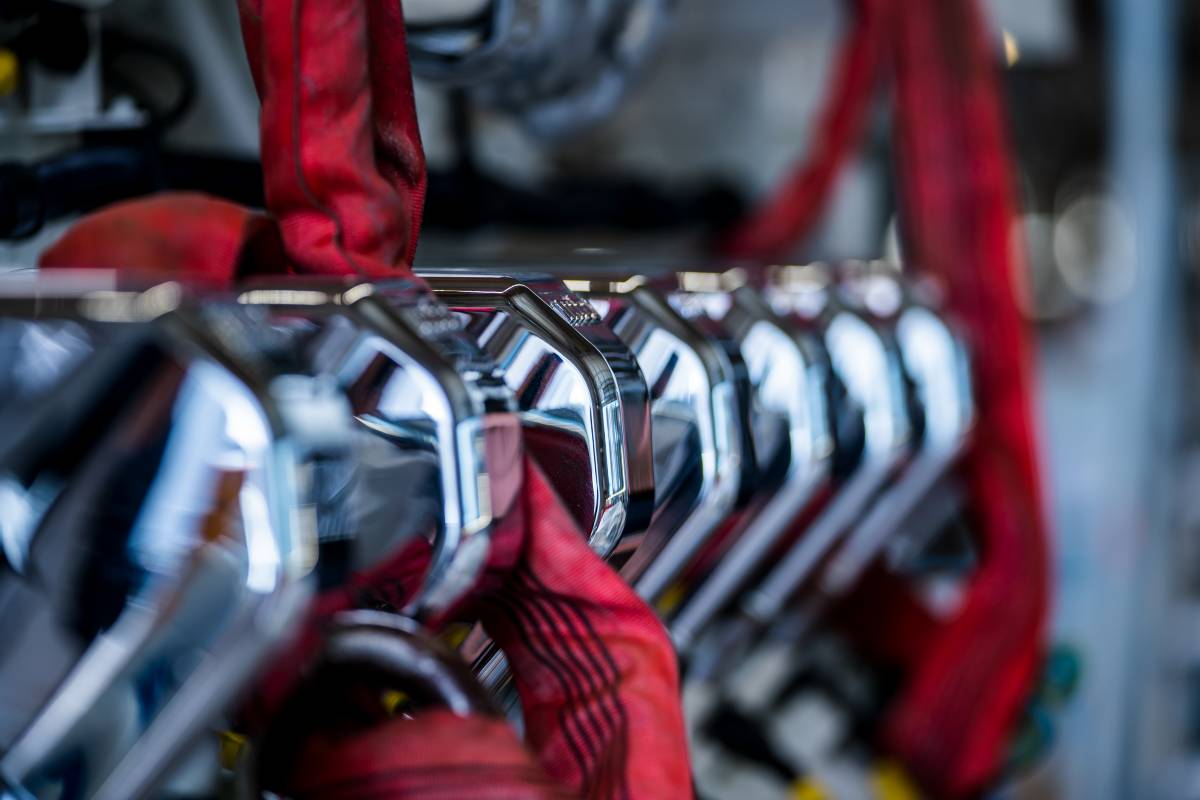 The shipyard presented the 57-metre series design at the Monaco Yacht Show in 2019, and construction of YN 20457 began in February 2022. 
Another milestone was marked on November 18, 2022, when Akira's two IMO III-compliant MTU 16V 4000 M65L engines were installed. This propulsion package, in concert with the super-efficient hull design, will give the yacht a maximum speed of 22 knots — quite remarkable for a superyacht displacing approximately 490 tonnes at half load.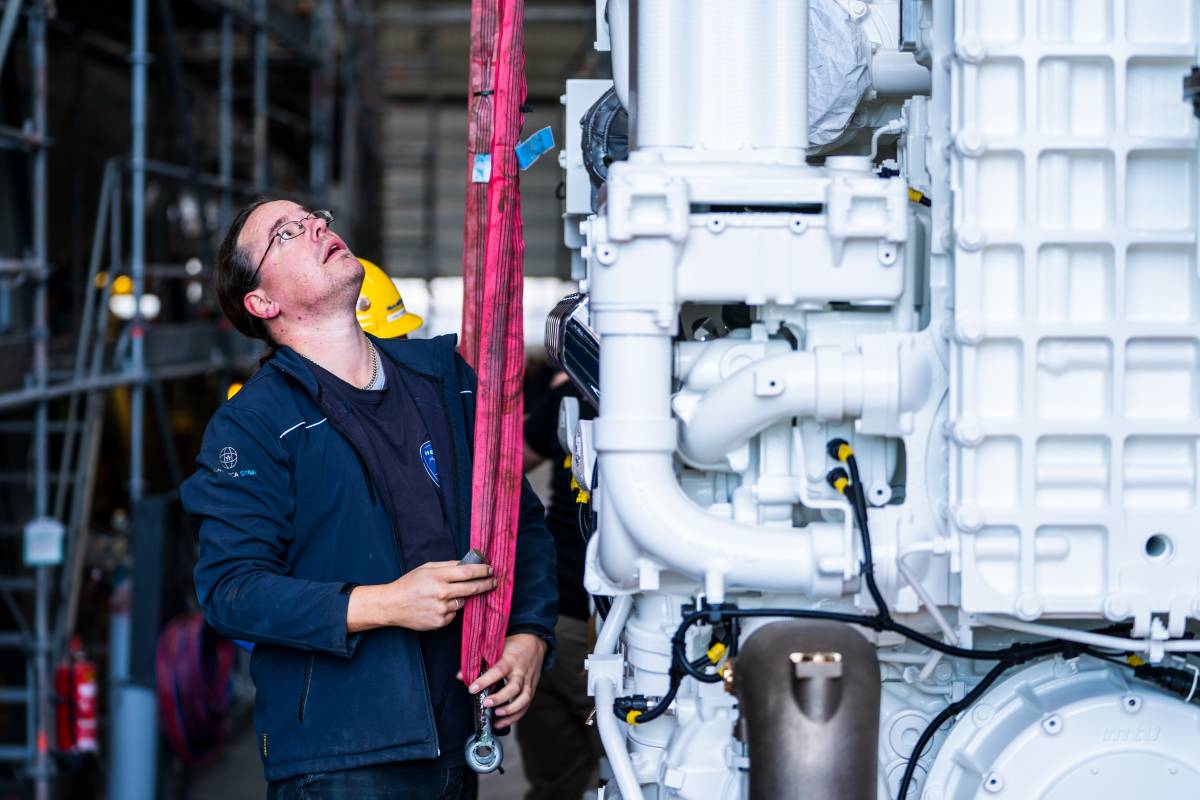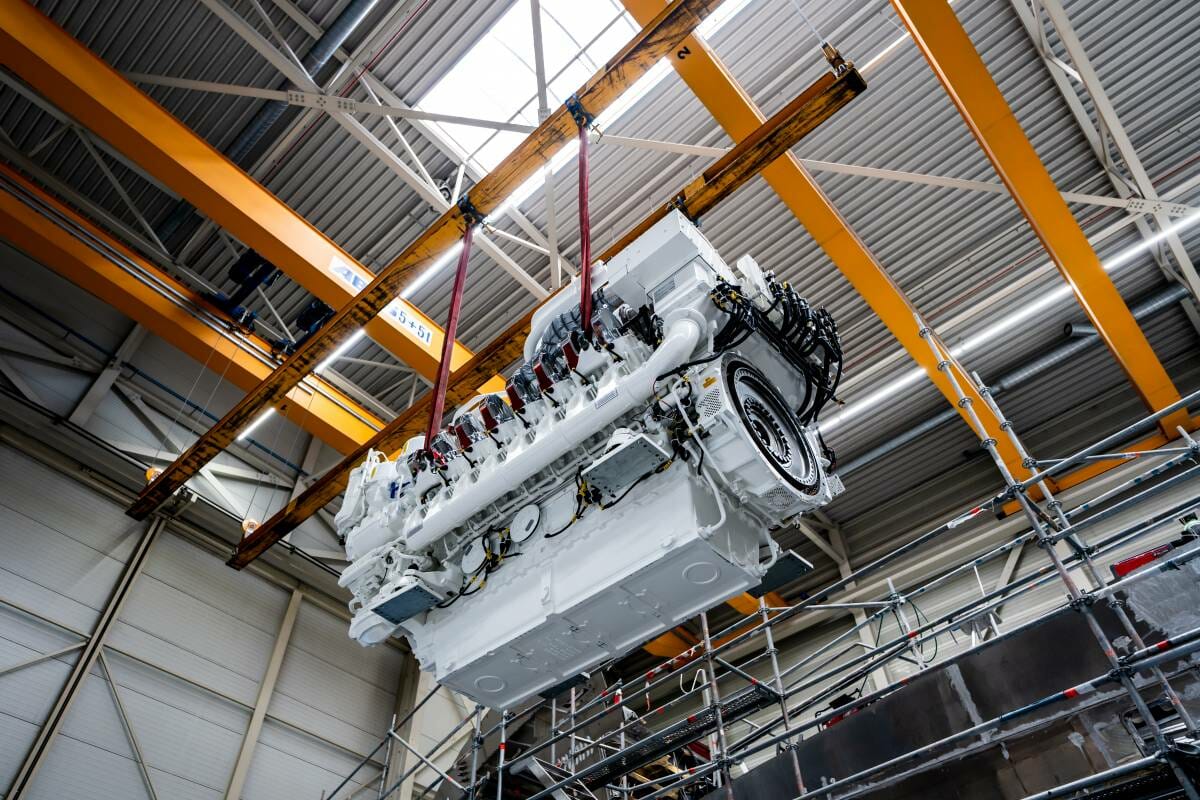 Twelve guests are accommodated in six staterooms, with the 63 sqm owner's apartment located forward on the main deck. There is a VIP suite up on the bridge deck, while the remaining guest cabins are on the lower deck. A glass and stainless-steel elevator serves all three decks. Heesen Yachts Interiors, Heesen's fine cabinetry workshop in Winterswijk, will be responsible for handcrafting the refined bespoke furniture for Project Akira.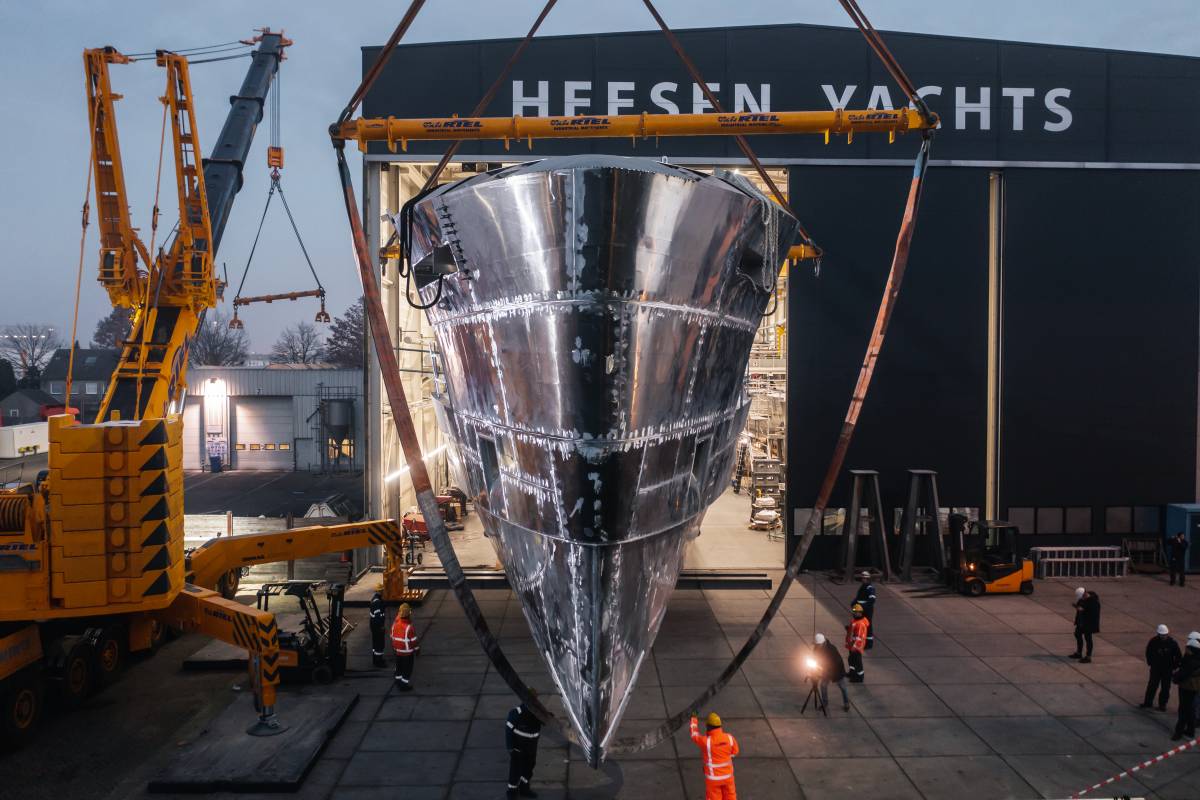 YN 20457 Akira represents a unique opportunity to purchase a highly distinctive yacht, built to the most exacting Dutch engineering and quality standards, for delivery in Summer 2024. This yacht, begun as a speculative venture by the shipyard, is offered with a choice of three interior design accents from the Harrison Eidsgaard studio, dubbed Manhattan, Hamptons and Riviera. With their different colour palettes, textures and furnishings, these three alternative styles within one overall design will inspire Project Akira's owners to personalise the interior, and give her a unique look that perfectly reflects their taste and lifestyle.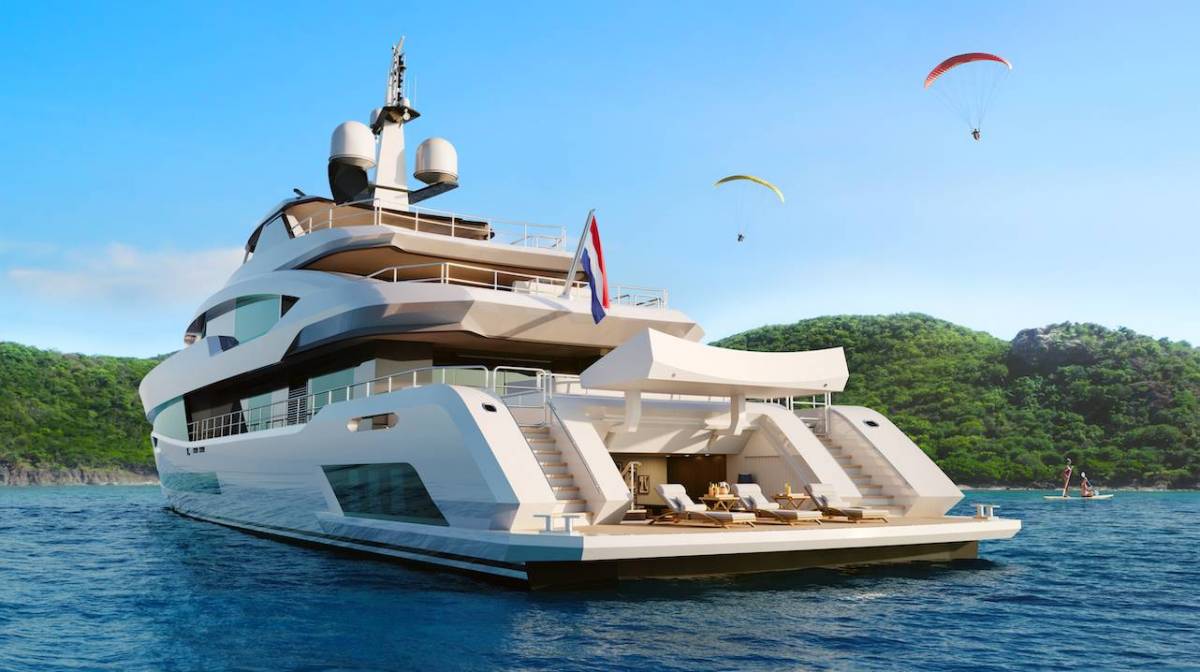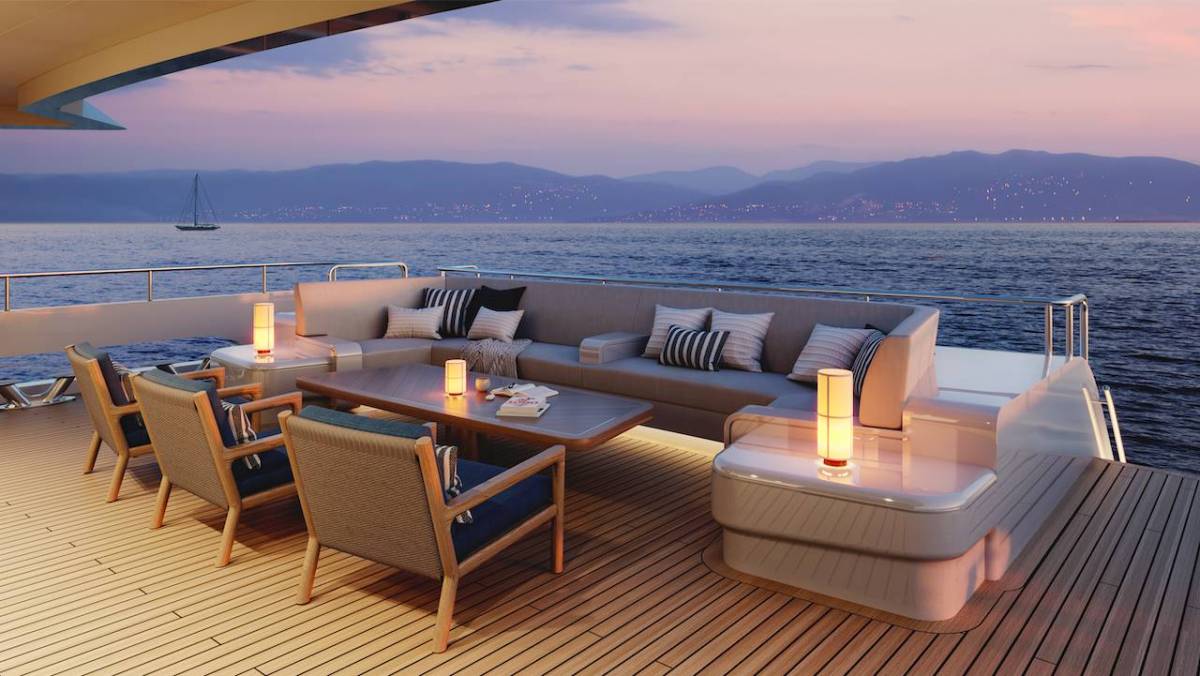 • First of the new 57-metre Aluminium Series
• All aluminium FDHF, top speed of 22 knots
• Shallow draft – ideal for the Bahamas
• Stunning exterior design by Omega Architects
• Over 400 sqm of luxury interiors by Harrison Eidsgaard. Three different interior styles
• Available for delivery in time to enjoy the 2024 Summer Season
3D Printed Yacht by Joseph Forakis 
After the world premiere of his award-winning designs (exterior and interior) in 2022, international designer Jozeph Forakis presents the visionary PEGASUS envisioned for introduction in 2030.
The futuristic yacht was conceived on a beach in Koufonissi island, Greece. "I was inspired to create a yacht as close to the sea and nature as possible, made of clouds floating above the waterline," Forakis says, "I wanted to honour nature by blending into it, becoming virtually invisible."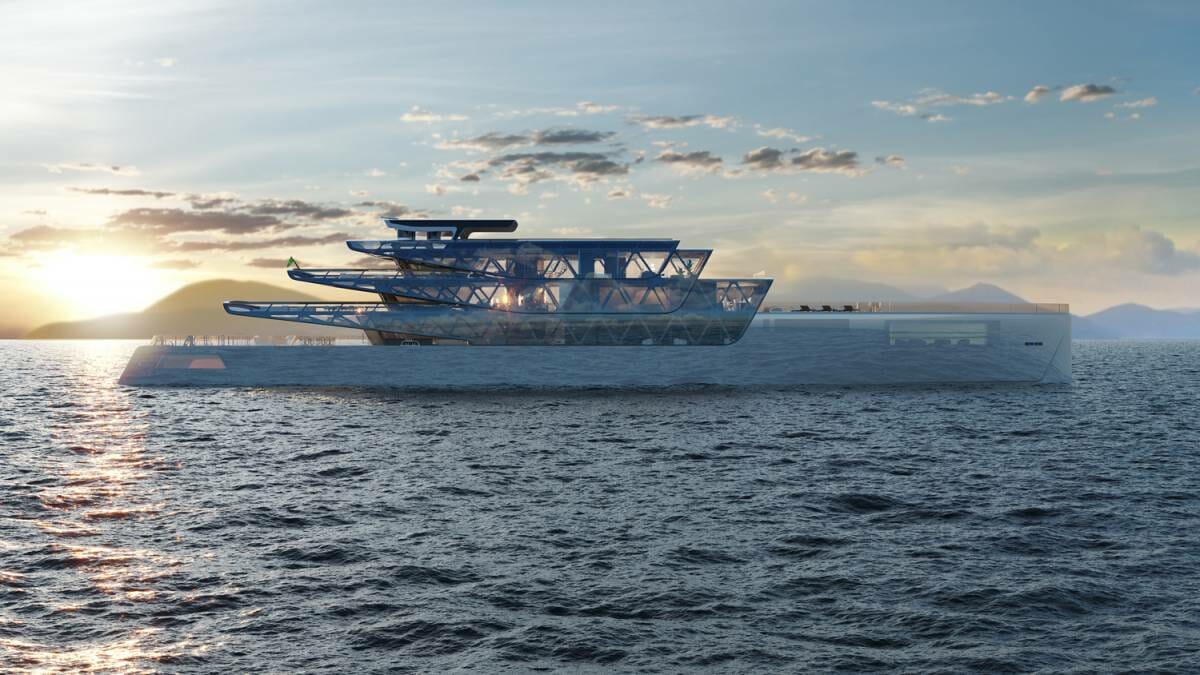 This desire for "invisibility" drove Forakis to develop a true zero emissions yacht that is "invisible both in design and in her environmental impact," says the designer.
With characteristic in-depth research, Forakis and his team at jozeph forakis … design composed a symphony of selected advanced technologies (existing and currently in development) to achieve unprecedented levels of sustainably, range, and structural integrity.
The 88m superyacht's construction uses robotic 3D printing to create a mesh framework integrating both hull and superstructure. The result is an extraordinarily strong and lightweight structure that can be produced using less energy, material, waste, space, and time compared to conventional construction.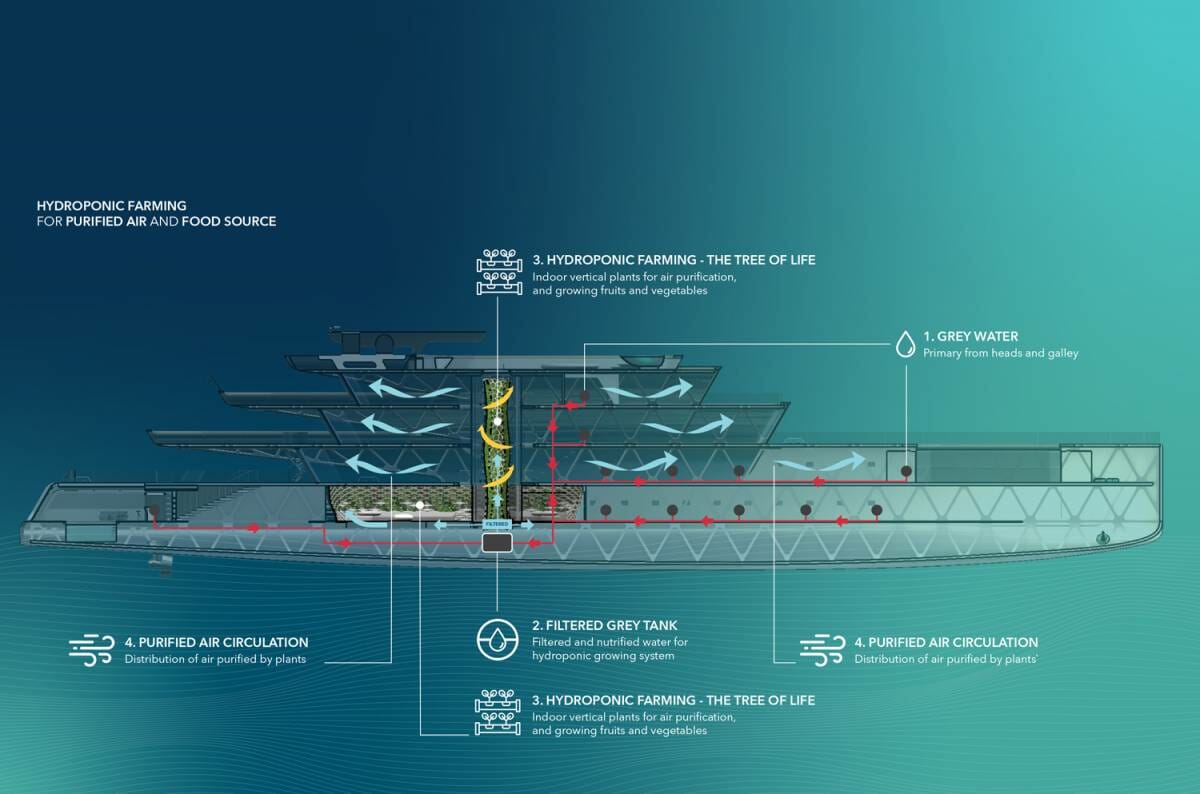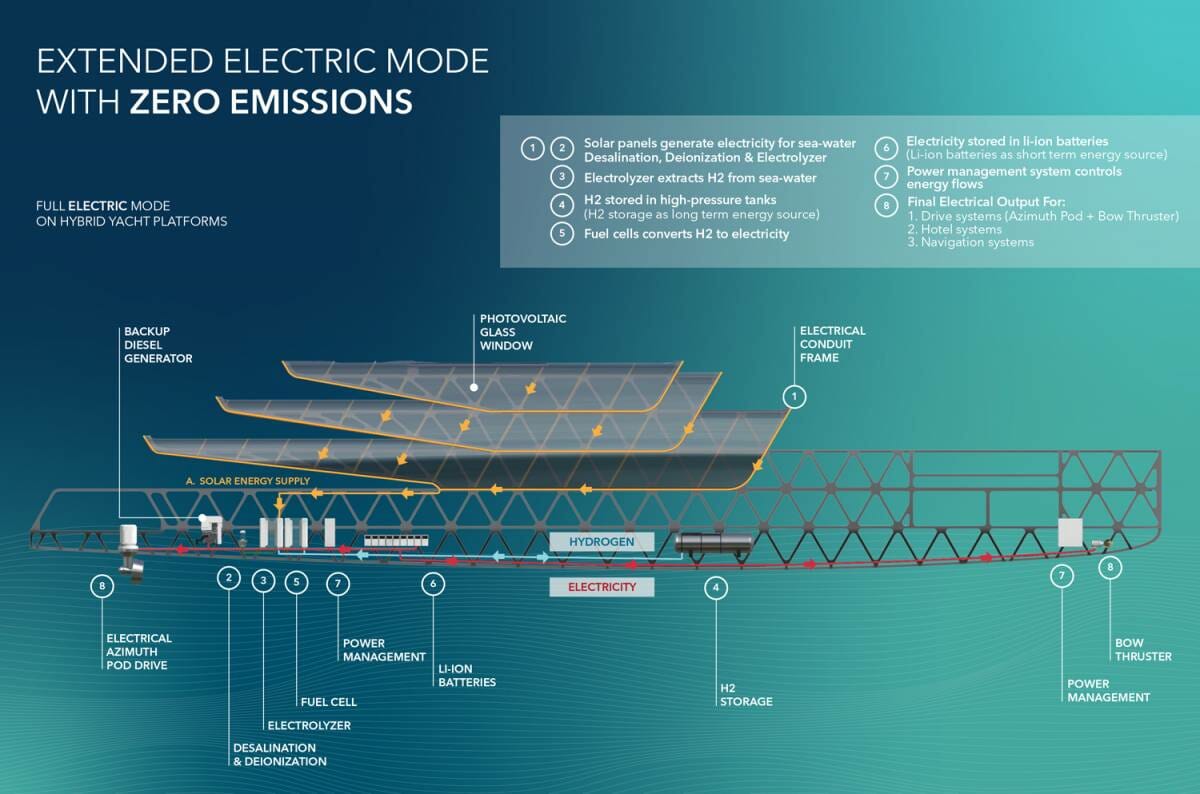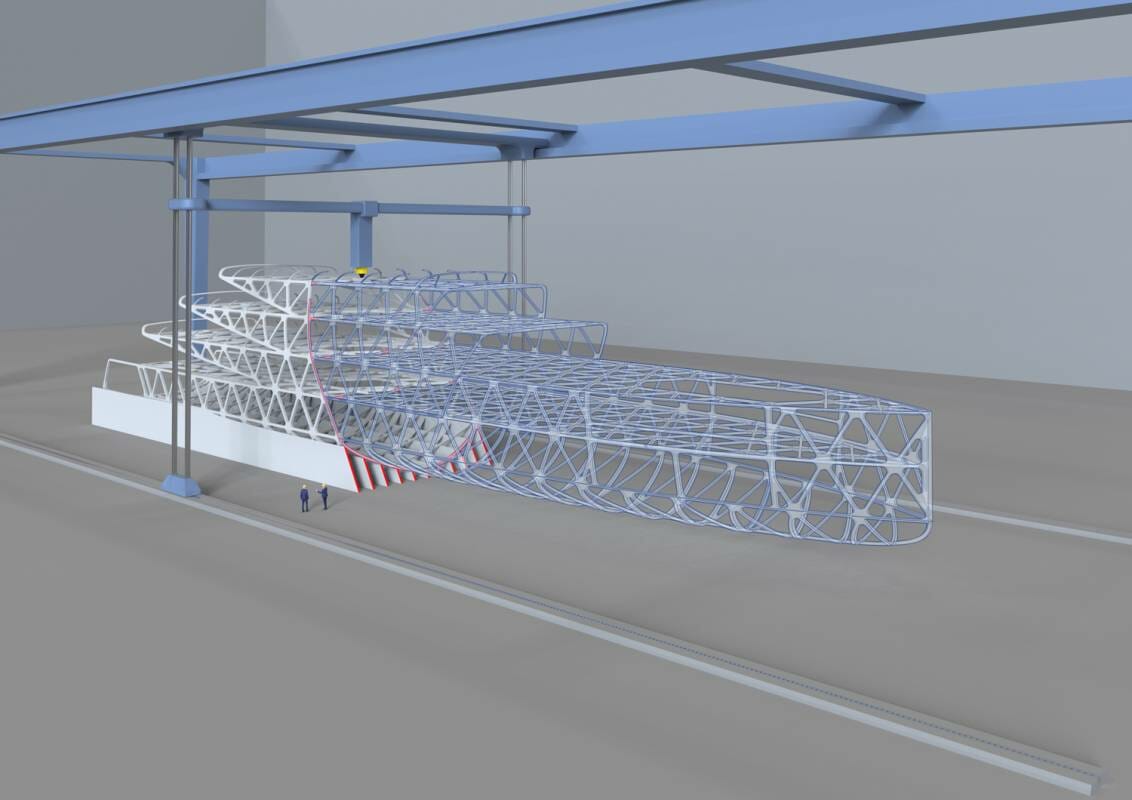 The unique exterior design starts with a low, linear hull with a plumb bow and silvery-metallic finish, which blends chameleon-like with the water's colours and movements. This foundation at the waterline supports the superstructure with multi-tiered, ephemeral glass wings that reflect the clouds and the sky.
Like a shape-shifting vessel from the future, the elegant, lattice framework of her 3D-printed structure becomes visible thru the reflective glass at certain angles and lighting conditions. The dramatic triangulated structure allows light to penetrate all levels of the interior while framing the remarkable views in all directions.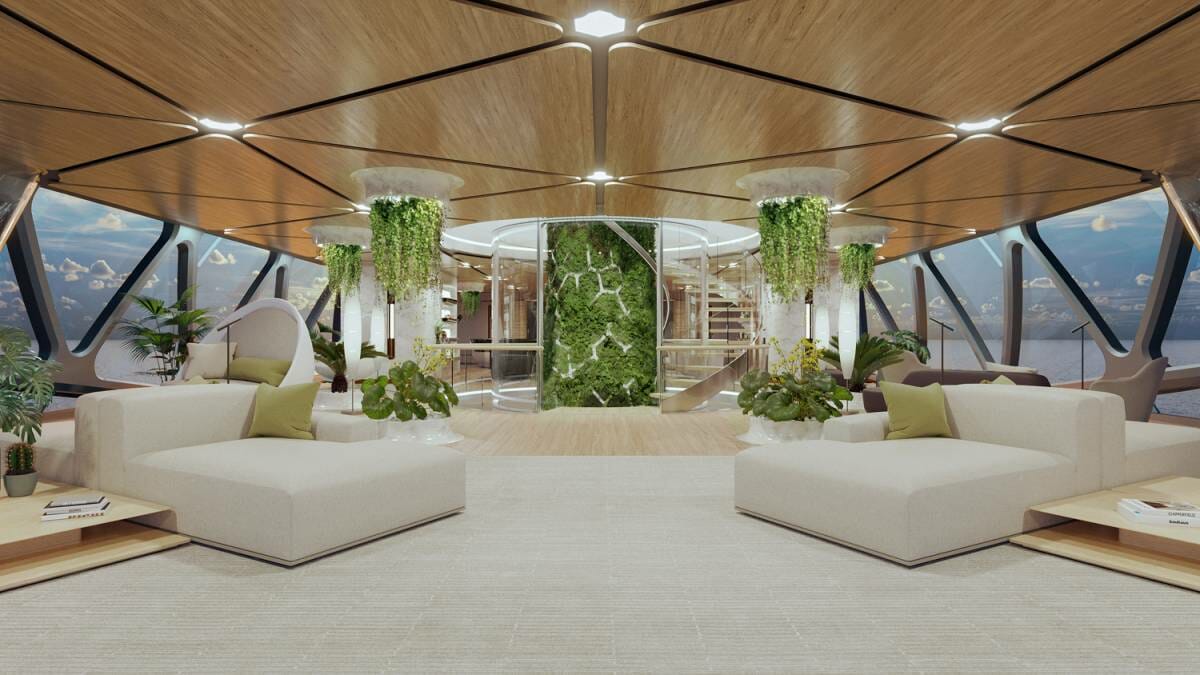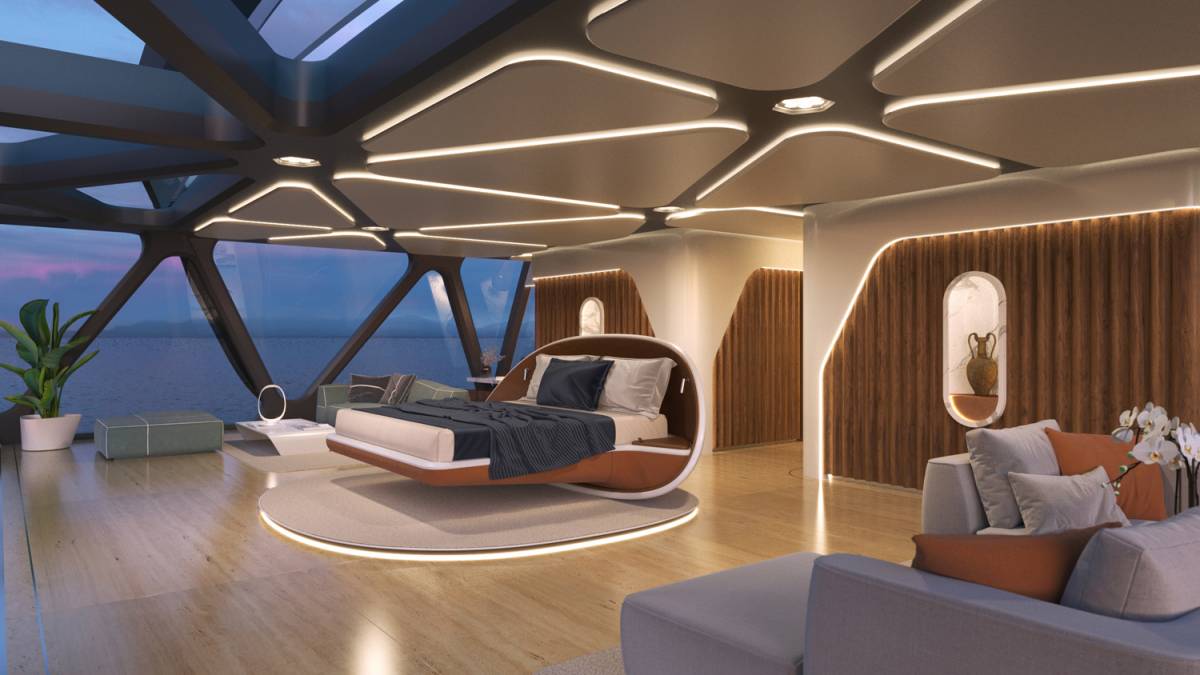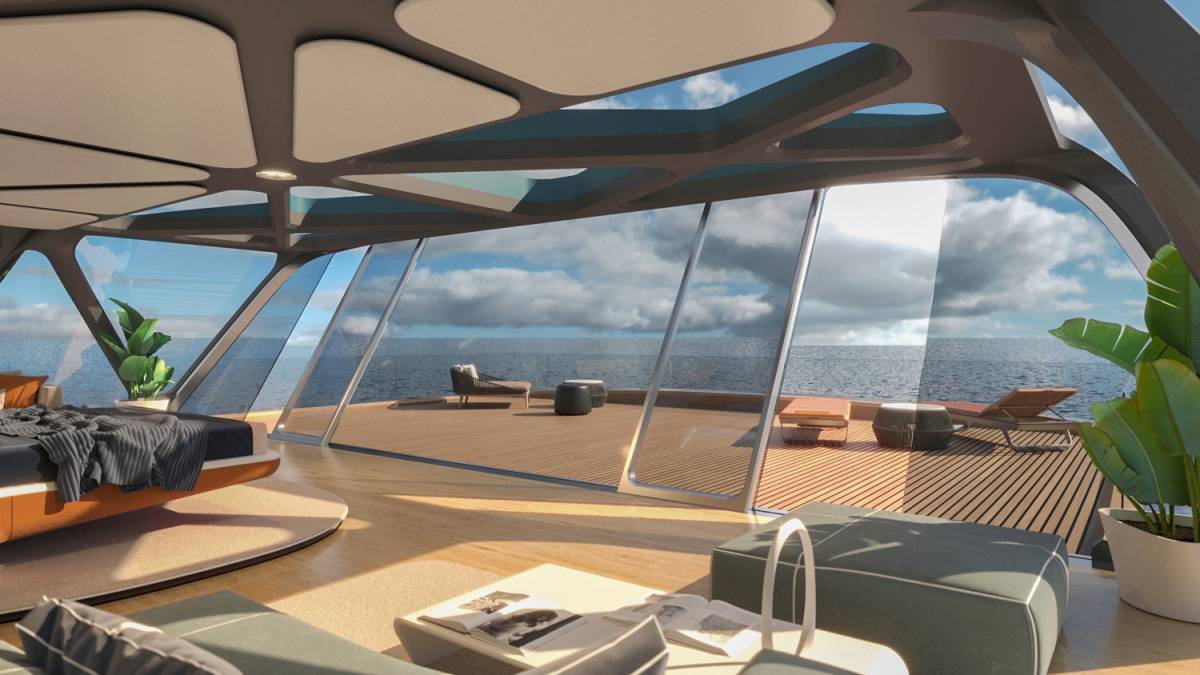 The first 3D-printed superyacht (integrated hull and superstructure) is 88m/288ft LOA.
• Designed to be "virtually invisible" — both visually and environmentally.
• In keeping with the nature-friendly theme, the exterior design features a multi-tiered 'wings' superstructure with mirrored glass reflecting the sky, clouds, and surrounding environment.
• The centrepiece of the interior design is the multi-level "Tree of Life" hydroponic garden providing fresh food and air purification.
• The glass of the superstructure incorporates transparent solar panels to power electrolyzers extracting H2 from seawater. Fuel cells convert H2 to electricity stored in Li-on batteries for powering azimuth pods, and all operating and hotel systems.
• Zero emissions and infinite range.
Vitruvius Yachts for the National Flagship
When the British government invited designs for a new National Flagship — a replacement for the former Royal Yacht Britannia — it was an opportunity for Vitruvius Yachts and its collaborative team, called Team FestivAl, to combine their considerable knowledge and experience to create something extraordinary — a new flagship designed for the people but fit for a king.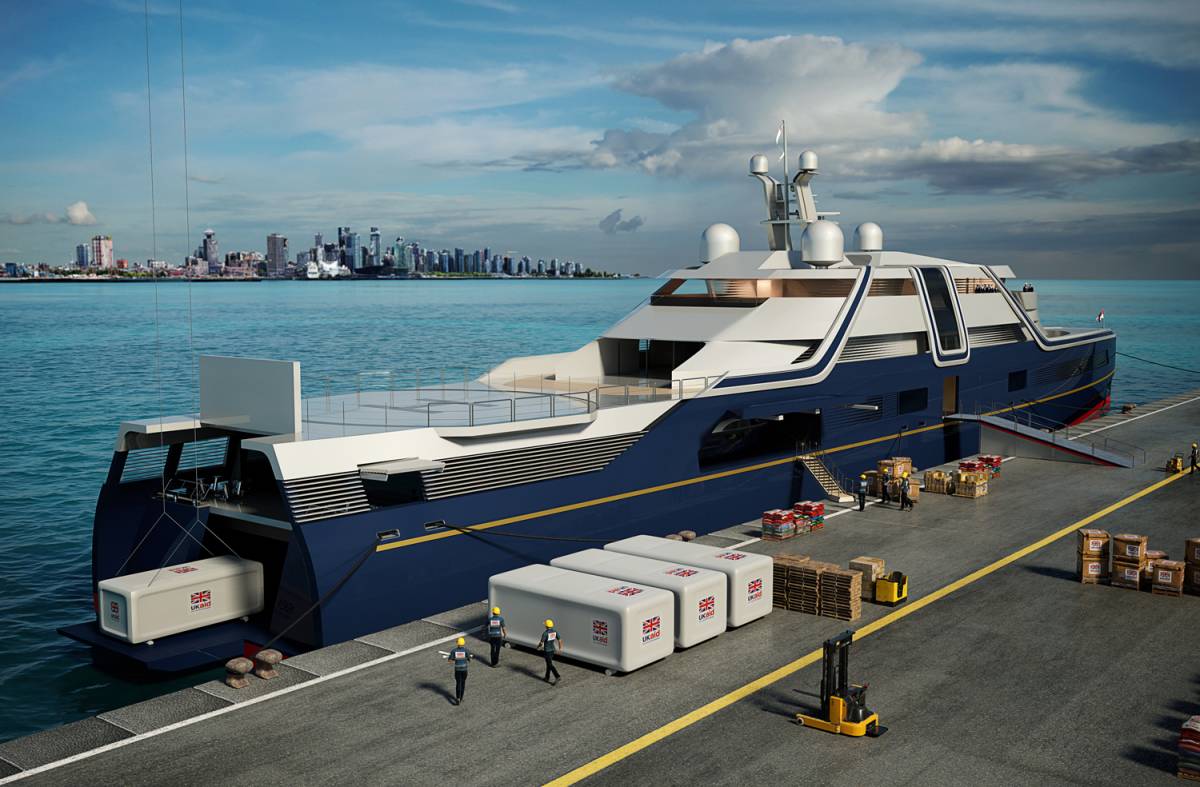 The design comes from Team FestivAl, a collaboration between London-based, award-winning yacht design studio Vitruvius Yachts, world-renowned architecture practice Zaha Hadid Architects, and aluminium ship and yacht specialists Ocea. Key features include a focus on sustainable power and propulsion, a highly efficient hull design to minimise fuel consumption and maximise opportunities for emerging green technologies to create a zero-carbon vessel, an interior based on recycled and recyclable materials, and a flexible deck and interior design that can switch between exhibition showcase or floating embassy with ease, suitable for everyone from VVIPs to schoolchildren and the disabled.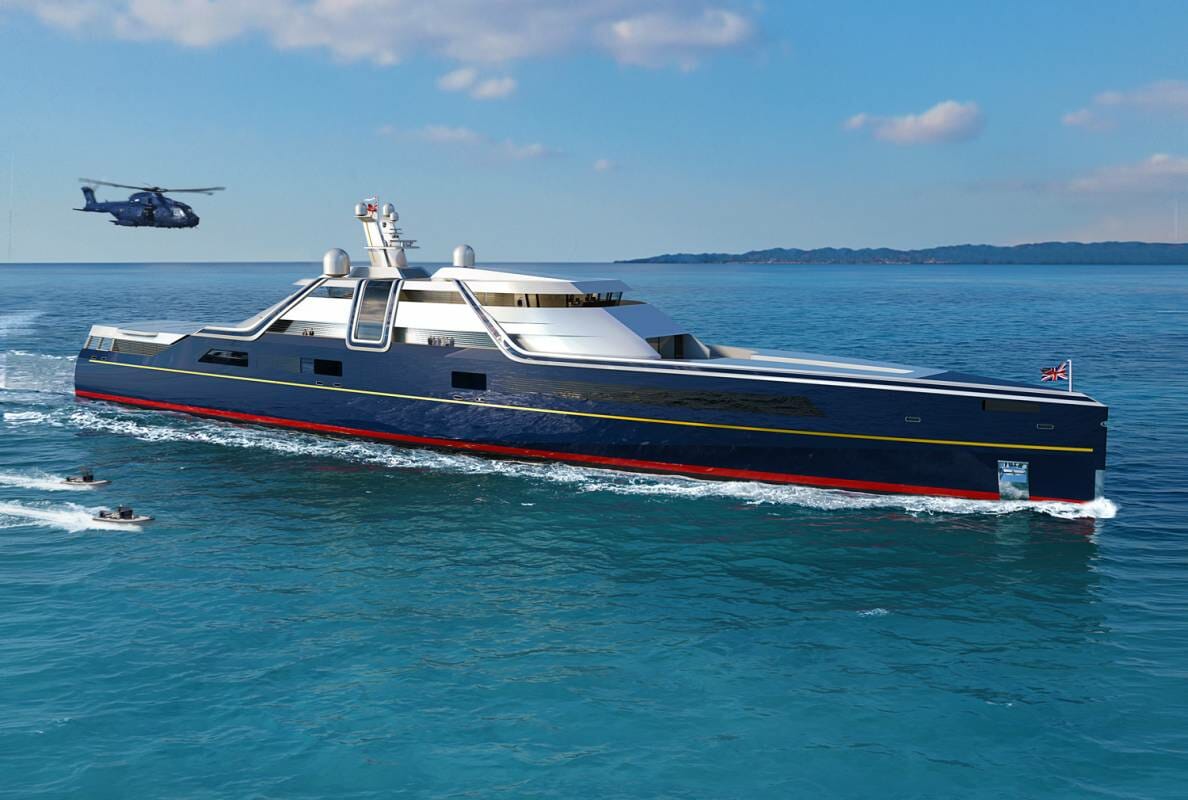 Spearheaded by Vitrivius Yachts' Philippe Briand — one of the world's leading yacht designers and a naval architect for both sail and motor yachts — Team FestivAl's National Flagship project draws on several cultural and societal cues, from innovation and sustainability to accessibility and inclusion, to represent the very best of British in design, manufacturing, craftsmanship and diversity. Indeed, in developing the design, the essence of Britishness takes centre stage through a Union flag ribbon motif in the side and plan view elevations, while reflecting the multicultural society that defines the UK today.
"To design a vessel — a flagship — that will become a benchmark in sustainability as well as demonstrating British excellence and heritage for current and future generations, while also being a symbol of inclusion and diversity, was an enormous challenge that kept me awake at night," says Philippe Briand. "The nature and intensity of the project kept me focused but also filled me with pride, not just in the design process itself but for what the flagship stands for." The result is a 125-metre vessel that is both highly efficient in the water — with 30 percent less hydrodynamic drag than a conventional steel ship — and also in the air, with a drag coefficient of just 0.28 which is less than cars.
The design would be built in recycled aluminium (the 'Al' in 'Team FestivAl'), which is lighter than steel and therefore reduces the power required for propulsion, which in turn reduces emissions. Over a lifecycle of 30 years, it would emit 30 percent less greenhouse gases than a conventional design.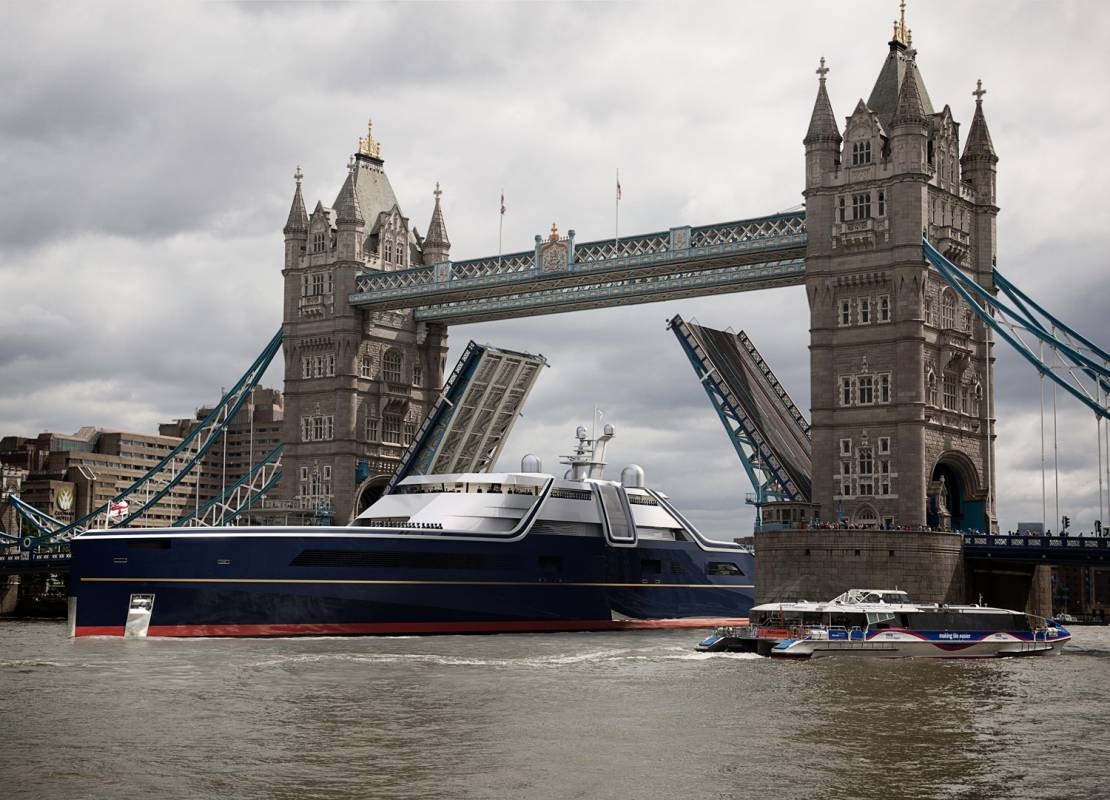 The National Flagship design goes further, however, with an energy-agnostic propulsion system based on highly efficient pod drives, which can also enable geostationary position — keeping without damaging sensitive seabeds with an anchor. Power for the pod drives would come from a large battery bank that could be charged via shore power or onboard generators, initially using renewable diesel/biofuel but allowing for alternative energy sources now and in the future including green hydrogen fuel cells and onboard-harvested solar and wind energy.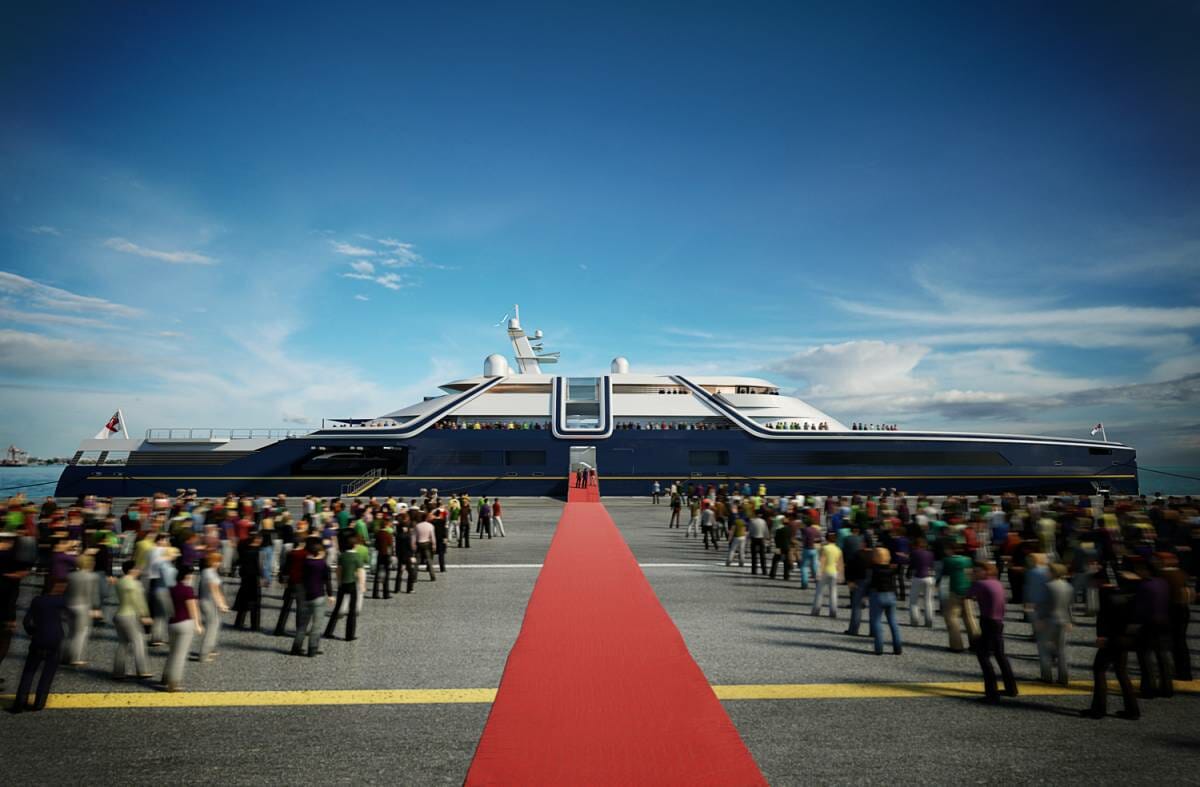 Both the exterior and interior designs have been created to portray national identity and showcase the very best of British design and craftsmanship. The sleek exterior profile includes a distinctive central slice through the superstructure that takes the form of a hoop of glass, flooding the interior with light and providing a key design element that, combined with a distinct LED-lit style line in the profile, hints at the ribbon pattern in the Union flag.