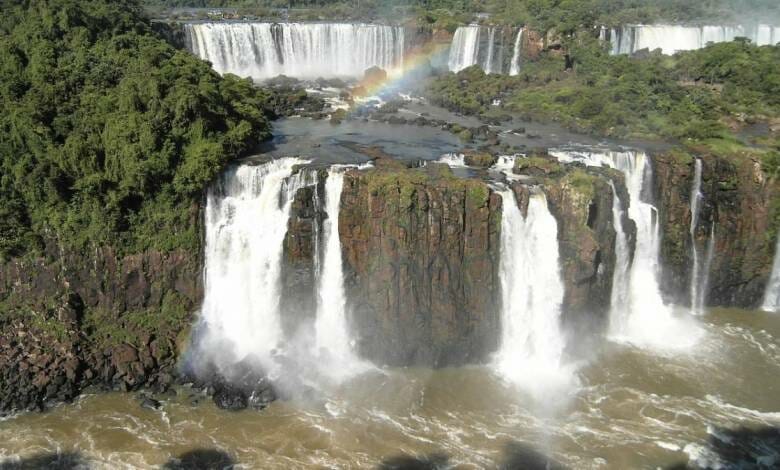 Argentina is a truly immense country. With its fertile pampas plains in the center, southern Patagonian magic extending to the Tierra del Fuego, dry Gran Chaco lands in the north and the mountainous cordilleras of the Andes to the west, parallel to the Chilean border, it could have easily been a continent of its own. It would take more than a book to paint all its landscapes, evoke its heritage and describe the customs and traditions of its local population. We will try to give you a taste of this country, starting from Buenos Aires and then with a stop at the spectacular Iguazu waterfalls, unique in the world.
Things to Do in Buenos Aires
Some people believe that it has a little bit of a Parisian feel of the seventies to it; for others, the sumptuous Hausmannian facades also evoke the grand boulevards of the French capital. It is true that the charm of Buenos Aires has something European to it. Tortoni Café will remind you both of Rome or the famous Parisian brasserie «Flore». The bronze figure of the great local poet and novelist, Jorge Luis Borges, however, will plunge you into a veritable Latino reality. We are indeed right at the furthest reaches of the globe. If we head further south, in the direction of Patagonia, we will reach Ushuaia, the southernmost city of the planet.
Buenos Aires is first and foremost all about tango, with both its plaintive and cheerful tunes, lascivious and acrobatic moves, including street improvisations right in the middle of San Telmo or La Boca. «Melancholy is the happiness of being sad», Victor Hugo used to say. This is definitely apropos this dance that is symbolic of the country and has become iconic over the years.
But the Argentine capital has equally set the course for modernity. Puerto Madero with its elegant and futuristic towers is quite emblematic of it. It is this cocktail of nostalgia and contemporaneity which immediately seduces its visitors. Buenos Aires is an endearing and multifaceted capital that you can't get enough of and that you leave with a desire to come back for more.
Brazilian Iguazu Falls
The jungle, with its humid and still air, and the tremendous energy of the water; the combination is absolutely awe-inspiring. Seeing the Iguazu Falls, listed as a UNESCO World Heritage Site and named among the world's seven wonders of nature in 2011, is more of a revelation than a mere tourist trip. There is something powerful to it, that can't be put into words, encouraging you to a deep reflection on nature, humanity and the universe. It is something magical that forges the identity of the natives, a noble and smiling people that you can meet on your walk through the rainforest. Living here in a village with its school and a sports field, these Guaraní Indians produce small wooden animal figures evoking the toucans and coatis of the jungle and some jewellery. They are following their ancestral ways while striving to preserve their souls.
Legend has it that a girl was sacrificed to the river to calm the evil spirits. She was thrown into the bubbling Devil's Gorges from a height of 80 meters. Today the roar of the waterfall is joined by the clamour of cameras striving to immortalize these moments of grace. But the water, wild and powerful, continues its frantic race. The saying of Heraclitus that one never bathes twice in the same river, is so true. It is this movement, symbolic of life with all its richness that makes this place so magical.
The cascades flow down, each one different from the other. They continue their course for another 30 kilometers when the Iguazu flows into the Paranà at site of the Argentine city of Puerto Iguazu. This is the remarkable point which is the renowned Triple Frontier from where your gaze embraces Argentina, Brazil and Paraguay. This is another exceptional experience to be had in this national park where nature seems to reign, and only lianas come to thwart the flight of vultures, the dance of butterflies and the leaps of small mammals. A kind of paradise.
Buenos Aires Travel Tips
Getting there:
Air France operates a daily Paris — Buenos Aires flight with a short connection from Nice. The overall travel time is about 17 hours.
Departure from Nice at 20:25, arrival in Paris Charles de Gaulle at 22:00.
Departure from Paris Charles de Gaulle at 23:35, arrival in Buenos Aires at 09:40 the next day.
Other companies also offer good connections: Lufthansa (via Frankfurt) and Iberia (via Madrid).
Tourism
Argentina Tourist Office in France
secturfrancia@argentina.travel
Buenos Aires Agency
Esteros Viajes
Marcelo T. De Alvear 928 – Piso 3
Tel: +5411 4328 7594 – Int: 105
Staying Overnight 
Faena Hotel Buenos Aires
A property exuding class with a spa and a pool, decorated by Philippe Starck, in the new upscale neighborhood of Puerto Madero. An elegant 5-star hotel offering luxurious accommodation.
Faena Hotel
C1107CMB Autonomous City of Buenos Aires, Argentina
Tel: +5411 4010 9000
Where to Eat
Parrilla Don Julio (Palermo Soho Area)
A must for all meat lovers and known for the best parrilla in Buenos Aires. This restaurant is located in the heart of the Palermo Soho area. An old house with brick walls and a wine cellar decor. It is worth a stop for checking out its quality meats and wide choice of wines.
Parrilla Don Julio
Guatemala 4699, Palermo Viejo
Tel +5411 4832 6058
Not to be missed out:
Rojo Tango
This show staged in one of the most prestigious hotels of the Argentine capital, Faena Hotel + Universe, is at the pinnacle of music mastery and the magic of tango. With an elegant cabaret as a background for the dance show, it also serves you a refined dinner.
Rojo Tango Show
Martha Salotti 445, Buenos Aires
Tel +5411 4952 4111
Café Tortoni
This place has been popular since the early 20th century with Argentine intellectuals, writers and artists. Having a drink or a coffee in this setting is a real pleasure, especially next to the bronze figure of the great poet and novelist Jorge Luis Borges.
Café Tortoni
Avenida de Mayo, 825, Buenos Aires 1084
Tel +5411 4342 4328
Practical Information for Iguazu
Getting there
From Buenos Aires, a number of daily flights gets you to Puerto Iguazu airport in less than two hours.
In addition, a new direct flight operating from June 2019 will get you to Iguazu straight from Madrid. The Air Europa airline has already opened ticket sales with a departure from Paris and a stopover in Madrid.
Tourism
Misiones Ministry of Tourism
Ente Municipal Iguazú Turismo 
National Park Iguazú (guides)
Navigation: Iguazú Jungle
Staying Overnight
La Aldea de la Selva Lodge
A room right in the jungle, with a hammock on the balcony and the lianas creeping in through your window. You will enjoy a unique experience in this very charming and authentic lodge located in the heart of the rainforest, a few kilometres from the famous waterfalls and close to the Guaraní Indian village.
La Aldea de la Selva Lodge
Selva Iryapu  Ruta 12 – km 5, Lote 16, Puerto Iguazú, Argentine
Text and photo: Nicole Laffont