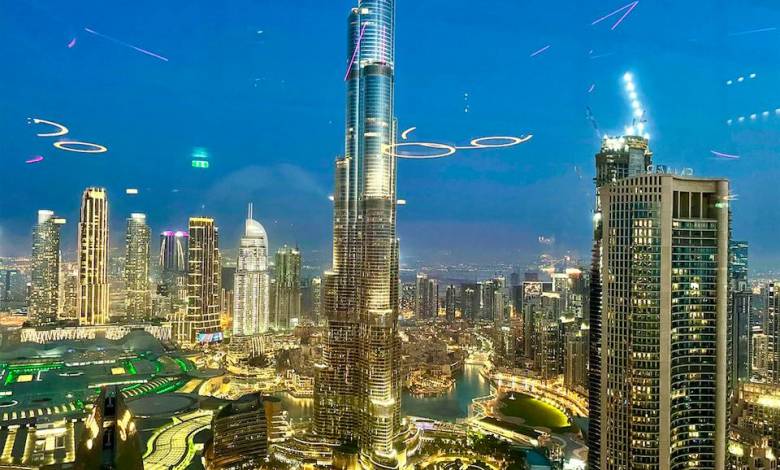 Over the last two decades, Dubai seems to be constantly growing both across the land and towards the sea, and expanding upwards at a breakneck speed, too. The Emirate's capital now looks like some kind of continuous construction site that does not stop, day or night. According to statistics, it is using every fifth crane in the world. Since 1979, over 1000 skyscrapers have been built in this emirate. Some among this multitude are legendary masterpieces. Take the tallest building in the world, the 162-storey, 828 metre-high Burj Khalifa, opened in 2010. The second and third tallest buildings in Dubai are Emirates Park Tower 1 and Emirates Park Tower 2. Dubai's real estate value is growing steadily — Madonna, Roger Federer, Beckham and Angelina Jolie have already invested in their apartments here …
It would all be unimaginable some 50 years ago. Back then, the population of this small port city, some 20,000 people, rode camels, cooked food on a fire and mostly lived in tents. It all changed in the 1960s when oil fields were discovered here. They were only modest compared to those of neighboring Abu Dhabi, but Western tycoons decided to invest in the local oil wells. This marked the beginning of a financial, construction and tourist boom. Today there is no oil in Dubai, but tourism occupies as much as 20 percent of the economy!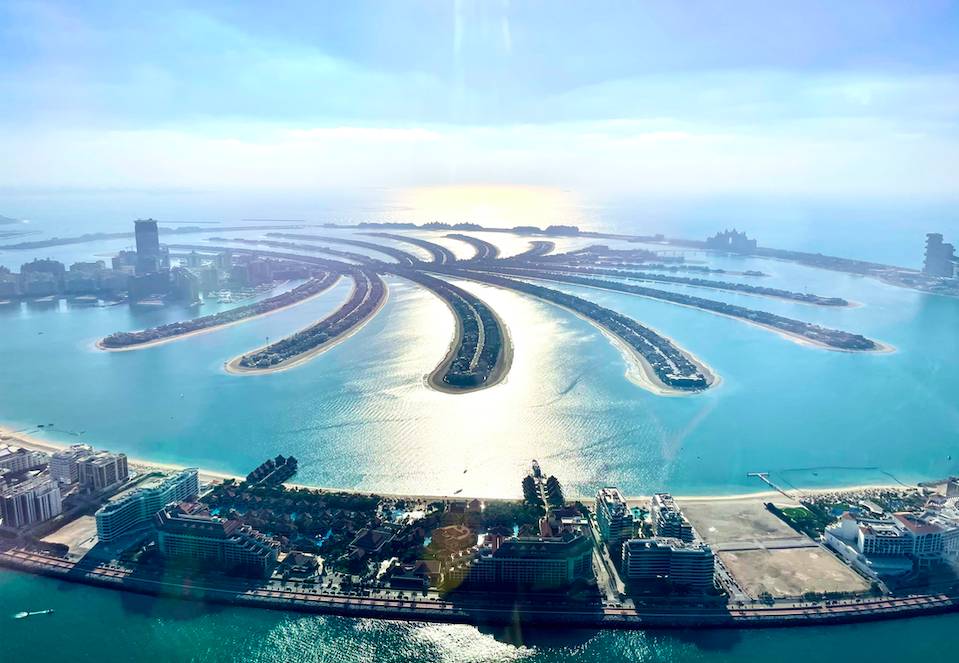 Dubai is striving to be Number 1 in everything. It has to be THE MOST OF THE MOST! The biggest, the best, the most luxurious… Just see for yourself:
Dubai has got:
• The longest fully automated subway in the world, operating without drivers.
• The world's tallest 350 metre-high Gevora Hotel opened in 2018.
• The world's largest mall of 1 million square metres, offering some 1200 stores.
• Aquarium with the world's thickest 33-metre acrylic glass.
• The world's largest flower park with some 45 million flowers (despite the fact that Dubai is a hot spot, with summer temperature reaching 50 degrees).
• The largest artificial island.
• The largest Dubai Frame on earth.
• The biggest fleet of the largest passenger aircraft Airbus A380, owned by Emirates. For four years in a row it has been recognized as the best airline on the planet.
Let's see what else! Dubai is building a city to simulate life on Mars hosting researchers and an astronauts' training base:  #MarsScience City, 30 football pitches in size, is located in the desert near Dubai. All premises are built underground, protected by 3D-printed domes.
If it comes to that, Dubai owns Big Ben and a new hotel with a ship on the roof, surprisingly similar to that of Marina Bay Sands in Singapore. Mind you copies sometimes surpass the originals.
Anyway, you got the jist. Dubai is not just about a beach holiday, but a thrilling adventure. But  everything in its own good time. Please explore our exclusive luxury guide on how to spend tons of money in Dubai and not regret a single cent. Or rather, a dirham.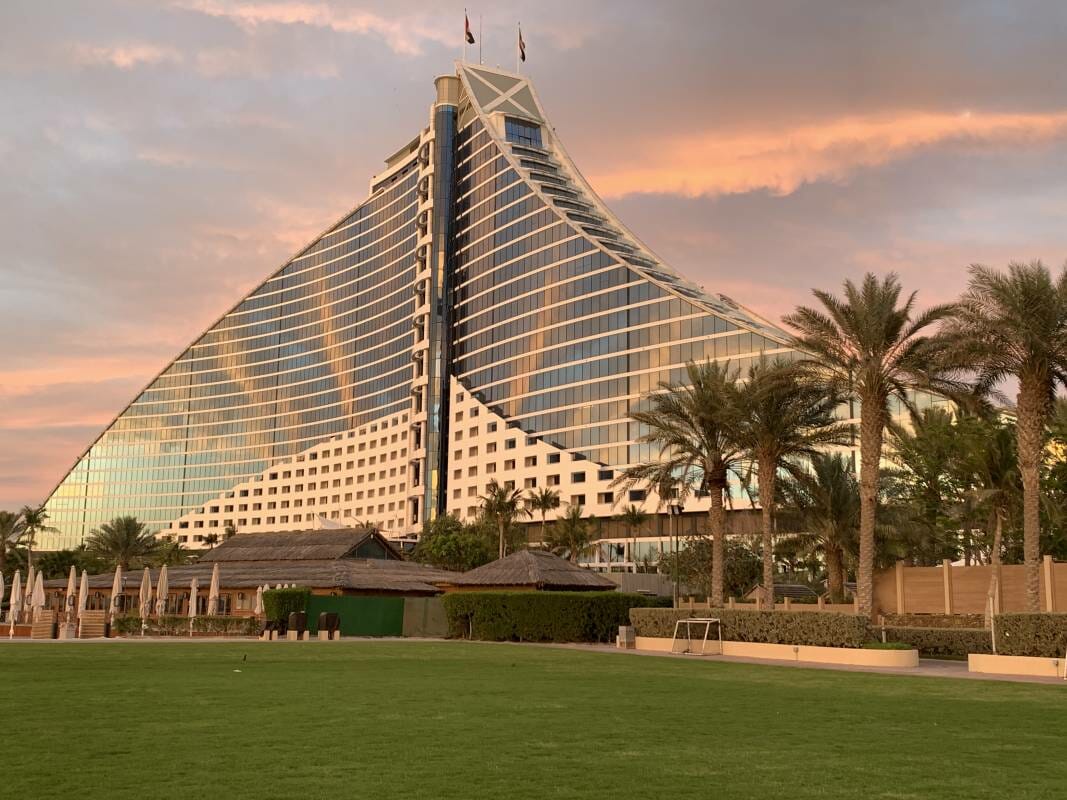 STAYING IN DUBAI IN STYLE
Dubai is renowned for its hotels catering for all tastes and nationalities, but not wallets. They are the second most expensive in the world after Swiss ones. The most famous and symbolic hotel in Dubai is the Burj Al Arab, better known as the Sail, the world's only seven-star hotel. From the air, it does not seem that big, but it is actually 321 metres-high, with the tallest atrium in the world. 8,000 square metres of 22-carat gold leaf were used for its interior decoration. The Sail is built right in the sea, 280 metres away from the coast on an artificial island connected to the mainland by a bridge. Burj Al Arab does not offer any mere "ordinary rooms" — with the smallest being 169 m² and the largest — 780 m². Not surprisingly, it is also one of the most expensive hotels in the world. A night in a standard or superior room varies from 1000 to 15.000 dollars. If you want to spend a night in style, the Royal Suite would cost you about 28.000 dollars. Just the right thing for Arabian lovers of luxury.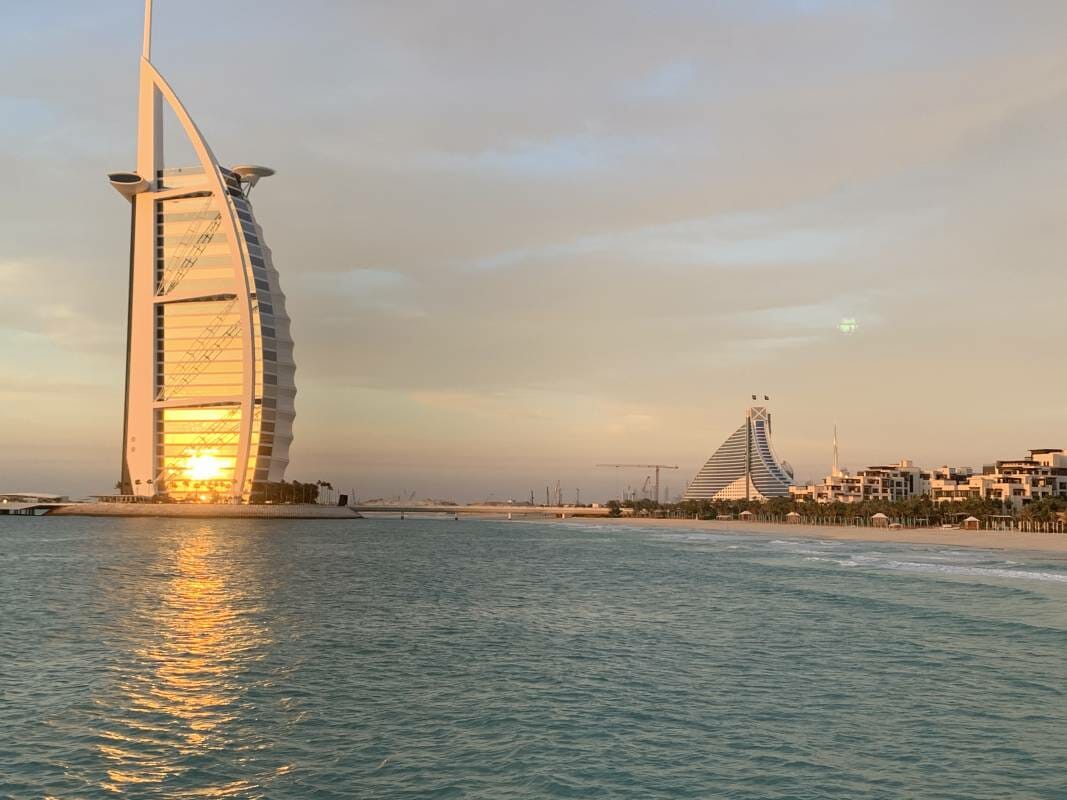 If you prefer modern design, opt for the Al Nasim Hotel right opposite the Burj Al Arab. It is part of the Madinat Jumeirah resort — 2 kilometres of beach, with its five hotels. As a matter of fact, it is one of the largest resorts in Dubai. The Jumeirah company has conceived nothing short of a complete proper town. The complex includes a selection of hotels: Mina A'Salam, Al Naseem, Al Qasr, Dar Al Masyaf (29 residential luxury villas) and seven Jumeirah Malakiya Villas.
One week would hardly be enough to appreciate its many attractions, so immense is this complex. Just a walk around it, across some 40 hectares, would take you a good hour. This is a true oasis of the Persian Gulf with arguably the best beach in Dubai. Enjoy its two kilometres of flawless white fine sand and azure blue water!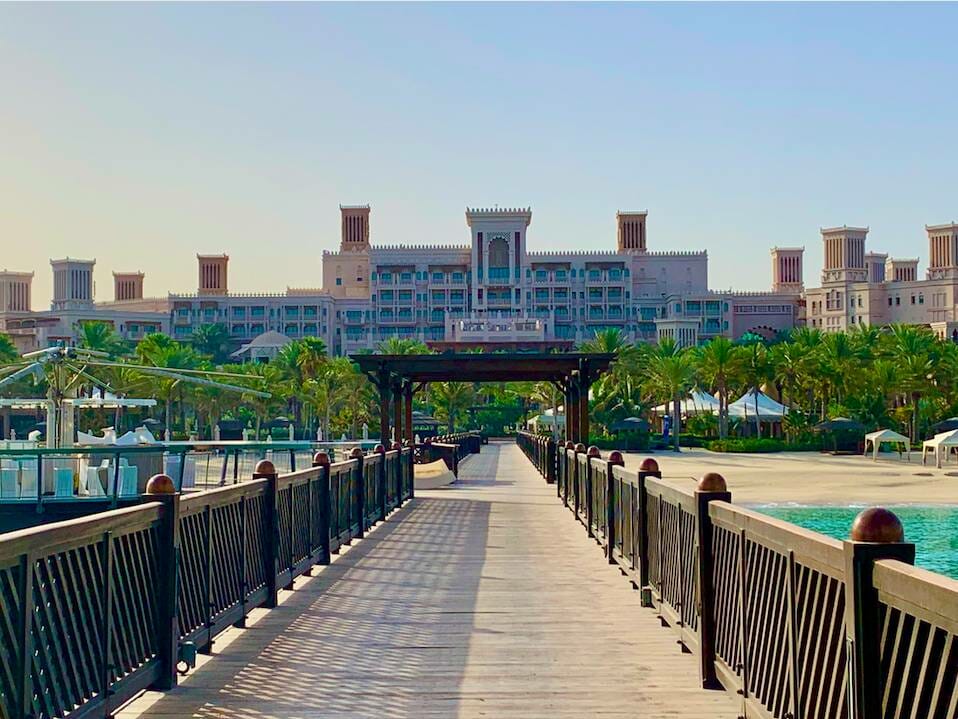 If you want to experience an Arabian Venice, take a traditional boat ride along the 5-kilometre Madinat Jumeirah canal. Stone medieval palaces and villas, canals, suspension bridges, embankments and squares all plunged in the eastern midday bliss. Just a stone's throw away is the fun-charged Wild Wadi water park, a real paradise for children.
If you fancy the oriental bazaar atmosphere, visit the Souk Madinat market, a huge shopping and entertainment complex. Treat youself to its exclusive souvenirs, jewellery, clothing, antiques or colourful local products. Even if you do not plan to spend any money, walk through its intricate labyrinths; breath in the air of Arabian magic.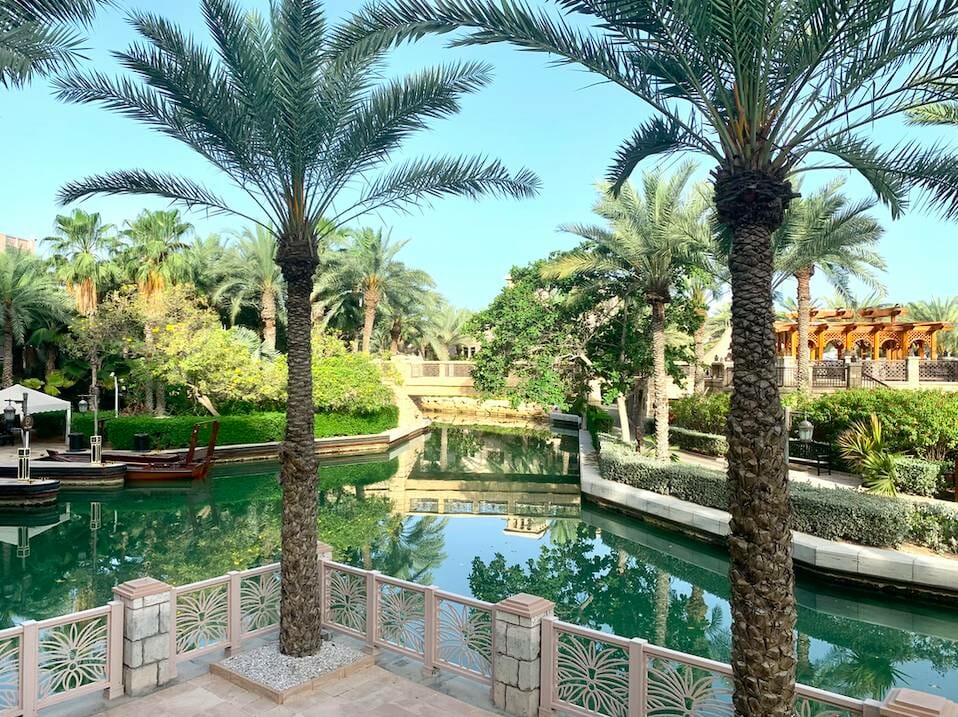 The Madinat Jumeirah resort has more than 50 restaurants and cafes. There is no way you could visit them in a space of one holiday, you just have to come back here again and again. "Rockfish", the Italian "Pierchic", "Zheng He" for a fine and chic Chinese cuisine, the Greek "Shimmers" with hookahs for a hangout right on the beach. An absolute must-visit.
The Jumeirah Group has announced 13 new additions to its culinary portfolio for this new season:
– new version of the Dubai "Nafoorah" restaurant in "the Jumeirah Al Qasr" hotel;
– "Bar Buci" opening — a new jazz bar in the Parisian style;
– "The Hide" restaurant will open its doors with a timeless vintage interior;
– "Shimmers" restaurant at the "Jumeirah Mina A'Salam" will expand its space to welcome even more customers;
– the exotic "Bahri" cocktail bar will get a new interior in a "decadence" style;
– "Jumeirah Beach Hotel" will be delighting us with a new grill restaurant "Bastion" with "the Burj Al Arab" panorama, replacing the old "La Parilla";
– the new luxurious open-air cocktail bar "Floor 24" is also awaiting guests on the roof of "Jumeirah Beach Hotel".
We are also happy to recommend the Mandarin Oriental Hotel opened in 2019, an amazing resort on the Jumeirah Beach. Enjoy its stunning view of the Persian Gulf and the fashionable Dubai quarters.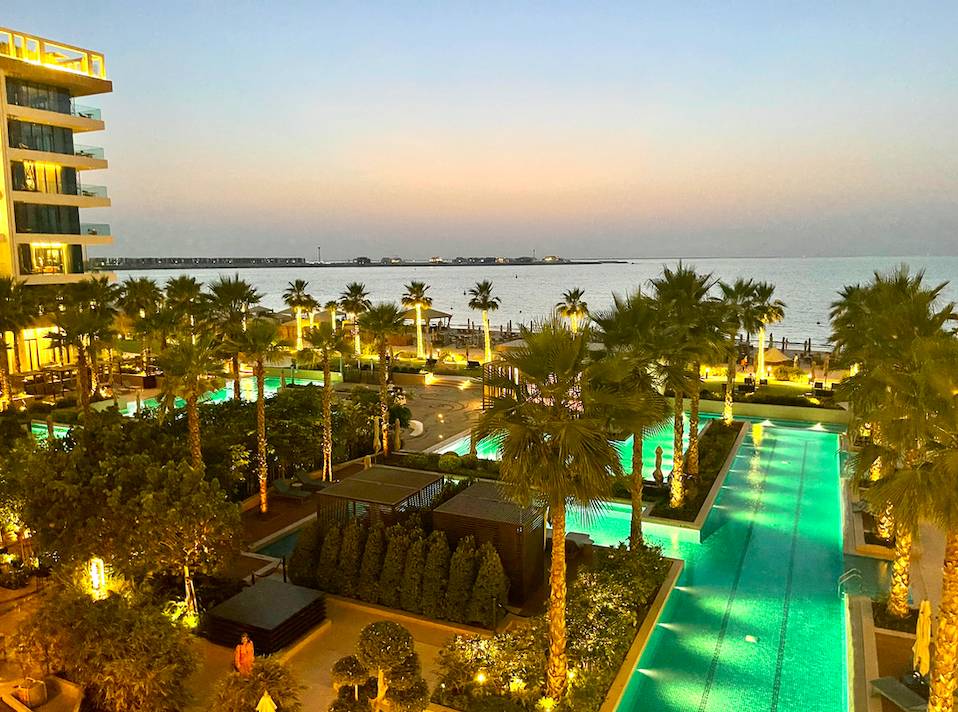 The hotel's design and interior are absolutely amazing! Its spa and gym are a delight for any professional fitness club aficionado! Its multiple restaurants are just as remarkable:
"Tasca" by José Avillez is a signature Portuguese restaurant;
The "Netsu" steakhouse is using a traditional Japanese Warayaki technique;
The "Bay" is a casual ground floor restaurant offering culinary shows and family-friendly menus;
"Beluga" speaks for itself, offering premium caviar tastings.
The Sofitel group has recently opened its new super-luxury "Obelisk" hotel in Dubai. It is built in the form of the famous Luxor obelisk with a golden pyramidal top. The interior combines ancient Egypt architecture (reflected in its art deco style) and the United Arab Emirates cultural influence. At the entrance, you are greeted by a four-metre golden falcon with a 9-metre wingspan (the national symbol of the UAE). You then venture in the Valley of Kings and Queens of Luxor with its giant columns decorated with hieroglyphs.
This hotel, located right next to the Wafi Mall, has a selection of luxury restaurants: "Brasserie Boulud" by the French two-Michelin-starred Daniel Boulud, an Asian "Taiko Dubai" and "The Nine" urban gastropub.
A whole new line of luxury hotels have been scheduled to open in Dubai for its EXPO 2020. These are the largest and most impressive ones to open their doors in 2021: Jumeirah Marsa Al Arab (next to Jumeirah Beach Hotel), The Royal Atlantis (on Palm Jumeirah island), Address Harbor Point (Dubai Creek Harbor), Portofino Family Hotel (The World islands, Heart of Europe), The Dorchester (Business Bay), Corinthia Hotel Meydan Beach Dubai (JBR), Mandarin Oriental Wasl Tower (Sheikh Zayed Road).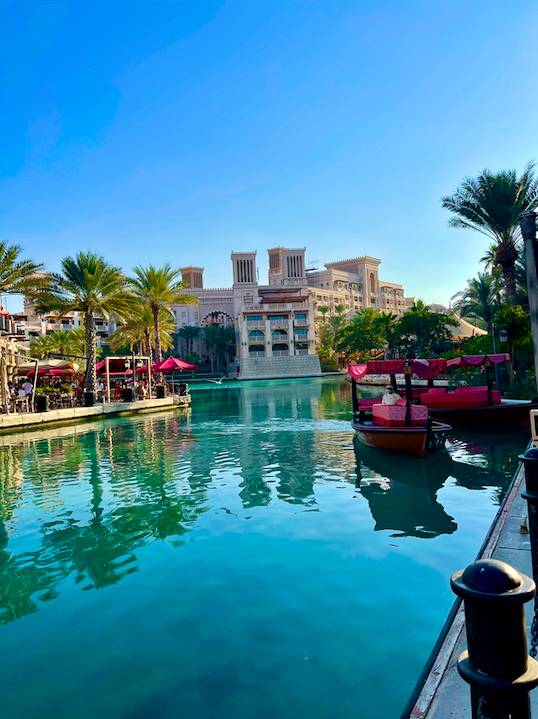 EATING OUT IN DUBAI
Dubai is famous for a truly amazing selection and variety of restaurants, catering for every taste. And guess what, they are also the very best. Top of the top, in both a literal and figurative sense of the word.
The CE LA VI restaurant at the Address Sky View hotel is a very popular destination with tourists and locals alike. Not only does it stand out for exceptional cuisine, but also for its beautiful swings and infinity pool. Perched on the 54th floor, the restaurant offers an amazing panorama of the sparkling crystal Burj Khalifa tower, with a sharp spire dashing into the sultry Arab skyline. Don't miss out on another local attraction — an elegant swing hooked onto a gold leaf rack, entwined with purple-red flowers. Comfortably sitting on its wide seat, take some stunning photos, with the aristocratic Burj Khalifa silhouette and the ultra-modern Dubai in the background.
The Authentic Japanese Tomo restaurant owes its many fans to its delicious cuisine. Its panoramic terrace is offering a breathtaking view of Dubai's main attractions, including the legendary Burj Khalifa.
The Kinoya and Hunter & Barrel are new on the block. But they also stand out for their stunning panorama and distinguished cuisine. Kinoya is an izakaya-style restaurant founded by the Dubai "ramen queen" Neha Mishra who started out as an enthusiast chef and trendy pop-up dinners organizer (@storyoffood). All dishes at Kinoya (down to the ramen noodles) are handmade and truly delightful!
The first in Dubai "Hunter & Barrel" chain restaurant in Vida Emirates Hills has contributed to the city's versatile gastronomic palette. Its charcoal-cooked meat and vegetables, first popular in Australia, finished up being exported to Dubai. For a delicious bbq experience, try its first-class steaks, shrimps and chicken wings cooked on the open fire.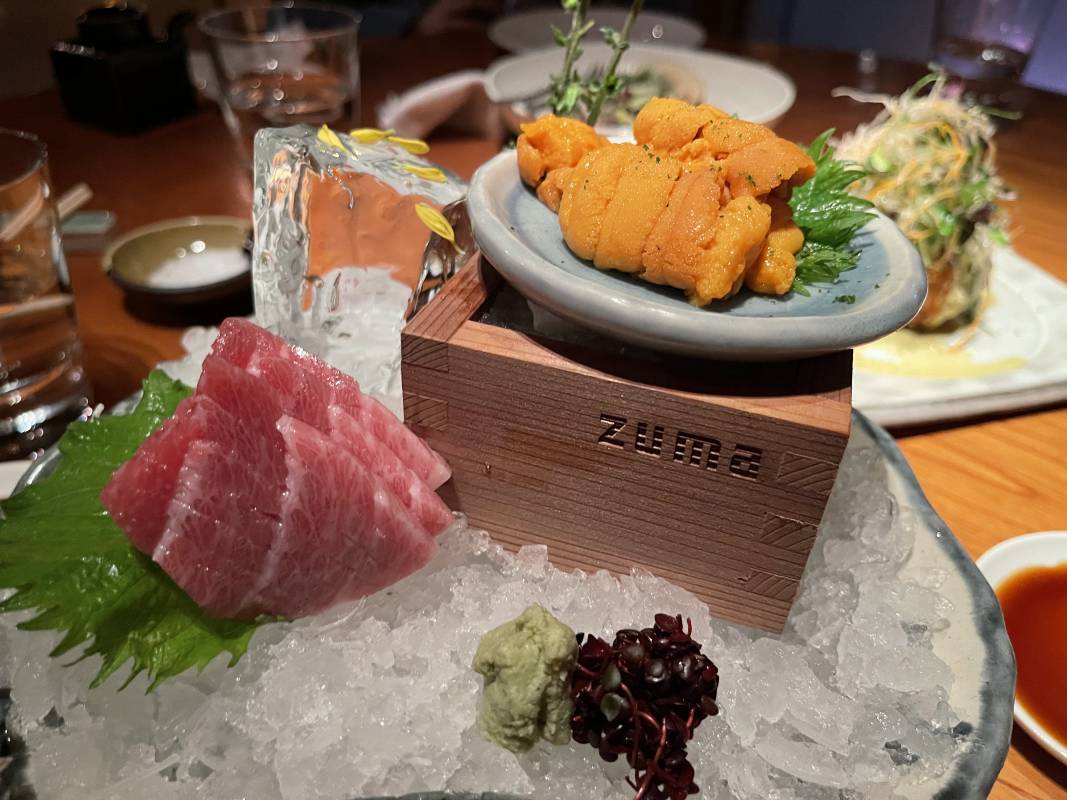 Top restaurants at the Gate Village, the DIFC Financial District
To celebrate a special occasion, Dubai offers many gourmet restaurants renowned for a luxurious ambiance and excellent menus. Some have the reputation of being number 1 in the world.
La Petite Maison in Dubai International Financial Center (DIFC), also known as the "LPM", is honouring the simplicity and charm of the French Mediterranean, in particular, Nicois cuisine. One of the finest French restaurants in Dubai by far, the LPM offers freshly prepared gourmet food, pasta and risotto, burrata and mouth-watering desserts. Enjoy its elegant and spacious setting, with a bar deserving special mention.
GAIA is another fine gourmet restaurant in the DIFC, serving mouth-watering Greek dishes with a Mediterranean touch. GAIA is the fruit of a successful cooperation between Evgeny Kuzin and the chef Izu Ani. The menu features fresh and high quality ingredients. Treat yourself to its delicious sea bass ceviche, baked feta cheese, fried squid and octopus and the classic Greek moussaka and cheesecake delicacies. GAIA also stands out for intricate design and architecture that makes your dinner still more enjoyable! 
Zuma, arguably the most popular restaurant in the DIFC, has found its niche in Dubai thanks to its original izakaya speciality. Its menu is tempting and versatile, with authentic, intense, distinguished ingredients and flavours.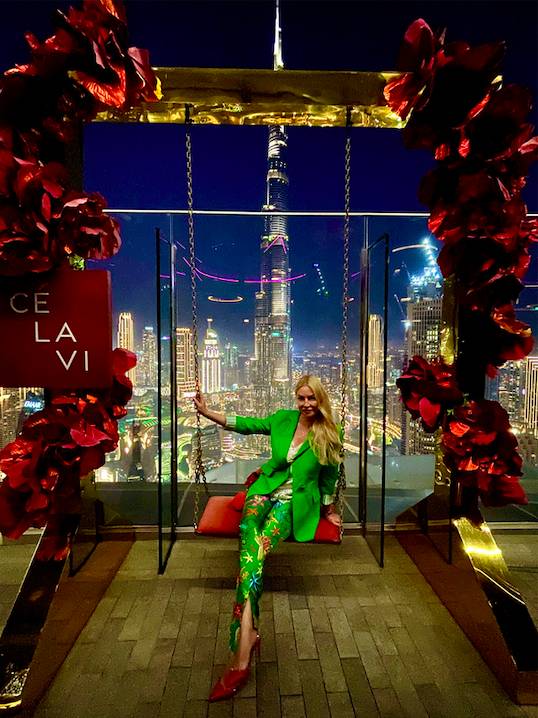 EXPLORING DUBAI
Now that you are familiar with the Dubai hotel and restaurant scene, let's explore its main cultural venues. These top attractions are certainly worth your attention.
World Exhibition EXPO-2020
The amazing EXPO-2020 running from October 1, 2021 to March 31, 2022 is certainly the number 1 on Dubai's cultural agenda. According to Sheikh Mohammed, Emir of Dubai: "The exhibition has every chance to go down in history thanks to its creative ideas and inventions that humanity will use for many years to come". The EXPO's-2020 first marvel is "Garden in the Sky". Rising some 55 metres above the ground, this 2-in-1 viewing platform and flying park is offering a 360-degree panorama of the Exhibition's grounds.
"Garden in the Sky" is set up in the Jubilee Park near the central exhibition area, Al Wasl Plaza. Its upper open floor is planted with ten Caesalpinia trees and connected by a staircase to the lower premises. The floors rotate as you go up or down. Caesalpinia (Peltophorum Inerme), originating from India and also known as "yellow flame" because of its spectacular bright inflorescences, is flourishing in Dubai's sultry climate, happily decorating local parks and streets. This tower is one of a kind, created by the world-famous innovative architect, Asif Khan.
Another World Exhibition's attraction is the Water Feature waterfall, truly challenging the laws of gravity. During the day, its water falls from a height of 13 metres. But as evening falls, it rises up the walls.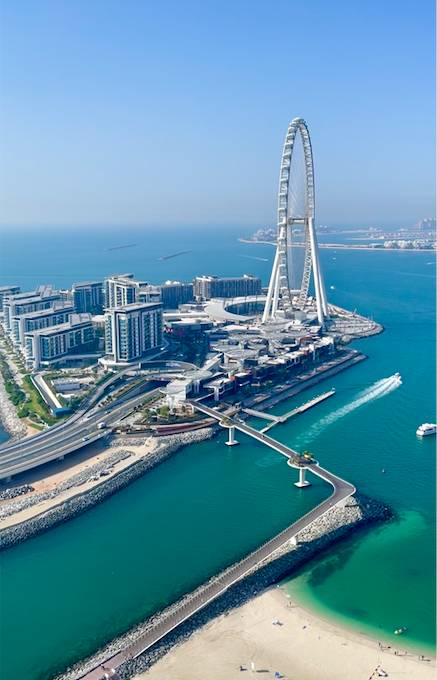 Ain Dubai is the world's tallest and largest Ferris wheel, officially opened on October 21, 2021. This unique attraction, located on the Bluewaters Island, is now an integral part of the Dubai skyline. This 250 metres high, record-breaking structure, is almost double the height of the Ferris wheel in London. Its 48 capsules can hold up to 40 passengers each. A ride takes 38 minutes, providing you with a stunning Dubai panorama. In addition to the Ferris wheel ride as such, treat yourself to the entire fun package: music, decor, food and illumination.
"X Line" zipline over the Dubai Marina
Dubai is the best place for fulfilling your long-cherished dream of taking a zipline. It is the fastest, steepest and longest urban zipline in the world — 1 kilometre-long, up to 170 metres high, with a maximum speed of 80 kilometres per hour!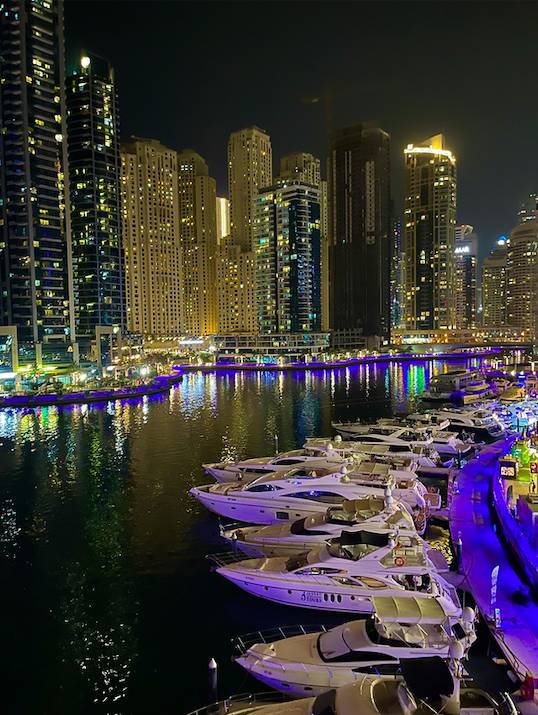 Dubai Skydive
If the zipline is not extreme enough for you, go for the Dubai Skydive over the Palm Jumeirah and Rub al Khali desert. Jump on your own or accompanied by an instructor. The daredevil then gets a memorable video of this stunning skydive. 
Helicopter rides over Dubai
Then again, if a parachute jump is a bit too much for you, opt for a helicopter ride for an unforgettable experience! Dubai is a city of futuristic skyscrapers and modern structures surrounded by man-made islands. Enjoy the true scale of the second largest emirate from an unprecedented height, looking out from a helicopter window.
The Contemporary Art Center "Alserkal Avenue"
Now let's get back down to earth. "Alserkal" is a great place for contemporary art lovers in the UAE. This cool art space is located in a former 46,500 sq. m warehouse, with a multitude of galleries, cafes, restaurants, fashionable showrooms and concert venues. This is where the famous Art Dubai fair and the Art Nights festival are held. Its concept belongs to a famous philanthropist Abdulmonem Bin Eyza Alserkal. He created an entire art quarter in Dubai as a unique platform for creative innovation and incentives encouraging both local talent and internationally renowned artists. A very atmospheric space indeed!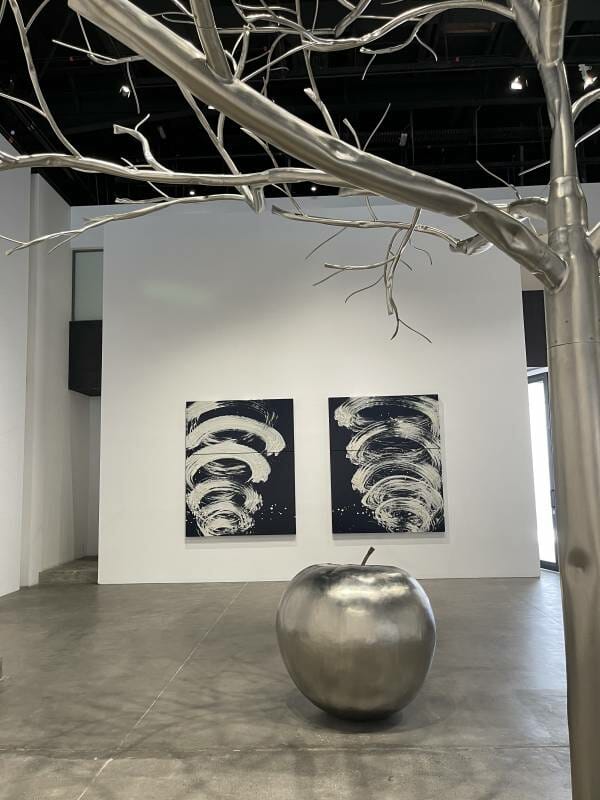 The Bastakia District
This historic district of Dubai emerged in the early 19th century. Unlike modern areas, Bastakiya is true to its traditional Arabic flavour. Take a stroll across these typical stone houses, decorated with wood and plaster. Their ground floors are traditionally equipped with souvenir shops, cafes and antique shops. In the olden days, this area was inhabited by wealthy traders and pearl divers. These days, you can witness its 19th-20th centuries architecture, with the famous "wind towers", predecessors of modern air conditioners. Among the most remarkable historical buildings are the Al-Fahidi Fort, the Majilis Gallery and the first office building of Beit al-Wahil.
"Dubai Miracle Garden" Flower Park
A magnificent and colourful oasis in the midst of a modern metropolis. This 6.7 hectare flower park is the largest in the world. Some 45 species of flowering plants are competing in their amazing colours creating an incredible kaleidoscope. The best European gardeners have worked on this landscape design, bringing their wildest fantasies to life.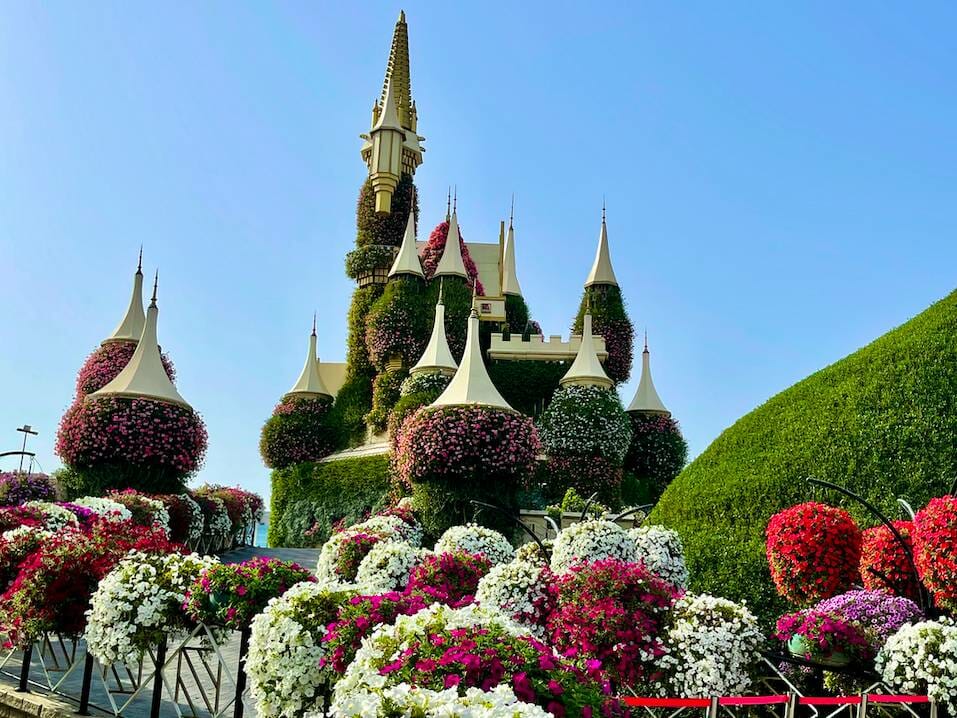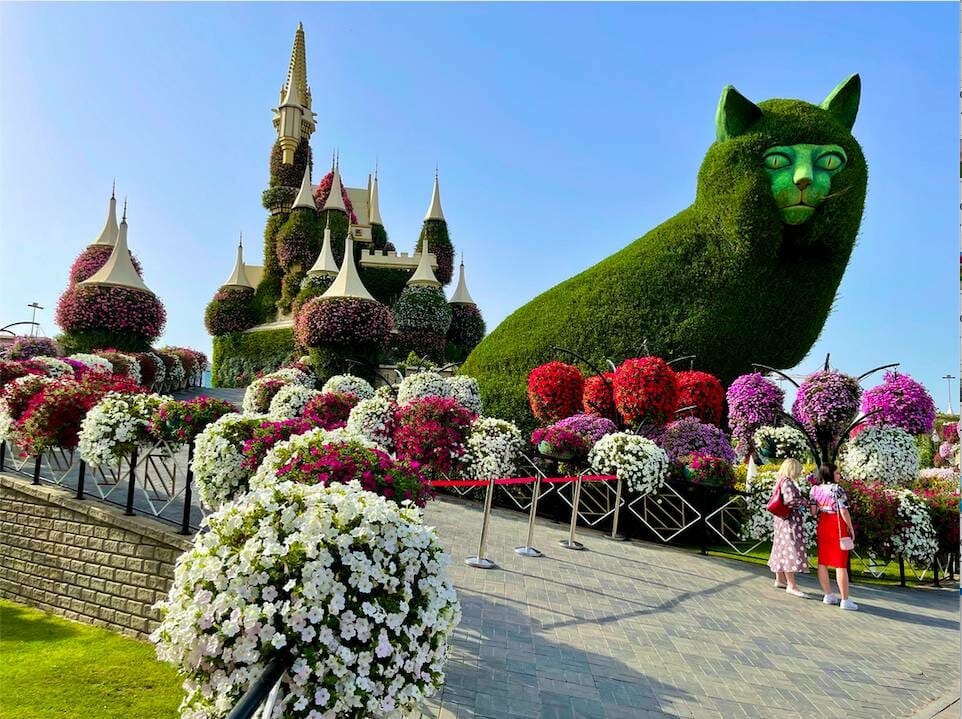 Ski Dubai Complex
Dubai really has it all! Ski Dubai complex in the Mall of Emirates is just another proof. Go skiing or snowboarding any time of the year, using its first-class cable car lifts and tubing trails. Not only skiing equipment, but winter clothing is available for rent (except for gloves and hats).
Al Buqaish Private Zoo
Animal lovers will enjoy a visit to the private zoo @albuqaish.jungle, recently opened in the Umm Al Quwain desert. All its animals are rescued, raised by humans and therefore not adapted to life in the wild. Stroke a lion's mane or play with tiger cubs at the Al Buqaish Private Zoo. The number of visitors is limited however and advance booking is required.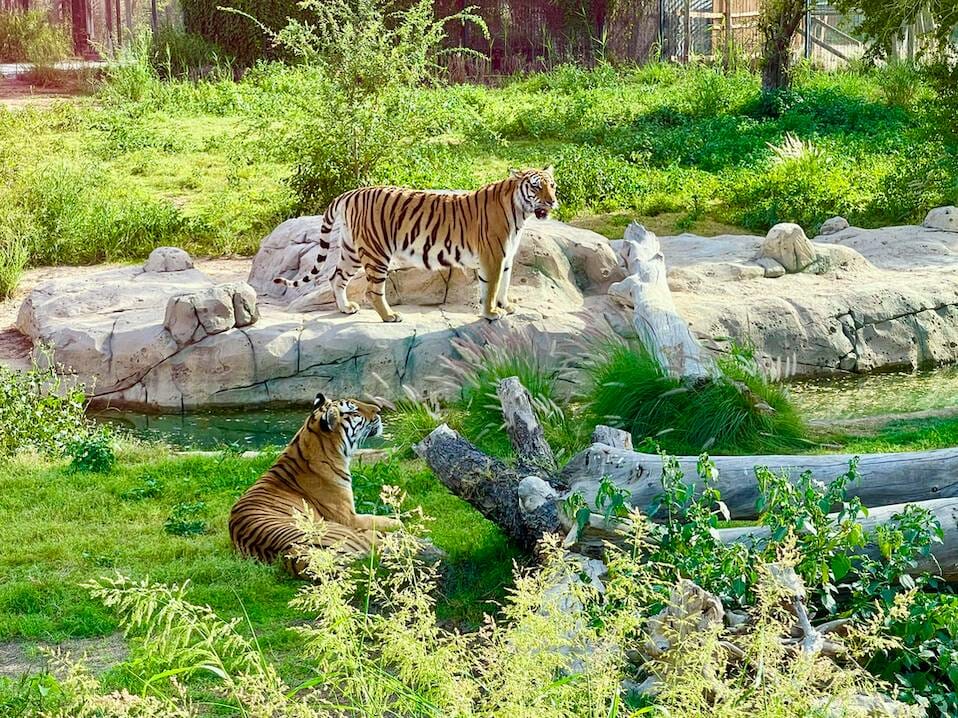 Global Village International Fair
Every year from October to April, the ever-popular World Village attracts millions of visitors. More than 75 countries demonstrate their products here in its 25 pavilions. Taste delicious honey from Yemen, buy exquisite carpets from Iran and Afghanistan, argan oil from Morocco, shea butter from Africa, engraved necklaces from Spain, dried fruit from Thailand and matryoshka dolls from Russia. Every country, from Egypt to Italy, from Vietnam to Oman, creates a unique authentic atmosphere thanks to its smells, sounds and decor.
Global Village Dubai is a true journey around the world with an amazing evening entertainment and a variety of international cuisine in its numerous restaurants, cafes and street food stalls.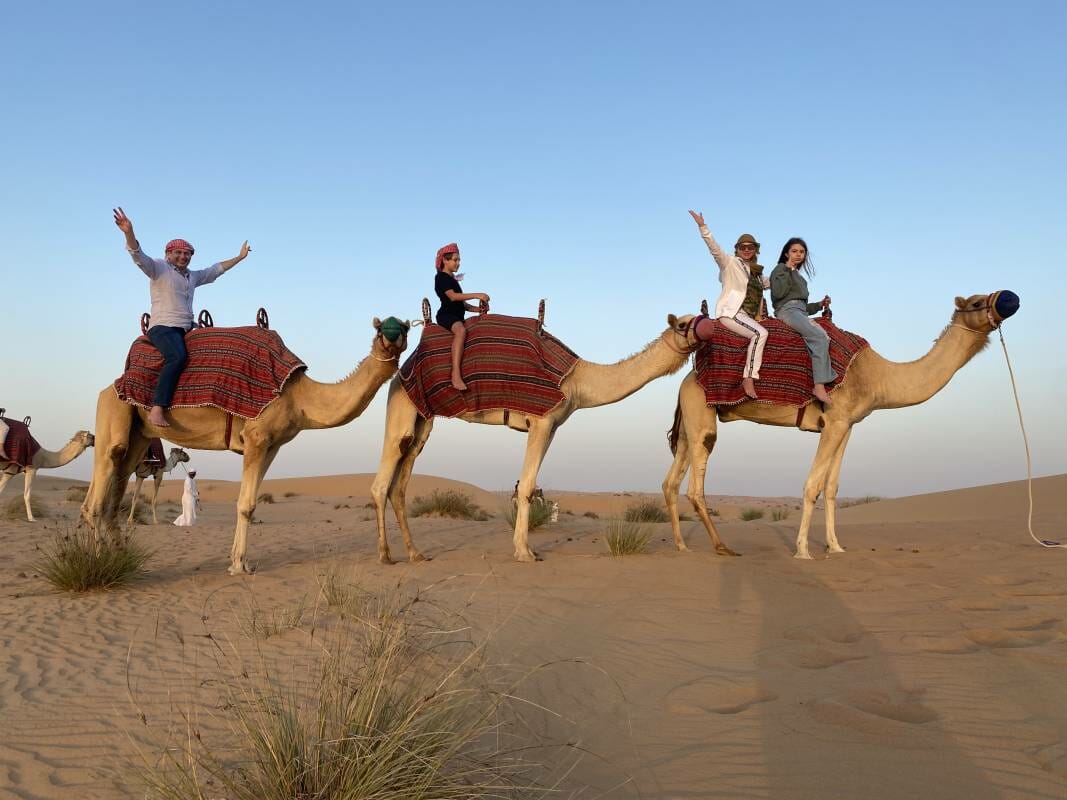 BEST TIME TO VISIT
The best time to visit Dubai is from October to April. In December and early January, it may even be a little chilly in the evenings. From May on, temperatures are rising, reaching 50 degrees in summer. But high humidity, as they say, only adds fuel to the fire.
International tourism in Dubai is truly bouncing back. Over the past 11 months, according to the latest report by Dubai Tourism, some 3.7 million tourists have visited the city, and the total hotel occupancy averaged 58%. Dubai remains one of the safest travel destinations, thanks to the sanitary measures taken by the authorities to prevent the pandemic.
Travel to Dubai to have a look into the future; no need to wait five, ten or twenty years, one can see it right now. Every time arriving in Dubai we get to see something we may not have even dreamt of.