Interviews
Hublot Big Bang One Click Marc Ferrero and HelloMonaco: an exclusive interview behind the new limited edition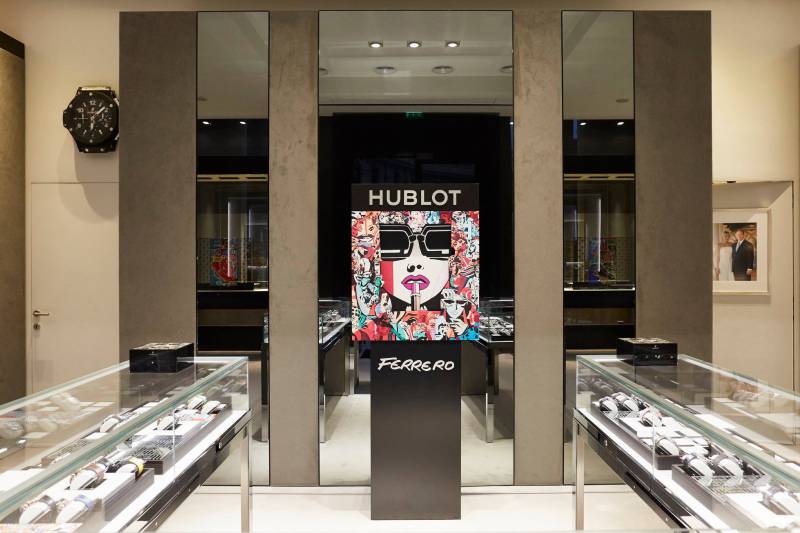 "For every hour of the day the modern woman sets herself apart as unpredictable, multifaceted and unique…." Hublot.
Olga Taran, Chief Editor of HelloMonaco explores this fascinating theme in her interview with Philippe Tardivel, Hublot Marketing Director. Philippe leads Hublot's global marketing strategy and develops pioneering events. This latest surrounds the opening of their Flagship store in One Monte Carlo just steps from Hotel de Paris and the Casino.
Like an oyster opening to reveal its precious pearl, Hublot Monte Carlo chose this occasion in the Principality to unveil their extraordinary limited edition timepiece: Big Bang One Click Marc Ferrero. Olga Taran talked to Philippe Tardivel to get to the essence of "The Art of Fusion" and don't miss her following interview with the genius artist himself, Marc Ferrero.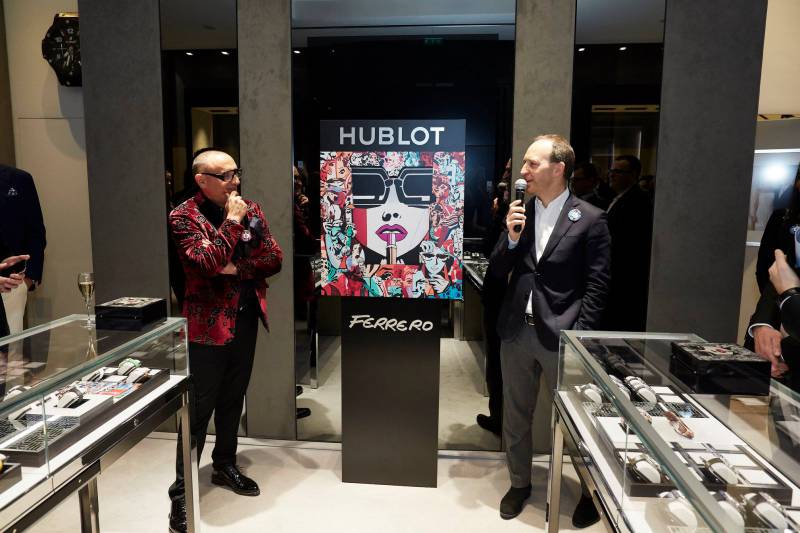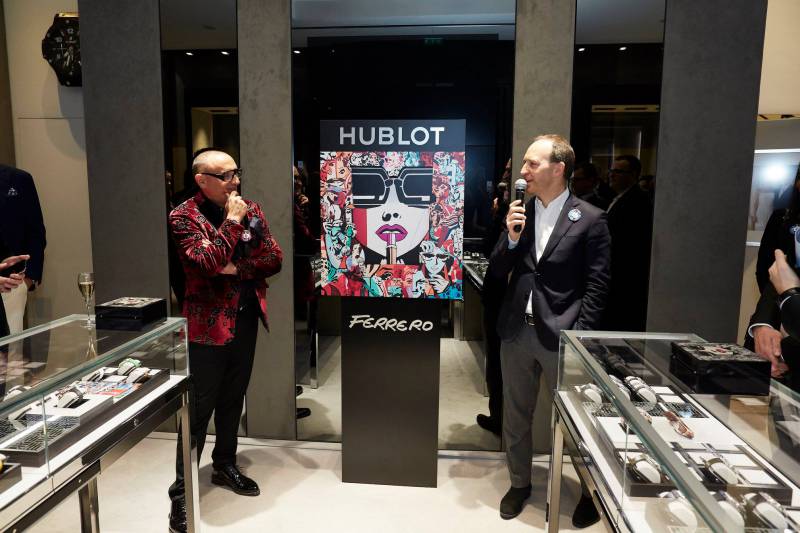 HelloMonaco: You work with Mark Ferrero, is that correct?
Philippe Tardivel: Yes, I first met him because we put on an exhibition of his art in Zurich. Then with some Swiss clients we become more and more interested in his art. And not just in his cartoon graphics but the story telling and the way he expresses his art, in his creation of characters like Marc Percival, the Duke. This storytelling is really unique.
HM: How did you collaborate with Marc Ferrero? Did you give him direction or did he fly free with his own ideas?
Philippe Tardivel: We first explored his art together with him for inspiration as to whether we would create something for women or men. Out of that came this very strong symbol of lipstick with the female expression. We said ok let's work with this, starting with his "big art" which we then had to translate into a miniature version for our watches. Keeping the detail of the characters is important, so there was special resizing and reshaping needed dictated by the size of our watches. It is a case of marrying the technical requirements to the art without changing the creative message of the artist.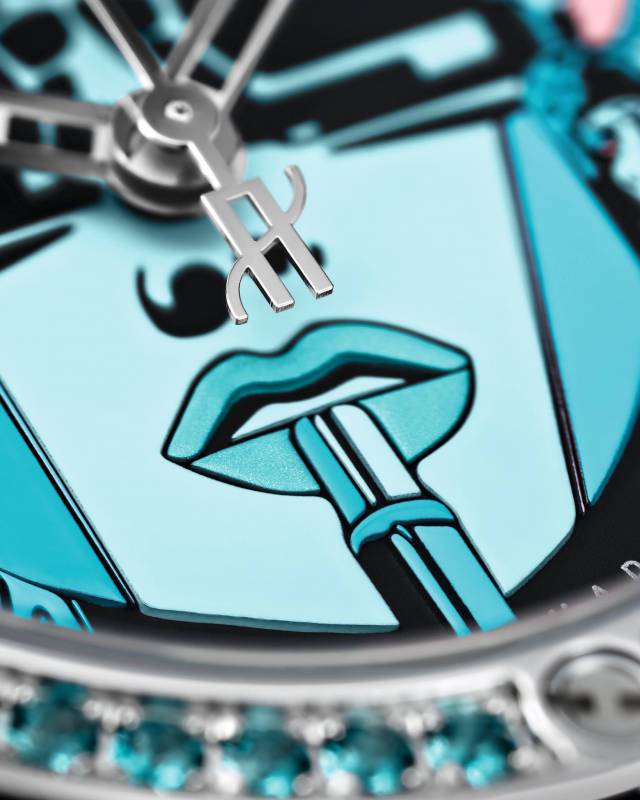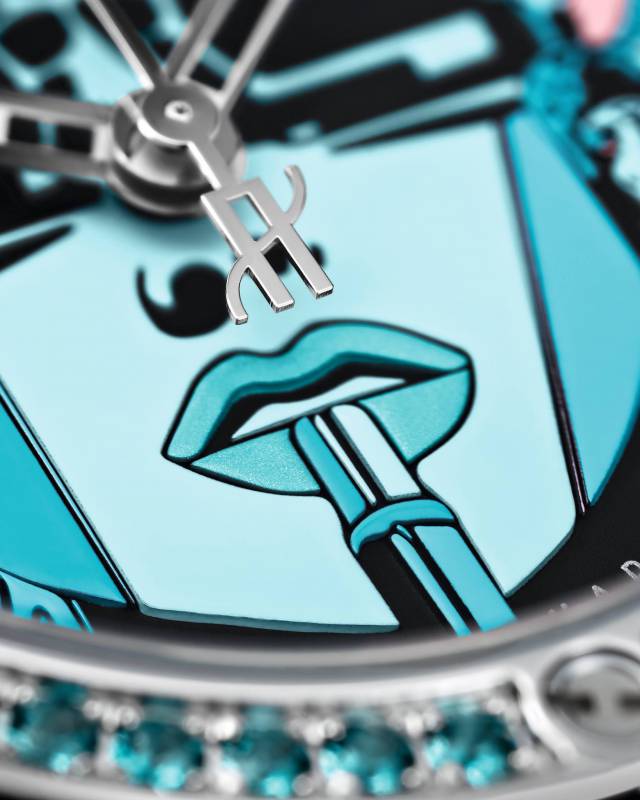 HM: Hublot is known for its unique choice of materials. What type of materials are used in this watch?

Philippe Tardivel: Yes, here for example we have a rubber strap for which we are well known and a titanium case, degraded topaz is featured interestingly and there is very innovative technology in our laser-cut dial.
HM: It's a limited edition, is it not?

Philippe Tardivel: This one in blue is limited to 50 as is the red. Both are 39 millimetres.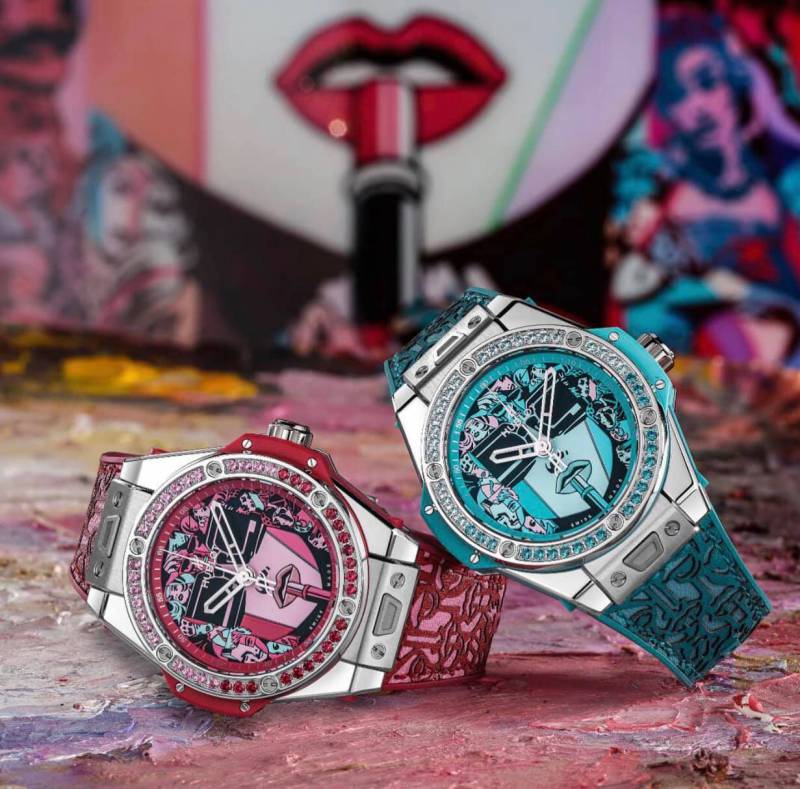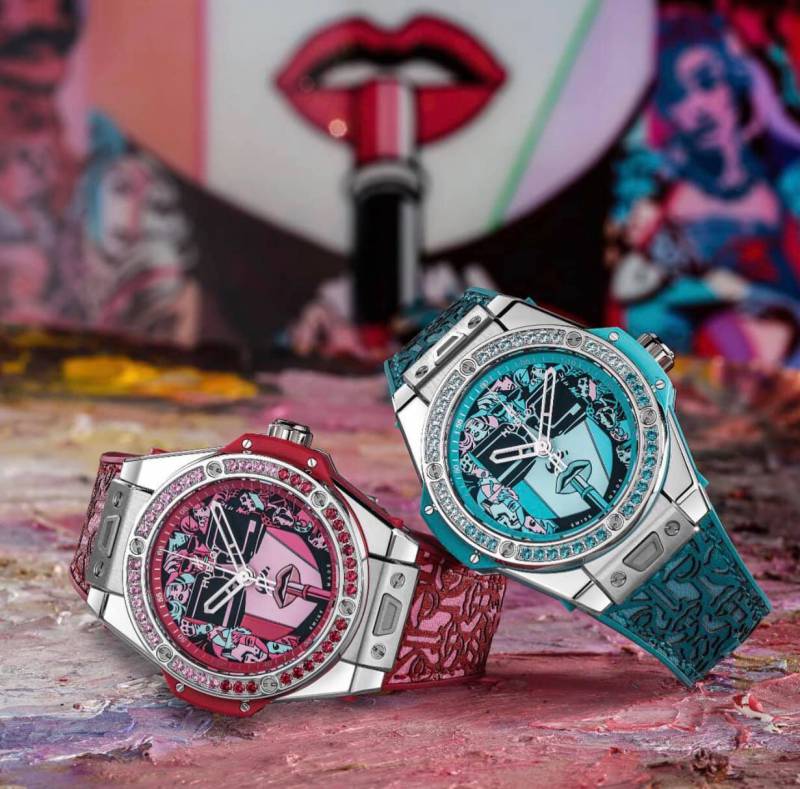 HM: Marc Ferrero is famous for his story telling. What type of story lies behind this watch?

Philippe Tardivel: Each woman can project her own story into this image with the lipstick and the sunglasses. This is living art and for the first time so close to you on your wrist that it both refreshes and inspires.
HM: What type of woman wears a Hublot watch?
Philippe Tardivel: A women that is assertive, is independent, that makes a success for herself – it will be the type of woman who dares to wear something different. Because this is a unique timepiece that is not available from any other watch maker.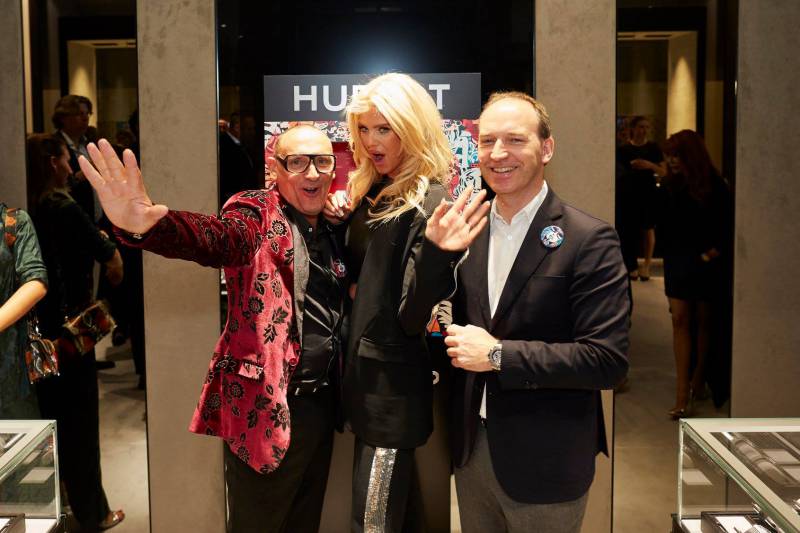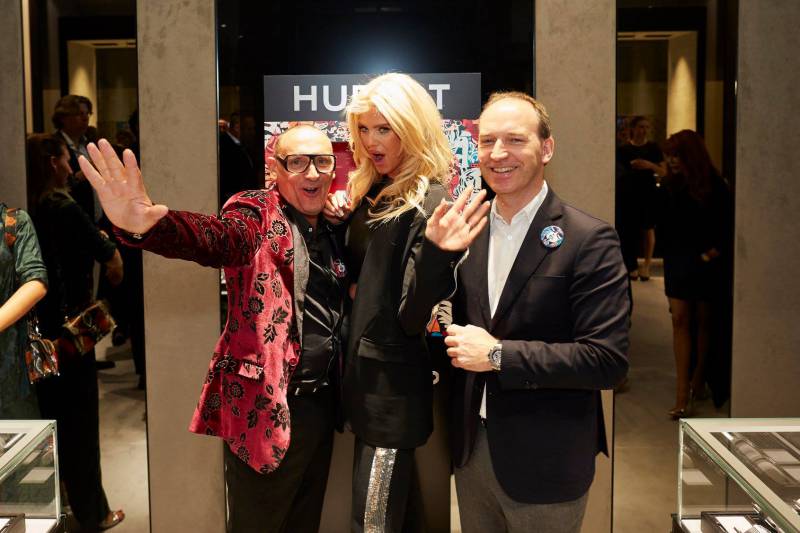 HM: May I ask about the price?
Philippe Tardivel: 17.000 euros.
HM: You have just opened this new Boutique in Monaco. It sells exclusively Hublot watches?
Philippe Tardivel: We wanted Monaco to be distinct in the same way that we have stand-alone boutiques in New York, Paris, London, Moscow and Tokyo. We started in Monaco first with a distributor but now we are ready with this next big step. And we are very close to the Casino you notice.
HM: Do you see Monaco as a very distinct market? What type of marketing strategy do you apply to Monaco; how to sell here, how to represent yourself here?
Philippe Tardivel: Every market is specific. Having said that there is a similarity in the type of clients who buy our watches in Los Angeles or New York or London. Our products are unique and distinctive, perfectly designed with the international entrepreneur in mind. This watch is particularly creative and colourful. It combines the ultimate in watch-making knowhow with the uniqueness that our clients in Monaco are looking for. And because Marc Ferrero is close-by in Eze it makes sense to launch this model in Monaco.
HM: I see you have different straps, very feminine ones, some sporty, some edgy. Does Hublot have a specific philosophy that you stand for?
Philippe Tardivel: We are known for the "Art of Fusion", taking elements that are not typically together in nature and combining them. That is, in fact, how we got started. We took rubber and gold. People thought this was crazy. It was our Chairman, Jean-Claude Biver who coined this term "Art of Fusion". We were particularly creative and the first with new materials, unscratcheable gold for example and sapphire too. Now we are leading with very bright colourful ceramics, first in the world with our red and blue. And the Art of Fusion applies to this watch which is a fusion of the artists' world with that of the watch world.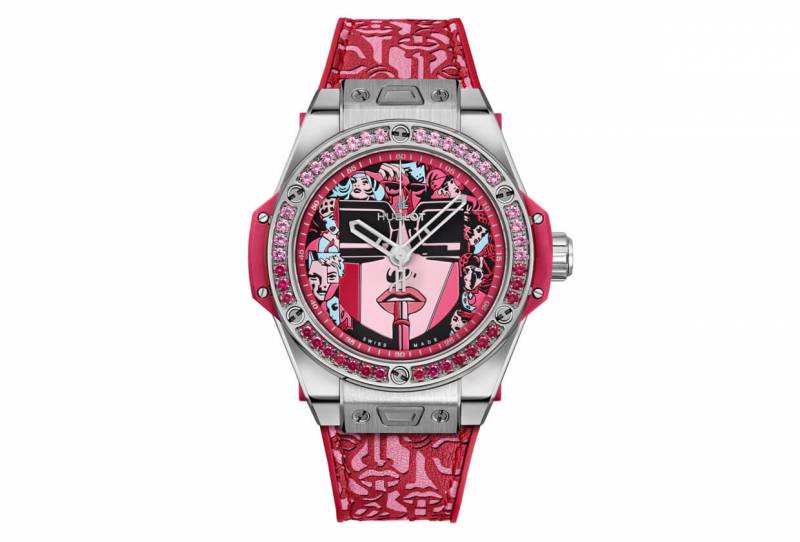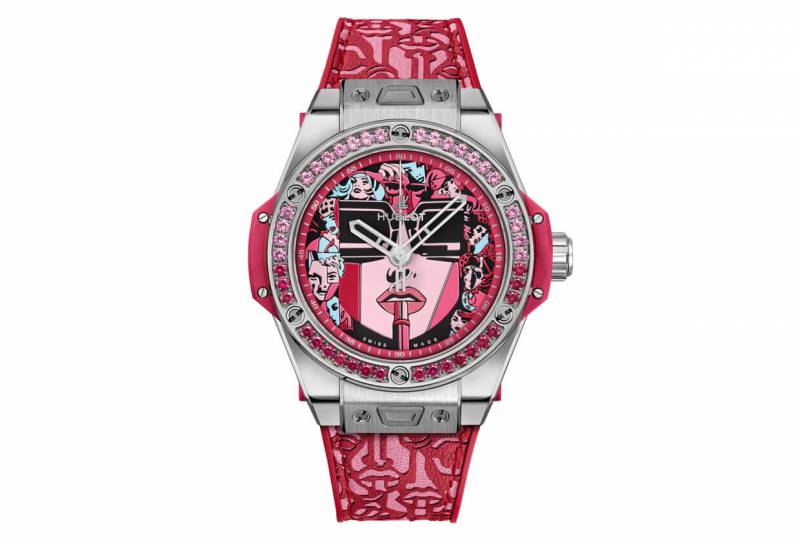 HM: Do you have some secret new launches planned?
Philippe Tardivel: This March in Basel you are sure to see some new men's watches as a product of our partnership with spectacular brands like Ferrari.
HM: How do I get one of these limited edition watches like this Marc Ferrero one.
Philippe Tardivel: Come to our store and reserve in advance. But I have to warn you there are more customers than watches for these rare limited editions.
HM: But what if I would ask you to make number 51 and sell it to me for double the price? Would it be possible to do a deal?
Philippe Tardivel: Absolutely not. Rarity is a phenomenon that depends on trust. So we must abide by our principles. When we say 50, it really is limited to 50 and rarity is assured.
Exclusive Interview with the artist Marc Ferrero
Marc Ferrero is a famous French Contemporary artist, one of the most distinguished practitioners of StoryTelling Art. We are invited to follow the passion, temptation and fate of the 21st century woman via his iconic creation Lipstick, an integral part of Hublot's limited edition timepiece launch in Monte Carlo: Big Bang One Click Marc Ferrero.
"When I am asked 'What innovative and modern idea develops your painting?' Without hesitation, I answer fusion… Using different graphic styles (cubism, impressionism, surrealism, figurative, etc.) on the same plane or over my works—just like a film director uses special effects to tell a story—will always represent an extremely exciting challenge for me." Marc Ferrero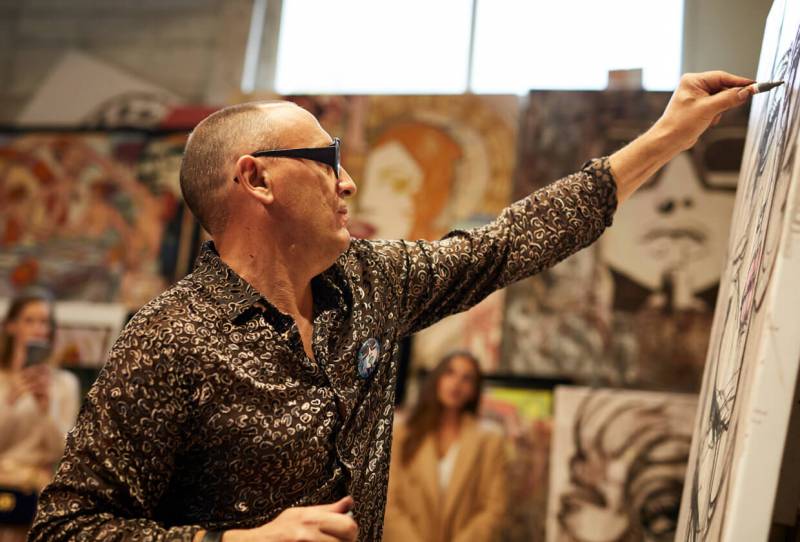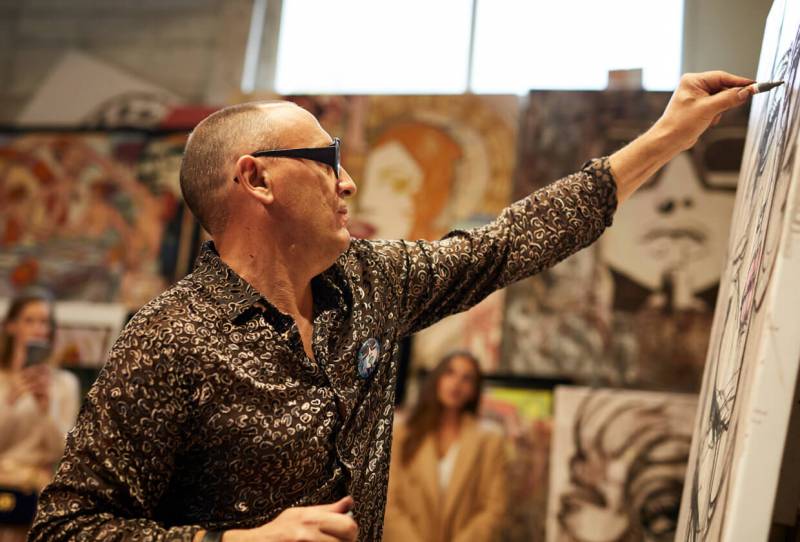 Olga Tara pursues what makes Marc Ferrero tick in this next rich and revealing interview.
HM: It is truly amazing what you have created in this collaboration with Hublot. What was the inspiration behind it?
Marc Ferrero: Behind it there lies eight years of creation which crystallized as a painting which is one of the most important of its generation. The lipstick painting for me is as serious a subject as flowers were for Van Gogh or mood and impression to Matisse. The central figure, a woman with glasses is represented of cubism and surrounded by figurative art showing women in different moods. This speaks to the woman of the 21st century. All the best collectors are now seeking the lipstick painting. When I showed Hublot the different lipstick colours, nine in total and also this purple, they fell in love with the concept and our collaboration sprang rapidly from that.
HM: How did you take to working with much smaller-sized art-work?
Marc Ferrero: I was really surprised and impressed. I wondered "how will they be able to do it?". They reduced the image yet kept the detail, all the while working with a different material. Hublot produced about 15 different faces during the process. It was most impressive.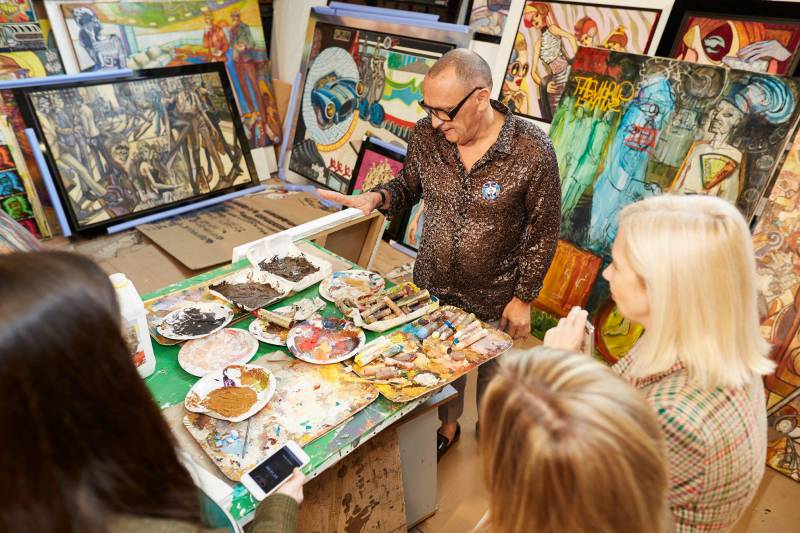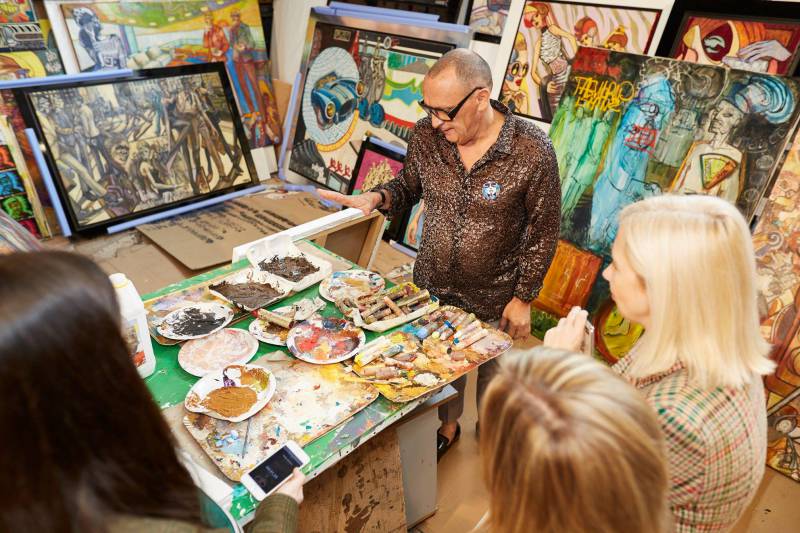 HM: What was the atmosphere like around the collaboration? Was it feisty? Did you fight a lot?

Marc Ferrero: Not at all. It was based on respect. And my own style as an artist is not based on "I want this" or "I want that". I don't believe you get a good result from that. I don't like fighting at all. With Hublot it was a true collaboration.
HM: Tell us about this woman – this woman of the 21st century.

Marc Ferrero: There is a difference between the woman of the 21st century and the previous century. In the 20th century a woman had only one dimension, just her image. In the 21st century a woman is multi-faceted, she has a look, yes it is true, but she also has a point of view. So there are two important things about her at a minimum, how she looks and what she has to say. And our art must reflect that. Though I do admit as artists we concentrate very much on a woman's beauty.
HM: Do you think how she looks is more important than what she has to say?

Marc Ferrero: I think there is a way of capturing that beauty while projecting at the same time that this is a 21st century woman who is powerful in business and has her own opinions. This is what the lipstick painting says.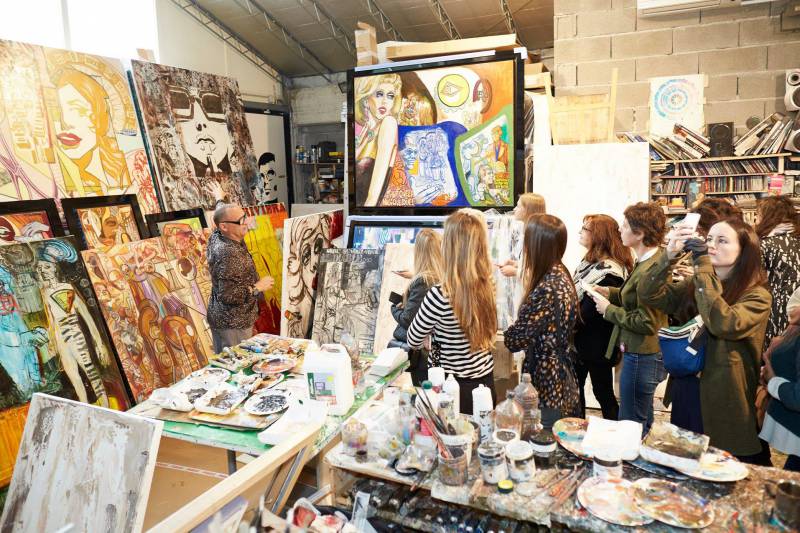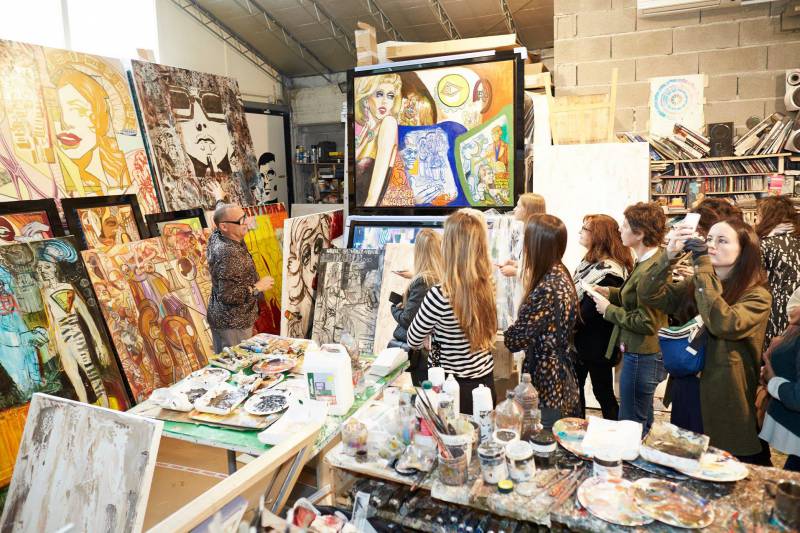 HM: Is she a fighter or a peacemaker?

Marc Ferrero: The 21st century woman approaches doing business bringing her own style to bear. She is less a fighter and more a peacemaker. She is strong but she is also more collaborative and thinks beyond just making money. She can create harmony and inspire men to listen.
HM: The watch is contemporary and edgy yet manages to be elegant and very beautiful at the same time.

Marc Ferrero: It's a mix of contemporary and classic. I try to incorporate fun but I think cheap decorative art is dangerous. I cannot go in that direction. So the elegance comes from respecting the best traditions. I love painting in oil; I obey the tactical rules. Fun is the final layer if you like, presented with elegance.
HM: Have you collaborated with other brands?
Marc Ferrero: Yes, more than one, including Ferrari. But this Hublot collaboration is my favourite one. In the past, and maybe that comes with youth, I was more feisty. So I wasn't able to get the most out of the collaboration. But with Hublot it has been perfect.
HM: One might conclude by saying: Perfect Timing with the Perfect Watch by the Perfect Storytelling Artist for the Perfect TwentyFirst Century Woman.