Latest news
2019: Best places to rejoice during Christmas and New Year celebrations in Monaco
Our typical December question is how to spend Christmas holidays and where to celebrate the New Year. The Principality has traditionally many surprises and exciting activities in store for Monaco guests and residents. We have made you a list of the best parties and most delightful dinners for New Year's Eve.
The main destination on December 31 is obviously the port of Hercule with all its entertainment for сhildren and adults.  This  party starts at 21.30, with the DJ setting a festive tone for the evening. At midnight, the sky over Monaco will be lit up with fireworks.
New Year's party at Buddha Monte-Carlo
On December 31 Buddha Monte-Carlo welcomes everyone to their New Year themed party. The entertainment starts at 11pm with one of the most famous Monaco DJs  – Papa Dj.  For more information please call: +377 98 06 19 19
Hermitage Monte-Carlo
The Hermitage Monte-Carlo Hotel square is Christmassy beautiful. The carousel, elegant Christmas trees, shiny balls and lights are everywhere. SBM has this and much more in store for its youngest guests. Children will also have the opportunity to meet  Santa.
Looking forward to Christmas and New Year holidays in a cozy, family atmosphere? Hôtel Hermitage Monte-Carlo is there to welcome you!
The lobby Limùn bar will be treating you to festive tea parties until January 6. From December 10 to January 7, a pop-up northern chalet will serve you caviar, foie gras, salmon and oysters with champagne. Open from 12am to 8pm.
To celebrate the New Year in style,  in a chic, but cozy atmosphere, the Vistamar restaurant is offering its guests an authentic dinner cooked  by award-winning chef Benoît Witz.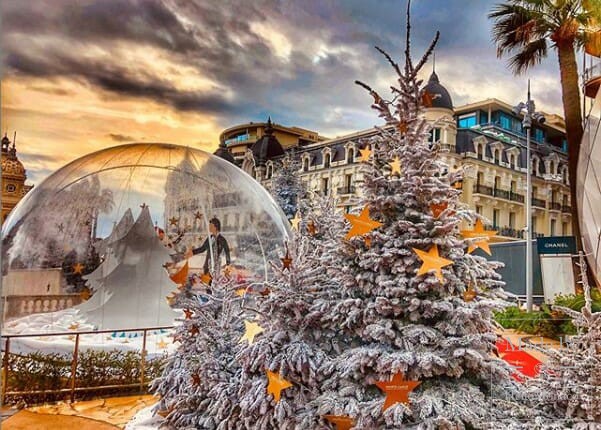 Monday, December 31:
New Year's Eve dinner in the Belle Epoque Hall, € 540 per person;
New Year's Eve dinner in Le Vistamar restaurant, € 450 per person;
Tuesday, January 1:
New Year's brunch in the Belle Epoque hall, € 185 per person;
December 10 to January 7:
A pop-up bar on Square Beaumarchais serving a northern chalet menu.
Christmas and New Year at the Hôtel de Paris Monte-Carlo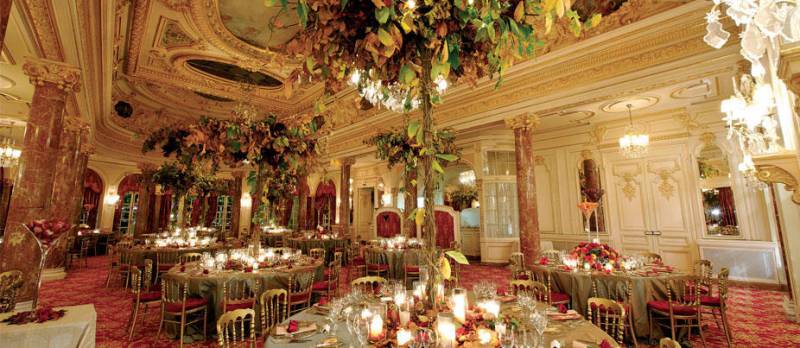 The amazing Hôtel de Paris lobby is enchanting in its Christmas attire. Its magnificent Christmas tree is decorated by the jewelry house, Chopard.
The Empire Hall is a perfect venue for New Year's festive and gastronomic events. On December 31, a New Year Eve's dinner can be enjoyed at a price of € 815 per person and a New Year's dinner will cost you € 180 per person.
New Year's Eve dinner at Le Grill restaurant will cost you € 800 per person while New Year's lunch is € 150 per person. All this, while enjoying the scenic views of Casino Square and the large panorama of the Mediterranean.
Celebrating New Year's Eve is a great opportunity to have an unforgettable culinary experience with a 3 star Michelin chef. These "starry" dishes will be served to you at the Louis XV Alain-Ducasse restaurant at Hôtel de Paris. Dinner on December 31 costs € 1050 and lunch on January 1 – € 360.
The Américain Bar will welcome you in a cozy, musical atmosphere with its New Year Eve's offer at € 300 per person.
New Year at the Sun Lounge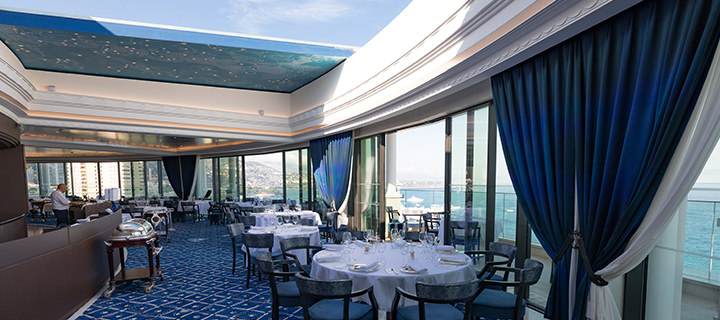 The Sun Lounge Bar of the Sun Casino is inviting you to try delicious cocktails, champagne, wine and spirits in a cozy, truly relaxed atmosphere. Delicious buffet dishes in the sparkly gaming halls will bring a special charm to your day.
From January 1 to 31, 6pm to 8pm, montecarlosbm serves you two drinks for the price of one upon presentation of the My Monte-Carlo card.
New Year with Laura Pausini at Salle des Etoiles Monte-Carlo
Laura Pausini, the best young performer from the 1993 San Remo Festival, is one of the most famous singers in Italy and abroad. The only Italian with 4 Grammy Awards, Laura will perform at the New Year's Eve gala dinner on December 31 in the Salle des Etoiles at Monte-Carlo Sporting.
Dinner starts at 8pm
Price: from 553 € (drinks not included)
For more information please call +377 98 06 41 59
New Year's Eve at Café de Paris
On December 31, from 7pm, Cafe de Paris is inviting you to celebrate New Year's Eve up until dawn in its catchy atmosphere. The restaurant has a choice of gourmet menus:
Umbrina carpaccio under clementine juice, with a crispy vegetable salad | 21 €
Asparagus and scallops risotto, crustacean broth | 26 €
Fried beef fillet with morels, chestnuts, juicy potatoes and velvety sauce | 34 €
Exotic pecan and creamy caramel pie, coconut sorbet, caramelized pineapple | 9 €
Celebrate New Year at Cafe de Paris with champagne served at midnight for free!
Jimmy's at The Casino, Monte Carlo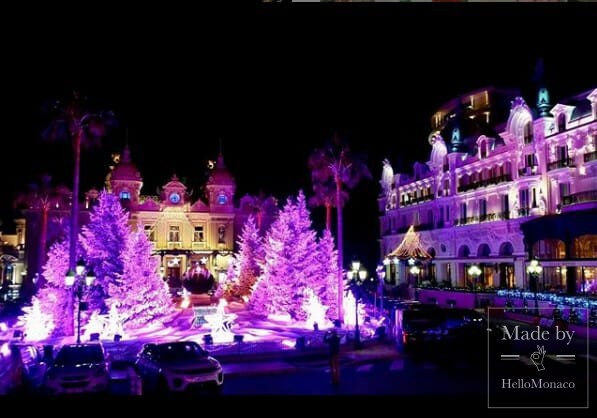 On December 29 to 31, Jimmy'z will hold a series of stylish parties for Monaco guests and residents in Salle Medecin of the famous Monte Carlo Casino!
A great festive atmosphere guaranteed for 3 nights!
DJs, dancers and unique shows will be performed for you during these unforgettable evenings!
Program:
December 28: DJ Carmine & DJ Ollie
December 29: "Jungle Friday"
December 30:  DJ Ollie
New Year: Dj Carmine & Dj Ollie
Monte-Carlo Bay Hotel & Resort
The Blue Bay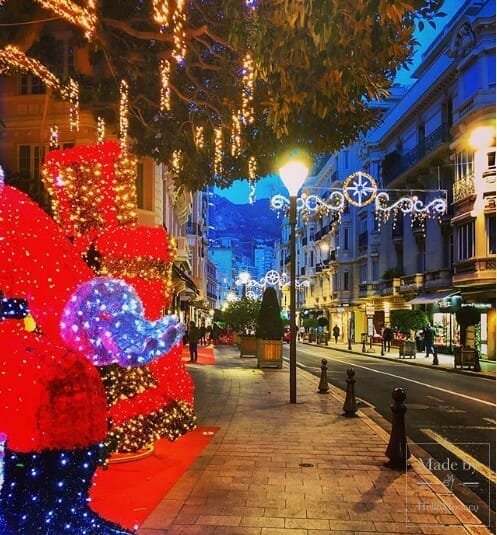 Embark on an exciting culinary journey with amazing cuisine by the starred chef Marcel Raven of the Blue Bay restaurant. The Blue Gin will treat you to a warm and welcoming mountain chalet atmosphere. You will get to admire the New Year's fireworks while seated on its heated terrace.
December 31 enjoy the original menu by Marcel Raven for a price of 445 € per person ( half a bottle of Dom Ruinart champagne included). Foie gras, truffles … This is just a taster of the festive dinner served to you by the Blue Bay.
January 1 come to the most festive lunch in Monaco to start the New Year in style for a price of 175 € per person.
The "Snow Star", a new festive concept by the Blue Gin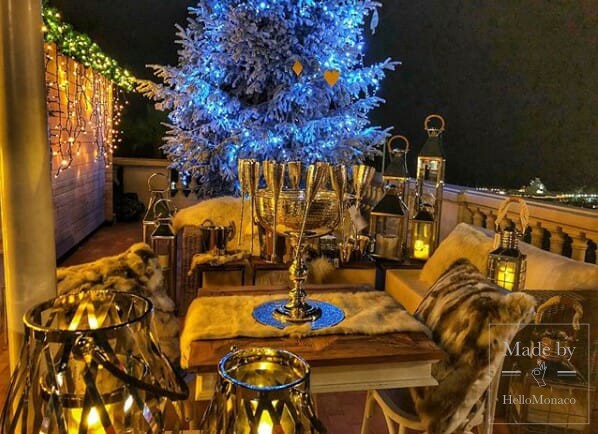 From December 6 to January 6, the Blue Gin bar at the Monte-Carlo Bay Hotel & Resort transformed into a real mountain chalet is bearing the name  "Snow Star"!
The bar is open every day from 1 pm to 1.30 am. Exceptional opening times for the Christmas and New Year season! On December 27 it is holding a DJ winter party, starting at 6.30 pm. Children and adults alike will enjoy its "Christmas games" including board games, backgammon and chess right at the bar, starting at 1pm. "Christmas tea" with hot chocolate, tea and fragrant pastries is served from 3pm to 5.30pm. Lovers of original cocktails will enjoy a Christmas Aperitif offered from 6.30pm. The mountain mini-menu with its special Christmas cocktails will make your day!
You will spend an unforgettable New Year's night at the Blue Gin. DJ AI and illusionist Simeon Wolfgang will create a truly festive atmosphere. At midnight, you will get to admire the fireworks from the hotel's terrace. For more information please call: (377) 98 06 03 60.
L'Orange Verte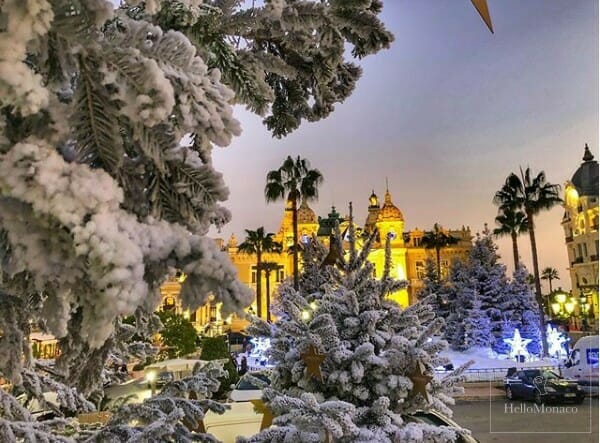 L'Orange Verte terrace has got a truly amazing New Year look! Take a walk through the curved snowy path, surrounded by elegant Christmas trees.
On December 31, a special New Year's Eve dinner will be offered at a price of 260 € per person.
Photos: montecarlosbm.com