Latest news
65-metre yacht concept Roswell by George Lucian and other yacht news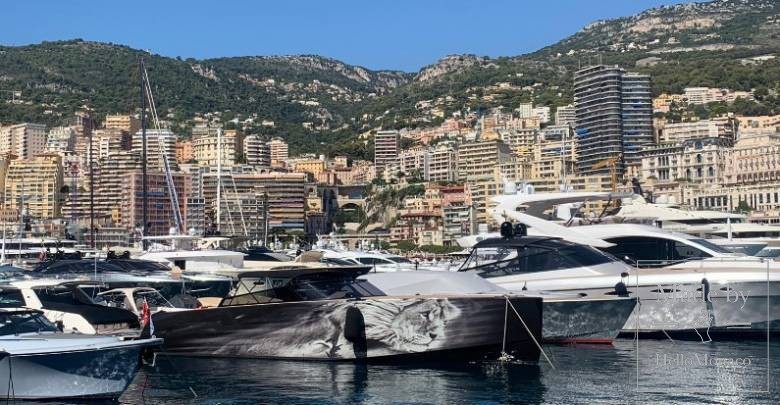 We selected for you top 4 yacht stories of the last week at Yacht Harbour.
Is this yacht coming from another dimension? 65-metre yacht concept Roswell by George Lucian
George Lucian is a Monaco-based designer and artist, who presented his latest yacht concept after last year's motor yacht "Dare To Dream", the airship carrier superyacht, and sailing yacht "Project Origami", the mega sailing yacht inspired from the art of origami and traditional Asian vessels.
Starting with the idea of creating an iconic worldwide recognizable yacht inspired from the future, the stunning motor yacht Roswell was born.
The full aluminium 65-metre super yacht, is designed to have full electric running capabilities, supported by two diesel electric engines and large electric panels that covernthe numerous horizontal surfaces of the superstructure of the vessel.
Its shape borrows elements from the military stealth vessels, aircrafts and spacecrafts, and, together with the full electric capabilities, reflective hull surface, patterns, and sharp angles, make the yacht have a very discrete radar footprint, if any.
Unlike its radar footprint, its presence in any harbour will for sure be anything else but discrete. On the bow side of the main deck you can find a large outdoor covered living area, including a beam length swimming pool, a lounge and a dining area. This shall be the main living area of the yacht, being connected to the main salon and the stern deck with large glass doors and walls, giving the sensation of a huge open loft like space.
The bridge deck is located on the upper deck, together with a helicopter platform, and a sky lounge. The yacht can welcome onboard 12 guests together with 12 crew members.
More of the secrets of the origins and materials of this like-never-seen-before yacht lay in its very own name, Roswell.
70-metre ice class explorer yacht project Ida Pfeiffer
Ida Pfeiffer is a 70-metre ice class vessel, built from a steel hull and aluminium superstructure, developed by Globe Regal Yachting in collaboration with New-york based Gill Schmid Designs studio and Dorries Yachts in Bremerhaven, Germany. Ida Pfeiffer is a long-range vessel, covering a range of 7000 miles and fitted with diesel electric propulsion.
She is capable of carrying a variety of tenders, including an H135 helicopter with hangar, two 14-metre tenders and two rescue boats, dive support boat and a Triton submarine, an Icon waterplane and up to two cars. She will have a side launching garage and large A-frame crane. Accommodation on board is in spacious owner's suite and 5 VIP cabins; crewquarters is up to 16 people.
Ida Pfeiffer was an Austrian globetrotter who funded her daring expeditions by publishing her travel journals and her bestselling books were translated into seven languages.
Some of the better-known yachts completed with the involvement of the Dörries Yachts team include: 107-metre Andromeda, 138-metre Al Salamah, 130-metre Rising Sun, 125-metre Octopus.
65-metre Green Expedition yacht project
The Green Expedition is a collaboration between designer Dennis Ingemansson and with the German based Ned Ship Group, known for their experience with zero emission yachts and solar powered boats. Built from steel hull and composite superstructure, Green Expedition is a 65-metre explorer vessel with an Ice class hull (1A class), gross tonnage of 1,400 GT and globetrotting range of 6,000 nm at the speed of 12 knots.
As the Green Expedition is eco-friendly, her green features include : up to 210 square meters area of solar cells, including 60 square meters which can be added by transformation of her helicopter landing platform (such as Eurocopter 135 or similar size with maximum helicopter length of 11 metres), retractable wind turbines, skysails, onboard recyclable systems and retractable wave turbines. Accommodation on board is for 8 guests in 4 guest's rooms plus 4 guests across double owner's suite, as well as crew of 12 people.
Whether you're going through rougher areas like Antarctica or Alaska, or sailing through enormous waves in Barents Sea, she is built to endure. All equipment is stored indoors, and there is no risk of losing the helicopter or tenders during stormy weather. The skysail allows for energy efficient movement together with the retractable wind turbines. The Captain's deck is designed as an ultra-modern penthouse, where guests can enjoy dinner and mingle with a 360 degrees ocean view. For exploration, the diving center features submarines and a decompression chamber, making it a green expedition icon.
57-metre superyacht O'Mathilde launched by Golden Yachts
Following the recent 85-metre O'Ptasia launch in Greece, the Greek yard Golden Yachts has launched its new 57-metre motor yacht O'Mathilde.  This tri-deck yacht is built from steel hull and aluminium superstructure and boasts interior design by Studio Vafiadis.
Her key features include a spacious garage which can store a 6-metre tender, pair of Jet Skis and a variety of water toys. Superyacht sundeck has its own Jacuzzi and gym on a foredeck is providing amazing sea views. Dining area on the main deck is providing enough space for 12 guests, as well as upper deck's al fresco dining are for the same number guests on the upper deck.
Accommodation on board is for up to 12 guests across 7 staterooms, which include an upper deck owner's cabin on the upper deck with totaling 70 square meters, a VIP suite and twin cabin on the main deck, as well as 3 doubles and twin on the lower deck. Crewquartersisforstaffof 12 people.
Powered with twin 2,365hp Caterpillar diesel engines with a top speed of 17 knots and cruising speed at 14.5 knots. Economical speed of 12 knots offers a transatlantic range of 4,000 nautical miles, making a trips comfortable, as O'Mathilde is fitted with zero-speed stabilizers.
O'Mathilde is available for charter through Atalanta Golden Yachts starting from € 210,000.