Latest news
A Diamond Is Forever – Charlotte Casiraghi at Bal de La Rose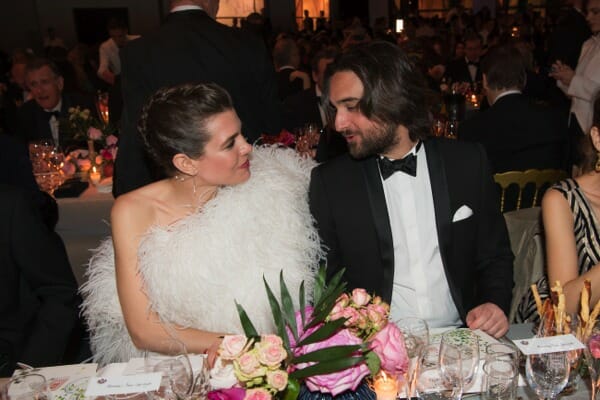 It is no wonder that Charlotte Casiraghi is seen smiling so much and laughing radiantly at the Bal de la Rose. Sporting a diamond on her left ring finger and arm in arm with her beau Dimitri Rassam, it has all the appearances of a match made in heaven, if not also in the cinema. Fiancé is the word just awaiting official confirmation.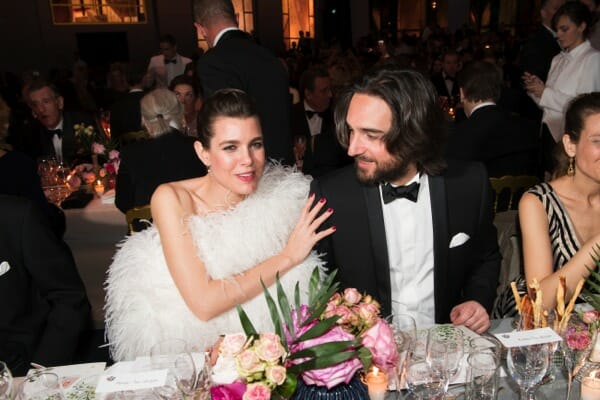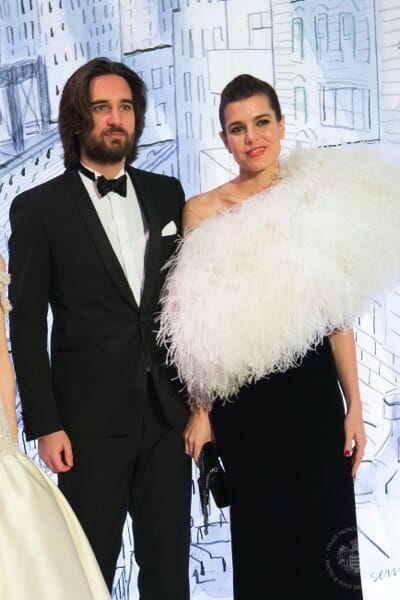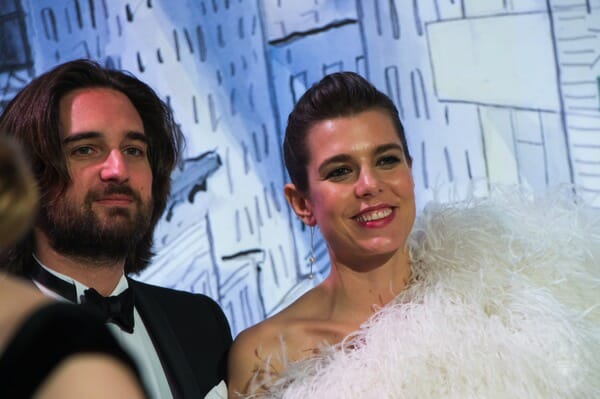 It is as if Hollywood and Paris conspired to create a fairy tale engagement of two dynasties of the film world. Charlotte herself, granddaughter of Princess Grace, one of Hollywood's most celebrated actresses. Dimitri, son of Carole Bouquet, French actress and fashion model, winner of the Cesar award for best actress in 1990 for "Too Beautiful For You". And then Dimitri who lost his French-Lebanese film producer father Paul Rassam at the tender age of three –Dimitri himself growing up to be a precocious talent as a film producer extraordinaire. The Bal de la Rose where Cupid and the "Stork" seemed to unite to bless Princess Caroline with three of her children dancing on air around her. Charlotte and Dimitri so obviously in love. Pierre Casiraghi with the beauty Beatrice Borromeo expecting her second child this year. And18-year-old Alexandra de Hanover dancing the night away with her companion for the ball Ben Sylvester Strautmann.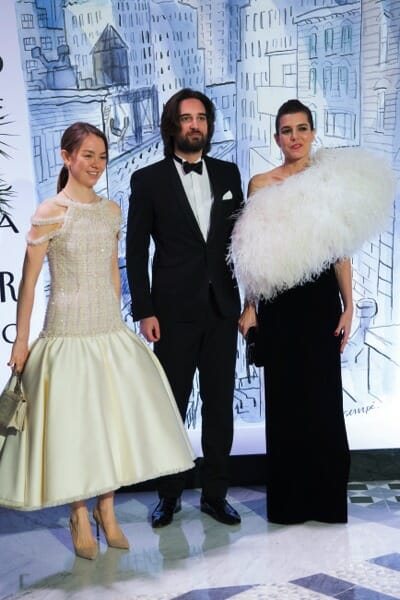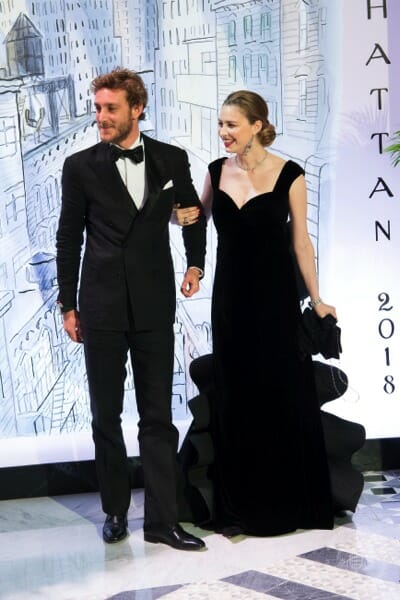 Brewing very discreetly in 2017 this love match between Charlotte and Dimitri warmed to its present height out of the public eye. Perhaps there was a clue, a year ago, at The Bal de la Rose in 2017. There Charlotte wore an exquisite black velvet dress – a mirror image of her mother Princess Caroline's outfit from a soirée Princess Caroline had attended with Carole Bouquet years back. Too subtle a clue perhaps. Rumours of the lovebirds from sightings in New York, Venice and the Caribbean. Then a rare public appearance in June 2017 at the Monte-Carlo Jumping International. Fast forward to November 2017 when Charlotte and Dimitri attended a Gucci sponsored Film Gala in Los Angeles in honour of artist Mark Bradford and film maker George Lucas. The New Year, January 2018 –Dimitri reported in support when Charlotte organised "Cahier 3", a series about philosophy held at the Yves Saint Laurent Museum in Paris. And then the revelation, hand in hand on the red carpet of Cesar, in Paris March 2nd – love now out in the open. Charlotte at his side, Dimitri, producer of the film "Brio" having engineered yet another success –with Camelia Jordana receiving the award for best female hope.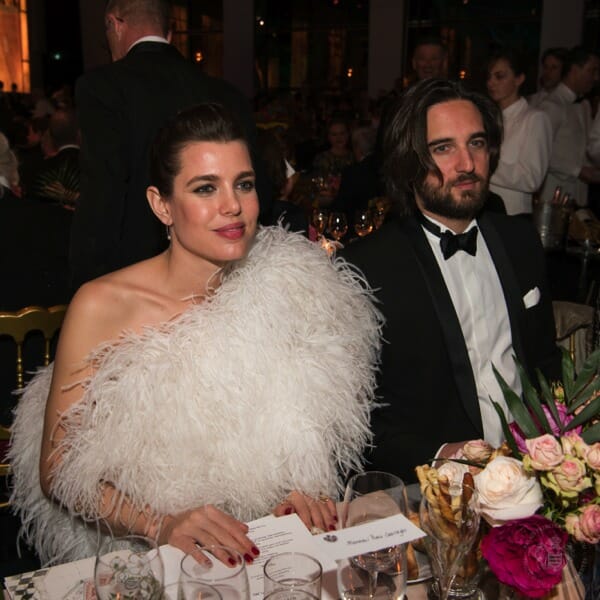 All eyes on Charlotte dressed in Yves Saint Laurent by Anthony Vaccarello at Bal de la Rose 2018 and with her yellow gold and sparkling diamond ring prominent. More than just a rumour or smoke signals, the news of an engagement reverberating in magazines – their appearance just now at Bal de la Rose would appear to confirm it. Seen leading a magical life in LA, Paris and Monaco with Dimitri with whom Charlotte also shares the Sorbonne in Paris as a memory from university days – and each with a loving child from past marriages as a shared bond.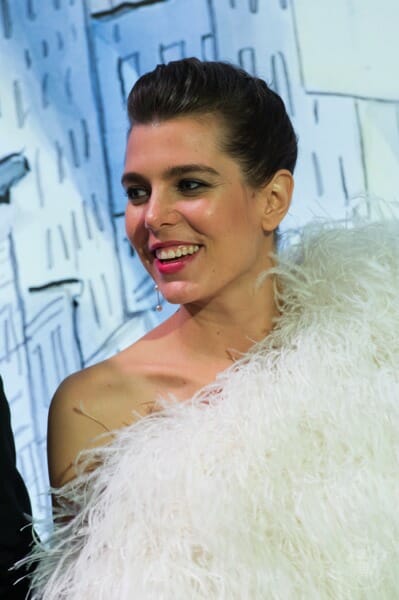 Dimitri now 36 years old has blazed a trail as producer since age 23 with his film company Chapter 2. On the films "Trouble at Timpetill", "Bad Girl" and "Free Exchange", Dimitri Rassam advanced working with his mother, Carole Bouquet. And who can forget Carole Bouquet as Melina in "For Your Eyes Only". What is it about Monaco and that special James Bond connection! Now, of course, it is Dimitri for Charlotte's eyes only.
Dimitri has had a string of successes producing French films including "What's in a Name?", "The Informant", "Daddy or Mommy", and "Nobody from Nowhere". With "Escobar: Paradise Lost", he broke through garnering world-wide recognition with a film in which Benicio Del Toro plays a savagely realistic Pablo Escobar. The film premiered at Toronto, where it received warm reviews.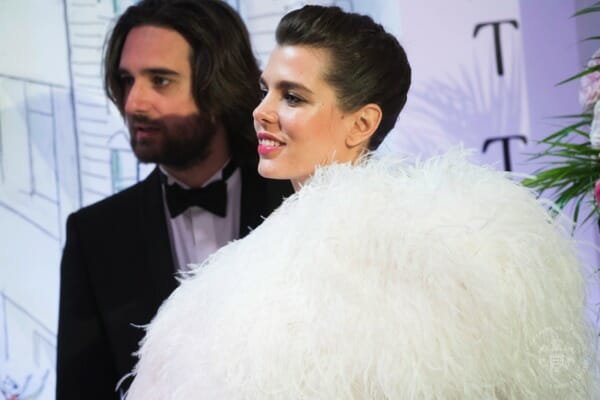 Along with Luc Besson, Dimitri Rassam is reported to be the only independent French producer able to finance films with budgets surpassing $40 million.  Dimitri now presides over his dream animation company the Paris-based outfit ON Entertainment with Aton Soumache. He has been recognised swiftly also in this genre in the form of the César award for Best Animated Film for his 2015 movie "The Little Prince" that has grossed over $100 million worldwide. He is now producing "Playmobil", the $75 million toon feature based on the iconic toy brand.
Bal de La Rose 2018 had all the trappings of an engagement party for Charlotte and Dimitri. Not officially of course, but it must have warmed Princess Caroline's heart to see her daughter so radiant. Champagne, lobster with truffles, the London Swing Orchestra, jazz with Taj Mahal, dancing under the creatively inspired Manhattan skylines – a ring to show-off, laughter, happiness and a beau.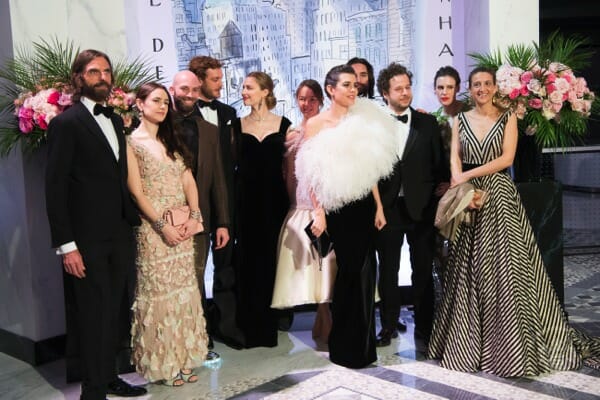 And now, of course, lots of rumours. Did the couple get engaged weeks ago while skiing with Princess Caroline in Austria? Will there be a wedding this summer? Will it be in Sicily at Carole Bouquet's Villa?
One thing is certain, if Charlotte and Dimitri marry this July it will be a wedding to remember; more exciting even than one other royal wedding that we have our eyes on. HelloMonaco is sure that Prince Harry and Meghan Markle will be wishing Charlotte and Dimitri every happiness – as do we all.
All photos © Pierre VILLARD / Gaetan LUCI / Le Palais Princier / SBM