Latest news
Areti: One of the largest yachts at the MYS now listed for sale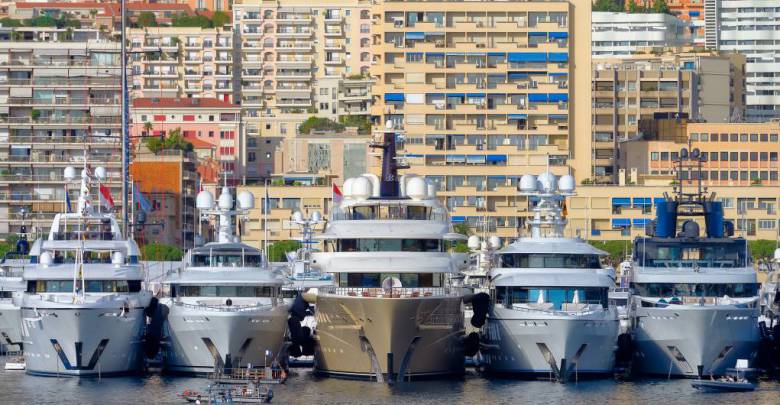 We selected for you top 5 yacht stories of the last week at Yacht Harbour.
Areti: One of the largest yachts at the MYS now listed for sale
Areti, the 85.3-meter Lurssen superyacht delivered in 2017 has now hit the market for the first time at an asking price of €175,000,000. Scheduled to be displayed at this year's Monaco Yacht Show, the yacht was initially presented there last year.
Featuring a classic, elegant interior design penned by Winch, Areti accommodates up to 18 guests in 9 cabins, including a private owner's deck. Catered by a crew of 27, the superyacht features a helipad, gym, beach club and an extensive spa area with a Jacuzzi and a sauna. According to Forbes, the yacht was delivered in 2017 to Russian billionaire, Igor Makarov, whose net worth is valued at $2.1 billion by the publication.
Areti will be displayed later this month at the Monaco Yacht Show where she will be one of several superyachts available for sale, which include the 88.5-meter Oceanco, Barbara marketed at €189.5 million as well as the 88.5-meter Chinese-built Illusion Plus asking $145 million.
New 55-metre Amels 180 sold with Spring 2019 delivery
Dutch luxury yacht builder Amels is proud to announce the sale of a new 55-metre Amels 180 from the Amels Limited Editions range. With delivery of the yacht in spring 2019, the owner will take full advantage of the Limited Editions approach to combine individual design choices with fast delivery in less than a year.
The owner, represented by Mark Woodmansey of Burgess, created the bespoke colour scheme in collaboration with exterior designer Tim Heywood and the Amels Design team, while the customised interiors are by designer Laura Sessa. Favourite features of the Amels 180 include the impressive 180 square-metre Sun Deck (1,938 sq ft), the Main Deck Owners Suite with folding balcony, plus a wide-body Bridge Deck Sky Lounge.
The Amels 180 has proven full displacement naval architecture with a large volume (671 Gross Tonnage), offering strong and stable seakeeping behaviour for excellent comfort and global range. The logical layout and properly-sized storage for equipment is a direct result of the larger volume, ensuring no compromise for journeys requiring extended periods of full luxury service at sea.
Awake electric surfboards: high-end technology and design
Awake – the premium electric surfboard company in Limhamn, Sweden reveals a new level of extreme water sports and disrupting the electric water crafts industry. They manufacture high-performance electric surfboards that redefine mobility on water.
RÄVIK, Awake's premier creation, is the first in a developing series of electric surfboards that does exactly what the tagline suggests; it redefines mobility on water. The development of the RÄVIK is a collaboration between senior designers, electro- and mechanical engineers, software developers, and production industry professionals. Our goal has been to deliver a new benchmark within the electrical crafts segment, and no compromises have been made in our pursuit. The result: An electric machine that thrusts the rider to speeds of up to 30 knots (56 kph/ 35 mph). Just one glance is enough to sense it's raw power, and the ride delivers. The streamlined, hydrodynamic carbon body of the RÄVIK is designed to trigger adrenaline both in and out of the water. Simply have a look, and tell us what you feel.
Crew member found dead on 93-meter Mayan Queen IV
Australian Instagram influencer, Sinead McNamara was found dead on board of 93-metre superyacht Mayan Queen IV where she was working as a crew member. Officials have said that a crew member found the young woman unconscious and tangled in rope at the back of the vessel at around 2am on Friday according to the BBC. The incident occurred when the yacht was near Kefalonia.
Whereas the reason behind this tragedy remains for now unknown, media reports have said that McNamara had died whilst being airlifted to a hospital in Athens. According to media reports, the local police has viewed CCTV footage from the yacht's cameras and questioned the crew, with no foul play involved.
Alberto Bailleres, with an estimated fortune of more than $13 billion is the owner of 93-metre Mayan Queen VI, built by Blohm + Voss in 2008, keeping her interiors unwrapped to public. Not much is known about the superyacht's interior by Terence Disdale. Her exterior is the work of Tim Heywood. The helipad on the foredeck is marked with a giant blue "B" for the owner's last name.
In fact the letter "B" is emblazoned on many places on the boat as is the ship's name, mainly all in silver. There are two pools, two tender garages with all sorts of water toys as well, and one of the garages can convert into a beach club. There are luxurious accommodations for 16 guests in eight suites. The guests are tended to by a crew of 24 who have 12 cabins.
38-metre superyacht AltaVita delivered by Gulf Craft to Europe
The latest yacht in the remarkable superyacht series sets a benchmark in luxury, elegance and true sophistication. In line with its vision to evolve as a pioneering shipyard, Gulf Craft ups its game with the evolution of the timeless Majesty 125 superyacht AltaVita, as it delivers the next level of perfection. A real standout in its class, the latest Majesty 125 is the sixth in the series to be built and the third to be delivered in Europe. The sale took place in collaboration with Gulf Craft's exclusive Australian distributor, Australian Superyachts, acting for the buyer.
Set to cruise in the Mediterranean, this latest iteration of Majesty 125 for 2018 boasts a number of first-time design and personalisation features that will take the owner-experience to a new realm of ocean-going extravagance.
AltaVita features a 'walk-around upper deck' for that extra level of comfort and privacy. An embodiment of quintessential outdoor lifestyle, Majesty 125's spacious sundeck features a curved wet bar and Jacuzzi along with a balcony on the side of the main saloon. Moving to the lower deck, guests are sure to be charmed by the five stunning en-suite staterooms that can accommodate up to twelve people, richly finished in a dark stained natural walnut veneer with Satuatio White & Armani Grey marble and the finest Italian leather. The owner's stateroom in the forward main deck is opulently designed, fitted with lavish material. It features a 55" Bang and Olufsen TV and an en suite jacuzzi.