Latest news
Benetti sells first 40m superyacht Oasis to US powerboat champion and other yacht news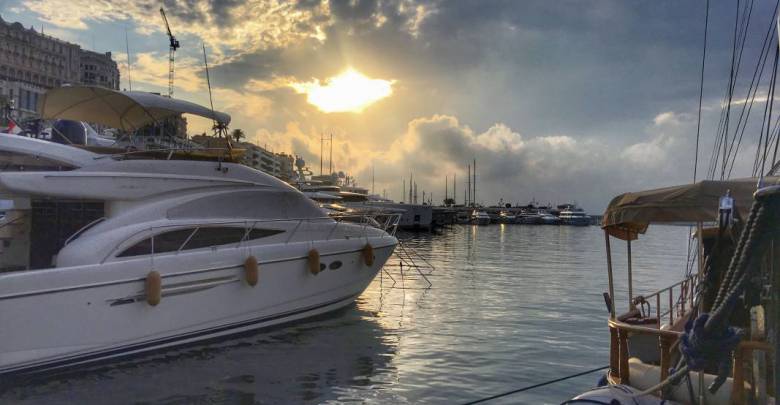 We selected for you top 5 yacht stories of the last week at Yacht Harbour.
Benetti sells first 40m superyacht Oasis to US powerboat champion
Italian yacht builder Benetti has announced the sale of the first 40-metre superyacht Oasis BO101 to a former world champion and offshore powerboat racer Tim Ciasulli from the USA, represented by Merle Wood & Associates.
The yacht with a fibreglass hull and superstructure and a gross tonnage of 385 tonnes, is already being outfitted at the Livorno facility, planned for completion in summer 2020. The assembly has already been completed of the hull and superstructure, with outfitting began on July 26.
BO101 is going to be the first Oasis 40M, a 40.80-metre yacht with a maximum beam of 8.5 metres, a draft of 2.14 metres and a gross tonnage of 385 tonnes. Oasis 40M is a fruit of collaboration between Benetti and UK-based design studio RWD, working in liaison with Bonetti/Kozerski Architecture, a New York-based firm commissioned to design the interiors.
On-board Oasis 40M, the owner and his guests will enjoy wide, welcoming spaces characterised by a design that is both smart and sophisticated. The high ceilings, the special arrangement of the indoor and outdoor spaces, and the extensive glazed surfaces all contribute to this yacht's spectacular appearance, while the unusual layout features lateral stern platforms that can be open out with great ease to facilitate access to the sea and an extended beach area, complete with an infinity pool practically at water level. The designers strived to eliminate the barriers between indoor and outdoor spaces, creating a unique setting akin to a loft on the water. 
REV: the largest superyacht in the world ready for technical launch
The world's largest superyacht's construction is going under a tight schedule at the VARD shipyard in Tulcea, Romania. The 181-metre explorer REV will hit the water in Tulcea on August 22 for the first time, then within approximately 30 days being towed to the Brattvåg shipyard on the west coast of Norway for more construction work.
REV has been commissioned by Norwegian ocean research company Rosellinis Four-10, owned by Norwegian industrialist billionaire Kjell Inge Roekke. His real-time net worth is estimated at $3.2 billion (Forbes).
Built for environmental research missions in partnership with WWF Norway, the Research Expedition Vessel (REV) will also be available for charter for recreational purposes and expeditions. She will be able to accommodate up to 60 scientists and 30 crew during research expeditions once finished.
Designed to operate in remote and vulnerable waters for long periods without additional external support, the ship will be equipped for research and investigation of the entire marine ecosystem. The superyacht disposes of a range of equipment designed to explore, document and collect. 
Built to the highest standards for both expeditions and recreational purposes the ship includes such features as a hospital with a medic cabin, High-tech equipment to monitor and survey marine areas, currents, the seabed, fish and plant life, while cutting-edge laboratory facilities enable on board analysis. 
There will be an auditorium for lectures, and the capacity for live streaming, also a Moonpool, an eco-harvesting system for live catch and release of biomass and pelagic samples, and an underwater hydrophone system for listening to ocean mammals.
The giant vessel is scheduled for delivery in early 2021, aimed to surpass the current largest superyacht in the world in terms of LOA, the 180.6-metre Azzam. The official website reports, that REV is completed to 42.5 percent at the moment.
68m conversion Project Ragnar nearing completion at Icon Yachts
Dutch shipyard Icon Yachts has shared new photos of the 68.2-metre explorer superyacht Project Ragnar making progress in Harlingen. The vessel that had been initially built as an icebreaker called Sanaborg, entered the Icon shed in July 2017 for an extreme make-over.
Built in 2012 from a steel hull, Sanaborgis is undergoing dramatic refit with interior and exterior styling by British design studio RWD. Her delivery is due later this year.
The vessel's owner is excited about her new style that was inspired by medieval war craftsmanship, combined with modern sleek lines and British heritage. She will be one of the few explorer superyachts with a certified ICE Class A1 super hull. 
Project Ragnar is LY3 classed with arctic explorer capabilities, full ice breaking functionality with its unique ICE class PC5 rated electric driven ice pods, giving the vessel its range of 6,000 nautical miles meaning she can go to the most remote areas of the planet.
The yacht will offer accommodation for up to 16 guests across 8 cabins, including two owner's suites. During the conversion, several tanks need to be removed and converted into superyacht spa area complete with massage room and snow room. Project Ragnar also has a ski storage for ski gear, a boot room, 1 swimming pool and a Jacuzzi. 
Name of the 85m OceanX explorer superyacht Alucia 2 brought to a vote
OceanX, ocean exploration initiative founded by billionaire philanthropist Ray Dalio, has launched a vote for the name of their newest explorer superyacht, the 85.3-metre Alucia 2. The explorer previously known as Volstad Surveyor and built in 2010 by Freire Shipyard is currently being rebuilt in Rotterdam.
The superyacht will operate as a marine research vessel platform and continue the revolutionary work currently being done by Alucia, her older and smaller predecessor. Equipped with two manned subs that can take researchers 1,000 metres deep, a fleet of support ships, an on-board helicopter, and fully equipped science labs, Alucia can bring back fantastic discoveries.
Meanwhile, Alucia2 has been commissioned by Ray Dalio who together with OceanX aims to further explore the secrets of the ocean together with director James Cameron and BBC's Blue Planet. The design concept was created by Gresham Yacht Design.
Built by Freire as a deep-sea survey vessel in 2010, Alucia2 is undergoing transformation into a high-tech scientific research vessel, with significant improvements made to enable the OceanX team explore further than ever before.
To take on global expeditions, Alucia2 will be fitted with state-of-the-art marine research labs, cutting-edge media equipment, manned and autonomous deep-sea submersibles, helicopters and drones.
OceanX will use Alucia2 as a next generation platform to discover 70 per cent of the planet that remains mostly unexplored and share this secret world through carefully executed media centre developed in consultation with filmmaker and ocean explorer James Cameron.
The vessel features a 40-ton A-frame at the stern designed specifically to deploy the two submersibles that can dive to depths beyond 3,000 feet for up to eight hours. Underwater discoveries will be analysed in the state-of-the-art dry and wet labs on board, while Alucia 2's media studio will be able to document and broadcast the ground-breaking discoveries in ultra high-definition around the world.
The vote is set to be a part of promotional campaign ahead of the release of a new six-part ocean documentary series. The series will premiere in the USA on September 2, bringing together an all-star team including National Geographic, BBC Studios and James Cameron along with Dalio Philanthropies' OceanX. 
Legendary sailing superyacht Black Pearl docked in Saint-Petersburg
The world's largest sailing superyacht, the 106-metre Black Pearl has arrived in Saint-Petersburg, Russia on August 21, reports Forbes. According to the information from vesselfinder.com, the superyacht was also spotted in the ports Gdansk (August 14) and Riga (August 18) on her way from Portland where she had been seen earlier. 
The yacht tracking source MarineTraffic also indicates the vessel's current location at the Saint-Petersburg' marina. In addition to local media covering the newsbreak, social media users were also quick to post pictures of the extraordinary vessel on their accounts.
Designed by Nuvolari Lenard and Ken Freivokh, with naval architecture by Dyksra, who had previously worked on the 88-metre Maltese Falcon, the Black Pearl boasts a similar structure with three rotating masts.
A spa pool aft of the main deck and a large hot tub aft of the upper deck are amongst the key features on the 106-metre. Two tenders are further located on the bow of the yacht with covers placed on top of them. Aft of the yacht is a fold-down platform that likely leads to a beach club.