Latest news
Best Superyacht Chef of 2019: Women and Men Battle it out at Monaco Yacht Club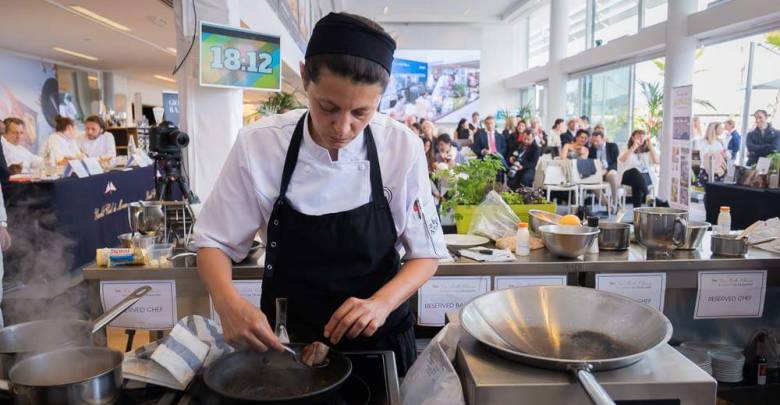 Did you know that the Yacht Club de Monaco does not just hold world-class Regattas? They also are a magnet for haute-cuisine. Which is why two of Monaco's renowned Chefs, Joël Garault, Président of Monaco Goût & Saveurs, and Christian Garcia, Royal Chef to Prince Albert, were on hand encouraging and watching contestants at "La Belle Classe Academy" – a centre dedicated to training service professionals in the Yachting industry. The Yacht Club de Monaco partnered with Bluewater on April 18th to put on a unique gastronomic championship highlighted by HelloMonaco.
General Secretary of The Yacht Club de Monaco, Bernard d'Alessandri, is intrigued and proud of this second edition of the culinary competition, which is under the presidency of H.S.H. Prince Albert II.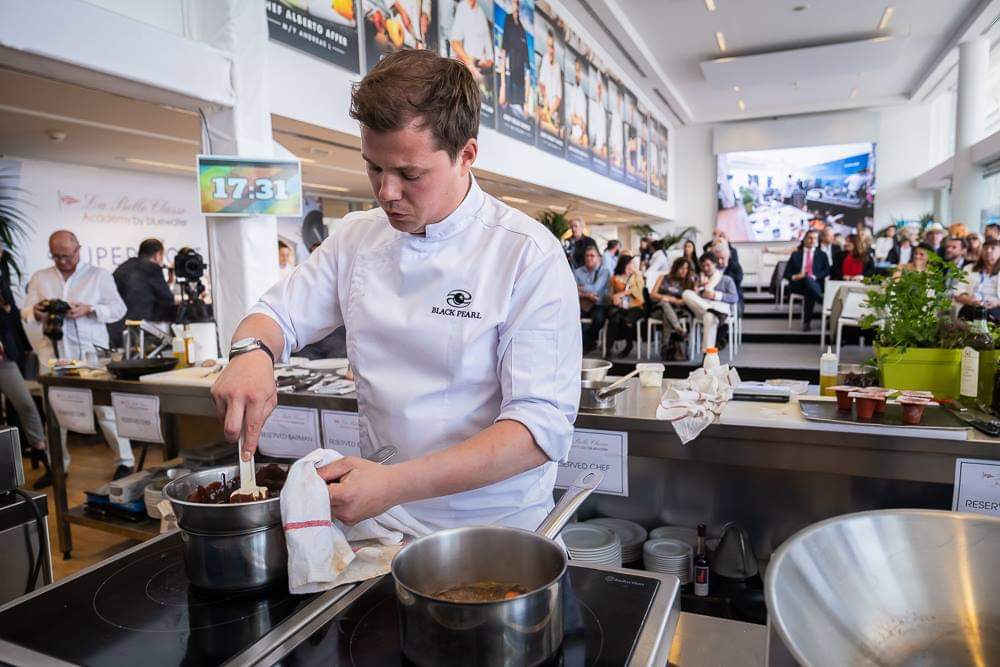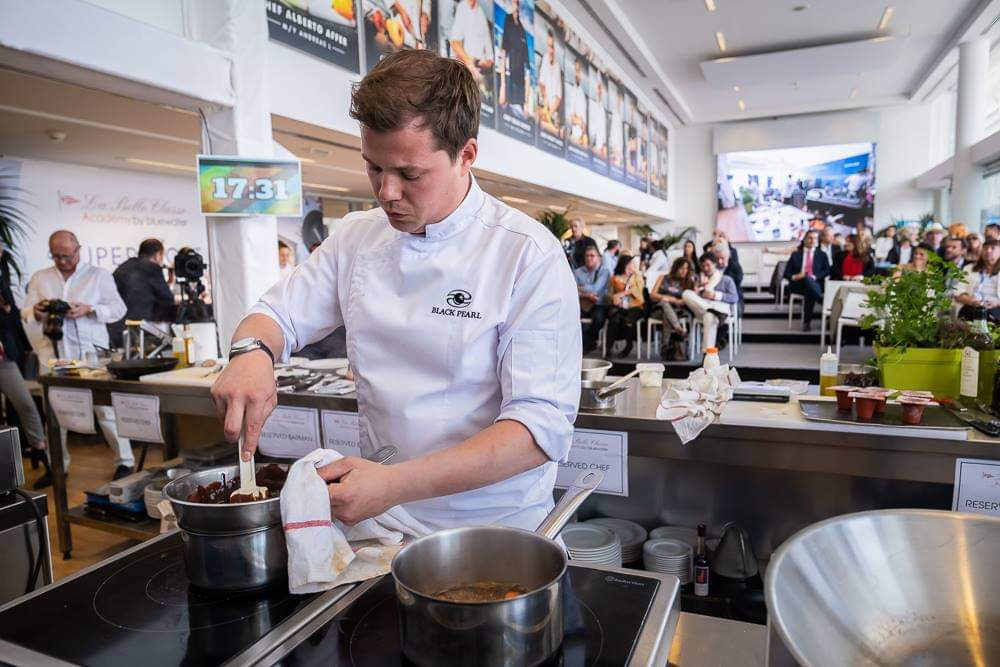 It is a mystery culinary Regatta of sorts pitting 12 superyacht chefs against each other preparing original dishes based on baskets of surprise ingredients, with impresario Vincent Ferniot providing entertaining commentary at the microphone. So this is akin to a Regatta where no-one tells you until the last moment what the course is and suddenly the starter gun says you are off – except instead of a sailing race it is à haute-cuisine competition.
The tension is high, with celebrity Chefs not only in the audience but also critiquing. Great names from the catering world are tasting and scoring away as judges. Presided  by Michelin-star chef Jacques Maximin, the Jury comprised top chefs including Virginie Basselot, (Best Professional in France) with one Michelin star for the Saint James in Paris and of Hotel Negresco, Chantecler fame, Marcel Ravin, another Michelin starred chef and head chef at the Blue Bay Restaurant in Monaco, and Iberian Chef Pablo Albuerne, winner of the 2018 edition of this prestigious competition.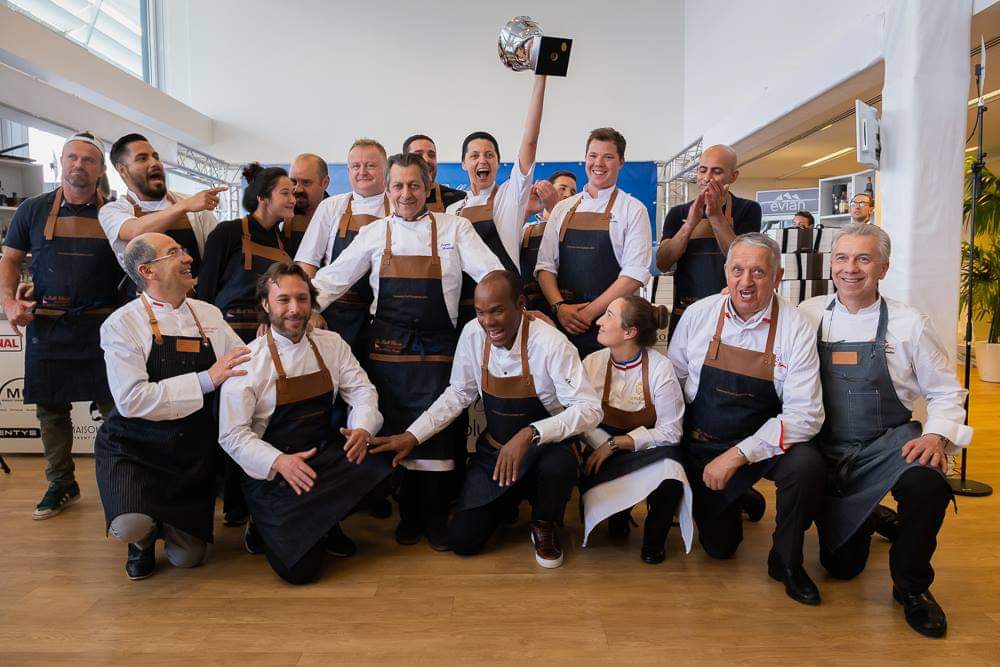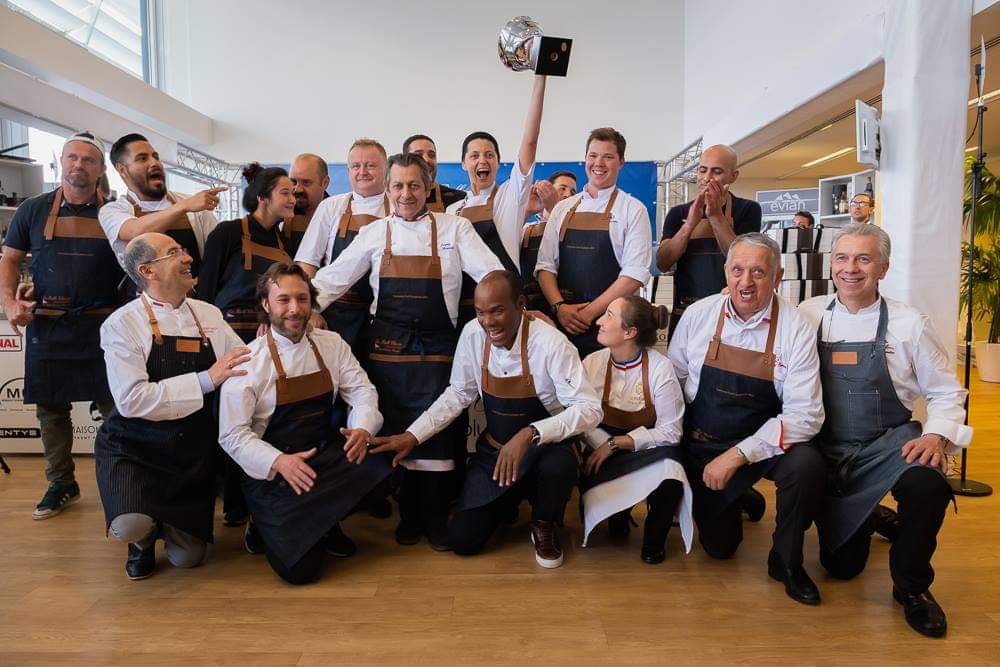 Twelve stalwart chefs had been in the starting blocks displaying their cooking talents before the judges, but it is now the three finalists in the grand finale upon whom all eyes are eventually gazing. The decisions to arrive at the three leading contenders had been incredibly close, but sadly the nine that are eliminated by the judges are now in dry dock while Chef Bruno Chailan from Mimtee and Chef Richard Culle from Black Pearl sail into the grand kitchen finale.
Last, but she hopes not to be the least, of the three top guns facing off in the ample spacious kitchen is Stephanie Gravier from the Superyacht Planet 9. How will she do? Let's follow her as she cooks up a storm. Stephanie could probably do with a stiff drink right now. If only she could be fortunate enough to sip on the winning "mixology colours-of-the-sea" cocktail being conjured up by magician Martin Stefan Ballas of Ravenne. Curaçao, eau de vie, sugar-syrup and lime. A divine combination whose stirring and shaking is watched over by Giorgio Rocchino, the YCM Barman who is Italy's best barman and third best in the whole of Europe (even second best someone shouts).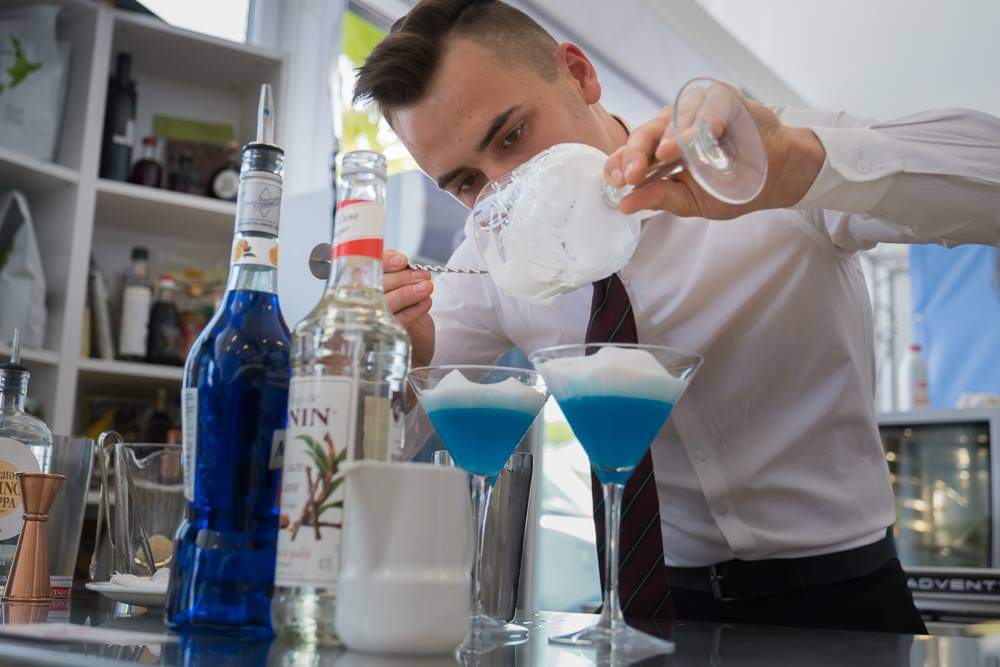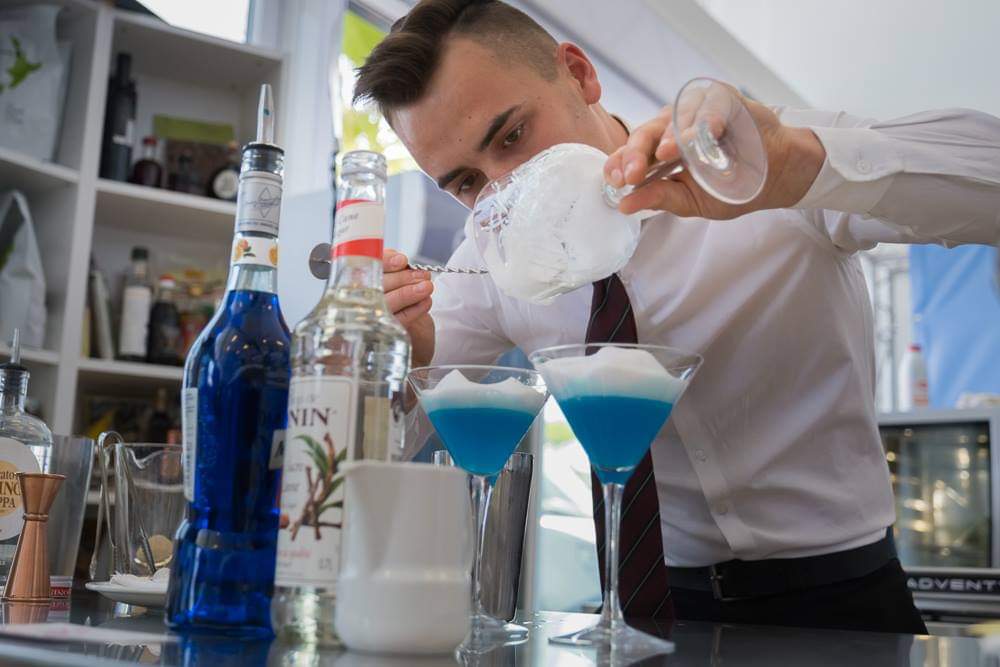 Obviously Shirley Montier from the Yacht Club de Monaco has been sneaking a peek at Giorgio's secrets because she nearly wins gold in the cocktails contest that is accompanying the haute-cuisine competition ; but she can still drink a toast to her "silver medal", why not?
The superyacht Chef's are all now poised alert waiting for their surprise ingredients. Breathe deeply Stephanie. My goodness, in her chef's mystery basket is Souris d'Agneau – Lamb Shank. It's a portion of lamb made from a cut close to the end of the leg. But that itself is a surprise because it takes ages to cook well, up to one and a half hours. And they are only allowed half an hour before the Jury pounces. The drama gets even more intense. Stephanie makes an error of judgement and starts honing in on the chocolate dessert first. She will never get that lamb cooked in time if she doesn't get cracking on the main course. Thank goodness she's just spotted the white beans and the lamb – but can she recover in time!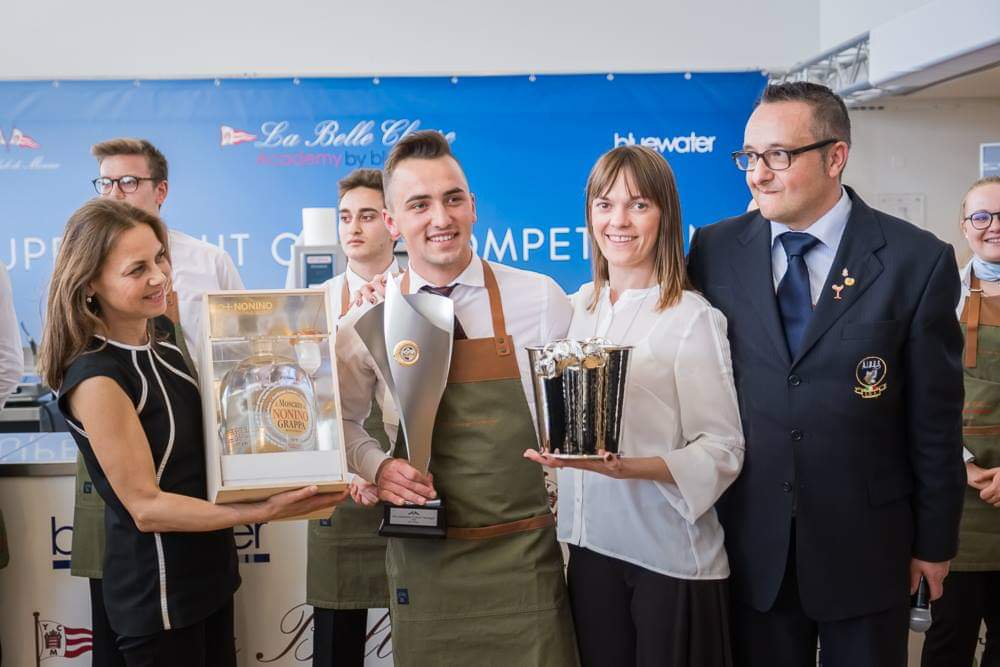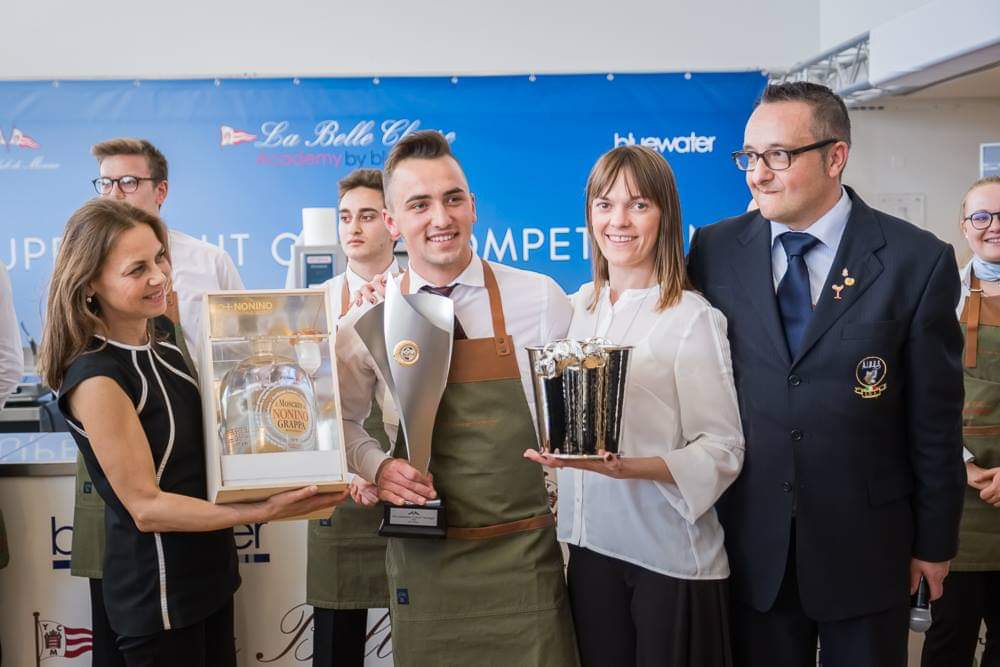 A great Superyacht chef always has something up her sleeve. There's nowhere to hide but overboard when you have to come up trumps every day with divine dining on a Superyacht. Maybe inside her own stomach Stephanie is having butterflies but for the judges' palettes and stomachs she keeps her cool and pulls out all the stops. And the final gong, indicating the 30 minutes are up, goes. From hereon it's all up to the Jury.
And there is a look on Stephanie's face as if, when exploring Antarctica on her yacht, she has just come face to face with a whale. Is it a killer whale?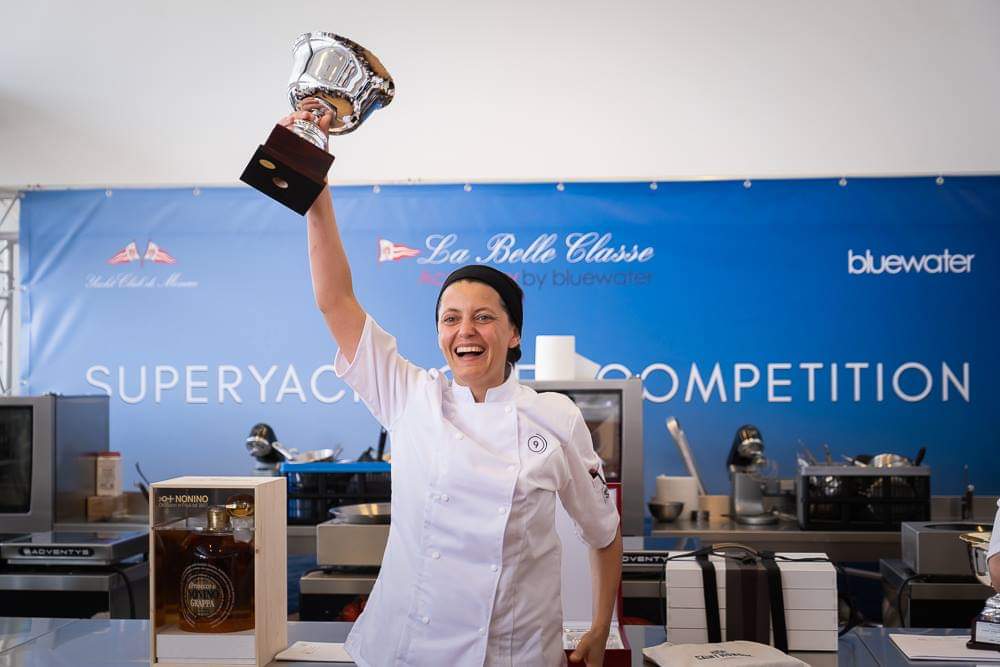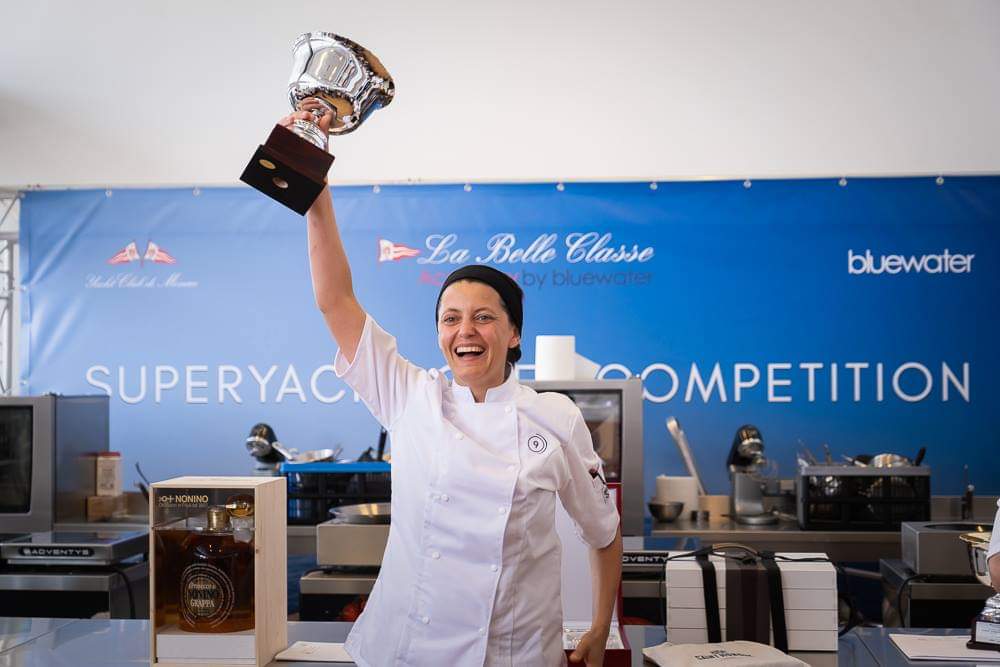 Well Richard Cullen with his Sea Bream, we discover later, won the silver medal. So is Stephanie destined for the bronze?
No, it is a rapid announcement that catches her off guard and astonishes her. Somewhat akin to being in a war zone you battle away without knowing that you will emerge the victor. But Stephanie has wowed the jurors without realizing it. What a wonderful outcome that is – and announced by none other than last year's winner Pablo Albuerne.
And there is an unforeseen honour in wait for Stephanie, which until this moment remained a mystery like the ingredients in the competition : she will be invited to cook for the Captains Lunch on May 10th – an honour that sits well alongside the achievement of being the first woman to win the competition.
And heard above the cheers was the line: "the future belongs to women but not only in the kitchen"!