Latest news
Boulevard du Jardin Exotique: essential utility upgrades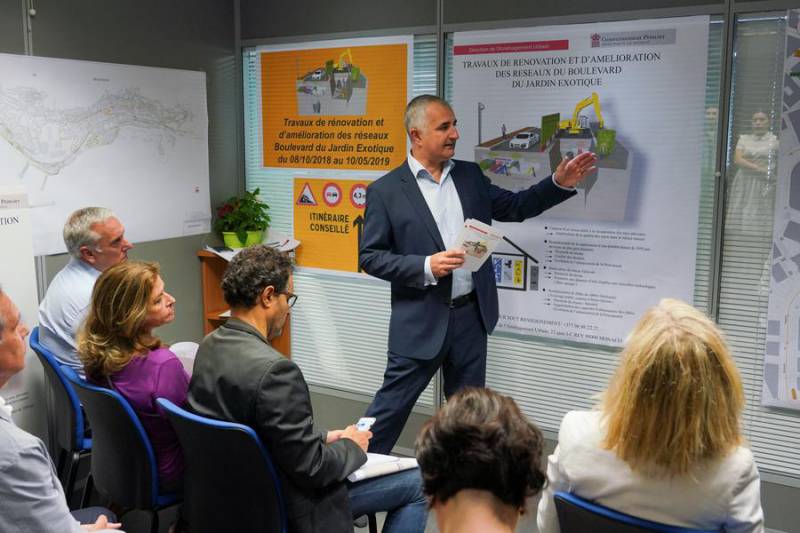 The Department of Urban Amenities today organised a press briefing on utility upgrades which are set to be carried out on the Boulevard du Jardin Exotique, starting on 8 October. The briefing was held in the presence of the various concession holders that will undertake the work: the Société Monégasque d'Electricité et du Gaz (SMEG), Monaco Telecom, the Société Monégasque des Eaux (SMEAUX), the Société Monégasque d'Assainissement (SMA) and the company SIVIA'M.
Reiterating the need for this work – which is focused on security, reinforcement and modernisation – on several fronts, Jean-Luc Puyo, Director of Urban Amenities, noted that the Government had waited two years to embark on this project to upgrade its water, electricity and telecommunications networks, until after the opening of the Albert II Tunnel (which has reduced traffic in the area by 50%) and completion of the Engelin building and work on the Sainte-Dévote pedestrian underpass. "This work involves the upgrading of various obsolete and inadequate utility networks (dating mostly from the 1950s). The project, now essential, will be carried out in phases and the methods used will limit its impact on traffic and noise. We are all very aware of the ramifications for traffic in the Principality, but the consequences of inaction could be even worse than the inconvenience caused by undertaking the work."
Jean-Luc Puyo then listed the main actions which the upgrades will enable, notably:
      Preventive replacement of a significant portion of the electricity distribution network
      An increase in the power supply capacity of electric cables
      The creation of a "rainwater" network which is separate from the wastewater network
      Upgrading of the Monaco Telecom telephone network to provide a more modern, secure and efficient network
      Removal of the telephone cables currently installed on building facades,
including those which make up the cable network
      Making cables compatible with new technologies, including fibre optic
      Replacement of a SMEAUX pipeline in order to ensure the sustainability of the public network, user comfort and continued urban development in the Principality
The first phase of work, which has been split into eight smaller phases, will take around six months.
It will begin on 8 October at the bottom end of Boulevard du Jardin Exotique, near the Sainte Devote interchange, and will be completed before the Grand Prix 2019, having reached the Boulevard de Belgique roundabout.
Source: gouv.mc