Latest news
Breaking Records to Finance 20 Projects for Sick Children, No Finish Line 2021 has Finished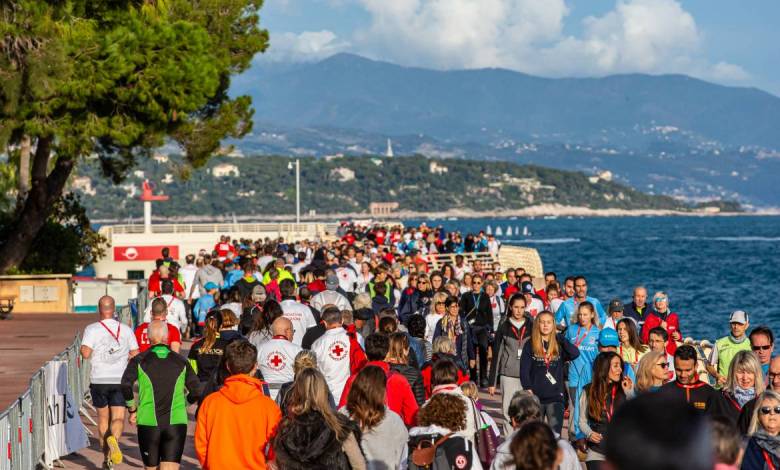 NO FINISH LINE has legs! Its total collected for sick children since it started in 1999 is over 4 million euros. And 2021 was no exception with 224.000 euros donated. Can you imagine: that means 224,636km run because this year 1 euro has been donated for every kilometre run. 
In fact a record number of kilometres were run, over 11 thousand more than the prior year in spite of the very strict sanitary regulations which meant a health pass for everyone who turned up on the Fontvieille track. A record despite the dyke having to be closed when exceptionally bad weather hit. 
Results at Half Way 
The writing was already on the wall that something special was happening, half way through the eight days-worth of the event when after 96 hours over 7,300 participants were already registered, 1000 more than last year, with many of the runners choosing to link-up online compared to those who chose to participate face-to-face on the Fontvieille track. To each their own for one great cause – helping sick children. 
And, of course, the men and women who were potentially going to run the greatest distances strut their stuff early on so you can guess at the half way point who they are – remembering of course that everyone who runs is a winner , putting their hearts and bodies on the line for kids. 
Nearly 93 thousand kilometres had already been travelled at half way with an average of not far off 25 thousand kilometres per day. The first places in the connected-racers at that juncture were, for men, Sébastien Delorme with over 300 kms and for women, Mireille Cormier who covered over 150km. On the Monegasque circuit, it was Cédric Chaudet, also with over 300 km, and Annick Fouchard Djebli, with over 250km. As for teams Courir avec Céline, had run at this juncture over 5000 km with participants both connected and on the track.
Special Collections of Sneakers and Toys 
The Semeurs d'Espoirs and Children & Future associations organized a collection of sneakers for the homeless, given to them during the patrols that Semeurs d'Espoir Monaco carries out. Also the Salvation Army organized a wonderful big toy drive in the Fontvieille tent. 
Face to Face Racing is Back with a Great Result and a Princely Presence
Sponsored by the basketball player Yakuba Ouattara of the Roca Team, this 22nd edition of the NFL on its circuit in Fontvieille offered runners and walkers with a health pass and using the app a much-appreciated freedom of action allowing the No Finish Line to go beyond the Monegasque borders. Face to Face running has its own special feel and appeal and is a great original feature of the NFL event. And the Prince himself turned up and took turns on the track showing his support. 
On the circuit, for his first Monegasque success, Patrice Loquet, with over 650km, received the Prince's Cup. This event regular has raced over 25 NFLs and won every existing NFL once! In fact, in addition to Monaco, five are being raced in other cities: Paris, Athens, Nice, Oslo and Bratislava. The first female who also received the Prince's Cup is Mireille Cormier with 480km covered. As a team, Courir pour Céline is awarded with over 11000km. 2nd place went to Special Olympics, with over 8000km the team with the most kilometres on the circuit. Barclays took 3rd place with over 7500 km. In total, just under 225 thousand kilometres were covered.
For the connected participants, for the men, Sébastien Delorme led the race from start to finish, covering 580km. The first female place goes to Annick Fouchard Djebli with 348km. 
Panettones Add Icing on the Cake 
To the money donated, will be added more than 9000 euros, collected by the sale of panettones offered by Casino Monaco and Prosecco. 
NO FINISH LINE is run simultaneously in several countries such as England, Wales, Ireland, Cape Verde, Canada, Lebanon and Italy, all for the benefit of sick children.