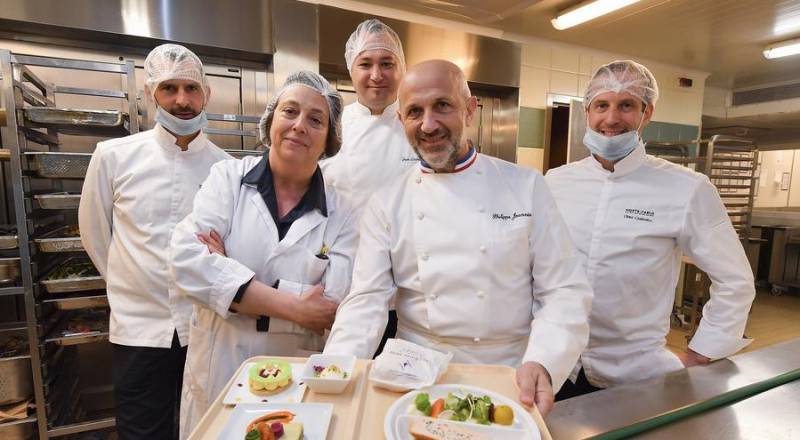 Today, 710 patients at Princess Grace Hospital enjoyed an amazing dinner concocted by the hospital's kitchen teams under the leadership of Chef Philippe Joannès, who holds the Meilleur Ouvrier de France title and is Culinary Events Manager for SBM. Chef Joannès was assisted by Cédric Campanella, Pastry Chef at the Sporting venue, and Chef Jean-Laurent Basile from the Thermes de Monte-Carlo's Hirondelle restaurant.
Preparations for this culinary event have been underway in secret for several weeks, behind the scenes in the hospital kitchens at the initiative of the hospital management team. The primary aim was to bring joy to patients by offering them a celebratory menu designed by top chefs and according to various dietary requirements (mixed, salt-free, diabetic-friendly, etc.), while also adhering to the importance of "eating well", a concept at the heart of the treatment Princess Grace Hospital offers its patients, focusing throughout the year on fresh, seasonal and local produce.
This culinary challenge, which required several days' work on a voluntary basis, also sought to showcase the team of chefs at Princess Grace Hospital, who work to produce nearly 3,000 "homemade" meals on site every day.
In a nod to the event, an identical menu was served in the Hirondelle restaurant at the Thermes de Monte-Carlo.
Source: en.gouv.mc