Latest news
"Daghe Munegu" – Go Monaco Team Wins The Monte-Carlo E-Rallye In Style!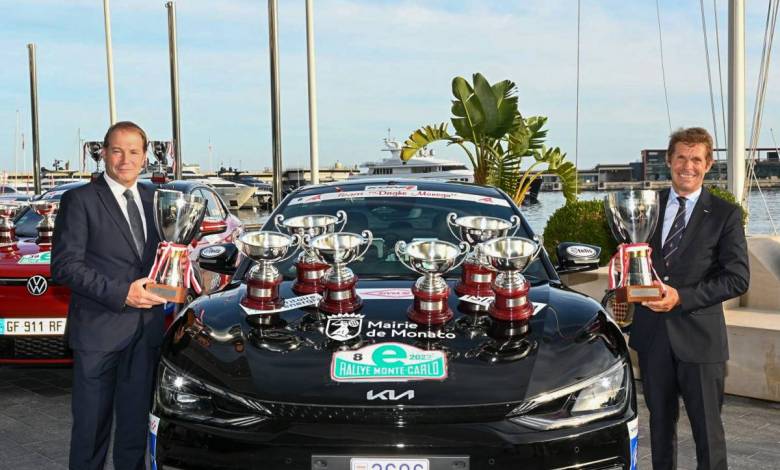 The traditional Prize-Giving Ceremony for the 6th edition of the Monte-Carlo E-Rallye (ZENN: Zero Emission No Noise) was held on Sunday 30th October, in the salons of the Yacht Club de Monaco and it was a particularly special occasion for the Principality.
After four days of racing more than 1000 kilometres covered between Valence and Monaco, the team made up of Jacques Pastor, Deputy Mayor, and Fulvio Gazzola, Mayor of Dolceacqua, at the wheel of a Kia EV6, were the winners of this beautiful rally under the colours of Monaco Town Hall ("DAGHE MUNEGU" – GO MONACO).
What a source of great pride for the Town Hall since in addition to this first place in the general classification, in the ranking of communities the duo also came first.
The "DAGHE MUNEGU" Team was made up of several Monegasque entities: the Department of Urban Development, Public Security and the Yacht Club
They also shone in other categories since they obtained the first places in:
the Team Final rankings,

the Female Crew

and the DIA ecoRally Cup.
The Mayor, the entire Municipal Council and the municipal staff sent them their hearty congratulations and thanked them for having defended the colours of the Town Hall so well as well as being standard bearers for the ecological and sporting values ​​of the Municipality.
Another Monaco team consisting of Olivier Campana and Nicolas Milanesio finished in fifth.
And They Were Off!
With 24 models entered, representing 14 car manufacturers, this 6th edition of the 100% electric & hydrogen version of Rally Monte-Carlo proved once again to be the main event in the FIA eco Rally Cup 2022 !
The « Great Start » of the Rally was given this year from Valence, the emblematic city in the Drôme department and long-time partner of Automobile Club de Monaco over the past few years.
The first leg took place on Drôme roads, including three regularity stages (SR) in the Vercors mountains, a real climb to start with!
Destination Ardèche for the 2nd leg heading for Privas, the prefecture of the department. It was a day of contrasts, with four regularity stages and a whole lot of new features.
The 3rd leg was 500-km long heading South to  Monte-Carlo, a memorable one with four regularity stages on the menu, over three departments (Drôme, Vaucluse and Var), including Mont-Ventoux, the mythical giant of Provence.
The 4th and last leg, on Saturday October 29th, had a series of former traditional stages of Rally Monte-Carlo, in the departments of Alpes-de-Haute-Provence and Alpes-Maritimes, including famous passes such as Col de Bleine as a conclusion.
Congratulation to the winners "DAGHE MUNEGU" – GO MONACO!