Latest news
Every Hotel in the Principality signs Energy Transition Pact
A signing ceremony for the National Energy Transition Pact was recently held in the Grimaldi Forum, bringing together the Directors and Sustainable Development Managers of all hotels in the Principality. The objective: to remind them of the ambitions of the Pact and to win their support for a decarbonized Monaco.
During a speech, Jean-Luc Nguyen, Director of the Mission for Energy Transition, and Guy Antognelli, Deputy Director for Tourism and Congress, reiterated the importance of this cooperative project, supported by the Sovereign Prince. The speech also reminded those present that the signatures are now part of their DNA, in line with their actions and their dynamism, their motivation and, more generally, their commitment to the Principality and the world was praised. The positive effect of the "Green is the new Glam" campaign, launched last November by the Tourism and Congress Department, has also made a significant contribution to Monaco becoming a 'green' destination in its own right. Each Hotel Manager spoke of the pleasure and honour of participating in the signing ceremony.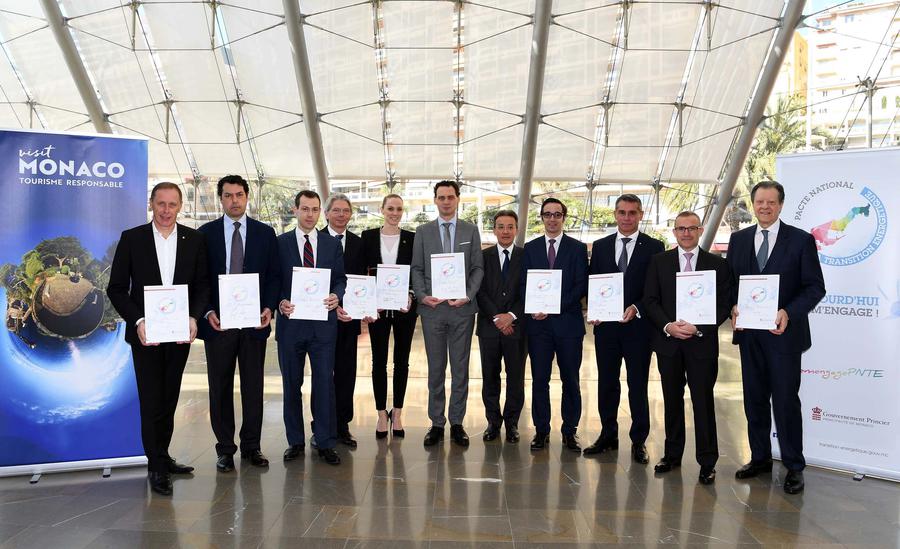 As a reminder, the tourism sector, whose actions will be spread over the long term, is of paramount importance to the energy transition. The signatures, symbolic of the environmental heritage of hotels, is part of a continuity of engagement which dates, for some, more than 10 years. A large majority of establishments have in fact been certified for many years through ISO 14001, Green Globe and Planet 21, to name a few. They guide and cause reflection concerning crucial themes in terms of energy transition, namely: waste management, transportation and, above all, empowering the customer.
For more information: transition-energetique.gouv.mc