Latest news
Laying of the first stone, New Beausoleil slip road on the A8 motorway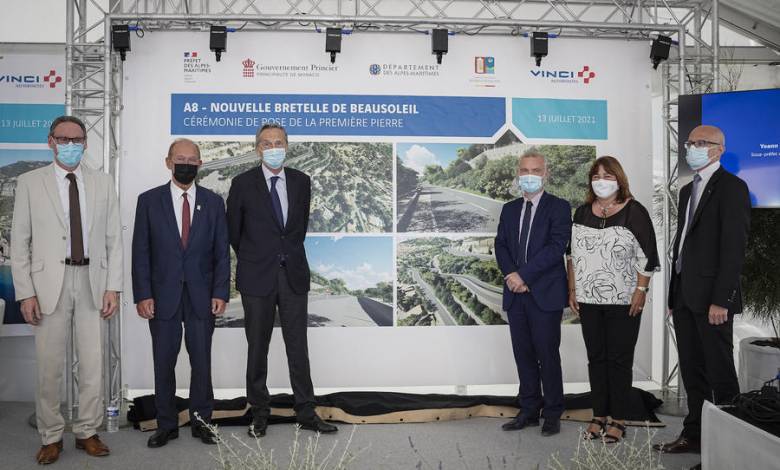 Recently, the ceremony was held to lay the foundation stone for the work on the new A8 motorway slip road, at the service access of Beausoleil.
This development project, the work of which will be completed in 2022, aims to improve the service to Monaco and respond, in part, to traffic and travel time problems, but also to the safety challenges posed by crossing the river Turbie.
Indeed, every day nearly 47,000 people travel to Monaco for professional reasons and the regular increase in traffic has made these journeys more complicated for regular users over time. This new link, an exchange point between the A8 motorway and the departmental network (RD 2564 – Grande Corniche), should help relieve other accesses to the Principality (including the A500 tunnel and the Moyen Corniche) and improve traffic conditions between La Turbie and Menton.
The total amount involved in this project is 6.06 million euros (excluding VAT), broken down as follows:
– Principality of Monaco: 2.145 million euros
– Departmental Council of the Alpes-Maritimes: 1.235 million euros
– Community of Agglomeration of the French Riviera: 200,000 euros
– Escota / VINCI Autoroutes network: 2.480 million euros
Marie-Pierre Gramaglia, Minister of Equipment, Environment and Town Planning, underlined, during the speech she delivered on this occasion, "the excellent spirit of cooperation which unites the French authorities and the Government of Monaco" and adding "Facilitating accessibility and the flow of exchanges, incoming and outgoing, is the result of work carried out together […] which will continue in the years to come, by the creation of heavy infrastructure but also by projects relating to the service by train or by sea".
Inauguration of the highway ramp 
Personalities present: 
Jean-Jacques Raffaele, Vice-President of the Agglomeration Community of the French Riviera and Mayor of La Turbie; Jean-Claude Guibal, President of the French Riviera Agglomeration Community and Mayor of Menton; Xavier Beck, Vice-President of the Alpes-Maritimes Department and Mayor of Cap'Ail; Yoann Toubhans, representative of the Prefect of Alpes-Maritimes and Sub-Prefect of Nice-Montagne; Marie-Pierre Gramaglia, Government Counselor – Minister of Equipment, Environment and Town Planning of the Principality of Monaco; Blaise Rapior, Managing Director of the Escota de Vinci Autoroutes network; Alexandra Valetta-Ardisson, Member of the 4th constituency of the Alpes-Maritimes.