Latest news
Lightning Strikes La Note Bleue in Larvotto With A Fiat 500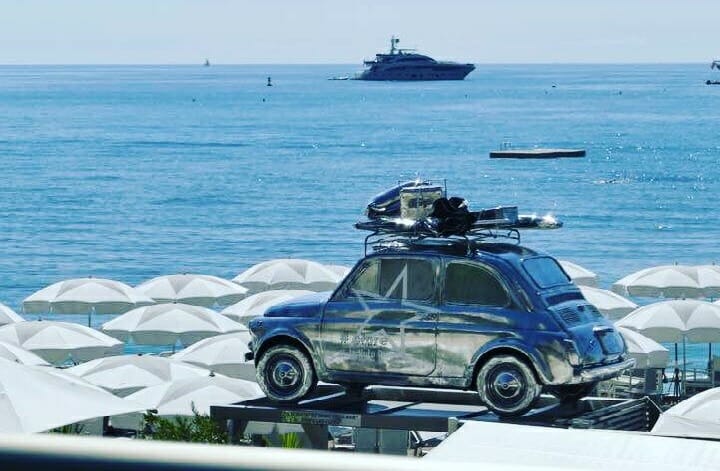 Not to be outdone by the Monaco Grand Prix, La Note Bleue on Larvotto Beach is creating its own spectacle – having raced a Fiat 500 onto the Beach. Did you know that a Fiat 500 can beat both Lewis Hamilton in his Mercedes and Sebastien Vettel in his Ferrari, between Fontvieille and Larvotto? That is because this little baby can fly through the air – winged by a helicopter from the Heliport, in just one minute from Fontvieille to La Note Bleue.
It takes quite an exotic sight to turn heads in Monaco. Selfie addicts are usually posing by Lamborghinis, Aston Martins and Ferraris. This shiny aluminium Fiat, itself with blue notes, is going to hog the limelight instead. It is in fact a sculpture by Stephane Cipre, who loves to challenge us to smile and laugh with his works of art in metal. It so happens that La Note Bleue is one of his favourite holiday "watering holes" which gave him the inspiration for this work entitled "Holiday by the Seaside" (Vacances au bord de la mer).
Applause for the free spirits who have welcomed his idea to drop a Fiat 500 on their restaurant – but obviously Anne and Alain Tanzi, the managers of La Note Bleue private beach club, are the perfect fit. And maybe after a glass or two of rose or champagne, the guests of the La Note Bleue will experiment at making their own sculptures in the sand nearby.
This is not the first time that Stepane Cipre has exhibited on the Côte d'Azur. His sculptures have been featured at the Monte Carlo Bay in Monaco for a backgammon tournament in 2016; also in Cannes this year too and again back in 2015 for the Festival de Cannes.
This particular Fiat 500, which will be on show at La Note Bleue for this whole summer season, could be considered an "all weather" vehicle. It has been entertaining visitors this last winter at Val d'Isere with some modifications to meld in with the sports scene there – for instance, skis on the roof.
In Larvotto an inflatable sun bed and parasol are more the right accents for a holiday roof rack. Three months of work went into creating the sculpture, which included finding a real Fiat 500 in Italy to create a perfect mould. At 500 kilograms the aluminium masterpiece took a month to actually sculpt and weighs in not far off the weight of the original 1960s Fiats.