Latest news
Look inside Gulf Craft's first Majesty 140 and other yacht news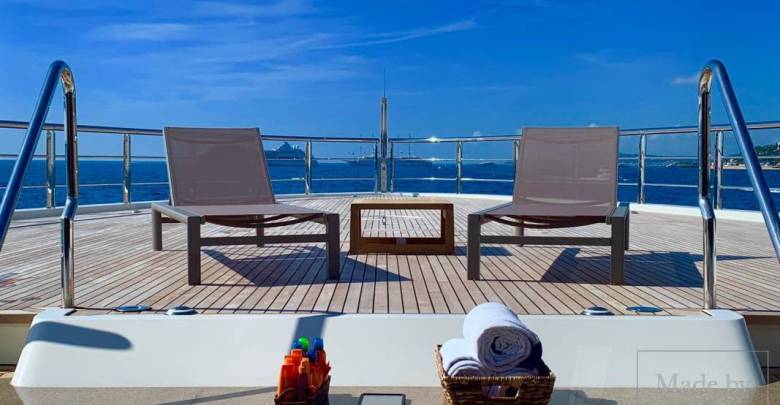 We selected for you top 5 yacht stories of the last week at Yacht Harbour.
Look inside Gulf Craft's first Majesty 140
Gulf Craft, the fast-growing UAE-based shipyard, has released more imagery of its latest 43-meter model, the Majesty 140. First unveiled at the Dubai Boat Show in February, the yacht is the 2nd largest model in the yard's lineup of superyachts.
Accommodating up to 12 guests in 5 cabins, the 43-meter C'est La Vie features a master cabin on the main deck that comes with a fold-out balcony and Jacuzzi hot tub. Designed with a light theme and lots of natural light, the yacht is catered by a crew of 9.
Amongst the yacht's highlights is a 55sqm beach club, a rare feature on yachts of this size. The 43-meter's spacious main salon also benefits from tall, panoramic windows that directly connect guests with the sea.
Powered by twin 2,600hp MTU engines, the Majesty 140 can reach a top speed of 20 knots. Other projects currently in-build at the yard include its future flagship, the Majesty 175, set to be delivered in 2019.
91m Equanimity to be auctioned for nine figures
Equanimity, the 91-meter superyacht caught up in legal pursuits led by the United States' Department of Justice over the 1MDB fund, is now going to be auctioned off for a nine figure sum in March 2019. This follows the yacht being seized earlier in 2018
The sale of the yacht, which is being handled by Burgess on behalf of the Malaysian government, is happening at the request of the Sheriff of the Admiralty Court of Kuala Lumpur. According to statements made by government officials, interest in purchasing the yacht has already been recorded.
This development comes as part of a long saga that started with the US DoJ moving to seize Equanimity back in June 2017. This was being done as part of an effort to recover $1.7 billion that were allegedly misappropriated from the 1Malaysia Berhad Fund according to the DoJ. Of this figure, $400 million were being sought from Jho low, a Malaysian businessman who took delivery of Equanimity in 2014. The yacht cost him over $250 million according to court fillings, including its upkeep.
After eventually being seized by Indonesian authorities, the yacht was moved to Malaysia in view of a public auction for the yacht that was to take place according to Malaysia's finance minister, Lim Guan Eng. A spokesman for Equanimity (Cayman) Ltd, the yacht's owner, then commented that this move was done in violation of Indonesian and American court rulings.
Launched in 2014, Equanimity was built by Oceanco in the Netherlands and debuted at the Monaco Yacht Show, later that year. Amongst her main amenities area a large spa area spread throughout the yacht's aft.
Indian Empress crew recovers $1 million in salaries
Maritime union Nautilus has confirmed that near $1 million in overdue salaries were paid to the crew of Indian Empress, now known as Neom. This follows the 95-meter yacht being abandoned in Malta in 2017 and recently sold at an auction for €35 million.
The yacht's previous owner, Indian billionaire Vijay Mallya, left the yacht in Malta in September 2017 amidst controversy over his Kingfisher Airlines and debts of over $1 billion. Known for his former Formula One team, Force India, as well as his United Spirits alcohol distributor in India, which he sold in 2014, Mallya was also active in Indian politics until 2016.
After crew members of Mallya's Indian Empress, as well as several other creditors, the largest of which was Melita Power Diesel with an outstanding payment of over €650,000, demanded the yacht be sold to cover expenses, it was put up for auction in Malta. After several failed attempts, the yacht was sold for €35 million and renamed Neom.
The latest developments sees the maritime union securing a payout for crew members, which averages at $20,745 per crew members, of which there were more than 40 reportedly unpaid since September 2017.
Promise: Feadship's first ice-classed yacht delivered
Promise, the 51-meter yacht launched earlier this year, has now been delivered according to the Dutch shipyard. First yacht built by Feadship to be ice-classed, the 51-meter is now being shipped to the US according to the yard.
Penned by Studio De Voogt with an interior by Bannenberg and Rowell, Promise was created as the first Feadship to fit ice-class notations, hinting that the yacht will cruise in polar regions for some portion of time. Powered by twin Caterpillar engines, she will have a top speed of 14.5 knots and a range of 4,500 nautical miles.
Spread across a large beam of 10.8-meters, the 51-meter custom built yacht has been shrouded in secrecy throughout her build. Notable features from the outside are her large helipad aft  o the upper deck, as well as tall windows in the main lounges suggesting panoramic views.
Hakvoort launches flagship 64m Scout
Hakvoort, the Dutch-based shipyard, has confirmed the launch of its largest project to date, the 63.72-meter Scout. Designed by H2 Yacht Design, the yacht is expected to be delivered to her owners in Spring 2019. She was previously known as Project Brio.
Launched on December 1st, the yacht started construction under a different ownership, changing owners early on and shifting the project to the steel and aluminium explorer that it is today.
Scout features 4 guest cabins on the main deck as well as an owner's deck in addition to 2 staff cabins on the lower deck. Sold by Fraser Yachts to her current owner, Scout will become the largest yacht built by Hakvoort, topping its 61-meter Just J's delivered in 2016.
The owner's previous yacht was a 45-meter RMK Marine also named Scout. Delivered in 2012, she was sold asking $15.9 million and has since been renamed Calliope.