Latest news
Monaco Fire and Emergency Service: official visit from Brignoles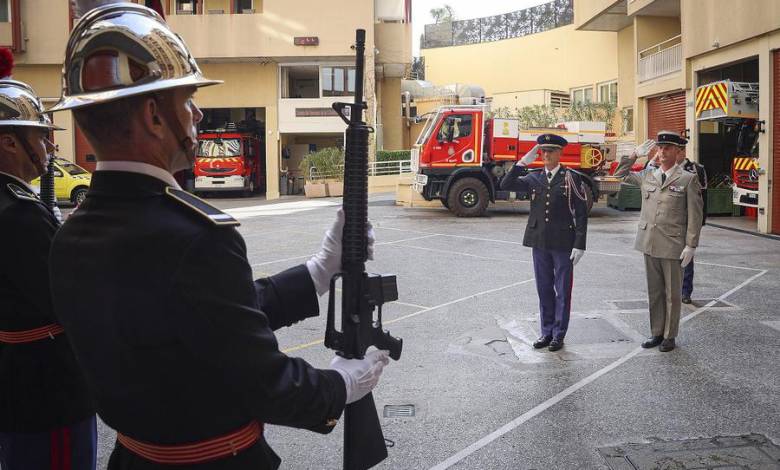 The Commanding Officer of the Civil Defence Instruction and Intervention Unit No. 7 (UIISC 7) based in Brignoles, Colonel Philippe BERTRAN DE BALANDA recently made an official visit to the Condamine Emergency Response Centre. He was welcomed by Lieutenant-Colonel Maxime YVRARD, Commanding Officer, and met the personnel of the Monaco Fire and Emergency Service and the authorities of the Ministry of Interior: Patrice CELLARIO, Minister of Interior, Christophe PRAT, Director General, and Colonel Tony VARO, Supreme Commander of the Military Force, with whom he attended the Changing of the Guard at 11:55 a.m. on the Square of the Prince's Palace. During the day he inspected the Fire Guard, the offices of the Chief of Staff, the Condamine and Fontvieille Emergency Response Centres, the equipment and response vehicles and the Event Management and Emergency Operations Centre (CGECOS).
With 568 highly qualified fire and rescue personnel, UIISC 7 is a unit of the French Land Army, part of the engineer force, and available to the Ministry of the Interior. It is on permanent alert and maintains specialist detachments to assist in any natural or technological disaster, in times of peace or war, both in France and abroad.
Monaco Fire and Emergency Service has a partnership agreement with this unit. This enables exchanges to be done as part of the professional training on both sides in specialist areas such as technological risk, rescue and clear-up, learning on the Fire Simulator and training for Fire Smoke and Reconnaissance… Taking part in large-scale exercises also forms an integral part of these exchanges. During the Grand-Prix events, some personnel came from UIISC7 to reinforce the fire safety operation of the Monaco Fire and Emergency Service. A first-aid familiarisation project is currently under consideration for the personnel of UIISC7. This would consist of immersion training with the Monaco Fire and Emergency Service on board rescue vehicles and providing assistance to victims.
Source: www.gouv.mc