Latest news
Monaco strengthens cyber security for Prince's Government joining forces with Thales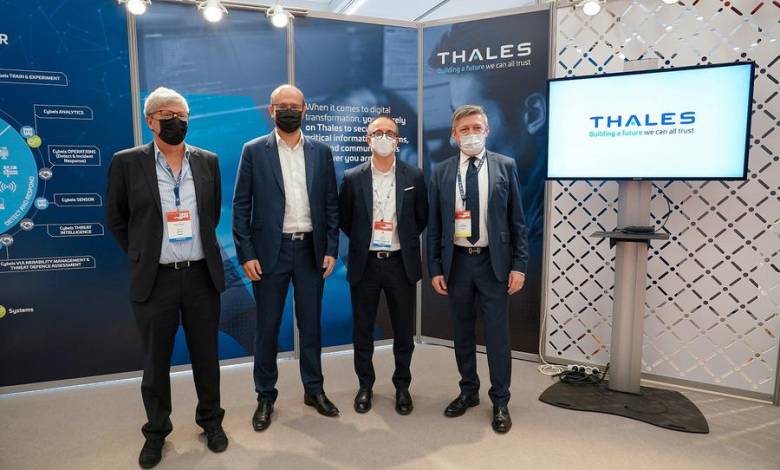 Thales is joining forces with the Monaco Cyber Security Agency to help the Prince's Government, public services and critical infrastructure operators improve their cyber security.  The group is supplying a range of cutting-edge cyber technologies to Monegasque stakeholders.
With cyber risks becoming an ever-increasing threat, the Principality of Monaco took action on the issue in 2016, when legislation aimed at countering high-tech crime was adopted. Today, the Monaco Cyber Security Agency is working with Thales on the implementation and interaction of cutting-edge cyber security technologies to improve the digital security of the Government and various institutions, businesses and critical infrastructure operators in the country. Under this partnership, Thales is supplying a range of its solutions and services, including Citadel Team to secure communications, as well as Cybels Sensor, a trusted probe, and Cyber Threat Intelligence, a cyber attack analysis service, both of which are integrated within Cybels Analytics, an innovative attack detection platform relying on big data. The group will also study the interoperability of these solutions.
In an ever more connected world, the security of networks and information systems must be constantly updated. The institutions, businesses and critical infrastructure operators that are essential to the smooth running of our lives are the most exposed to cyber challenges, which are among the biggest threats of the twenty-first century. Hackers, who are always at the forefront of innovation, are stepping up their tricks and attacks, meaning that data protection solutions are absolutely vital.
In Monaco, the Monaco Cyber Security Agency (AMSN ) is the national authority responsible for the security of information systems. As an information security and cyberattack expertise and response centre, it is the agency's duty to prevent, detect and deal with cyber-attacks, and to educate public services and critical infrastructure operators about digital security requirements. To ensure ever better protection, the Monaco Cyber Security Agency is drawing on the cyber technologies offered by Thales and is working closely with the group to integrate a range of key tools within a shared platform: the Cyber Threat Intelligence Service (CTI), the Cybels Sensor trusted probe, and the Cybels Analytics technology, based on a Citadel Team secure, sovereign messaging solution.
In a world where information and knowledge are key, Thales has provided the Monaco Cyber Security Agency with its CTI service, which is used to receive, analyse and sort all information relating to a cyberattack. To do this, CTI relies on a platform which is constantly collecting information about threats and the attacker's modus operandi from a variety of sources (cyber surveillance tools, websites, etc.). In this way, CTI makes it possible to map threats to targeted systems in order to adapt its line of defence as securely as possible.
Thales is also supplying the Monegasque agency with its detection probe, Cybels Sensor, which can incorporate detection rules provided by the CTI service. By analysing large volumes of data in real time and detecting potential threats within that data, the probe can alert the teams responsible for security oversight at the earliest possible stage and maximise protection of the networks under surveillance.
With the advent of artificial intelligence algorithms, Thales has introduced the Cybels Analytics solution, offering the ability to quickly identify the most complex cyber-attacks using the group's TrUE AI technology. To better identify and respond to these attacks, the platform relies on Thales' own artificial intelligence algorithms and is also capable of detecting anomalous situations using heterogeneous data from multiple sources. Ultimately, Cybels Analytics offers a more precise analysis of non-targeted attacks and considerable time savings.
Finally, since 2020, the COVID-19 health crisis has given digital transformation a boost with the extensive use of teleworking, which has made data protection more critical than ever. To guarantee data security and improve data storage, Thales is supplying its Citadel Team encrypted messaging service, a trusted hosting platform that guarantees data sovereignty. Able to adapt easily to meet corporate communications needs, the Citadel Team platform offers an unparalleled level of security for professional and personal discussions, without cutting any corners with respect to protecting data (whether sensitive or otherwise) or ergonomics.
These sophisticated technological solutions deliver an extremely high level of protection and security, making it easier to anticipate, detect and react to potential cyberattacks. By adapting its cyber security products and services to the Principality of Monaco's ecosystem and various business sectors, Thales is helping the Monaco Cyber Security Agency to improve the operational efficiency of its products and services.
About Thales
Thales (Euronext Paris: HO) is a global technology leader, which is investing in digital and "deep tech" innovations – connectivity, big data, artificial intelligence, cybersecurity and quantum technology – to build a future we can all trust, one that is essential for societies to flourish. The group offers solutions, services and products that help its clients – businesses, organisations and states – in the fields of defence, aeronautics, space, transport and digital identity and security, enabling them to fulfil their critical missions by placing people at the heart of decision-making.
Thales has 81,000 employees in 68 countries. In 2020, the group achieved revenue of €17 billion.
About the Monaco Cyber Security Agency
The Monaco Cyber Security Agency is the specialist national body that is responsible for the security of information systems in the Principality. It operates under the direct authority of the Minister of State. Established in December 2015, it is a centre of expertise that responds to digital attacks. Its primary remit includes preventing, detecting and handling cyberattacks.
Source: www.gouv.mc