Latest news
Mondomarine reveals new Classic line inspired by Ferrari and Lamborghini and other yacht news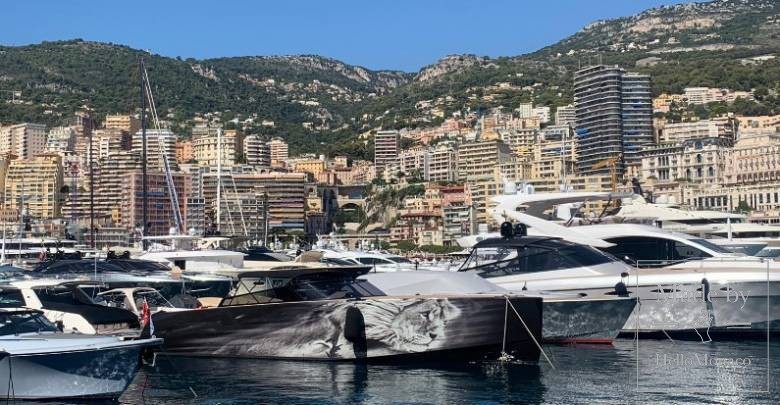 We selected for you top 5 yacht stories of the last week at Yacht Harbour.
Feadship eco-friendly Amsterdam facility opened by Queen Máxima
On May 16, 2019,  Dutch builder Feadship opened officially its new eco-conscious superyacht facility in Amsterdam, with Queen Máxima of the Netherlands being the key figure of the ceremony. It is the builder's second facility operated by Royal Van Lent, brought into operation after five years of planning, design and construction.
Accommodating the general trend towards ever-larger superyachts, the facility was designed for construction and refit of Feadship superyachts of up to 160 metres in LOA. With its total volume of 425,000 cubic metres, the new facility measures 38 metres in height, allowing plenty of air above the yacht's mast array.
Feadship declares the new yard 'the most eco-friendly superyacht yard in the world' thanks to its eco credentials, namely energy efficiency, heating by local waste-to-energy sources and LED lighting. What is more, the main building roof is covered with over 2,000 solar panels, for generation of estimated 550,000 kWh of energy yearly.
Following the opening, Queen Máxima viewed nineteen classic yachts presented on the Feadship quay and met young graduates of the Feadship Academy.
The yard's operation has already began earlier this year, with a 110-metre Feadship Anna undergoing refit works at the yard in Amsterdam, while 93-metre Lady S has become the first yacht completed at the newest facility. A couple of days prior to the opening, the latest Feadship unit, a 88-metre Project 816 was moved to the new facility for completion.
Mondomarine reveals new Classic line inspired by Ferrari and Lamborghini
Mondomarine shipyard, recently acquired by the Palumbo Group, has introduced a brand-new Classic line. The new line is conceived as a revisited version of the distinctive historic Mondomarine' style.
The Classic line models will initially range between 43, 50 and 63 metre, all with semi-displacement hull and low draft to access the most exclusive beaches and shallow waters, among others, the Caribbean.
The first project out of the new line, the Classic 50 metres, will be developed by Luca Dini Design Studio, also entrusted by the yard for the new 'Discovery' line.
Remaining true to the distinctive Italian tradition, the new line bestows a contrast between sharp edges and sinuous lines, soft and pronounced curves, reaching an overall coherent and elegant look.
Various aesthetic details and engravings have been added both to the hull and the superstructure, creating a play of light and shadows when in the sun. Those elements recall the typical design of classic Italian cars, as Luca Dini drew inspiration from the Ferrari and Lamborghini Gran Turismo models.
The Classic 50 metres will offer accommodation for up to 10 people within four guest rooms on the lower deck and a spacious master suite with two private balconies on the main deck. The crew area is designed to house up to 10 people.
Van der Valk launches 32m raised pilothouse Jangada 2
Dutch shipyard Van der Valk has launched the 32-metre Jangada 2, the fifth and the largest one of the Raised Pilothouse custom series so far. The vessel will now go through sea trial paces, ahead of delivery to her repeat owners later in June.
While her sistership had been delivered in 2015, the owner of Jangada 2 ordered the vessel at the end of 2017. All the way through, they worked in a close cooperation with designers Nick Top and Guido de Groot as well as Van der Valk in-house design team, to ensure their new yacht is fully customised to their requirements. 
Jaganda 2 is trademarked  with specific features, such as VIP suite bathroom on the main deck that could be closed off for use by guests during the day without entering the bedroom itself. Other examples of specific requests on Jangada 2 include a minimalistic interior style based principally on whitewashed European oak.
The flybridge deck will have an outdoor dining area, a sunbathing space with plenty of loose sunbeds and an all-aluminium hardtop providing ample shade, as well as a smart wet bar. Furthermore, there is abundant space for the storage of a tender and/or toys, including a crane with a lifting capacity of 800 kilograms. This deck will also feature a handy outdoor helm station. 


The yacht's main deck features curved glass sliding doors to the lounge, while a VIP suite forward offers fine views. The full-beam mater suite on the lower deck includes large his & her wardrobes and a dedicated office area. Seven more people can be accommodated within three other cabins, raising total guests' capacity to eleven.
After delivery, Jangada 2 will head to the Mediterranean for a relaxing summer cruise along the Côte d'Azur. She will make her official debut at the Cannes boat show 2019 in September.
Andrea Bocelli acquires 26m CdM yacht Stella del Nord
Italian explorer yachts builder Cantiere delle Marche (CdM) has announced that its 26.1-metre motor yacht Stella del Nord has been sold to a renowned Italian singer Andrea Bocelli. 
The yacht was built of steel and aluminium in 2015, as the fourth Darwin Class 86 unit. Built to RINA class and registered under 200 GT (at 199 GT), Stella del Nord features naval architecture and exterior design by Italy-based studio Hydro Tec, with interior concept developed by PFA Design.
Stella Del Nord offers accommodation for up to eight guests across a full-beam master and a VIP suite and two twins, along with a crew of four in two cabins.
The yacht is trademarked with a 40-square-metre sun deck with a gas barbecue, bar, dining area, lounge area and a helm station. The aft deck with built-in upholstered bench seating and a freestanding table for six people, offers even more al fresco space. The indoor saloon is fitted with large windows allowing ample daylight, a U-shaped sofa and two armchairs upholstered in high quality leather, a large screen television and a dining area with seating for eight.
80m Abeking & Rasmussen Excellence approaches her launch
German builder Abeking & Rasmussen has revealed its 80-metre superyacht project Excellence, formerly known as Project 6505. The mammoth superyacht set to become the yard's sixth largest vessel, was rolled out of her shed earlier this morning.
The yacht had been built to a steel hull at the Szczecin shipyard in Poland, moved to Germany in February 2018. The UK-based design studio Winch Design was responsible for Excellence' both exterior and interior designs.
The yacht's framework bases on the same technical platform as that of the 81-metre Grace (ex. Kibo). She features a 12.6 metre beam and a maximum draught of 3.5 metres. Still, key trademarks of Excellence include vast expanses of glass on the three upper decks and a double-height effect, blurring the distinction between the upper deck and the panoramic skylounge. Excellence will offer accommodation to up to 14 guests.
The yacht was commissioned by an experienced owner, with her delivery expected on time for the summer season, after completion of outfitting on-board and the official launch. Meanwhile, the most recent launch of a 70-metre-plus vessel was conducted by Abeking in 2018, with 75-metre Elandess.