Latest news
Monet Exhibition at the Grimaldi Forum brings in 120,000 visitors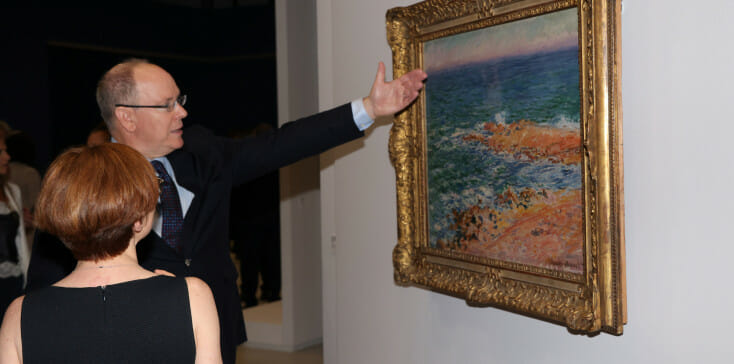 In less than two months, a record-breaking 120,000 people attended the 'Monet in Full Light' exhibition at the Grimaldi Forum. The exhibition retraced the artist's time on the Riviera and closed its doors on 3 September after receiving unanimously positive reviews from attendees and the international press.
"It's a record! Relative to the number of days open, it is the most visited exhibition at the Grimaldi Forum! We can be proud of this result and I would like to salute the tremendous work carried out by all our teams. From self-guided tours to guided tours, including the store, we were full during the 58 days of the exhibition!" said Sylvie Biancheri, General Director of the Grimaldi Forum.
The public voiced their raving opinions about the exhibition in a digital guestbook and on social media, while enthusiastic reviews in the national and international press helped contribute to the success of the exhibition. An average of 2,000 people visited per day, with peaks of up to 4,000 people at the end of the exhibition. 80% of visitors came from Monaco and France and around 10% of visitors were Italians, especially eager to witness paintings by Claude Monet created in Bordighera and Dolceacqua.
Inaugurated on 6 July 6 by HSH Prince Albert II, the exhibition celebrated the 140th anniversary of Claude Monet's first visit to Monte-Carlo and the Riviera. It offered a new look at the work of the Master through nearly 100 paintings from collections across the world. Curated by Marianne Mathieu, a Claude Monet specialist, the exhibition provided a better understanding of the painter's quest to capture light.
An environmentally responsible exhibition
The Grimaldi Forum collaborated with transportation company André Chenue to reduce the environmental impact of the exhibition. Cash register systems were redesigned, air deliveries consolidated, a new fuel solution was used for road freight. The results were impressive: over 20% less CO2 was used, the equivalent of 30 tonnes!
On the agenda, the Grimaldi Forum's next big summer exhibitions:
2024: William J.M. Turner, the sublime legacy, with the TATE (6 July – 1 September)
2025: Colours, the masterpieces of the Centre Pompidou  (5 July – 31 August)
2026: Monaco & the Automobile (4 July 4 – 6 September)