Latest news
Monte-Carlo Television Festival turned 60 to hit the mark
It has always been considered as a must-seen annual event and this year was back on stage in its best form. A huge parade of Studios, TV channels and small screen stars gathered in Monaco for a very special edition of the Monte-Carlo Television Festival, held at the Grimaldi Forum from the 18th until the 22nd June 2021.
This glamourous film festival, under the honorary presidency of H.S.H. Prince Albert II of Monaco, celebrated its 60th Anniversary, with a series of TV previews, exciting conferences, screenings, business networking, outstanding singing sessions, fan meeting areas and red carpets. A firmament of TV stars walked on the Red Carpet, best testimonials of a new era of high tech and digital platforms which put into the spotlight high-grade national productions from all over Europe and beyond. The best talents for one goal: getting the prestigious Golden Nymph Award for the best TV programs and actors in the name of the uttermost values of peace and solidarity. All this to honour the creator of the festival, H.S.H. Prince Rainier III, depicted with Princess Grace as the leading icon of this edition.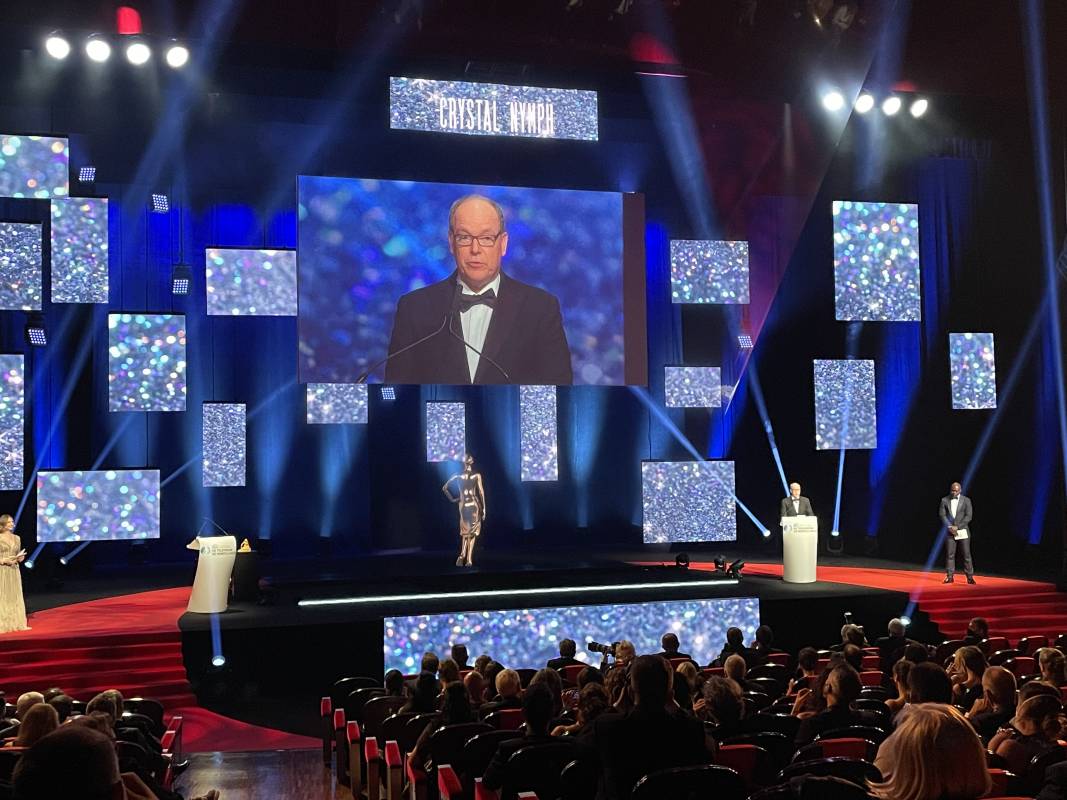 The Monte-Carlo Television Festival started under the best auspices on Friday the 18th Opening Gala where a special Nymph of Honour was given to the Emmy-Award winning executive producer Darren Star in the presence of H.S.H. Prince Albert II of Monaco and the distinguished members of the Fiction and News Jury and special guests like Ashley Park and Lucas Bravo from 'Emily in Paris' Series. The world preview of the first episode of Reyka, the crime thriller sequel by M-Net (South Africa) 'froze' the public with much suspense. At last, the Golden Nymph Gala on Tuesday the 22nd June did not disappoint the expectations and the audience was struck by some on-stage-tailored special effects. The Nymph itself, shaped on the original statuette by François Joseph Bosio, came to life in a virtual hologram as well as some award-winners, not present because of the pandemic restrictions.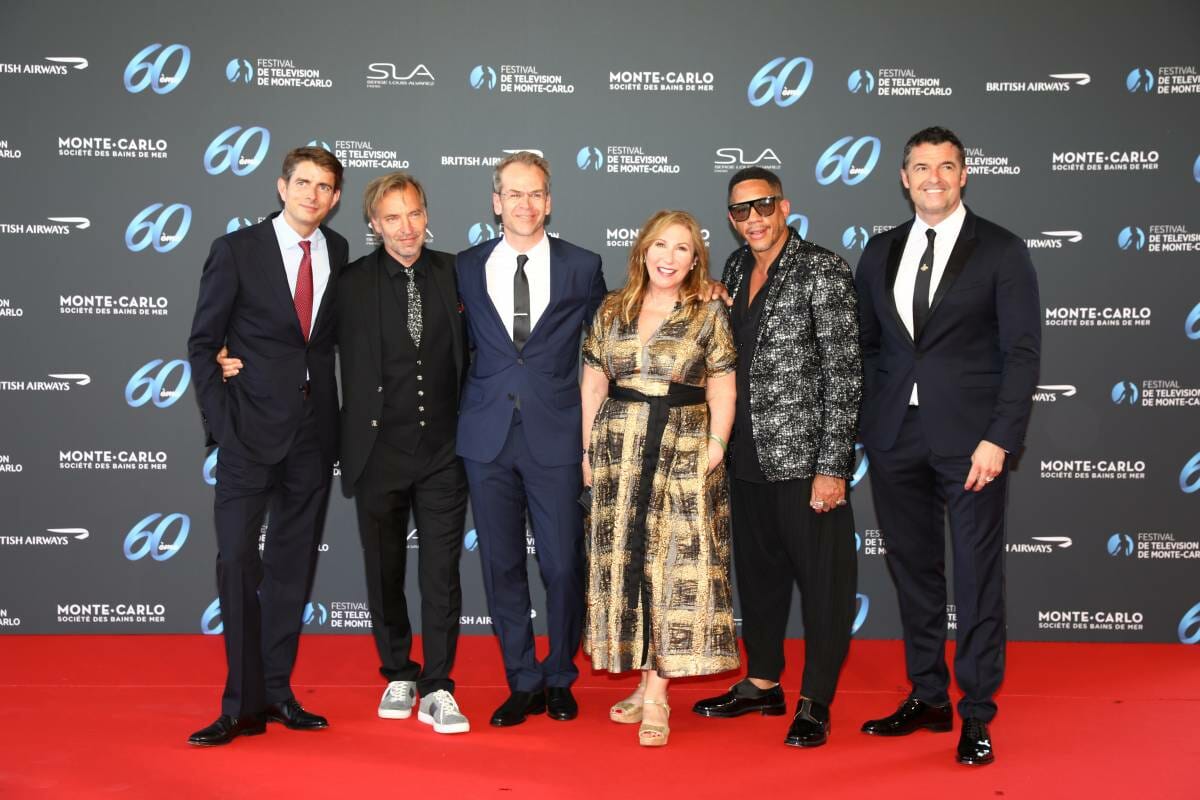 The prestigious Prince Rainier III Special Prize was given by the Sovereign Prince to 'Now – a film for climate justice' by Jim Rakete (Starhaus Produktionen GmbH, Germany), the best documentary on environmental issues and human impacts production. The AMADE (Worldwide Association of Childhood Protection) Special Prize went to 'The Baby Stealers' (BBC World Series, UK) denouncing Kenya blooming black market of babies. The Monegasque Red Cross Prize was acknowledged to 'Yemen: Coronavirus in a Warzone' (BBC, UK), a journalistic insight on pandemic affecting a Country at war. The PeaceJam Prize went to 'Bella da Morire' (Cattleya, Italy), Italian TV Series focused on violence against women. Lady Monica Bacardi, co-founder of AMBI and Iervolino Entertainment, received the recognition by the hands of Victoria Silvstedt, associate producer of 'The Dalai Lama – Scientist', within the award-winning 'Nobel Legacy Film Series'. The Christal Nymph, masterpiece of Venetian Art, was conferred to the famous actor Tchéky Karyo for his extraordinary television career.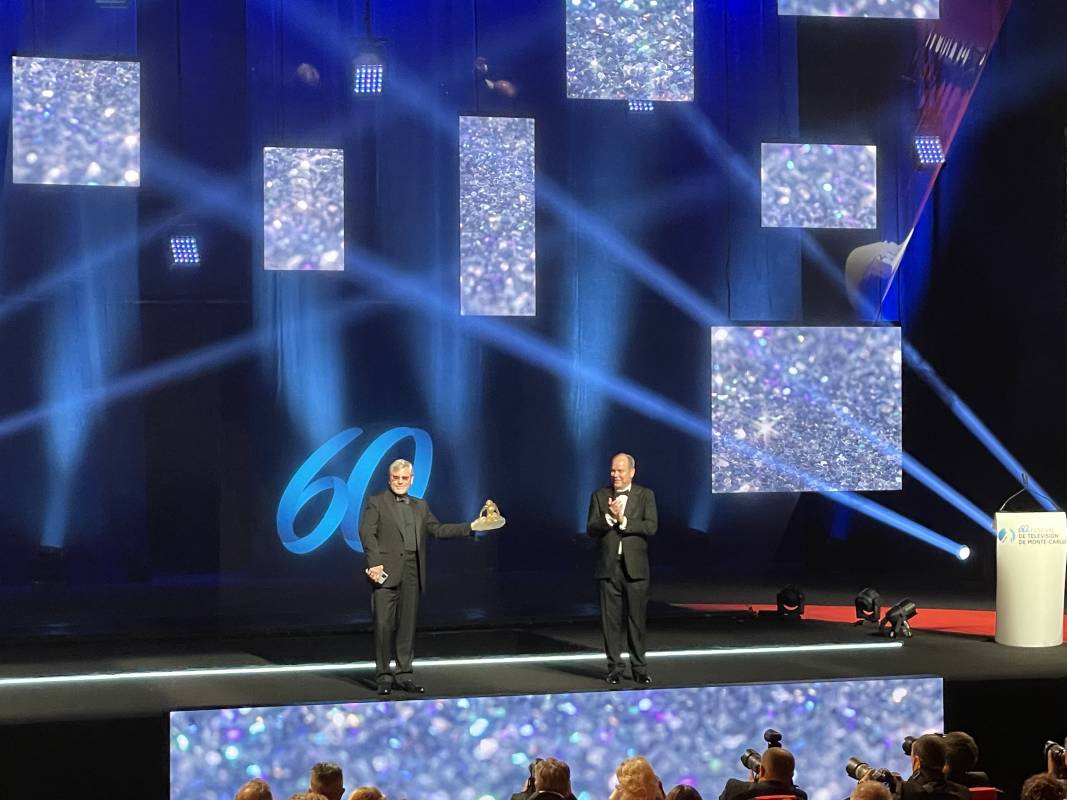 Would you like to plunge in the Monte-Carlo Television Festival mood with the best actors and Jury members? HelloMonaco is ready to share with its audience an exclusive taste of the Hall of Fame of the most prestigious festival of the year.
Jaime Lorente López (J.L.L.), most popular TV Series Actor (El Cid, Élite, Money Heist – La Casa de Papel) – Guest Star at the Monte-Carlo Television Festival.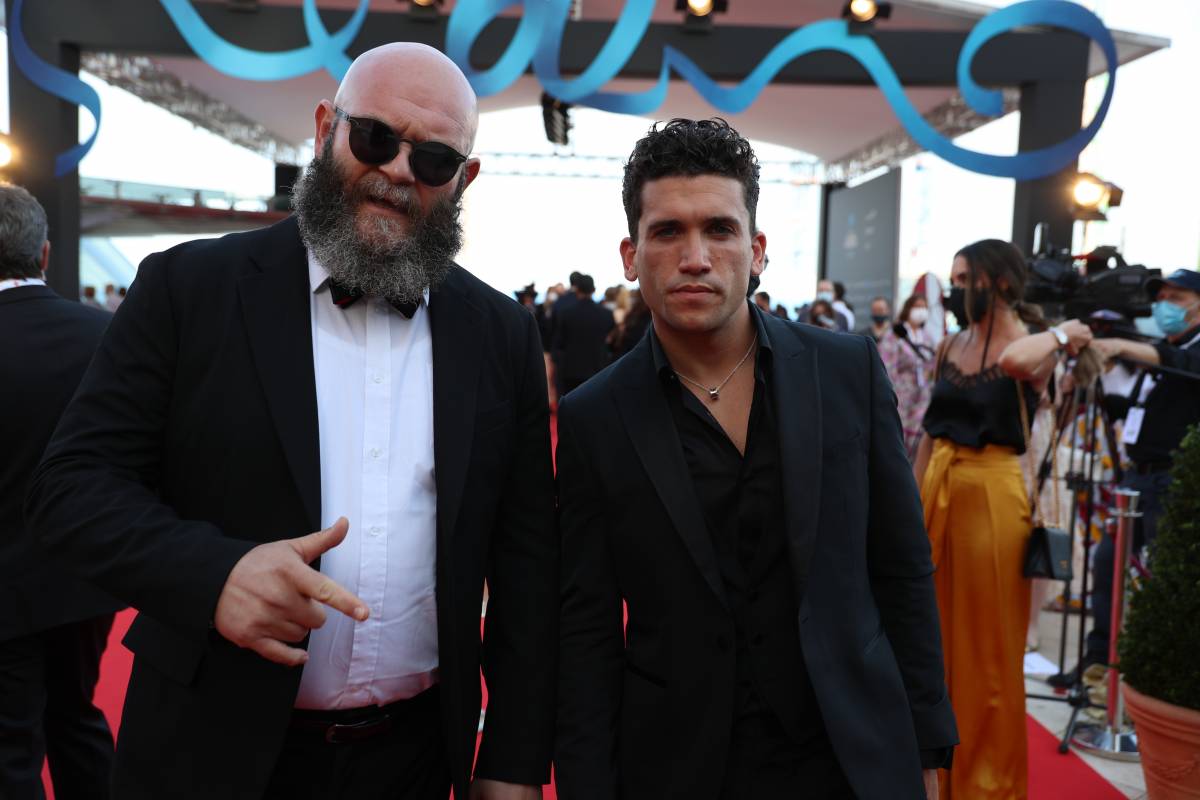 HelloMonaco: Your career started as a stage actor, how do you deal passing from a stage to a television set?
J.L.L.: Theatre is the best place where an actor can feel all his skills and idiosyncrasies. A TV production is completely different and you need to start from scratch. Playing on stage gave me the opportunity to create my comfort zone where no one can enter in order to preserve your character's features. And this element will be very useful also in a Television shooting.
HelloMonaco: Is there anything in the character played in EL Cid which belongs to you intimately?
J.L.L.: There are values I share with him. Notably, being attached to your family, being loyal and honourable. Something that everybody should have naturally. The amazing relation which links him (Rodrigo Díaz de Vivar, nicknamed 'Ruy') to his mother, his wife and towards the King of Spain and everyone he would like to protect made me feel proud of this role.
HelloMonaco: What did you like most acting in El Cid? And being an actor?
J.L.L.: It is about a true historical character deeply linked to the Spanish identity. So, I consider it a great opportunity. Giving life to a figure who everybody knows only through history books is challenging. In order to better perform, I had to train myself in the use of sword to face duels properly in close cooperation with the production team and the film director. My previous experiences in TV series helped me a lot in managing the pressure imposed while shooting a large TV Series. What I appreciate most of my being an actor is pushing other people to become better persons in their life. Every part I interpret gives me a different input but I am still particularly attached to one of my first theatre roles in Hippolytus and Phaedra which really convinced me to become an actor.
Gil Alma (G.A.), French popular actor, comedian and producer – Guest Star at the Monte-Carlo Television Festival.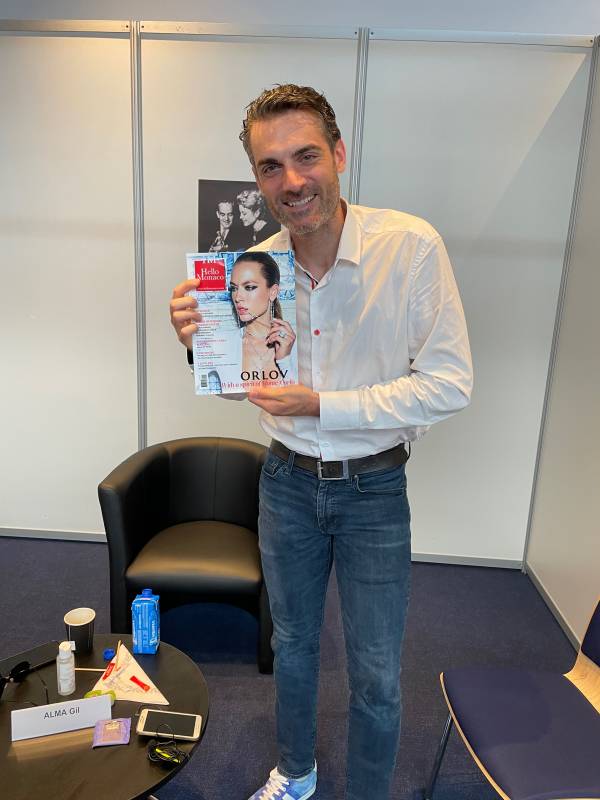 HelloMonaco: What does it mean playing a role in a TV series and touching the hearts of viewers?
G.A.: It is a magic combination. When you accept a specific role in a TV Series you need to put all your soul in it. There is a whole world revolving around you, like the production, the scenery, the technical side etc. When you reach a nice osmosis among them, the comedian is just the one who gives the final blow.
HelloMonaco: How do you feel when it happens to work with a friend colleague?
G.A.: Well, it is really a good feeling. The role of an actor is made of great emotions which are conveyed to the public that appreciates at last. This has just happened with my latest on-stage show, 'Gil & Ben (ré)unis' with my old chap, Benoit Joubert. This is the case also of my funny role in 'Nos Chers Voisins' Series (TF1) which lasted for five years and really created great expectations making me become very popular.
Frédérique Bel (F.B.), fashion model, cinema and television actress and dubber – Guest Star at the Monte-Carlo Television Festival.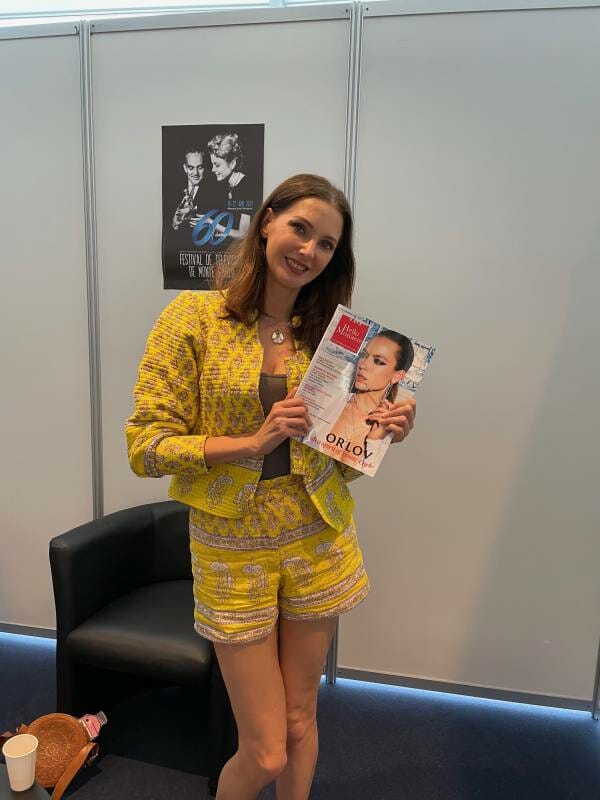 HelloMonaco: After the interesting characters you played in the successful TV Series and cinema d'auteur, which role would you like to play next?
F.B.: I am looking forward to be part of a romantic story. I feel the need of it since I think now there is a lack of this theme in TV and cinema. I do love nice stories, both on stage and in my life, and nowadays we all miss emotion, being life quite 'mechanic'. Apart from that, I am quite a spiritual person so I let life suggest me the way, both in my role as an actress as in everything I believe as for example in supporting health preventive campaigns of children welfare.   
Hugo Plagnard (H.P.), France National broadcasting experimented journalist focused on socio-economic issues and a special envoy in hot spots – Member of the News Jury at the Monte-Carlo Television Festival.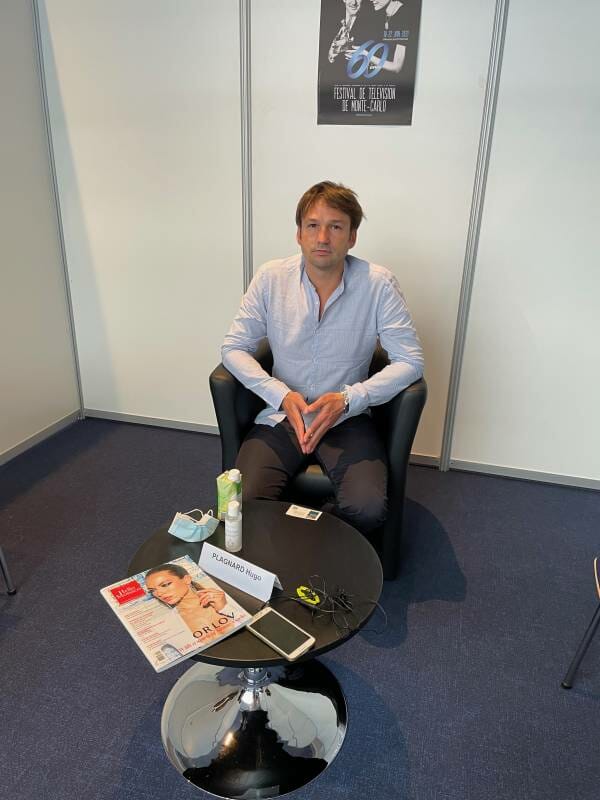 HelloMonaco: How did television journalism evolve in presenting current events?
H.P.: It has been evolving fast since, as an example, twenty years ago when Internet didn't exist for fact-checking. All that revolutionized journalism. Nevertheless, there are key elements which luckily still characterize a high-quality press report like super reliable sources, well-conducted exclusive interviews and due images as well as an effective film editing. Today, the way of collecting information require more knowledge than before including the dissemination through Social Media which can influence daily news.
HelloMonaco: How do you feel in attending this Festival? What do you consider most consistent in selecting the best News productions?
H.P.: I am really happy to be here since this is my first experience in the Festival Jury after a period of time which pushed us to be confined and isolated. All participants of this year edition proposed high quality products which represent a perfect snapshot of the current moment. What I appreciate most in a given project is the surprise-effect and emotions which is able to generate throughout an unusual storytelling and a unique editorial line.
Kay Mellor (K.M.), English well-known actress, scriptwriter, and director – Member of the Fiction Jury at the Monte-Carlo Film Festival.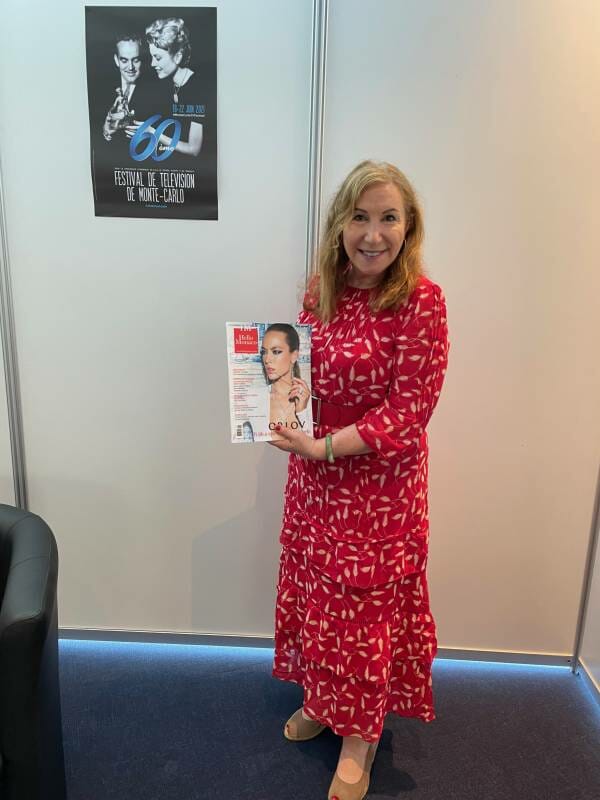 HelloMonaco: What makes a TV series script different?
K.M.: I think something different so that the audience feel attracted to transcend to another world. It must be engaging straight away. When I am writing, I always take a situation which brings to a life-changing to be explored. Interesting characters count as well. Moreover, human and dramatic potentials are winning qualities to a drama TV series. Particularly today, it is hard to win over the audience since there is so much competition. You need definitely to use properly the cliff hanger plot to raise expectations.
HelloMonaco: What attracts the TV audience most nowadays?
K.M.: Characters and story are the key with some magic touch. People want always different plots. Sometimes it is not what you think and you can't never tell what will be win-win. It often happens that if the first episode is good then they start chatter and they feel hooked especially with big thrilling dramas currently leading. As a jury member, I also pay attention to the script and the directorial performance especially when the topic is difficult to stage.
Evgeny Afineevsky (E.A.), Israeli-American film director, producer and cinematographer – President of the News Jury at the Monte-Carlo Television Festival.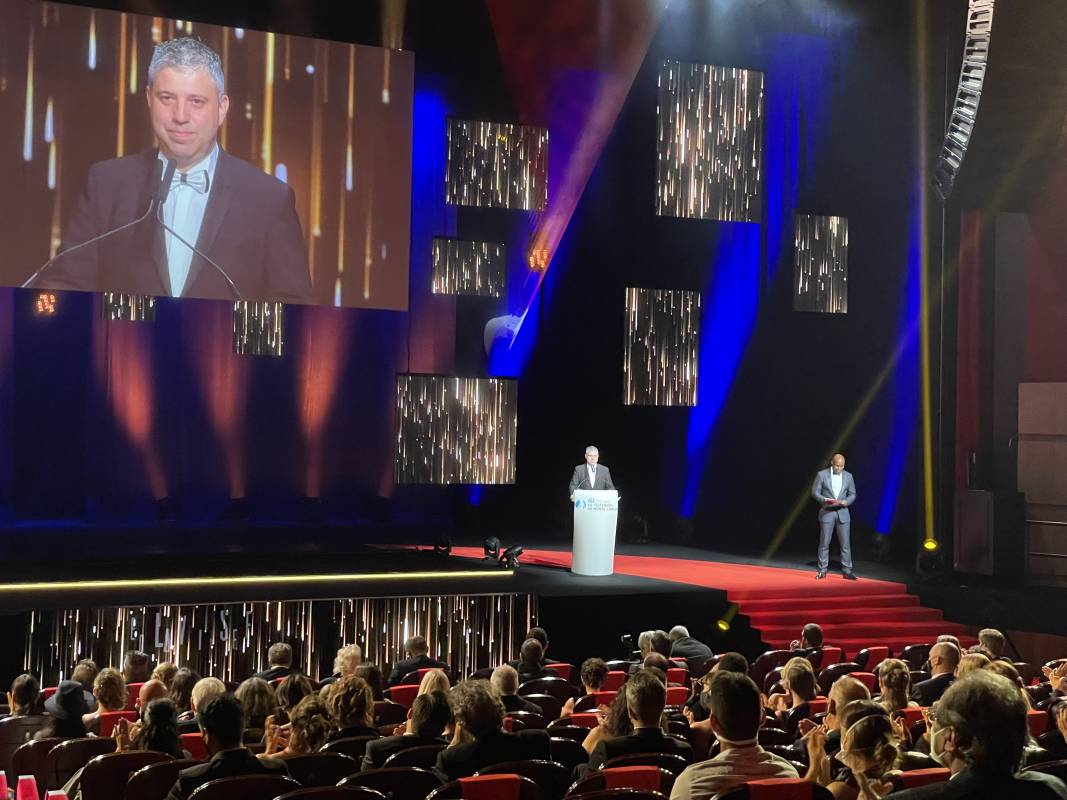 HelloMonaco: What mission did you follow in your role as president of News Jury?
E.A.: I tried to do my best in emphasizing the excellence of each work and sharing the knowledge of the whole Jury team. In the same time, I thought to offer the public something unique calibrated to what people need in this pandemic days. That is something different, an artistic impulse which allows us to overcome Covid-19 drama. Art is able to defeat darkness and this festival has the power to give an important message to the world.
HelloMonaco: What topic would you like to explore in the near future?
E.A.: Topics always find me and not vice versa. Each of my project has a key message and it is supported by a social cause. For me, every movie is a call for action, advocacy and activism. That happened with the documentary 'Cries from Syria' about Syrian crisis, born from an inspiration when I was in European Union. Suddenly that Country became for me the link between the shadow side of humanity and the integral part of my 'struggling' emotions. I am still trying to put new ideas in my head and I think I have a clearer idea in the next few months according to who I meet or what I experience. We are the film makers and we can gradually educate people telling meaningful stories to change some hearts and minds, maybe.
Måns Magnus Mårlind (M.M.M.), Swedish film director and screenwriter – President of the Fiction Jury at the Monte-Carlo Television Festival.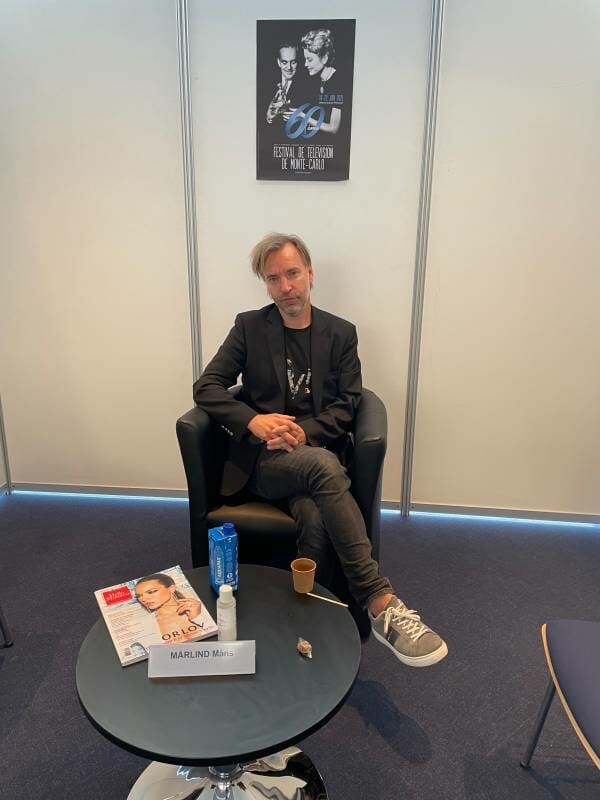 HelloMonaco: What have you pleased most attending this Festival?
M.M.M.: I love the idea that there are many cultures and countries represented in the Jury itself. Because of that, each TV series gives a just view and encourages to select the best outcome. At the end, the multicultural environment does not create problems in the final decision since it is all about one feeling which can be joy or sadness or else and the will to watch more. Then, I could point out on more technical aspects trying to answer why I have liked it. Some of the films were not perfect in the execution but they were all very interesting as for subjects. Finally, we are overcoming the usual cops, lawyers and doctors. Dreams are more important.
HelloMonaco: How much realistic should a TV series be?
M.M.M.: When you see a sit-com, you clearly realise it is a fake like at theatre. Having a film-making background, I am extremely on realism. Whatever you do you need to be real. Also, I have to cope with doubling quite often since when you shoot you do many efforts to best perform with your own voices and then someone else is modifying your work and this can make it negatively affected.
Laurent Puons (L.P.), Deputy Vice-chairman of Monte-Carlo Television Festival and Chief of Monaco Mediax.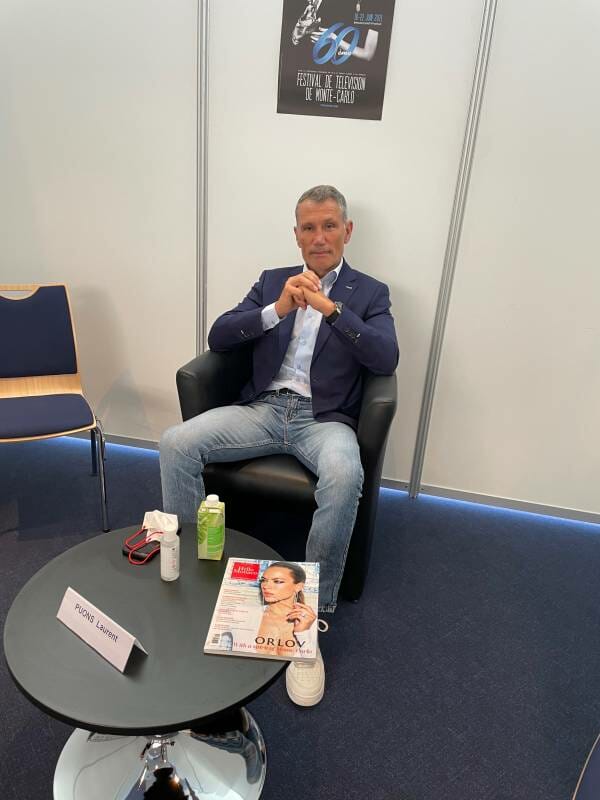 HelloMonaco: How do you feel in organising this exceptional edition of the Monte-Carlo Television Festival?
L.P.: I am really proud on how the event developed and the opening  of the Festival was a great relief for me. We could create something of quality despite all economic and health difficulties. I thank you all the people who contributed to reach this goal. We fought till the end and we believed that this was possible after the cancellation of 2020 edition. This year we focused more on Europe, being aware that having American actors and productions was still hard to achieve. That was the occasion to highlight the European artistic creativity with its increased quality and skilfulness.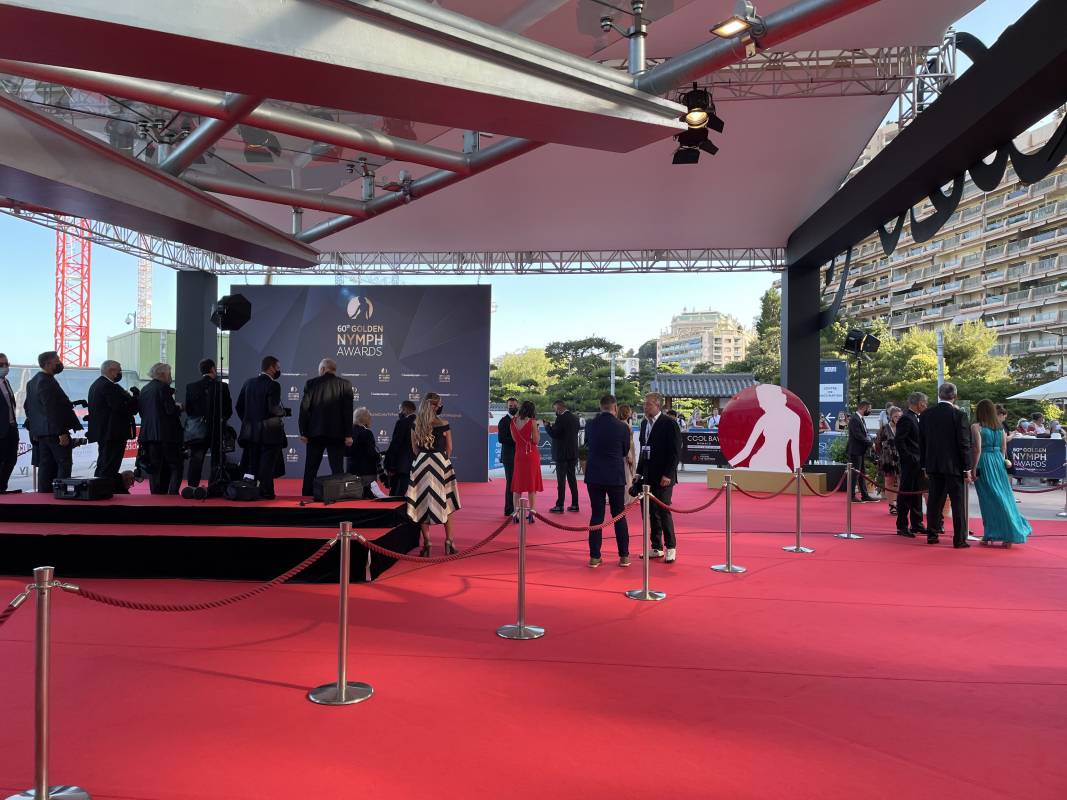 Hall of Fame
Fiction Category
Best Film and Best Creation: 'Uncle Frank' by Alan Ball (Miramax and Amazon Studios, United States).
Best Actor: Paul Bettany starring in 'Uncle Frank'.
Best Series: 'It's a Sin' by Russell T. Davies (RED Production Company for Channel 4 & HBO Max plus All3media International).
Best Actress: Lydia West starring in 'It's a Sin'.
Fiction Jury Special Prize: 'Piece of My Heart' by Hanna Maylett (Yle, Finnish Broadcasting Company, Finland).
News Category
Best News Coverage: 'ITV News – Inside US Capitol' (ITN Productions, UK).
Best News Documentary: 'The Diagnosis: COVID-19' (TVI Portugal).
Best Documentary Film: 'Citoyen Nobel' (Dreampixies, Switzerland).
News Jury Special Prize: 'Dying to Divorce' (Dying to Divorce Ltd, Aldeles, UK, Norway, Germany, Turkey).
To know more about the Monte-Carlo Television Festival please visit: www.tvfestival.com/en