Latest news
Nobel Peace Laureates award Peace and Sport during World Summit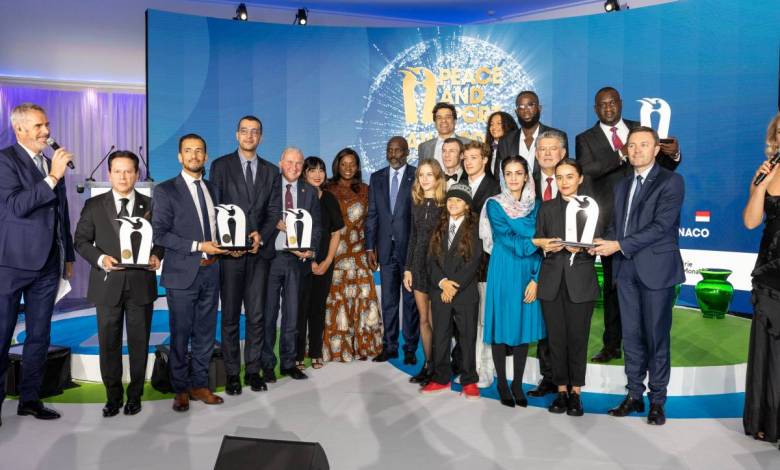 Monaco's Peace and Sport organization was awarded the 2022 Peace and Summit Award during the 18th World Summit of Nobel Peace Laureates in Pyeongchang, South Korea, on 14 December. Each year, Nobel Peace Laureates gather to discuss peace and conflict resolution and to honour those who have made an outstanding contribution to international social justice with the Peace Summit Award.
This year, the Committee of the 18th World Summit of Nobel Peace Laureates decided to give the Peace Summit Award to Peace and Sport, an incredibly significant recognition of the organization's initiatives which have taken place over the past 15 years in areas of conflict, disaster and poverty. The distinction also acknowledges the contribution of sport-based initiatives to peaceful coexistence.
When receiving the award on behalf of Peace and Sport, President and Founder Joël Bouzou said, "It is an immense honour to receive this 2022 Peace Summit Award….Faced with the resurgence of geopolitical tensions, the need for peace has never been greater; a 'culture of peace' has never been so vital. And sport has never had such an important place in it. We have changed the paradigm: from sport development to teaching peace through sport. I would also like to thank HSH Prince Albert II of Monaco, fervent defender of the neutrality, equity and universality of sport, for His support, the Champions of Peace who are committed to us, our partners, and all the stakeholders in peace through sport who have made these ambitious ideals come alive in the field."
Kailash Satyarthi, 2014 Nobel Peace Laureate, who presented the Peace Summit Award to Peace and Sport said, "Over the past 15 years, Peace and Sport has built an international community of peace through sport, made up of political decision-makers, peace leaders, representatives of civil society, NGOs, athletes and institutions and has recorded many achievements. From now on, the Organization is committed to giving a voice to program managers, so as to make decision-makers aware of the realities on the ground. It is time to implement peace-through-sport programs on a global scale with concrete impact on the ground. Through this Peace Summit Prize 2022, on the occasion of the 15th anniversary of Peace and Sport, we pay tribute to this Organization and to the actors of peace through sport around the world. May the peace through sport community prosper and continue its peace building efforts."
"Stronger Together"
The 18th World Summit of Nobel Peace Laureates, titled "Stronger Together", focused on the importance of building bridges rather than walls, finding practical ways to put an end to conflict, and using mediation and common goals to depolarize our world. It drew special attention to families separated by the ongoing Korean war and it handled the most pressing global issues on defence, climate change and equality from 12 to 14 December 2022. Nobel Peace Laureates from all over the world in the symbolic 2018 Olympic City of Pyeongchang were in attendance, including Nobel Peace Prize winners Shirin Ebadi (2003), Tawakkol Karman (2011), Ira Helfand (1985), Dr. Ruth Mitchell (2017), Tatsujiro Suzuki (1995), Kailash Satyarthi (2014), Leymah Gbowee (2011) and Ouided Bouchamaoui (2015) as well as Korean Authorities. Olympic Champion and Champion for Peace, Ryu Seung Min, was also present at the Summit to recount how sport can be a formidable lever for peace.