Latest news
Oceanographic Museum Shop obtains Environmentally Committed Commerce Label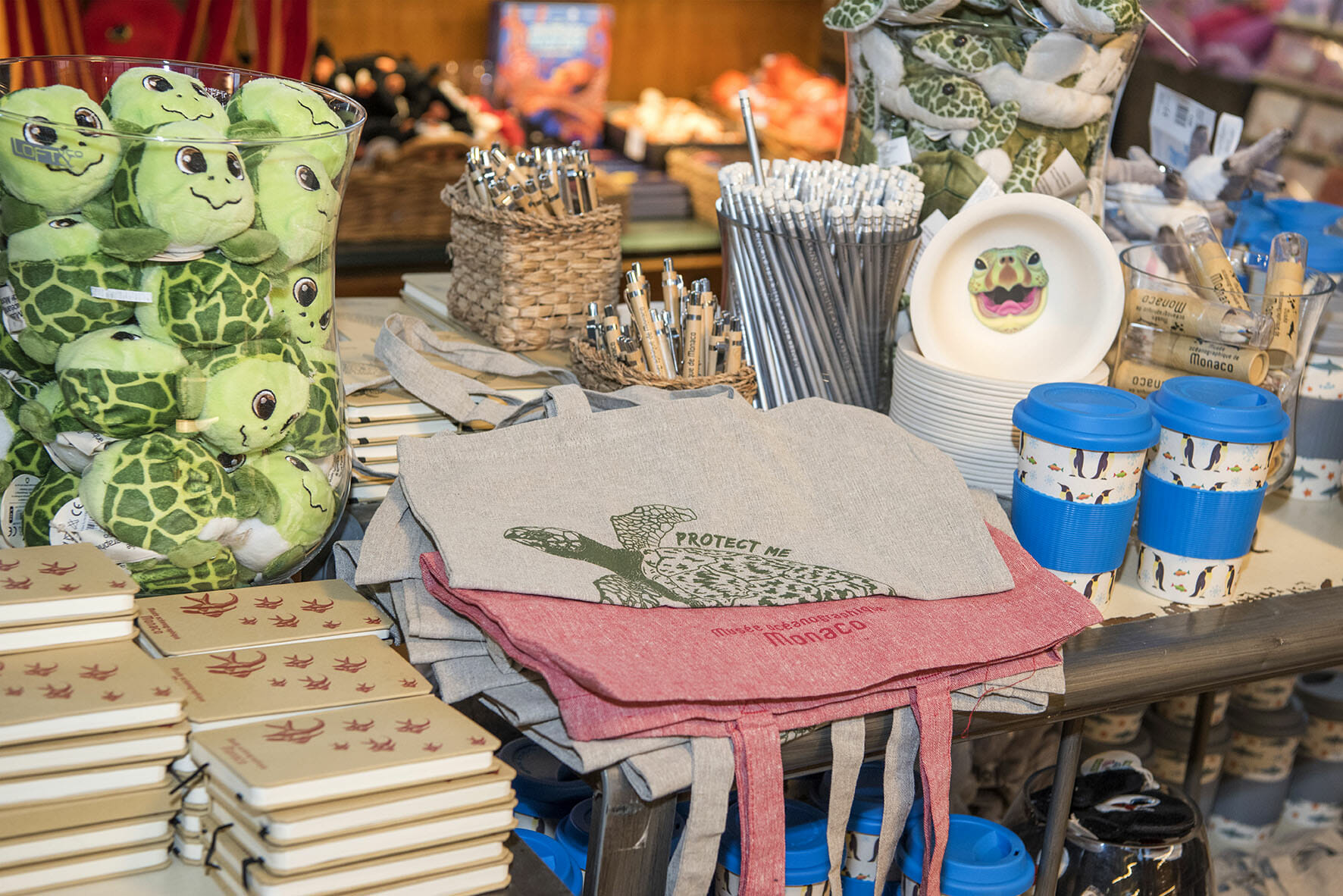 The Oceanographic Museum's Shop recently obtained the 'Committed Commerce' label, led by the Government of Monaco and carried out by the Directorate of the Environment. The museum is now among the first institutions in the Principality of Monaco to obtain the important and conscientious label.
Robert Calcagno, Director of the Oceanographic Museum, is delighted by the museum's environmental approach, which he considers "necessary and promising" and believes that "the Oceanographic Institute's message concerning the oceans, and more generally the environment, also passes through our exemplar modes of functioning as a business and a welcoming place for the public. Through this label, we demonstrate our commitment and our responsibility, both ecological and social, and we assign ourselves the task of going further in our approach, which we expect to improve over the next few years."
This improvement will be made easier thanks to the free and tailor-made support program provided by the label, enabling some 350 Committed Commerces throughout France and Monaco to benefit from a network of partners and adapted advice.
Obtaining this label testifies to the environmentally responsible approach of the Oceanographic Museum shop and its commitment to more sustainable approaches to consumption, which include:
-The use of sorting rooms, recyclable paper bags and special LED lighting.
-Training of shop staff by Isabelle Miguet, Sorting Ambassador for the Monegasque Sanitation Society.
-Subscription to the green electricity package "Egeo" (SMEG) which certifies that the equivalent of the shop's energy consumption will be produced by green energy.
-The use of eco-friendly and water-soluble cleaning products.
-Cleaning teams trained to use micro-filters, which help lower the amount of water consumption.
A range of 'committed' products
The Museum's shop announced the launch of new environmentally friendly products, some of which are already available for sale, like: organic cotton bags, notebooks made from recycled paper, plates and cups made of bamboo (a plant that grows quickly, uses less water than a tree and does not require pesticides or chemicals).
'Touche pas à ma mer', 'Ocean Lover' or 'Vivre d'amour et d'Océan' are some the messages that can now be worn, thanks to a new range of committed textiles, including 4 new t-shirt designs for adults and 3 designs for children.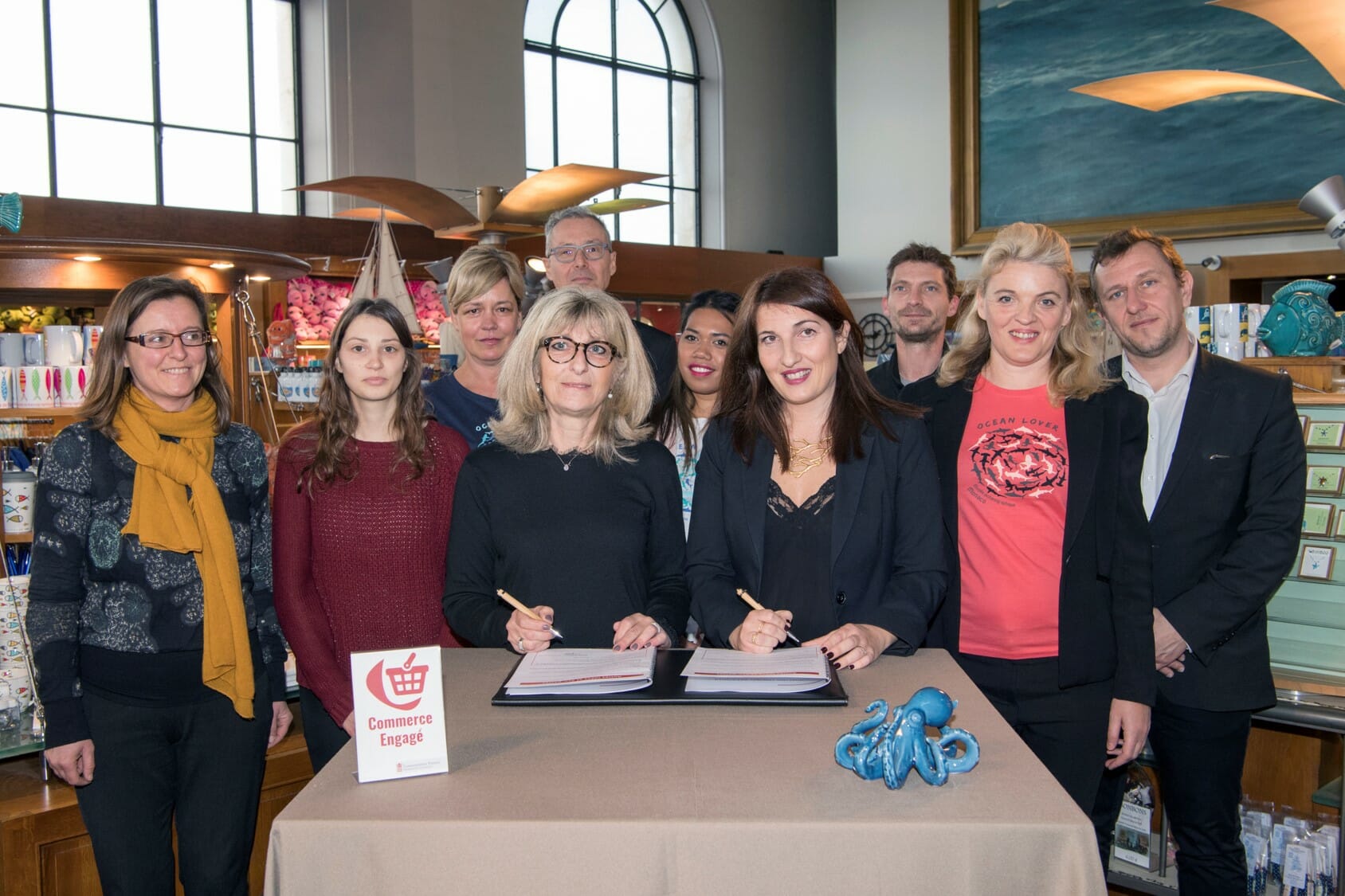 The new Committed Commerce label makes any Oceanographic Museum Shop purchase an act of solidarity with our environment.
About the Committed Commerce Label
Created in 2008 in Var in conjunction with SIVED (waste management union), this free label highlights commerce which is engaged in an environmentally responsible approach. It is tailor-made for each territory, co-built with traders, elected officials and technicians to adapt to local expectations and context. In 2017, the label came to the Principality of Monaco with the assistance of the Prince's Government.
The label's network currently brings together more than 350 businesses and producers in France and Monaco.
The Oceanographic Museum Shop is open daily, except during the Formula 1 Grand Prix weekend and on Christmas Day. The shop is accessible to all.
Opening Hours: January to March: 10:00am to 6:00pm. April to June: 10:00am to 7:00pm. July and August: 9:30am to 8:00pm. September: 10:00am to 7:00pm. October to December: 10:00am to 6:00pm.