Latest news
Official opening of temporary garden "A Balcony on the Mediterranean"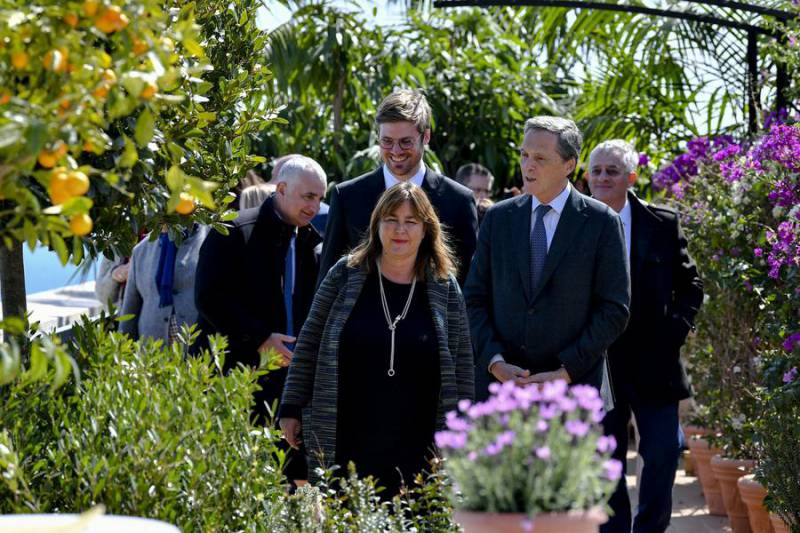 A temporary garden titled "A Balcony on the Mediterranean" was officially opened on the public terraces of the Monte-Carlo Star recently by Minister of Public Works, the Environment and Urban Development Marie-Pierre Gramaglia, who was accompanied by Xavier Beck, First Vice-President of the Alpes-Maritimes Departmental Council and Mayor of Cap d'Ail, and Jean-Luc Puyo, Director of Urban Amenities, as well as a number of Monegasque personalities.
The garden was created by the Department of Urban Amenities and is one of the works which features in the 2nd Côte d'Azur Garden Festival, organised by the Alpes-Maritimes Department from 30 March to 28 April 2019.
The 15 landscaped gardens planned as part of the competition, on the theme of "Mediterranean Dream", are spread across five communes in the Department: Antibes, Cannes, Grasse, Menton and Nice. A further eight temporary gardens will be presented out of competition, including the one in Monaco.
Designed by Timothée Roche, a designer and draughtsman for the Department of Urban Amenities, access to the "Balcony on the Mediterranean" will be through a door with Arab and Andalusian influences, immersing visitors immediately in the garden's atmosphere and inviting them on a journey. The temporary garden is primarily planted with cacti and grasses, complemented with bougainvillea to add a touch of colour.
Visitors then enter into a Tuscan-inspired part of the garden, along a path lined with cypress, box trees and other surprises.
They are next transported into a more unexpected atmosphere, with references to the botanists of the nineteenth century, who brought many surprises back from their travels. Visitors to the garden can lose themselves amid the delights of the freshly unloaded cargo…
After this, their stroll will take them into a more Provençal section, in the shade of olive and citrus trees, with a breathtaking view over the Mediterranean.
Along the way, there are a number of spots where visitors can stop, dream and admire the views. A variety of openings and windows through the scenery give visitors an opportunity to discover the Mediterranean Sea, and offer a different way of enjoying the Principality.