Latest news
Pollution Episode at the Site of the Offshore Urban Extension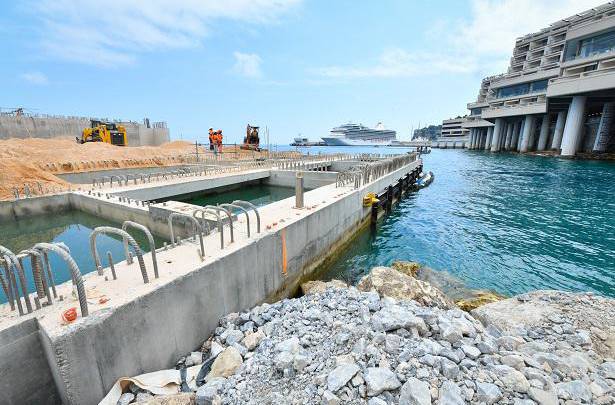 A pollution episode occurred on Wednesday 26 June at the site of the Offshore Urban Extension.  Shortly after 8 p.m., there was a leakage of biodegradable hydraulic oil from a flexible pipe on board the vessel "Omwac8," during an operation to remove rockfill from inside the belt of caissons.
In total, the leakage amounted to 80 litres of biodegradable oil.
Immediately, Bouygues TP's pollution control staff (the Ecotank company), acting in coordination with the DPMA and the DAM, organised the handling of the incident.  Pollution screens were put in place on a level with the belt of caissons, and skimming work was undertaken on the residues.  The construction site area was completely closed off.  A total of twelve boats were deployed.
A crisis unit, consisting of State departments, staff from Bouygues TP and the Portier Cove SAM, was set up immediately.
A few traces of spillage noted outside the site area were treated in the early morning, but were soon cleared.
Cleaning inside the belt of caissons ended today, Thursday 27 June, at 3 p.m.  All the pollution has been removed from the water and from inside the belt of caissons.  It has been confirmed that the situation has now returned to normal.
Source: gouv.mc