Latest news
Presentation of the First Monaco History Workbook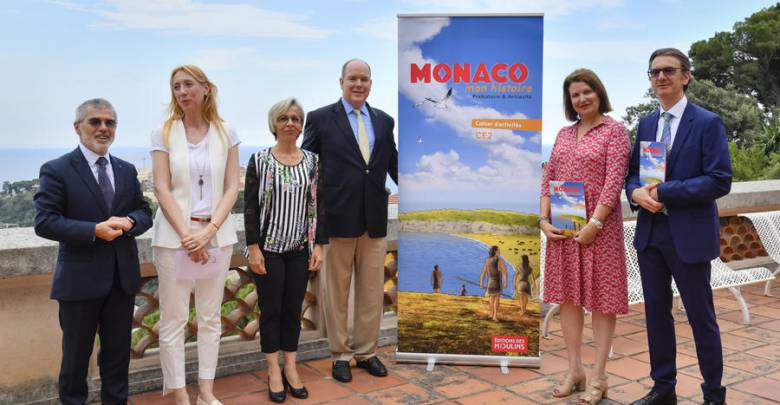 In the presence of H.S.H. the Sovereign Prince, Mr. Patrice Cellario, Minister of Interior, and numerous dignitaries, Ms. Isabelle Bonnal, Director of Education, Youth and Sport, recently presented the first volume of the Monaco History Workbook, entitled "Monaco, My History."
This booklet, developed for Year 4 classes, is an innovative, fun learning tool, which benefits from the major educational advantages that digital technology can offer.  It is the result of a high-quality partnership with the Museum of Prehistoric Anthropology of Monaco and its Director, Ms. Elena Rossoni-Notter.
The presentation took place at the Museum of Prehistoric Anthropology, which has been a partner of the Department of Education, Youth and Sport for more than ten years and advised on the preparation of this Workbook, which is entirely devoted to the periods of Prehistory and Antiquity in the Principality.
This Workbook, which contains a preface by H.S.H. the Sovereign Prince, is a first in Monaco.  It was entirely created by Ms. Armelle Borro, Head of the Pedagogical Development Centre and Ms. Caroline Leroy, Educational Advisor.  It has the special characteristic of having been tested with students, chapter by chapter, before publication (by the Editions des Moulins publishing house, directed by Mr. Marwan Abdo-Hanna), making it perfectly suited to its young audience.
The booklet contains many documents from the publications and work of the Museum of Prehistoric Anthropology; it also draws upon the latest discoveries in education and neuroscience.
The Workbook will be included in the list of recommended textbooks for the forthcoming 2019-2020 school year.  It will be followed by a second volume (From the Middle Ages to the Restoration) for Year 5 classes and a third volume for Year 6 classes (the Modern Era).
Source: gouv.mc