Latest news
Royal Huisman's Phi is Launched and Ready to Shine and other yacht news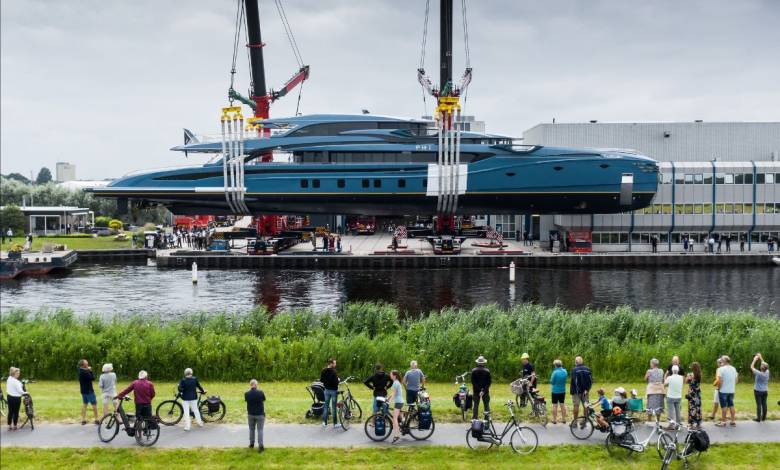 One of this year's highlights is the launch of the 58.5m / 192ft motoryacht PHI at Royal Huisman's newbuild facility in Vollenhove, The Netherlands. Developed and constructed below 500GT, PHI is by far the longest motoryacht in this category, based on current Classification rules.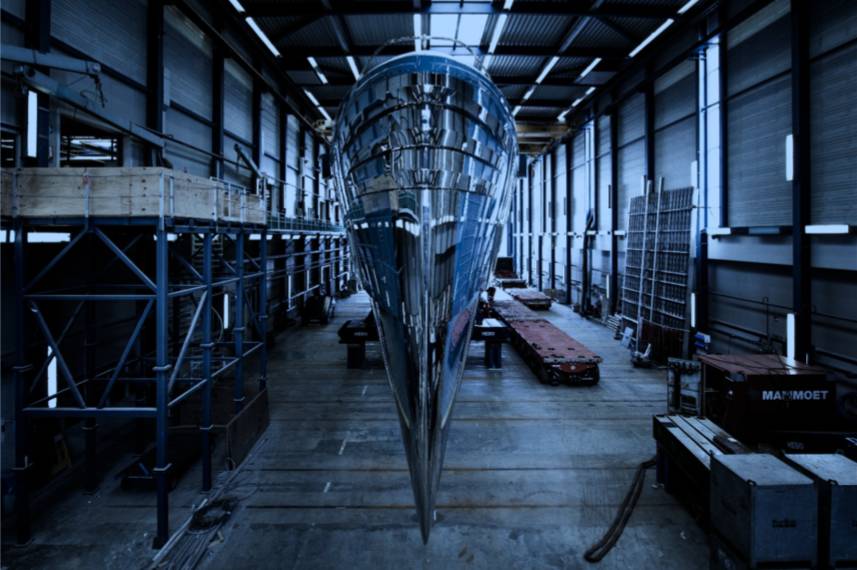 The PHI philosophy and deck levels are subsequently focused on three themes: the galaxy, the ocean surface and the underwater world. PHI's (still mostly secret!) interior design and styling are defined by the London-based studio Lawson Robb. Her naval architecture is by Van Oossanen Naval Architects. Their specially developed Fast Displacement XL hull form allows this yacht to be long and sleek, yet still remain under the 500 GT mark.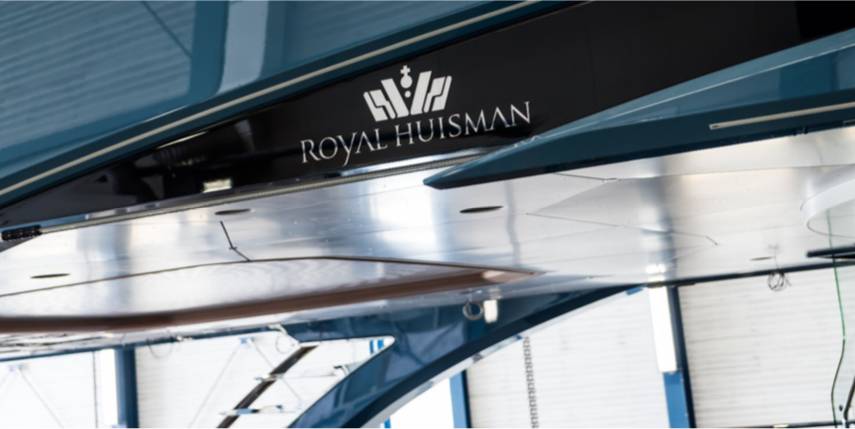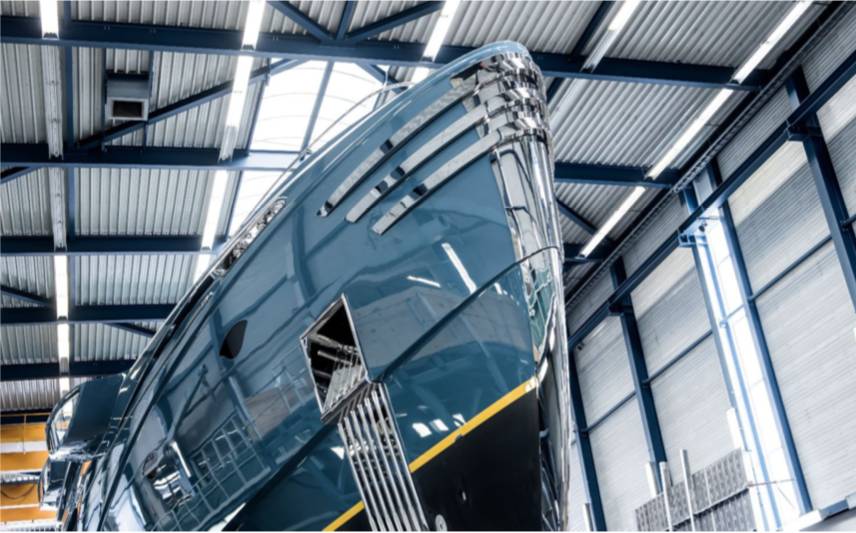 «So what gives us so much confidence in Royal Huisman's capability to build exceptional motoryachts? Here are two good examples of the 'edge' Royal Huisman has to offer.  First, the expertise we have acquired from our unrivalled 55 years' experience in aluminium construction. This enables us to maximise performance and efficiency through compact, lightweight and high strength engineering. Second, our ability to design and install complex operational systems in restricted volume hull areas provides the owner with more net space for amenities and further increases efficiency», explained Royal Huisman CEO Jan Timmerman.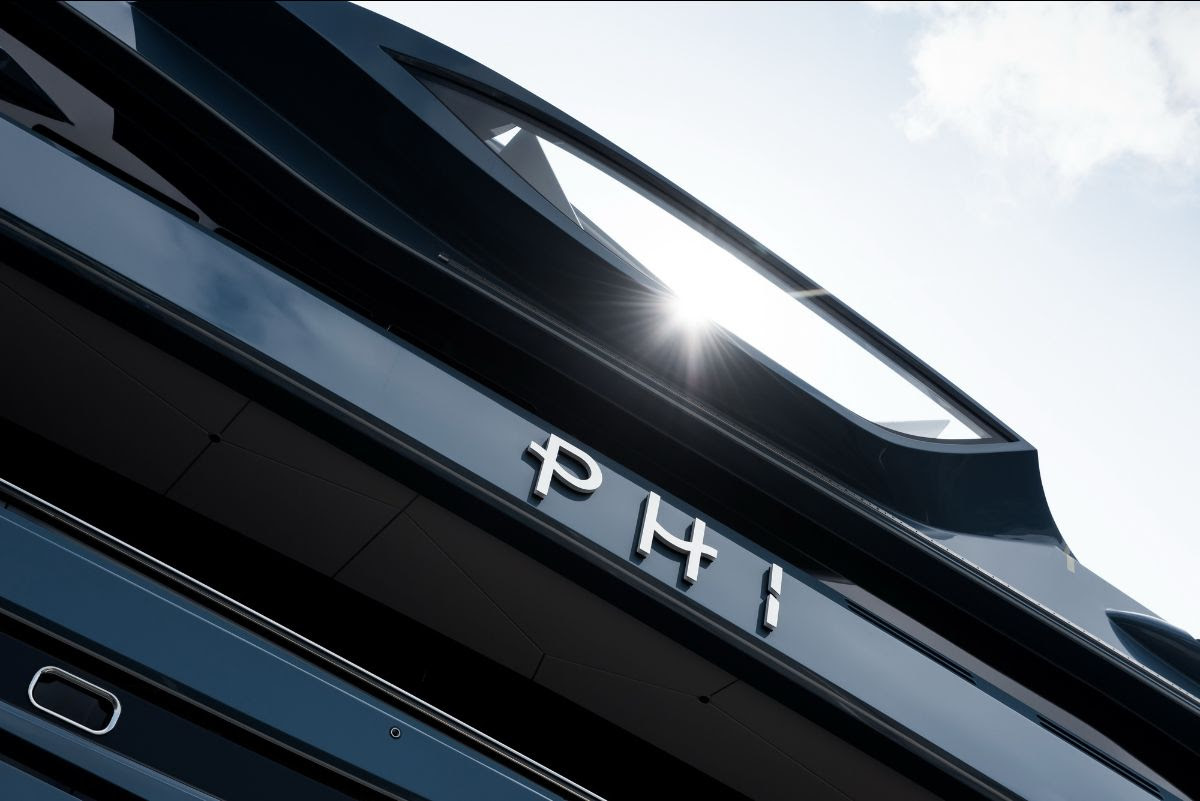 PHI is scheduled for delivery later this year and will be supported by a matching 36m / 118ft shadow vessel (also designed by the same designers and constructed at Alia Yachts).
Sunreef Yachts Unveils: Next Level Catamaran Design
From day 1, Sunreef Yachts positioned itself as leader in luxury catamaran design and manufacturing, having introduced some of the most remarkable designs in the multihull industry including the world's first flybridge catamaran.
Now, Sunreef Yachts shares an exclusive first look at the layouts of a new luxury catamaran range of 60-90 feet that has been in the works for the last three years. With extreme living space, the range's architecture takes a fresh look at catamaran design.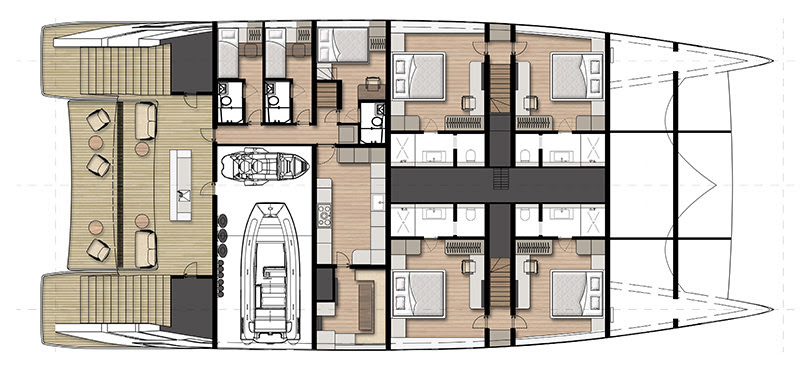 The concept unlocks a new potential for onboard comfort thanks to a design using the volume of both the hulls and bridge deck to achieve immense living space. Thanks to this, guest accommodation profits from new, generous amounts of fully-customizable living space. Standout features also include an imposing beach club. With an innovative main deck design, the saloon of the yacht boasts full-height glazing and opens wide onto the sides and the lounging area of the aft cockpit. All spaces offer full freedom in terms of customization. The stern lounge uses the entire beam but can also be enclosed with sliding doors for more privacy in the marinas. The sundeck can welcome an impressive master suite with panoramic views along with a large alfresco relaxation and fitness area.
Dynamiq presents Stefania: 41 meters of golden beauty with an inner technological beast
After 24 months of engineering and construction, the 41-metre Dynamiq GTT 135 Stefania was completed at the company's shipyard in Massa, Tuscany, and is looking every inch a superstar!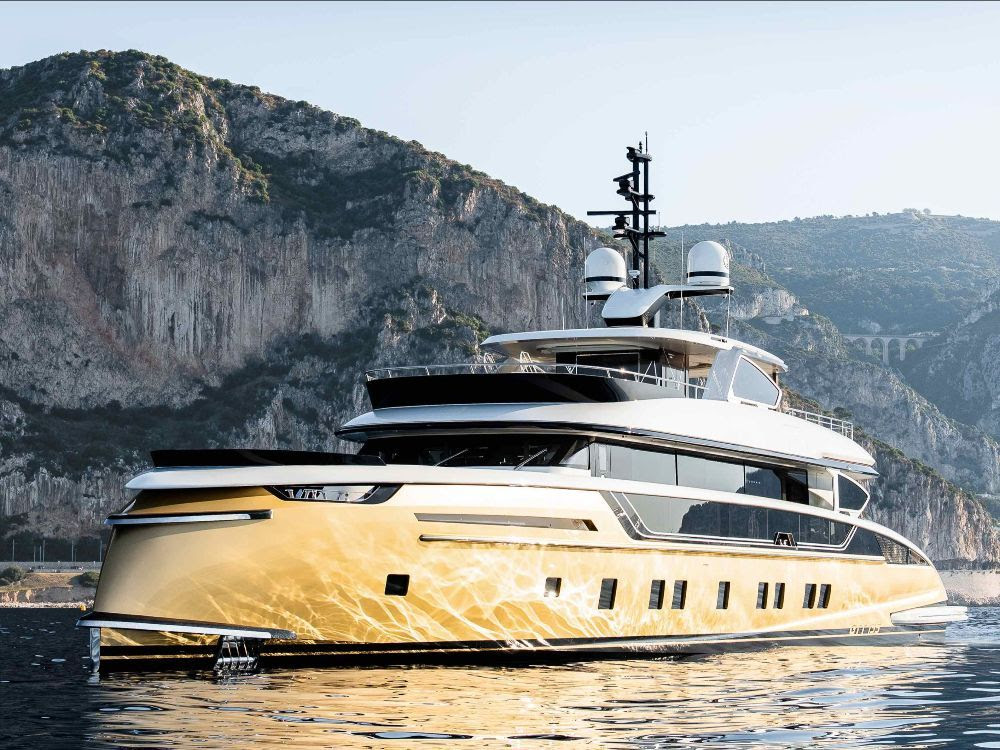 The full-aluminium superyacht features a sophisticated exterior created by Monaco-based studio Dobroserdov Design. The exclusive colour palette of metallic gold and dark brown sets her apart from all the white yachts on the water. Stefania's efficient fast displacement hull, designed by leading Dutch naval architects Van Oossanen, has a remarkably low resistance and low fuel consumption while still being capable of high speeds.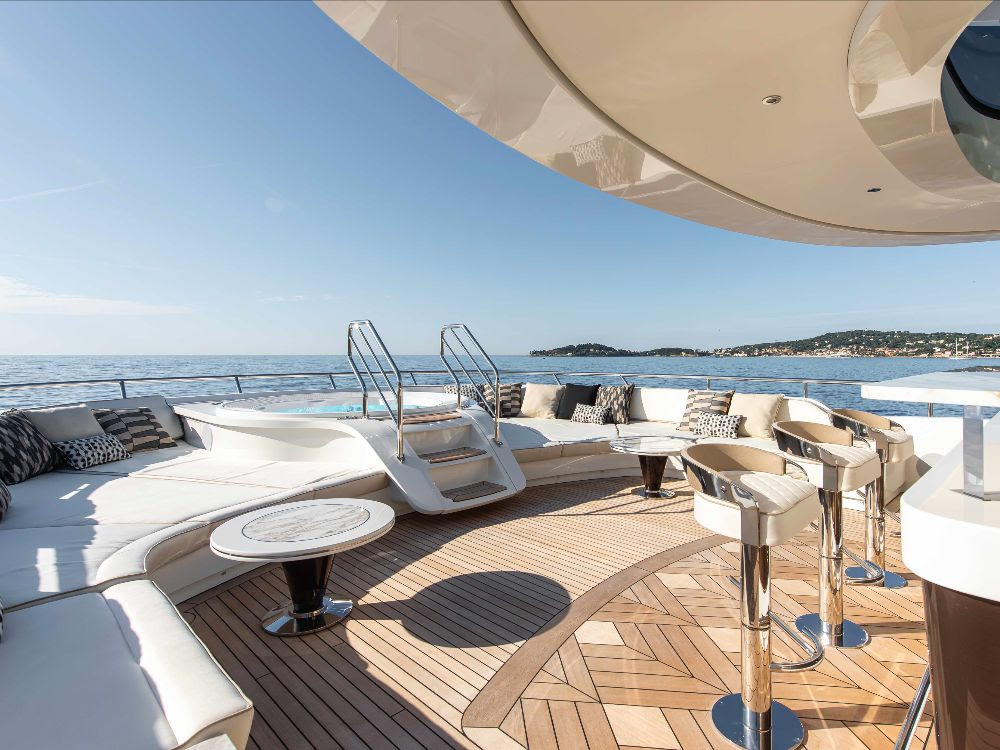 One of Stefania's distinguishing features is the Hull Vane®, a patented fixed foil located under the stern of the yacht. This innovation leads to significant reduction of pitch as well as the hull's resistance, which in turn enables the installation of smaller engines, fuel savings and longer range. The spacious 5-cabin layout located in the most comfortable place amidships on the lower deck ensures motion comfort on board for all the guests. The interior is designed by Miami based Giuseppina Arena in modern Art Deco style and features Fendi furniture, bespoke carpets by OT and is full of soft gold and natural mother of pearl details, which makes for unparalleled uniqueness and exclusivity. Another important luxury is the 2.2-metre ceiling height throughout the interior.
The main deck 10-person aft pool has a capacity of 4,500 litres and together with the open-air beach club area (with a second bar) allows owners and guests to enjoy the en plein air lifestyle close to the sea. The oversized sundeck of 120m2 – divided into two different zones – includes a jacuzzi forward and weather protected dining area in the aft, two 75-inch TV screens and a bar unit for enjoying the panoramic views in style.
Among other stand-out design features is the real fireplace in the main salon and a unique atomiser system featuring scents from the iconic Ferragamo brand, with its latest collection of home perfumes "Bianco di Carrara" for a subtle and luxurious aroma on board.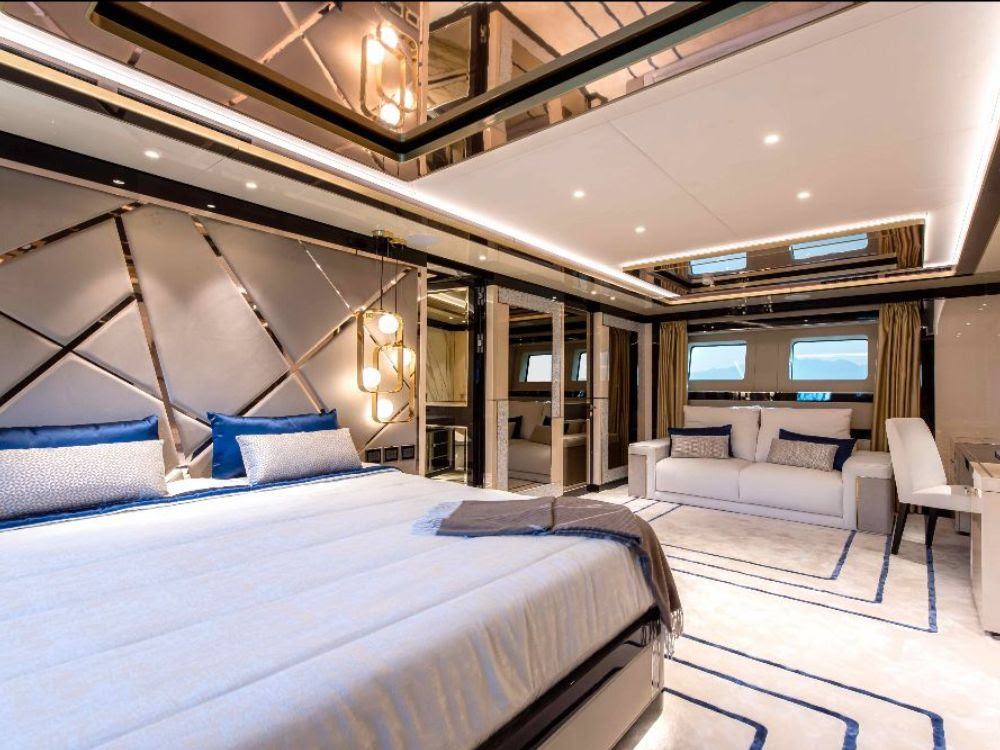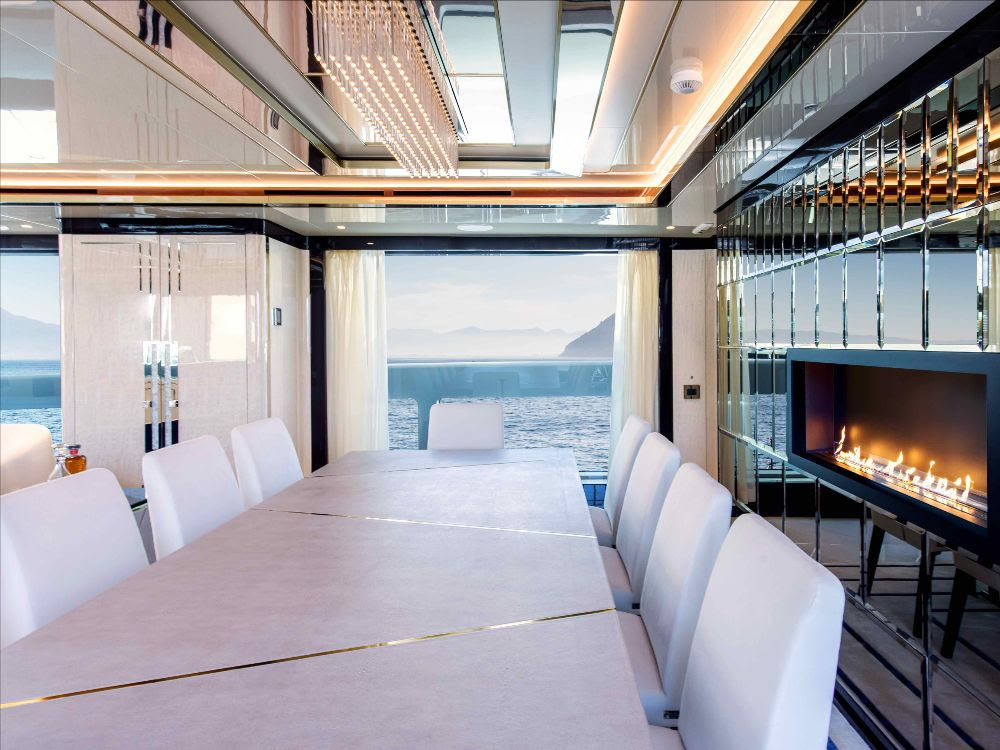 Dynamiq also joined forces with German VIP car outfitter Klassen to develop a bespoke wheelhouse by Klassen, which comes with the same quality and style of Klassen ultra-luxury shuttle vans, mirroring the sporty trim and high-end finishes.
Stefania is safe, comfortable and environmentally friendly in accordance with the strictest RINA Commercial Class standards, prestigious Comfort and Green Star Plus notations.