Latest news
Sea Owl: Robert Mercer's iconic green-hulled yacht and other yacht news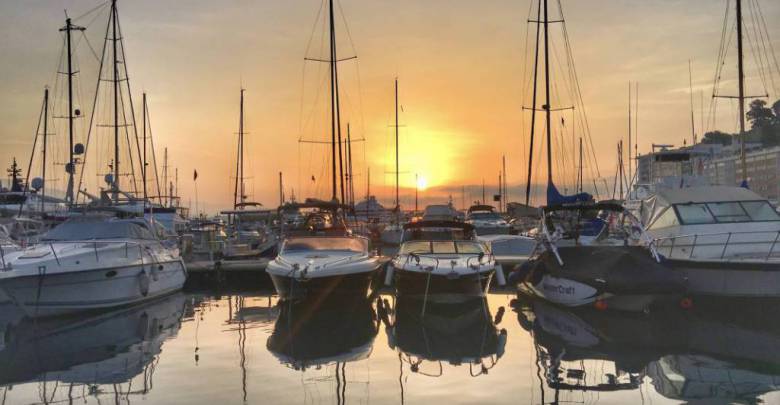 We selected for you top 5 yacht stories of the last week at Yacht Harbour.
Van der Valk launches the first BeachClub 600 unit with plenty of space on-board
Dutch builder Van der Valk has launched the first unit out of its BeachClub 600 range in the Netherlands, after years of development and months of construction. The semi-custom 19.05-metre yacht will now undergo sea trials before appearing at several "major" boat shows this summer.
The BeachClub 600 offers spacious leisure zones both inside and outside. The unique feature applied to the vessel is an engine room placed within the swimming platform. Van der Valk clients will reward from this solution, developed in partnership with two stars of the Dutch yachting world, Ginton Naval Architects and designer Cor D. Rover.
The boat's design offers vast spaces on the lower deck, with three outdoor zones: the 14 m² beach deck with sun lounge, a 17 m² cockpit deck with outside steering and a generous 25 m² foredeck. Glass inserts in the hull add further class to the yacht's elegant exterior.
Ample space of The BeachClub 600 is dedicated to indoor luxury. It encompasses an upper salon with helm and panoramic views, a lower deck lounge with galley & dinette (linked to the beach club through glass doors), and three suites, including a master with panoramic views.
The model will be available in four interior styles created by Cor D Rover called Ibiza, Sardegna, Mallorca and Corse. As an alternative, customers can create an interior of their own choosing.
142m Lürssen superyacht Redwood approaching her delivery date
German shipyard Lürssen has moved its 142-metre superyacht Redwood into final construction stage at the builder's Vegesack facility in Bremen. The gigayacht also known as project Opus is set to enter top-15 largest yachts in the world once delivered.
This vessel has already become history as the largest yacht ever sold and built by a brokerage company, namely Moran Yacht & Ship. Designed by the team at Nuvolari & Lenard, Project Redwood is being built to a Moran Yacht & Ship specification and her construction is overseen by them.
The sale of Project Redwood was announced In September 2015, as a 139-metre project. She was later extended at 3 metres, boasting six decks, with sports and diving centre, a generous partially-covered swimming pool, two helipads and a whole bunch of large tenders (15 metres).
Venive-based design studio Nuvolari & Lenard created the yacht's interior design, which will be able to accommodate up to 36 guests in 20 staterooms. Redwood will also be able for long-range and efficient global explorations. The studio is collaborating with the same owner's representatives and build team from Moran Yacht & Ship with whom they worked on 88-metre M/Y Quatroelle, delivered in 2013.
91.5m superyacht Tranquility: the new beginning for former Equanimity
In April 2019, the seized 91.5-metre Oceanco superyacht Equanimity was sold to investment holding Genting Malaysia Bhd for $126,000,000. The deal is now believed to have been closed, as the payment deadline was set to the end of April by the Admiralty Court in Kuala Lumpur. According to Marine Traffic, the superyacht currently lies in Singapore under an altered name, Tranquility.
The long running saga around the yacht dates back to August 2018, when the Indonesian authorities seized Low Taek Jho's superyacht at the request of the US Department of Justice, and transferred it to Malaysia. It is alleged, that the yacht was originally purchased by Low Taek Jho using money embezzled from the 1MDB state fund.
Shortly afterwards, Tranquility was put on sale as a part of the effort to recover funds stolen by Low and his cohorts from the state fund, according to The Independent. In the meantime, the vessel's maintenance had cost the government over $3,500,000 since her reclaiming in August 2018.
After several rounds of sale process, the highest bid was received from Genting Group, a Malaysia-based investment holding and management company, engaged in the leisure and hospitality, oil palm plantations, property development, biotechnology, oil and gas businesses. The group's market capital meanwhile is estimated at $8.3 billion by Forbes, as of June 2018. The bid, however, halved the vessel's original price estimated at $250,000,000.
Despite the publicity the vessel has been receiving in recent months, Tranquility remains one of the most private vessels in the Oceanco fleet and since her delivery in 2014 has spent much of her time under the radar. 
Tranquility was the first superyacht designed and built to be fully Passenger Yacht Code (PYC) compliant. Thus, she can accommodate up to 26 guests on-board, along with 28 crew members. The yacht is also trademarked with extensive spa area on the lower deck, plunge pools and customised interior.
Across her five decks, Tranquility features several pools, massage areas, saunas, experiential showers, hammams, jacuzzis and a gym all designed with the most precious of materials, it directly connects to a beach club from which guests can swim out into the ocean.
61m superyacht Excellence V built for American billionaire now sold and renamed
Originally delivered by Abeking & Rasmussen in 2012, the 60.9-metre Excellence V remains one of the most voluminous yachts in her size. Sold asking €69,500,000 with Chris Cecil-Wright representing the buyer and Burgess and Merle Wood & Associates as central agents, the yacht has been now renamed Arience.
The vessel was originally built for American billionaire Herb Chambers, becoming his fifth superyacht. The automotive dealership mogul estimated at $1.5 billion by Forbes, held Excellence V as his flagship since she had been built. The vessel was listed for sale in April 2018, ahead of the delivery of an impressive 88-metre Project Intensity. The latter is also being built at Abeking, planned for delivery in 2020.
Built to steel hull and aluminium superstructure, Arience features a beam of 12.8 metres and a draft of 3.4 metres. With her large interior volume of 1,632 GT, Arience offers accommodation to 12 guests in six cabins. Her interiors were designed by Reymond Langton, also responsible for the superyacht's exteriors.
Arience comes complete multiple on-board amenities, including a dedicated cinema and waterfront gym, oversized beach club, full owner's deck and multiple outdoor lounge areas with spa pool.
Sea Owl: Robert Mercer's iconic green-hulled yacht
Every bespoke superyacht concept carries particular features, imparted by her owner. However, some customers let their imagination go beyond traditional boundaries, when it comes to design. That said, a 62-metre Sea Owl built by Dutch yard Feadship and designed by Andrew Winch for US millionaire Robert Mercer, has definetely become one of the world's iconic superyachts.
Robert Mercer, a former IBM language recognition specialist and currently the co-CEO with Renaissance Technologies hedge fund,  is estimated at $125,000,000, as of April, 2017 – Forbes, while his company's most recent portfolio value is calculated to $ 91 billion – Fintel.
In 2008, Mercer conceived to build a yacht that would represent a portal into fairy tale world for his guests, primarily his children and grandchildren. A bid to bring the idea to life went out to seven shipyards, with Feadship signing the contract. Construction, that began two years later, was completed in 2013. With her green hull inspired by Peter Pan, and ornate interior, Feadship reports Sea Owl to be the most personalised yacht ever built by the yard.
Evidently, Peter Pan is not the only character inspired the yacht's leading designer Andrew Winch. There are two dedicated children's cabins, three guest suites and the owners' stateroom on-board, so that each room received its unique features, encouraging the children to discover both real and fairy tale worlds.
Sea Owl's complex design features numerous sophisticated details embedded into the outfit of this high-volume explorer. Silk and wool hand-knotted carpet from Nepal, exuberant Venetian glass chandelier by Dale Chihuly or a carved gem-looking basin made of a single crystal block are just several exceptional elements from the stunning choice to be found on-board.
The bridge deck boasts staff cabin decorated with frescos of fossil seashells, next to a children classroom. En passant, the seashells were collected by young Charles Darwin during his first trip. The lower deck carries a pirate-themed room and one of the daughter's cabins in the style of Alice in Wonderland. The sun deck, in its turn, is decorated with a toothy shark on the spa pool wall.
The owner's spacious office features another ceiling fresco, representing the world map as of 1800s, and an exquisite copy of an 18th Century French desk by French furniture designer Serge Mirochnikoff.
It is worth mentioning, that the custom-made furnishings, including rosewood Steinway baby grand piano situated in the main salon, are sea-fastened for safety reasons.
While the general décor concept transmits playful spirit, it never seems kitsch, carrying artistic features mesmerizing adults along with children. For instance, a mural, carved of Peruvian mahogany can be listed among other artistic trademarks. It depicts a magic tree, stretching over four decks, with the roots grounded at the lower deck and branches aspiring to the sun deck. 
Regarding the yacht's technical characteristics, she features a wide 12,2-metre beam and a large superstructure, ensuring the yacht's accommodation capacity for 12 guests on-board. Powered by two MTU engines of 2038 HP, she can cruise comfortably at 14 knots and reach her top speed at 16 knots.
The yacht is also equipped with hi-tech solutions, such as security cameras with a 360-degree view at the waterline or fingerprint-recognition keypads, not to mention sophisticated entertainment system. Furthermore, the owners ordered a bespoke positioning system, allowing the yacht to stand still without deploying anchors.