Latest news
The Monaco Grand Prix Awaits You. Race like Lewis Hamilton in the New Auto-Simulator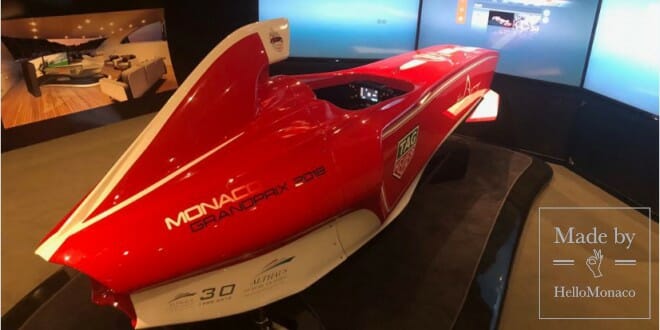 Did you know that Lewis Hamilton perfects his technique for racing around Monaco with an auto-simulator? Now the Expo of The Prince's Collection of Classic and Vintage Cars at Fontvieille has one too. It's an amazing newly-dedicated simulator for driving around the Monaco Grand Prix track. It is as close as you get to the real experience of driving in a Grand Prix race short of being in the race itself.
Formula 1 drivers win at Monaco because they know the track backwards. And that is one way they do it. You too can go through the same experience as them in this simulator. It's not for faint hearts or pregnant women because it's a bone-shaker when you hit a bump. That is the real life of a Formula 1 racer – it's very physical. You need maximum concentration.
The first thing you notice is how cramped is the cockpit. This is not a first-class seat on Air France. Driving gloves yes, though you can be forgiven wearing a helmet. You'll feel the pressure of the harness squeeze you as you break and accelerate, the surprise resistance of the driving wheel, everything that Sebastian Vettel feels when he races. And that strangest of feelings, being so close to the ground. You feel you could almost graze yourself against the road surface.
If you are aficionado of Formula 1 and wish to make the most of the experience, familiarize yourself with the racetrack on the Internet first. Then see if your favourite racing driver has left a commentary on the web of how to approach each corner. Now you are a bit of an expert and are ready to race on the simulator. Or just have an enjoyable novice experience and go for it, without any preparation.
You'll have so much fun and also get a sense of how physically fit the professional racers have to be to complete seventy eight laps. 20 euros is the price for the General Public for 8 minutes.
It will certainly have you racing from the Start and braking for Sainte Devote, the first corner, the roar of a Ferrari in your ears. Then accelerate up the hill at Beau Rivage but not too fast approaching the Casino. Feel the force as you accelerate and brake. Many people run off the track coming down from the Casino via Mirabeau toward the port. The Simulator even lets you recover – just like Lewis. And then there is the unique hairpin. You'll brake hard for that. And you'll scream through the tunnel at maximum acceleration and be almost blinded by the sunlight on exit at 280kmh. Chicane, Piscine, Rascasse, the final turn at Anthony Noghes – and then the checkered flag? Exhausted after only one lap. Only 77 more to actually finish the race. Nobody, even Lewis Hamilton, has managed to do that in just 8 minutes!