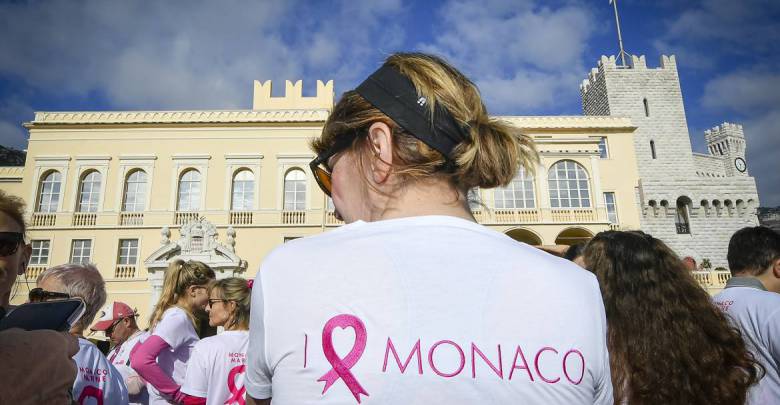 One could say it's the Grand Prix of kind hearts and community spirit. It all started back in 2010 when Natasha Frost-Savio had a beautiful thought to create a wonderful event – an event where women could jump up and down and be together, be silly in pink costumes and help beat breast cancer. And so we have the Pink Ribbon Monaco Walk. Pouring sun-shine on Port Hercule with their spirit, no matter the pouring rain, the Monaco community came out this Sunday to show their support.  We had a glimmer of hope very early in the morning when the pitter patter of raindrops on the pavement paused.  But the heavens decided to challenge these brave-hearts, who never blinked in front of the torrents. This was an opportunity not to be missed to dance in the rain.  And so more than a few calories were burned; Sunday Brunch was put aside for a great celebration, a chin-wag, lots of fun and yes, a good soaking!
HelloMonaco joined in the ambience, admiring how kindness and a caring community and the right idea has catapulted awareness of screening for early detection of Breast Cancer to the forefront. A 91% success rate for Monaco's early screening program already. That is the news from Princess Grace doctors led by Doctor Rouison.  And with the Pink Ribbon Walk fighting spirit helping to raise more funds – why not reach even higher – close the gap as close to a 100% success rate as possible – from Monaco's first-rate screening program. Hail the day!
Early detection saves lives and Monaco is one of the leaders in Europe with its screening.  Free exams are offered from the age of 50, five years before many other countries begin screening. There is an incredible team of specialists and a state-of-the-art mammography system at the ready.  For women who work or live in Monaco, if you have not done so already – make sure you rise up again after Pink Ribbon Day and contact the CHPG screening centre for information.
And please always think of Pink Ribbon Day and remember to check your breasts on a regular basis. If you do ever feel something abnormal, Princess Grace Hospital specialists are always ready to help you.
Eagerly awaited, this year, Port Hercule had it all, "Pinking at Full Throttle" – a weekend of the Running Expo, with boutiques, attractions and entertainment in conjunction with the 10 km Monaco Run and the Pink Ribbon walk on Sunday.
HelloMonaco, was there to wave to Paula Radcliffe, who came out in support of the event.  Paula has been the women marathon world record holder for 15 years. Her running accolades are numerous including Laureus World Comeback of the Year, IAAF World Athlete of the Year, and  AIMS World Athlete of the Year. Such a beautiful smile she gave as she met her daughter on the 10k track, for the 10k Monaco Run just before the Pink Ribbon Walk. Then she raced off like a rocket showing why she is a legend.
Pink everywhere – some kindly extroverts more than rising to the challenge with feather boas, crazy hats, pink sunglasses, and pink hair! Each year the event is overrun by people walking, showing support for their grandmother, mother, aunt, cousin, friend – it is a worthy event that manages to touch so many lives.
Pink Ribbon Monaco puts the 30 euro contribution each walker makes to good use and wisely:
aiding the work of the Screening Centre of Princess Grace Hospital led by Dr Daniel Rouison,
Organising Q&A conferences in Monaco to provide answers
Increasing awareness through yet more programs and events
and turning on illuminations at several Monegasque attractions in October, during international breast cancer awareness month.
And during the Walk, the 30€ also help provide fabric bags specially made out of reusable, ecologically friendly material. And, of course, posters are displayed everywhere across Monaco and neighbouring localities. Monaco Pink Ribbon also supports the Federation Monegasque d'Athlètisme and Monaco Run, hosts for the day. The FMA in kindred spirit donates a great deal of material to Pink Ribbon Walk. HelloMonaco invites you to join the next Pink Ribbon Walk – same time next year, or thereabouts. It's for a great cause.