Latest news
The second edition of the Influencer Awards Monaco allows a visibility of 200 million views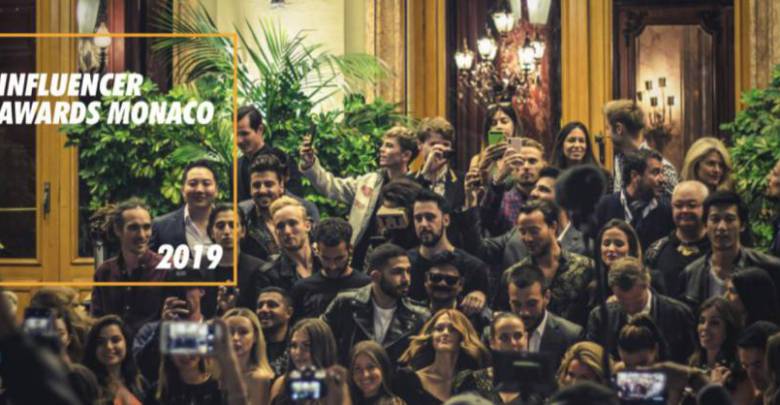 Already this weekend in Monaco will be held the 2nd edition of the Influencer Awards Monaco and there are only a few tickets left, so you have to hurry!
Following last year's success, Influencer Awards Monaco has become an annual occurrence. The event was coined "the Oscars of the digital world" which will be hosted this year, on Sunday 6thof October 2019 for its second edition. The venue will be none other than 'La salle des etoiles', which will host over 100 intentional influencers. 
IAM's 2019 jury is composed of the best in the business, from celebrity branding experts and business angels to fashion authorities. Our expert judges will vote for IAM's winners throughout 14 categories.  
Lolita Abraham created the global award ceremony which promotes and recognizes the profession of influencers around the world. 2018 generated over 81 million views on social networks and 7 million interactions online.
For the launch of IAM in 2018, Lolita had the honor of having her friend, Miss Pauline Ducruet, as Ambassador and President of the jury. Since its first edition, Maureen Kragt, an entrepreneur raised in Monaco has been by her side as head of public relations. In 2019, Adrien Lhabouz a Parisian entrepreneur joined to the team, handling operations and partnerships. 
IAM is pleased and honored to welcome a new and renowned Ambassador and President of the jury: Princess Camilla of Bourbon Two Sicilies.
For this much anticipated second edition, IAM projects a reach of more than 200 million views across social media.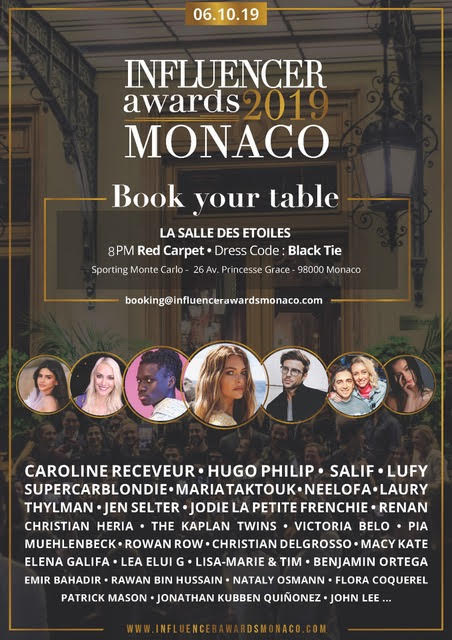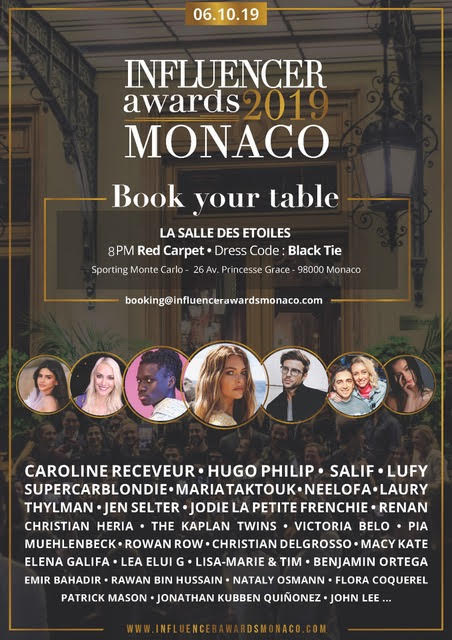 VENUE
On Sunday, October 6th, the prestigious 'Salle des étoiles' will host more than 600 people for the IAM2019 Gala Dinner, during which 14 winners will be selected throughout their 14 respective categories. 
To name a few personalities attending:  Sliman, Vita, Imagination, Soolking, Maître Gims, Gypsy King, the New Gypsy, and other unexpected guests, as well as important personalities from the Principality of Monaco and the business world. 
Among the nominees of the 2019 IAMs: Salif (FR), Caroline Receveur (FR), Hugo Phillip (FR), Lufyyy (BE), Neloofa, the Kaplan sisters (LA), Laury Thillemann (FR), Supercarblondie (Dubai), Julius (Israel) …
Award: 
The winners in each category will receive a true piece of work by artist Laurence Jenkell. Jenkell is Recognized worldwide for her candy-shaped sculptures, the artist seduced the IAM team who chose her to become the artist of the Influencer Awards.
The "IAM JENKELL" Award, created especially for this event, is a unique and signed piece.
IAM & Day One join their forces:
Monaco's latest innovative concepts: The Influencer Awards Monaco and Day One Event have decided to join forces in 2020 and will collaborate to bring to light a new experience: an exhibition designed for influencers and digital players. 
This project will enable brands to have a face to face with potential new ambassadors. 
This meet & greet 2.0 created by these two creators will open its doors during the third edition in October 2020 in Monaco.
This fair will take an eco-responsible direction in line with the current trend of the Principality of Monaco: Monaco is the new "Green Glam".
DAY ONE 
Denis Jaquet, founder of the Day One Event in Monaco, an event set to grow to international proportions, is striving to question the impact technology has on society but also how to direct it in order to ensure a more inclusive world.
Official partners: 
– The Government of Monaco
– La Société des Bains de Mer (SBM)
– Visit Monaco 
– APM Monaco
– Ali Bakhtiar Design
– Yotha group
For booking tables contact booking@influencerawardsmonaco.com