Latest news
The Solar and Energy Boat Challenge: Racing the Motorboats of Tomorrow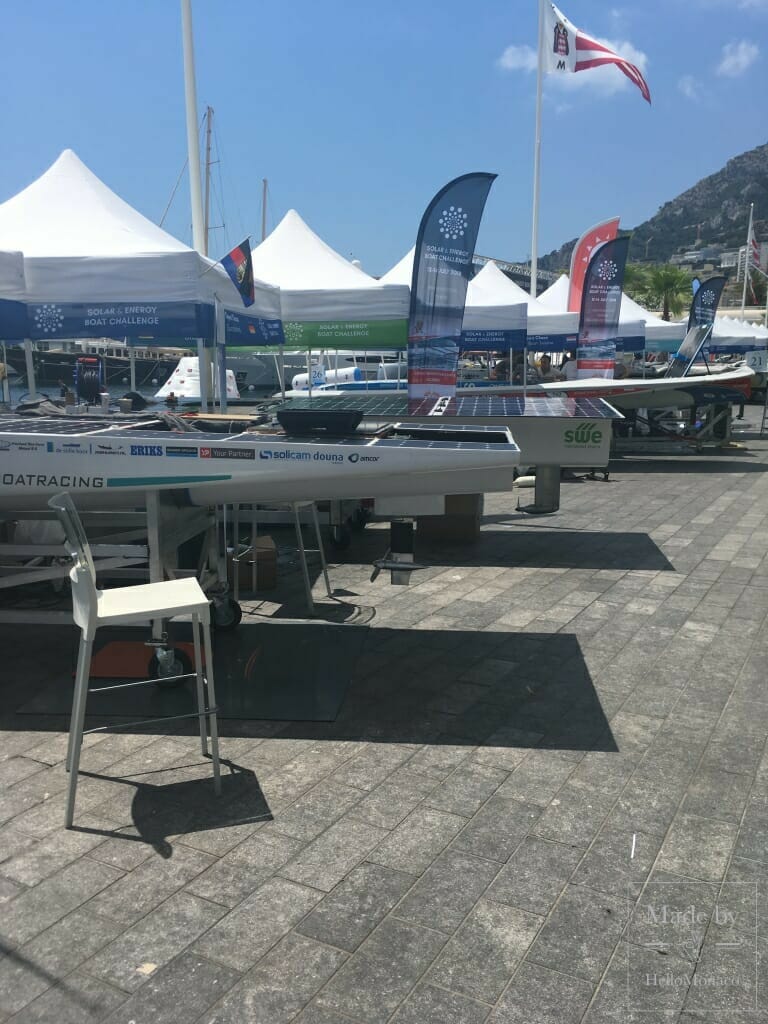 A new generation of engineers is imagining and building the motorboats of tomorrow. They convened this week in Monaco at an event unique in the world. HelloMonaco is eager to join them and to be part of what is really a celebration. Because this is the fifth anniversary – after the first four very successful years. It is the first day of the 2018 Solar and Energy Boat Challenge and the Yacht Club dock is a bee-hive of activity. This is when the competitors prepare their boats for the race. Imagine the whole dockside with boats side by side. There are a group of slightly smaller boats, in a category called Class A, but still with serious solar technology. Each is surrounded by its team. They are assembling modules, attaching solar panels and electronics to the catamaran boat skeletons.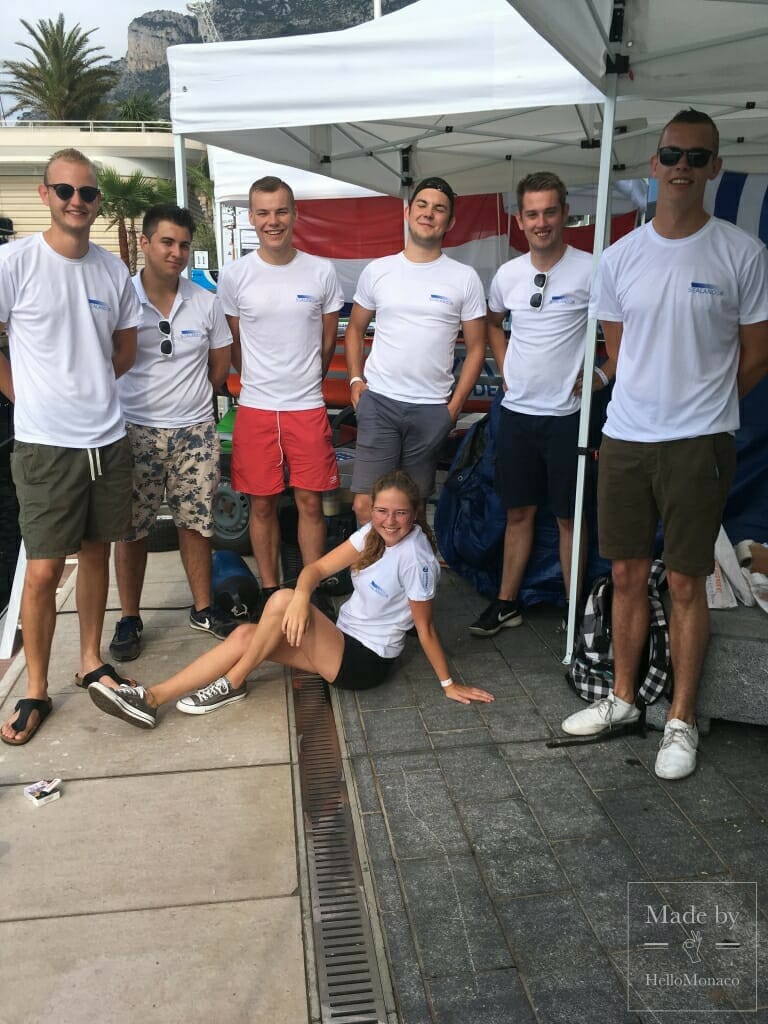 They are young, eager, social and happy to talk to HelloMonaco. Many of them are applied science students in university trying to make a difference. They come from all over Europe. Typical of them is Dinis Rodrigues from the University of Lisbon in Portugal with his team busy checking everything on their solarboat "Technico". They were joking that with the star Portuguese soccer player Ronaldo out of the World Cup, they now had time to focus on the boat race. Dinis told HelloMonaco they thought they would have a chance of winning, but they have a challenge with one of their motors. They have two motors he told us because the race tests both endurance and sprinting. Next to the Portuguese team is a team from Holland. They too were in the midst of assembling their solar panels on "Solar Sealander". They are informally "ranked" seventh best in their race group. Gregory Roofack told HelloMonaco they think a fifth place would be a big achievement.
And then on to mingle with the teams from the bigger boats. Same activity, same youthfulness and purpose. HelloMonaco interviewed the most likely winner of the 2018 race. We will tell you why our crystal ball is confident about that prediction and why one of the competitors will likely lose but may well make a challenge in the future.
The solar boat Clafis is a perpetual motion machine of sorts – it perpetually wins the race in its category in Monaco. HelloMonaco spoke to Wilco Portinga one of the team's leaders who has won 4 years in a row since the inception of the competition. Accompanying him was Fenna Krieke a member of the winning team in each of the last three years.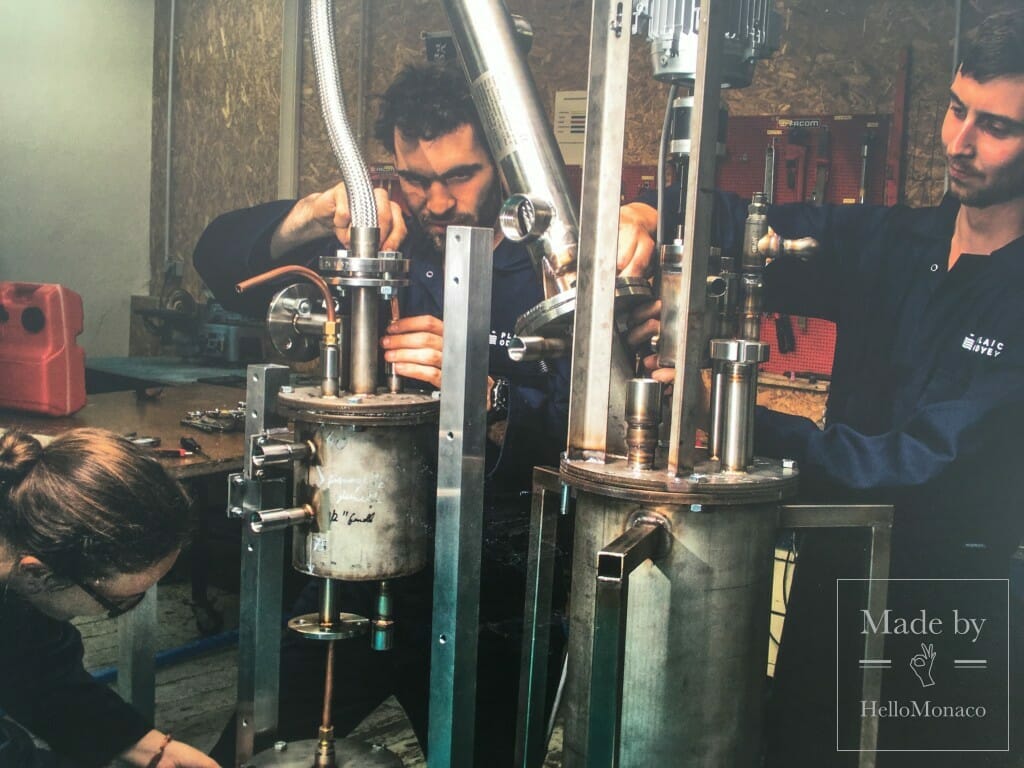 HelloMonaco: Why does this boat win every time? What is so special about it?
CLAFIS/Wilco: It is a very special boat incorporating the best from 10 consecutive years of work. Steady improvement is the key to success.
CLAFIS/Fenna: Take into consideration that we have a dedicated stable team. The universities who compete against us may need to change their team members as students graduate.
HelloMonaco: Are you going to win again this year?
CLAFIS/Fenna: It's a great boat with a great pilot, so yes, why not. We have hydrofoils that help our speed.
HelloMonaco: What could go wrong?
CLAFIS/Fenna: The sea is never the same, so you never know. And salty seawater is corrosive – so it is a factor if great care is not taken to protect all the equipment. Nothing is certain except we all have the same goal – to win.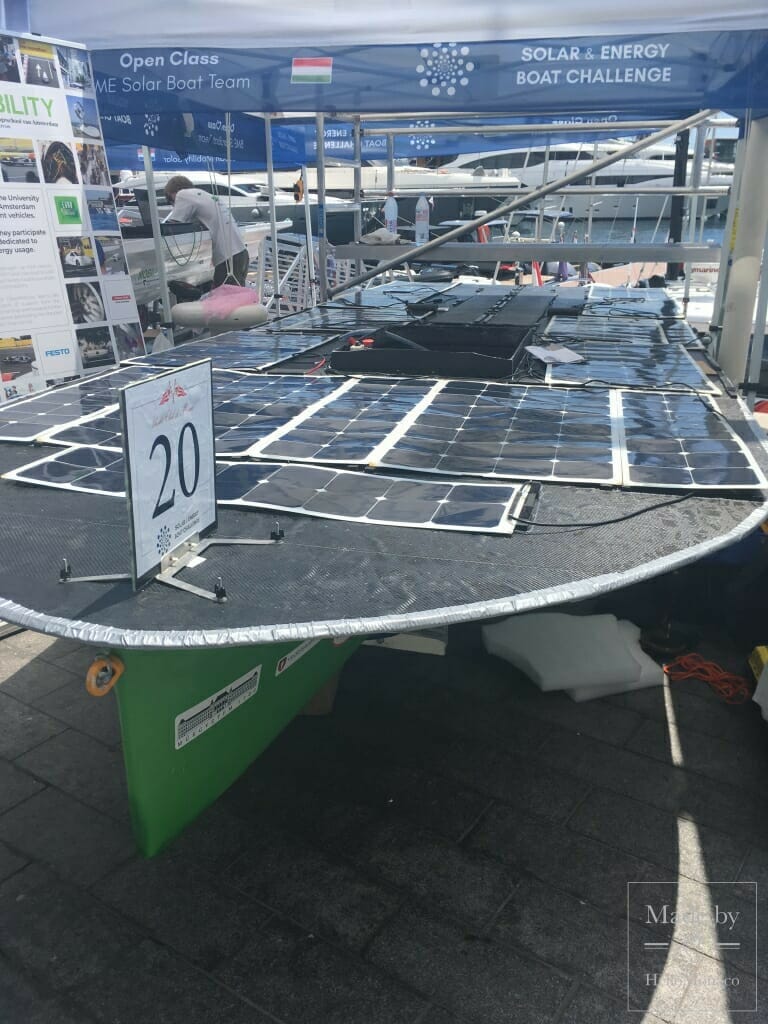 Then HelloMonaco wandered over to talk to another competitor, Rinse Altena who said his boat NHL Solarboatracing was almost sure not to win this year against Clafis. This caught us by surprise. Why did he look so cheerful?
HelloMonaco: Do you have a chance to be the first boat in five years to beat Clafis?
Rinse Altena: It would be a bit of a miracle. Our boat has not yet had a trial even. It is completely new and has technological improvements including the solar panels.
HelloMonaco: You mean your boat has never even been in the sea?
Rinse Altena: It has actually never been in the sea – that is true. But we have a lot of knowledge, both technical and race-wise from last year. We won last year here in the smaller boat race category called Class A. We know we can't do with an untried boat. But we will learn a lot this year, now we have jumped up a league so as to speak.
HelloMonaco: So you will win next year, perhaps.
Rinse Altena: Having won before, we have the mindset to win. Next year we hope to be really competitive. We need this years' experience and trials to design further. Then watch out!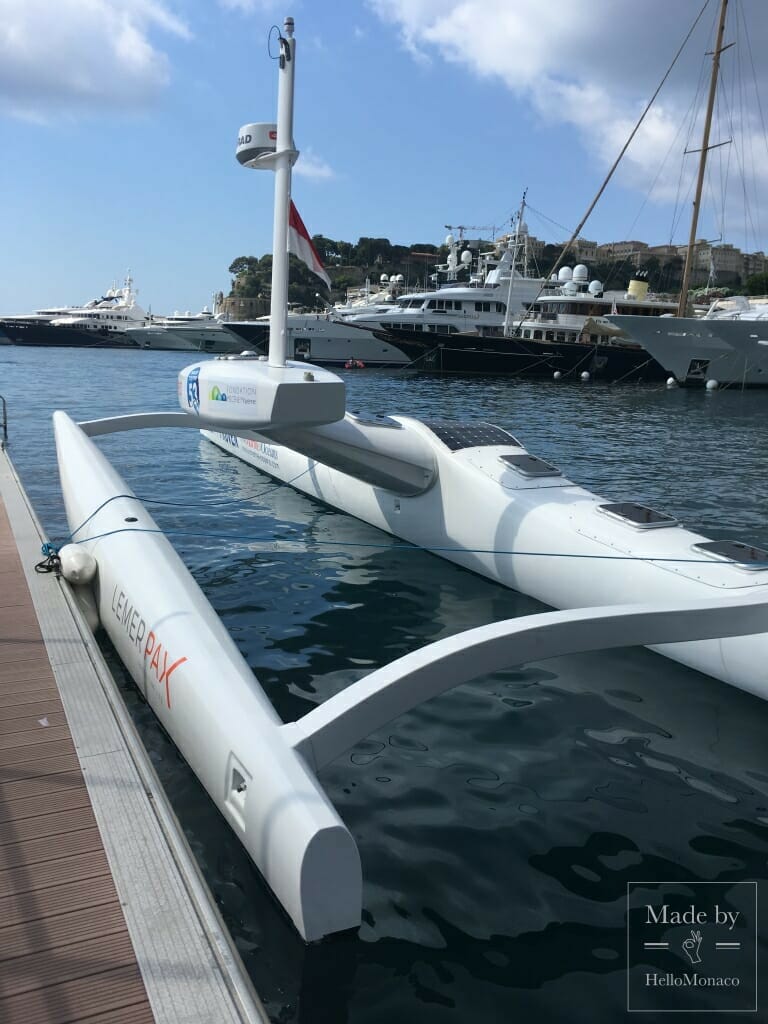 The event is also an opportunity for young engineers to showcase what they are doing to help the marine environment. HelloMonaco talked to an Association on the frontier that are making their own contribution. Simon Bernard and Bob Vrignaud are the co-founders who were together with Lucas Defaut a volunteer engineer – all proudly showing off their solar boat "The Plastic Odyssey" which is designed to collect plastic waste at sea. They then recycle it with a two-stage process first converting it into plastic pellets and then creating an extrusion that can remould it into usable plastic objects. There is "dirty plastic" that cannot be recycled so they have a process that converts the plastic into two types of oil – fuel for the boat and also to run the machinery and then a general-purpose oil product. One way or another the plastic is removed from nature and converted into something useful. Their plan is to make their open source technology available free to governments in Africa and around the world, to institutions and enterprises.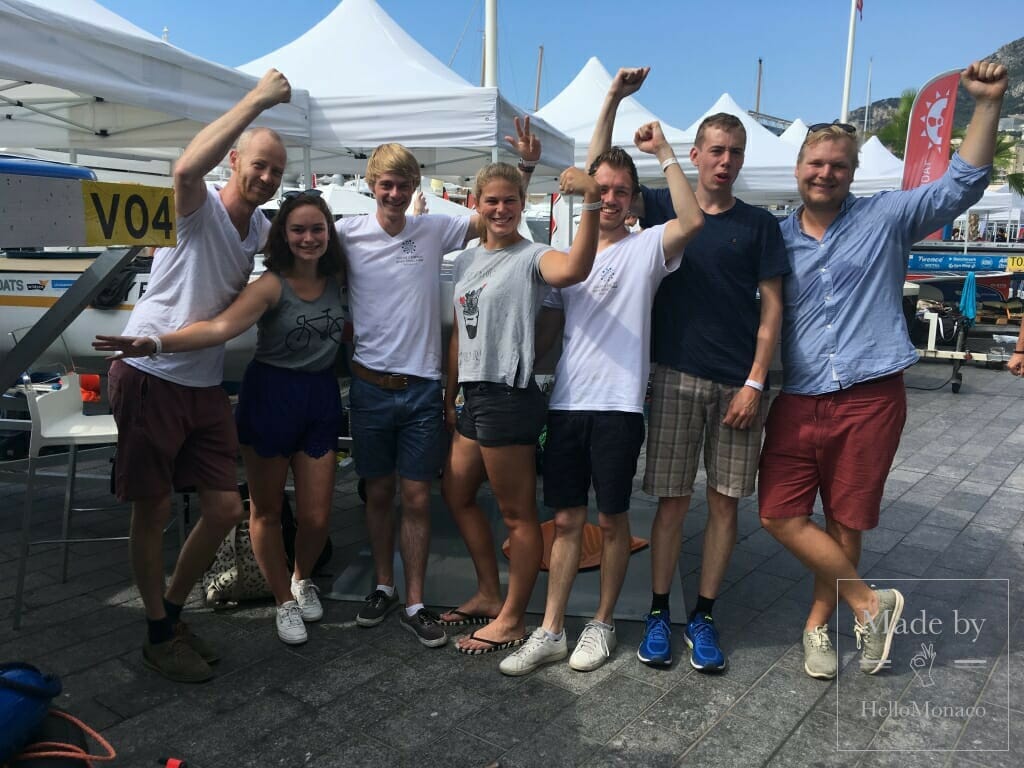 New clean, energy-saving propulsion systems and young people coming together with innovative ideas to protect the marine environment – it is all happening at the Yacht Club in Monaco this week. And lots of camaraderie and competitive spirit. It is an integral part of the Principality's commitment to the environment, spearheaded by Prince Albert II.
"If we want to position Monaco as the capital of yachting, we are duty-bound to play our part in these technical advances. These students are reinventing motorboating, they are creating their future by building a cleaner tomorrow. How can we not support them?" concludes YCM General Secretary, Bernard d'Alessandri.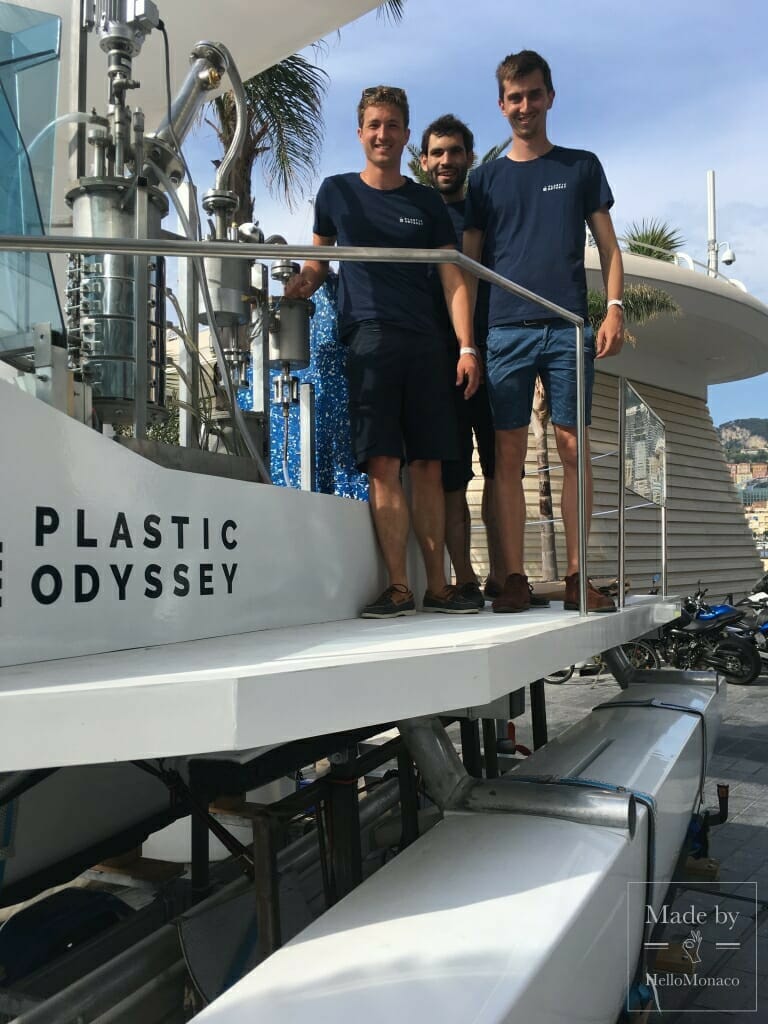 The Solar and Energy Boat Challenge is organised in collaboration with the Prince Albert II of Monaco Foundation, the Hydros Foundation and the International Powerboating Federation (UIM).