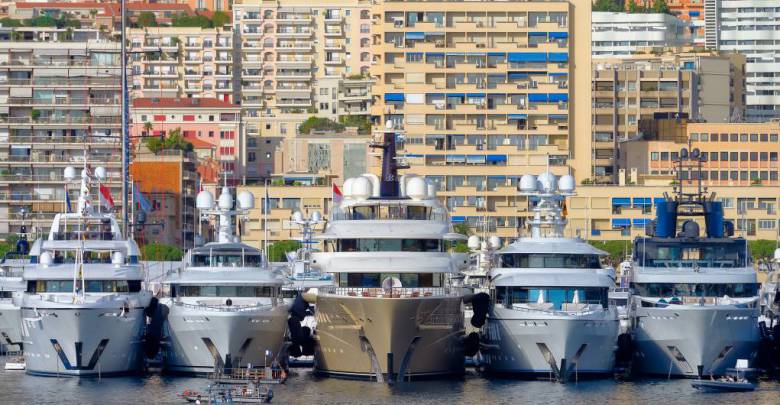 We selected for you at Yacht Harbour top 5 yacht stories of the last week.
1. Fincantieri and Ferretti announce strategic partnership
Fincantieri and Ferretti Group announced that they have reached a cooperation agreement with the goal of developing commercial and industrial synergies between the two Italian companies. The partnership was announced during the IDEX-NAVDEX in Abu Dhabi, one of the global exhibitions dedicated to the defense and security sector. Both civil and military, international and national sectors will be part of the partnership.
The agreement relates to the security and defense sector and to the recreational yachting industry.
Fincantieri, the world's largest shipbuilding group, and Ferretti Group, one of the most recognized yachting companies, share a particularly interconnected market view, especially after the foundation of FSD, Ferretti Group's division dedicated to security and defense.
2. Sailing Yacht A released by Gibraltar courts
The 142.8m S/Y A, largest private sailing yacht in the world, had been arrested in Gibraltar following a €15,3 million claim filled by Nobiskrug, the shipyard it was built at, late last week. According to our sources the judge approved the order to release the yacht and it will leave Gibraltar soon.
"This unfortunate incident concerning Sailing Yacht A is now resolved. The yacht will now be handed over to the owner's project team and will leave Gibraltar shortly", – Spokesman for the owner.
On February 5th, the sailing yacht left Kiel to undergo further fit out works and sea trials in Spain, and arrived in Gibraltar a few days ago. The vessel is scheduled to be handed over to Mr Melnichenko in late Spring 2017.
However, lawyers acting for Nobiskrug have filed a claim against the yacht for a breach of contract. The claim indicated that the final €9,8 million installment was not paid by Valla Yachts Limited, the company that owns S/Y A, despite its January 27th deadline stated in the shipbuilding contract according to their lawyers. This sum is however now in arbitration.
A further €2,6 million and €2,9 million were being claimed and are currently disputed costs also under arbitration. Nobiskrug's total allegations therefore amounted to near €15,3 million plus interest. Two days ago S/Y A was moored in the Bay of Gibraltar under the custody of admiralty marshals.
3. Just J's spotted in Miami
Hakvoort largest superyacht to date, the 61m Just J's, has been spotted in Miami. Launched in November 2015, she has been styled by Sinot Yacht Design, with naval architecture by Diana Yacht Design.
Constructed with a steel hull and aluminium superstructure, Just J's most alluring characteristics are the large windows, especially in the guest cabins on the main deck forward and the lines of the hull. Thanks to her elongated silhouette, partially closed foredeck and balance between the superstructure and the hull, she looks substantially longer than her 61 metres on the water.
Another notable feature is the eye-catching three metre contraflow swimming pool on the sun deck, which is covered in mosaics inspired by the Caribbean Sea. She also carries a nine metre tender and four jet ski's in the tender garage, all of which can be launched from large gullwing doors on either side. Other amenities on board include a well equipped gym, a cinema room on the bridge deck, as well as a tender and four jetskis which are launched from large gullwing doors on either side.
Just J's can provide accommodation for up to 14 guests in seven cabins, as well as a crew of 16. The master stateroom, located on the dedicated owners deck above the main deck, is decorated in light colours with contrasting accents. There is a large glass dome above the bed and a private outdoor area with a hot tub forward.
Performance wise, Just J's reaches a top speed of 15,5 knots, comfortably cruises at 13 knots, and has a range of some 4,000 nautical miles.
An even larger project named Something Cool is under construction at the shipyard. It is scheduled for delivery in 2017.
4. Kismet spotted in Miami
Last week 95.2m superyacht Kismet has been seen in Miami. She was built in 2014 by Lurssen and is owned by Shadid Khan, Pakistani-American billionaire and business tycoon, who is also the owner of the Fulham FC and Jacksonville Jaguars. The yacht's interior has been designed by Reymond Langton Design and her exterior styling is by Espen Oeino.
Kismet is able to accommodate up to 12 guests in 8 staterooms, including a master suite. She is also capable of carrying up to 28 crew onboard. The superyacht's luxury amenities include a large swimming pool and Jacuzzi area, movie theatre, spa, an outdoor fireplace and winter garden deck space.
As for the performance, Kismet is capable of reaching a top speed of 17 knots and cruising at 14 knots. She also features at anchor stabilizers which work at zero speed, increasing onboard comfort at anchor and on rough waters. Kismet is available for charter through Moran Yacht & Ship for a €1.2 million p/w.
In December 2016, Kismet has been spotted in Jacksonville, Florida. Marinetraffic.com data shows that now the superyacht is en route to Barcelona.
5. Feadship wraps a photoshoot of Vanish in the Virgin Islands
Feadship has shared the picture of its 66.25m superyacht Vanish during her photoshoot in the Virgin Islands.
Styled by Eidsgaard Design, she is another superyacht which the Dutch yard has made in collaboration with the London-based studio following such projects as Tango and Halo.
One of her highlights includes the large free-standing staircase that is flanked by a glass wall in the full-height atrium. Vanish also boasts two touch and go helipads and an outdoor cinema. On the main deck, the full beam owner's suite includes his and her bathrooms, a separate lounge and a unique balcony, that extends out from under the starboard companionway to sit flush with the floor level. There is also a large VIP suite on the main deck, which can be converted into two separate cabins if required. Four additional guest suites can be found on the lower deck, while the crew area can accommodate 17 people.
Performance wise, Vanish can reach a maximum speed of 17.5 knots and cruise at 12 knots.