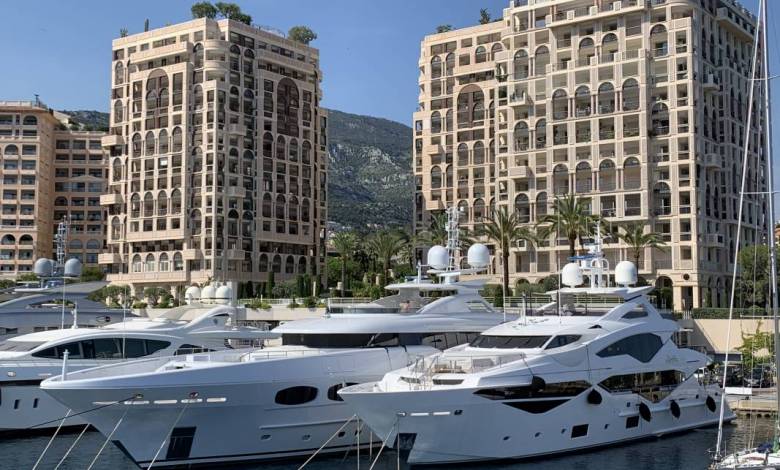 We selected for you top 7 yacht stories of the last week at Yacht Harbour.
1. Latest photos of Oceanco's Jubilee released
Dutch shipyard Oceanco has launched Project Jubilee (Y714) on February 6. Measuring 110 metres, she is the largest vessel ever built in the Netherlands.
Featuring six decks, the superyacht has 16.4m/54ft beam and just over 4,500 Gross Tons. Igor Lobanov has created a unique & architecturally challenging design which creates a visual effect of multi-level decks. She offers a fully certified helicopter operating deck forward with a concealed mooring deck below. Viewed from above, her curvaceous lines lead aft to a large pool deck with built in aquarium and substantial beach club below.
Jubilee is listed for sale by Burgess at an undisclosed price.
2. Thomas Smith presents project Matrix
Lurssen has shared the details of the project Matrix, created by student designer Thomas Smiths.
The concept features strong simple lines, with a clear design DNA that is consistent among the tenders. The sun deck is a great place to socialize with the art deco style bar and swimming pool, whilst the guest deck creates a cosy environment for quiet evenings around the fire pit.
The owners can find refuge on their personal deck with the contemplation pool, and the highly customizable party deck at the front is perfect for soirees and celebrations. Matrix's signature is its elegant windscreen and hull coloured tumblehome, which uses unique tinted glass to create a seamless effect.
3. Legend returns to Holland
Launched at Icon Yachts in Harlingen in March 2016, Legend left Holland last year for maiden voyage. Since then 77,4m yacht has been spotted in Norway and Antarctica. Legend, which was recently listed for sale with IYC and Fraser at an asking price of €46.5M, arrived in Rotterdam last Friday.
Originally constructed in 1974 by the IHC Holland shipyard, the tranformation into an icebreaking passenger ship with a 1B-Swedish / Finish classification took place at Icon Yachts. Moreover, the vessel was lengthened in the stern by 3,6m, whilst her superstructure was completely redesigned and her mast rebuilt. Legend boasts a dark grey hull, which makes her stand out in the arctic regions.
One of the most alluring features is Legend's swim platform and a large swimming pool/Jacuzzi. In addition, she has a luxurious submarine for underwater exploration. Other amenities include a fitness room, movie theatre, medical suite, bar and BBQ areas. Performance wise the superyacht is powered by Smit-Bolnes engines, providing her with a top speed of 16 knots and a cruising speed of 13 knots.
4. Isa Super Sportivo 141 interiors revealed
ISA Yachts has shared the details about the second model of the new Super Sport series in January 2017. Now the shipyard has unveiled the interiors, designed by Marco Casali.
The new ISA 141 Super Sportivo design reaches the peak of expression with fast, sleek lines, combined with classic and timeless styling.
5. Eclipse spotted in Fort Lauderdale
Eclipse, built by German shipyard Blohm & Voss in 2010, has been spotted entering Port Everglades in Fort Lauderdale.
Eclipse held the title of world's largest private yacht until 2013, when the 180 metre Azzam stole the crown. At her launch the 164m yacht's unprecedented size had ensured her construction had been shrouded in secrecy, and as such, subject to much rumour and speculation from both the international press and superyacht enthusiasts.
It is believed that Eclipse boasts a military-grade missile defense system, armor plating and bulletproof windows, while hosting three helipads, a private theater and a fitness center. Her highlight is a 16 metre swimming pool that can be converted into a dance floor. Eclipse can reportedly accommodate 36 guests in 18 cabins as well as a crew of 70.
6. Summer season in Monaco seems to have started
Last year M/Y A, which is reportedly for sale at $300 million, has been spotted in such cities as Amsterdam, Rotterdam, Kiel, Bordeaux, off the Reykjavik coast in Iceland and cruising in the French Riviera. Now the most talked-about yacht on the seas has been seen in Monaco.
Previously spotted in Barcelona, Lurssen megayacht Dilbar has now been seen cruising in Monaco and the South of France.
Recently delivered superyacht Faith has been recently spotted in the South of France. She saw the light of day on Wednesday 23 November, which is when the superyacht left the construction hall at Feadship facility in Makkum. She measures 96.55m/ 316.8ft and has a steel hull and aluminium superstructure. Redman Whiteley Dixon was responsible for the exterior design, Chahan Interior for the interior and De Voogt Naval Architects for the naval architecture.
7. Southern Wind launches SW96 sailing yacht Sorceress
Southern Wind has launched SW96  sailing yacht Sorceress, the first unit in the new miniseries of cruiser racers.
The aim of designers Farr Yacht Design and Nauta Design, when conceiving this project, was to incorporate a modicum of race boat features into high performance cruisers keeping an aesthetic, a high level of comfort and achieving the design briefs of our clients.
Immediately after her launch, Sorceress began extensive sea trials in Cape Town in preparation for her maiden voyage to the Mediterranean Sea. Here she will make her debut in September at the 2017 Maxi Yacht Rolex Cup in Porto Cervo, Sardinia. The yacht will also be on display as a World Premiere at the 2017 edition of the Monaco Yacht Show.