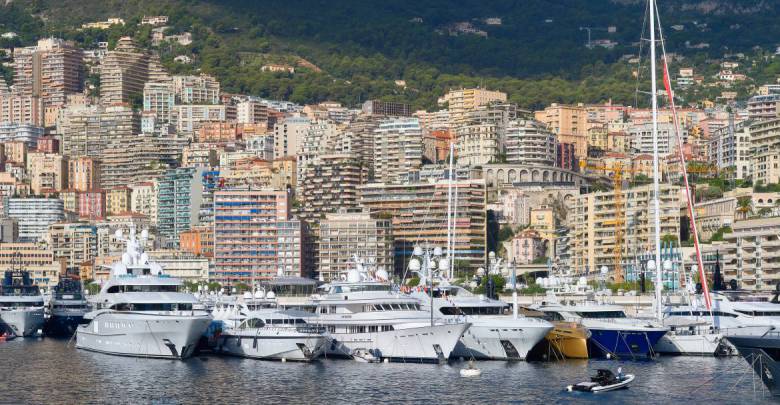 We selected for you top 7 yacht stories of the last week at Yacht Harbour.
1. Bugatti and Palmer Johnson introduce Bugatti Niniette 66 yacht
A new collection of yachts ranging from 50 to 88 feet in length is the result of a partnership between French car manufacturer Bugatti and Monaco-based shipyard Palmer Johnson. Their latest project, Bugatti Niniette 66, is based on the design of the Chiron supercar.
The yacht features a spacious open deck that reflects Bugatti's focus on craftsmanship and authentic materiality, with carbon fibre, finest leather and naturally blue morta oak wood. The lower part of the deck houses a combined Jacuzzi, sun pad and champagne bar in the middle, flanked by two social areas on the side. There is also the fire pit, centrally located between the Jacuzzi and the two forward seats.
An advanced stabilized hull achieves speed with efficiency, whilst the super slim main hull means higher speeds with lower input power and fuel burn. Side sponsons give additional vessel beam and hence increased stability at rest. Bugatti Niniette 66 reaches a top speeds of 44 knots and has a shallow draft of 0.83 metres.
This is not the only concept introduced by a car manufacturer. In January 2017 Lexus has unveiled its 12.7m Sport Yacht concept, Aston Martin and Dutch boat builder Quintessence Yachts revealed the 37-foot Aston Martin AM37 powerboat in April 2016, Silver Arrows Marine and Finnish shipyard Baltic Yachts confirmed their partnership for the series production of the new Arrow460-Granturismo Edition1 6 months ago.
2. Crew member dies in accident on sailing yacht Germania Nova
An 18 year-old crew member of the 55-meter sailing yacht, Germania Nova has passed away following a tragic accident that occurred on March 14th on the S/Y according to the Jamaica Observer.
The incident occurred around 2:30 p.m. on March 14th at Errol Flynn Marina in Portland, Jamaica. According to the local publication, eighteen-year-old Briton Bethany Smith was cleaning the mast on the yacht moored at the port, when she fell onto the deck. Bethany Smith has sustained multiple injuries and was taken to Port Antonio Hospital, where she died while being treated.
3. 74m Aurora launched by Lurssen
Last weekend, Lurssen have launched the 74-meter Aurora at their facility in Rendsburg, Germany.
Previously known to the public as Project Thor, the yacht was commissioned back in the first quarter of 2014 through Moran Yacht & Ship with a 2016 expected delivery date. With an interior and an exterior by Winch Design, the 74-meter Aurora, known internally as Project Gatsby, is expected to be delivered to her owner before the end of the year.
Powered by twin MTU engines, Aurora stretches over a beam of 13.2 meters, she will reach a top speed of 18 knots and cruise at 16 knots.
4. Ferretti 50m Riva yacht in build in Ancona
Ferretti Group has announced that the first 50m Riva superyacht is currently under construction at the shipyard's facility in Ancona.
The 50-metre Riva has 4 decks and is able to accommodate up to 12 guests in the master suite and a luxurious VIP cabin on the main deck, and another 4 VIP suites on the lower deck, which also hosts 4 cabins for the crew.
The large beach club at the stern is both an area for relaxation as well as a garage capable of accommodating a Williams Dieseljet 625 tender. The bow houses a living area as well as a second garage with a hatch that opens to reveal a rescue boat. At the foredeck, there will be two jet-skis, with a carbon davit for easy launching.
The 50 metre Riva will be launched in 2018.
5. Solandge spotted in Palm Beach
Previously seen in Fort Lauderdale, the 2013-built Solandge has now been spotted in Palm Beach, the USA. 85m yacht was launched at Lurssen and is based on a modern 80m hull and engineering platform similar to Phoenix2, Ace and Quattroelle.
6. Heesen unveils 50m Project Maia
Heesen Yachts recently unveiled its new project. 50m Project Maia, named after a mercury-manganese star in the constellation of Taurus, is a steel hulled, full-displacement motoryacht, measuring in at below the 500GT threshold.
She provides accommodation for 10 guests in 5 staterooms, master on the main deck forward, four guests including 3 doubles and a twin on the lower deck. The yacht's tenders are carried on the foredeck where they can be easily deployed. And aft there is a luxurious beach club complete with bar, sauna, and pulsating sound system.
Powered by twin MTU 1,000 kW engines Project Maia will reach a top speed of 15 knots and will have a range of 3,800nm at cruising speed of 12 knots.
Project Maia's naval architecture and engineering is by Heesen team, whilst Clifford Denn created this simple yet complex exterior design. Reymond Langton Design, with whom the yard created the interior of Ann G, has been asked to design the interiors.
Project Maia will be ready for delivery in 2018.
7. Baglietto reveals 50m V-line concept
After announcing the sale of the Baglietto 46m Fast Lucky Me to a Mediterranean Owner, Baglietto has revealed its latest concept at the Dubai International Boat Show. Designed by Hot Lab, the new 50m all aluminum with a semi-displacement hull vessel will complete the V-line, which also includes a 41m (134,5') and 44m (144').
The project presents great volumes which are one of the main characteristics of the yacht, both inside and outside. As, for instance, the spacious sun deck including a pool, a bar and sunbathing area or the stern featuring a beach platform which can easily became a gym with ensuite hammam. The owner's suite, located forward on the main deck, fits the full-beam master stateroom, the office and a walk in closet. A balcony can also be found, which can be reached via a glass door.
The most distinctive element on this yacht, as even in the smaller "sisterships", is the high, vertical bow, giving her a dynamic design which draws inspiration from the architecture and the 'car design' . Hull engineering has been carried out by Baglietto engineering department. The light aluminum alloy model will be within 500 GT and is expected to reach a maximum speed of 20 knots and a cruising speed of 18 knots.
Five new motor-yachts are currently under construction at the shipyard: while the prototype of MV19 is being built, a new 55-meter displacement motor-yacht is being produced together with a 43m of Baglietto Fast Product Range and two new 48m displacement line.