Latest news
YPI presents ISA 61.7m Mary-Jean II and Mylius EGI4 sailing yacht at Monaco Yacht Show 2019 and other yacht news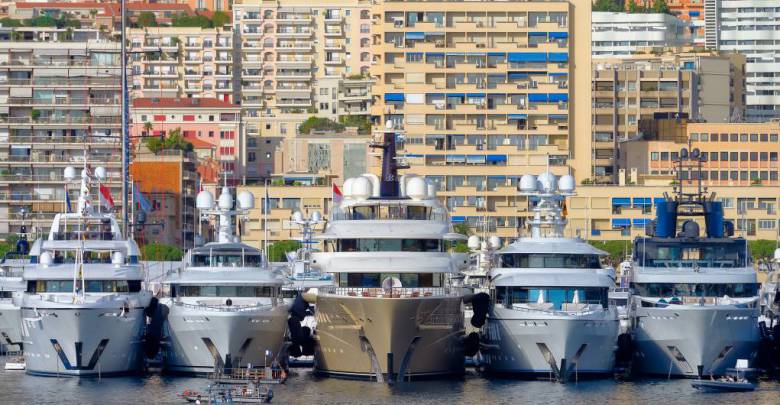 We selected for you top 3 yacht stories of the last week at Yacht Harbour.
YPI presents ISA 61.7m Mary-Jean II and Mylius EGI4 sailing yacht at Monaco Yacht Show 2019
This year, 61.7m Mary-Jean II, for charter with YPI, will be one of the main gems at the Monaco Yacht Show 2019. The yacht, launched in 2010 by the Italian shipyard ISA, features a bright Aristo blue hull. Designed by ISA's full-time maritime architects and Mark Berryman, who completed the interior design, Mary-Jean II is an elegant and attractive motor yacht, entirely made of steel and aluminum. Inside is a warm modern design, emphasized by a natural color scheme with concise bright details. 
The yacht accommodates 12 guests in 7 cabins, including a full owner suite with a large office area. Сrew cabins are located in the bow of the yacht, and in the midship – four spacious guest cabins. The salon on the main deck can invites all guests for dinner at a huge table and for conversation on three soft sofas with four coffee tables. Soft banquets are located under the windows near the walls behind these sofas, and bookcases are built into the back of the sofas. The master stateroom is subordinated to comfort, convenience and coziness. 
Here, in addition to the bed, there are armchairs, a huge desk, a structure such as a pulpit or bar, many decorative details and works of art. Which, combined with the use of different varieties of wood and fabric textures, creates a unique atmosphere of relaxation. The cabin is adjoined by a spacious bathroom with a large real bathtub in a marble pedestal and a dressing room with mirrored cabinet doors and a dressing table. The yacht offers a fully equipped gym, a large swimming platform and a spacious sundeck with a jacuzzi, a dining area, a bar, a TV and sun loungers. Her exciting toy collection includes jet skis, seabobs, waverunners and more.
Feadship delivers 77m superyacht Syzygy 818 in Monaco 
The recently launched 77-metre Feadship Syzygy 818 has been delivered to her owner in Monaco ahead of the Monaco Yacht Show 2019. The delivery takes place after successful sea trials in the North Sea.
The superyacht was launched by the Dutch builder as Project 818 at the facility in Kaag in June. She has been later transported through the countryside up to the North Sea.
The 818 in the name of the superyacht stands for"prosperous" in Chinese numerology, with the owner's birthday on August 18 mirroring the significance of the numbers, revealed the yard.
The word "syzygy" meanwhile is used in astrology to reference a rare event in which three or more celestial bodies line up, such as a new moon or lunar eclipse.
Apart from that, still very little information has been revealed on the three-deck vessel so far. It is known, that Nordic designer Jarkko Jämsén has been responsible for her sleek exteriors, while Sinot Yacht Architecture & Design has created her interior outfitting.
With a beam of 11 metres, Syzygy 818 features a steel hull and aluminium superstructure. Her delivery will take place later this year.
Adventure Sailing Holidays Around the World
The wind rushing through your hair, the ocean breeze filling your lungs and your sights fixed on the distant horizon, full of possibility – adventure sailing holidays provide really refreshing antidotes to life's routines. Exploring the world by sea is a pastime mankind has relished for thousands of years, discovering new and untouched corners of the globe, experiencing different cultures and collecting incredible memories along the way. Read on for a brief guide of the best destinations for adventure sailing holidays as well as tips for planning your luxury yacht charter.
Adventure Sailing Holidays: Alaska
When it comes to adventure sailing holidays, there is nowhere quite like Alaska. This most northerly US state is a dream come true for intrepid explorers who are in search of remote, unpopulated shores, dramatic seascapes, ocean views and untouched coastlines. Explorer yachts for charter to Alaska can take you on a magical voyage through towering glaciers, incredible fjords and stunning bays, abundant with magnificent wildlife from eagles to humpback whales. Whilst travels by land can allow you to see some of the sights of your desired destination, exploring by private yacht is another experience entirely, allowing you to completely immerse yourself in your new surroundings and decide your own path.
Adventure Sailing Holidays: Antarctica
Visiting the South Pole is a truly once in a lifetime experience. The world's most southerly continent is unpopulated due to its extreme icy climate; however, this remote and beautiful destination is accessible in the right vessel. An explorer yacht charter can take you to even the most difficult to access destinations – not only in style but in safety and comfort. When travelling great distances in potentially hostile weather conditions it is vital to be properly equipped – an adventure yacht kitted out with specially designed, state of the art navigation and communication equipment along with extra water and energy storage capacity is the best way to discover the frozen world of Antarctica, up-close and personal, but with total peace of mind. 
Adventure Sailing Holidays: Australia 
Australia is the perfect destination for an adventure holiday by sea. Combining stunning views with amazing culture and incredible wildlife, this vast country offers so much to explore, from wide sandy shores to isolated coves. 
Not only is Australia perfect for exploring from the relaxing security of your yacht, it is also ideal for thrill-seekers. Diving and snorkelling around Australia's world-famous reefs from your own private yacht is a truly unforgettable experience which can allow you to experience marine life in the most breath-taking way possible.  
Fraser has an extensive charter fleet that covers the globe, including a wide range of explorer yachts for charter in exciting destinations. Offering 70 years of luxury yachting experience and 15 offices worldwide, embark on a once-in-a-lifetime adventure with an explorer yacht for charter through Fraser. To find out more information about the yachts in the Fraser charter fleet, please contact a Charter Broker.