Princely news
Princess Charlene Celebrates St. Devote with Jacques and Gabriella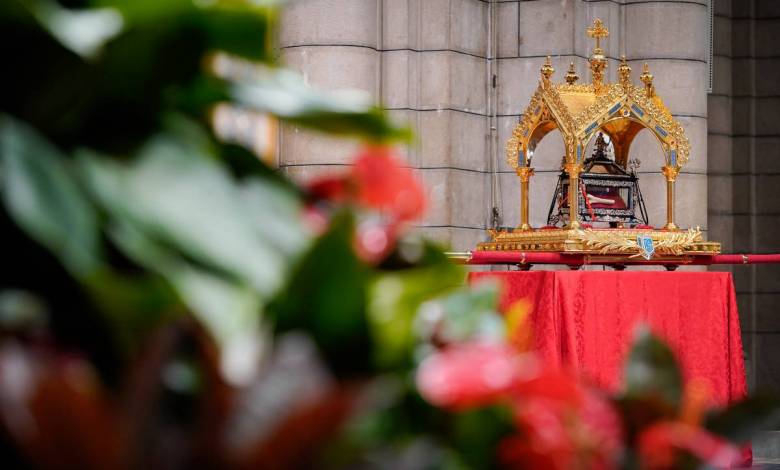 Princess Charlene and her twins, Prince Jacques and Princess Gabriella celebrated Monaco's St. Devote day by attending various events. On 26 January, the Princess and her children attended the ceremony of Salut du Très-Saint-Sacrement at the St. Devote church. Afterwards, on Quai Albert 1, the Princess and her two children set the symbolic boat on fire with red and white torches. To close this evening, an 8-minute drone show set to Corsican polyphonic songs lit up the sky with various symbols associated with the traditional festival.
The following morning, St. Devote celebrations continued during a pontifical mass presided over by Cardinal Jean-Marc Aveline, Archbishop of Marseille, followed by the procession on the rock. The mass was attended by Princess Charlene and Mélanie-Antoinette de Massy. After the mass came the presentation of the relics to the Princely Family, who watched from the Palace balcony. Prince Albert II unfortunately could not attend the celebrations because he is in isolation with COVID-19.
Prince Albert II organizes Blood Drive at Prince's Palace
Prince Albert II organized a blood drive in the Prince's Palace for palace employees and the Carabinieri on Wednesday 25 January. In partnership with the Transfusion Centre of the Princess Grace Hospital, the drive aimed to raise public awareness about donating blood, which is essential in saving lives.
Pauline Ducruet presents her New Collection for Alter
Pauline Ducruet and her designer label, Alter, recently released a new collection called "Onirica". The collection is currently available at a pop-up shop in Printemps Haussmann until 31 January 2023. After graduating with a degree in Fashion Design in New York, doing a five-month internship at Vogue, followed by an internship at Louis Vuitton, Pauline Ducruet created Alter. The label makes inclusive, unisex clothing that can be worn by everyone.
Paris Fashion Week: Beatrice Borromeo attends Christian Dior Show
Beatrice Borromeo attended the Christian Dior Haute Couture Spring Summer 2023 fashion show on 23 January. The event was part of Paris Fashion Week. A tribute to Josephine Baker and the highly creative Paris of the 1920s, the looks of the Dior spring-summer 2023 haute couture show oscillate between tailoring with a masculine edge and shimmering evening wear.  For the occasion, Beatrice Borromeo wore a Christian Dior outfit from the Haute Couture Autumn 2021 collection.
Paris Fashion Week: Charlotte Casiraghi attends Chanel Show
Charlotte Casiraghi attended the Chanel Haute Couture Spring Summer 2023 show on 24 January, as part of Paris Fashion Week. Inspired by the mythical animal sculptures inside Gabrielle Chanel's apartment at 31 rue Cambon in Paris, the collection, imagined by Virginie Viard, features exquisitely light embroidery. For the event, Charlotte Casiraghi wore a pink pantsuit from the Chanel Spring Summer 2023 Ready-to-Wear collection.