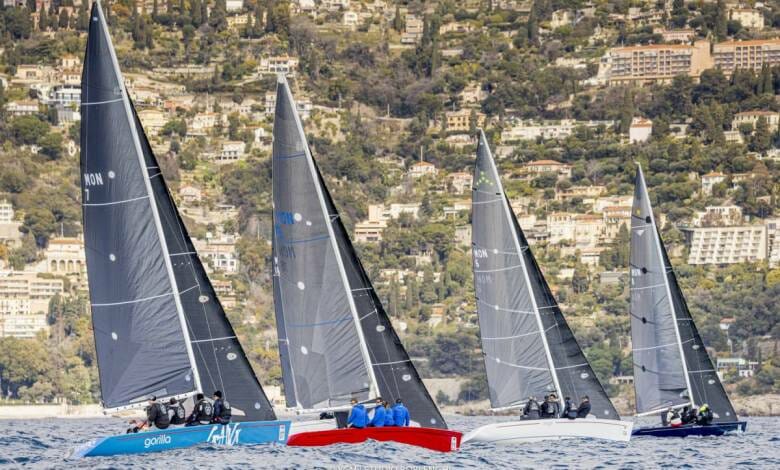 The exhilarating 39th Primo Cup-Trophée Credit Suisse was held from 2-5 March, bringing the Monaco Sportsboat Winter Series to a dramatic close. Idyllic conditions met the 300 sailers representing 12 countries that descended on Monaco's harbour. 15 Smeralda 888s, a dozen Longtze Premiers and over 50 J/70s raced in the event. SLAM sportswear awarded the top three teams with brand-new sailing gear. Overall, Switzerland and the Yacht Club de Monaco achieved top results.
Father and Son race against each other representing Yacht Club de Monaco
In a dramatic turn of events, a father and son raced against each other at the helms of Smeralda 888s for six close races. Vincenzo and Achille Onorato both represented the YCM. Achille's Canard à l'Orange finally got the better of his father on Mascalzone Latino when he came 2nd, with his father in 3rd. Class President, Charles de Bourbon des Deux-Siciles (Vamos mi Amor) also represented the YCM and added yet another title to his impressive collection by winning the event.
In the J/70, YCM's Giangiacomo Serena di Lapigio's G-Spot seemed almost unbeatable in the first four races, before conceding final victory to the Italian team aboard Alice.
Switzerland dominates Longtze Premier
The Longtze Premier was dominated by the Swiss with flawless performances from Jarmo Wieland's Shensu, who won all six races. Torsten Muller's crew on Le Petit Frère d'Emile Bleu and Stefen Schneider's Outsider came in 2nd and 3rd.
YCM wins all three podium finishes in the Monaco Sportsboat Winter Series
The overall winners of the 10th Monaco Sportsboat Winter Series of 24 monthly regattas from November to March were: Ludovico Fassitelli (Junda), followed by Samuel Poons (Charisma V) and Graeme Peterson (Moonlight II). All three winners are members of the YCM.
All-female regatta coming up at the end of March
There will be no rest for some of the crews who took part in the Primo Cup as they gear up for the next big sailing event in Monaco. The first Women Leading and Sailing, an all-female regatta on J/70s, will be taking place on 25-26 March 2023.